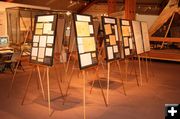 Historical Documents

The Museum has the first set of new display panels up describing four of the rare documents from the 1830s Rocky Mountain fur trade. The displays use reproductions.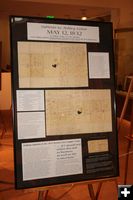 William Sublette - 1832

Sublette became an owner of a fur company in 1826 when Smith, Jackson & Sublette (SJS) Company purchased the business from William Ashley and Jed Smith. SJS became rich, dominating the mountain fur trade until 1830 when they sold out to five of their trappers who formed the Rocky Mountain Fur Company (RMF). This is a business letter from William Sublette to William Ashley in St. Louis, Missouri on the trail to 1832 Rendezvous.


Museum historical document displays up
Sublette, Stewart, Wyeth and Fitzpatrick highlighted
by Dawn Ballou, Pinedale Online!
May 16, 2010

The Museum of the Mountain Man has a set of new displays up about four of the rare historical 1800s fur trade letters and documents which were acquired in January.

The rare documents were part of an estate auction of a private collector who had an extensive collection of western Americana.

The Sublette County Historical Society was able to bring home around 100 documents, thanks to financial assistance from the Sublette County Commissioners tapping into the county museum fund reserves and donations from many private donors.

The Museum is still in the process of scanning the collection of documents, which is a very time-consuming process because they are quite old and fragile. The four displays, using reproductions, highlight documents related to William Sublette (1832), William Drummond Stewart (1838), Nathaniel Wyeth (1832), and Thomas Fitzpatrick(1830).

New document displays will be added to the rotunda display during the summer as the documents are scanned and interpreted.

For those who want to learn more about the people mentioned in the documents, the Museum has a great selection of biographical books about the Rocky Mountain fur trade in their gift shop.

As a way of saying "Thank You!" to Sublette County taxpayers who made the document acquistion possible and to celebrate the 75th anniversary of the Sublette County Historical Society, the Museum is waiving admission this year for Sublette County residents. Just show your driver's license with the local address or something that shows your residency in the county, and you get in free to the Museum anytime this year.