Ridley's Pharmacy offers Instaclinic (posted 5/25/19)
See a medical professional right from the Pharmacy
StitchesCare is offering Instaclinic health care memberships for individuals and families through Ridley's Family Market Pharmacies in Wyoming. Instaclinic lets individuals and families purchase affordable health care memberships which allow them to interact with a physician, nurse practitioner, or physician's assistant right from the pharmacy. If members are not at an approved Instaclinic location, they can still initiate a Telemedicine visit with a Stitches provider. This program is available at the Ridley's Pharmacy in Pinedale. Other locations include Kemmerer, Casper, Sheridan, and Laramie. The clinics are open when the Pharmacy is open.

Click on this link for more information: https://www.stitchescare.com/

---
Kids Fishing Day at the CCC Ponds June 1 (posted 5/25/19)
Wyoming Game & Fish
PINEDALE, WYOMING - Kids are invited to 'get hooked on fishing' at the annual Kids Fishing Day event Saturday, June 1, 2019. The event will take place at the CCC Ponds three miles north of Pinedale. Parents are invited to come and share in the fun and maybe learn a thing or two themselves.

There will be short educational activities, lunch and the opportunity to catch rainbow trout, grayling, and brown trout in the pond. Some fishing gear and worms will be available if needed. The entire event is free of charge.

All kids age 13 and under are invited to participate in this event. Registration is from 9:45 to 10:10am at the CCC Ponds parking area. The event will start promptly at 10:10am, so everyone is encouraged to be on time.

To get there, take the road to Lakeside Lodge at Fremont Lake and follow the signs for CCC Ponds. The local Trout Unlimited chapter will provide a free hotdog and hamburger lunch. The event will conclude at 2:00pm, but kids are welcome to stay and fish at their leisure.

Topics for the educational activities typically include fish identification, fly and spin casting, fish anatomy, and fish habitat. "The kids seem to enjoy the fish anatomy and fly casting stations the most," says Pinedale Fish Supervisor and event coordinator Hilda Sexauer.

Saturday is also Free Fishing Day across the state of Wyoming. Anyone may fish without a fishing license or Conservation Stamp on free fishing day, Saturday, June 1, 2019. All limits and other fishing regulations apply. More details on Free Fishing Day are listed in the Wyoming fishing regulations booklet and on the Wyoming Game and Fish website.

There are Kids Fishing Day events held across Wyoming in celebration of National Fishing and Boating Week. Sponsors of the Pinedale event include Upper Green River Chapter of Trout Unlimited, Town of Pinedale, Wyoming Game and Fish Department, Bridger-Teton National Forest and Bureau of Land Management.

To learn more about the event contact Hilda Sexauer, Pete Cavalli, or Darren Rhea at the Wyoming Game and Fish Department at 307-367-4353.

The G&F supports the Americans with Disabilities Act. Anyone needing auxiliary aids to attend this event should call a number listed above. Every effort will be made for reasonable accommodations.

---



Flag half staff

Flag Half Staff notice – Memorial Day May 27th (posted 5/25/19)
Wyoming Governor Mark Gordon
Pursuant to President Donald Trump's Proclamation issued today, Governor Gordon has ordered both the U.S. and State of Wyoming flag be flown at half-staff statewide from sunrise until noon on Monday, May 27, 2019 in honor of Memorial Day.

---
Memorial Day events May 27th (posted 5/23/19)
Memorial Day this year is on Monday, May 27th. Banks and government offices will be closed today, as well as no school. Here are local area events in recognition of this day.

Pinedale:
9:00AM: Memorial Day poppies available in Pinedale American Legion Auxiliary will have poppies available at the Pinedale Post Office and Ridley's starting at 9AM. Certain local businesses will hae cans available for donations.
10:00AM: Memorial Day Services in Pinedale hosted by the Pinedale VFW and American Legion at the Veteran's Memorial in the American Legion Park. Everyone is invited to attend.
11:00AM: The Veterans of Foreign Wars will host a ceremony at the Pinedale Cemetery. It will involve laying wreaths where the American Legion memorial cannon is located.
12:30PM: There will be a free lunch for veterans and their families at the VFW Post on 1033 West Pine Street in Pinedale.

Big Piney:
11:00AM: Memorial Day Services in Big Piney American Legion Post No. 78 will host a service honoring local veterans at 11AM at Plainview Cemetery. Special guest speaker Sublette County Sheriff K.C. Lehr. A picnic luncheon will be held immediately following the ceremony at the cemetery. Everyone is invited to attend.

---
Prescribed burn planned for West Fortification Rx (posted 5/25/19)
Burns planned for near White Pine Ski Area and N Cottonwood Creek
Bridger-Teton National Forest
PINEDALE, WYOMING – The Bridger-Teton National Forest is planning to conduct a prescribed burn on the Pinedale Ranger District in June, as environmental conditions become conducive.

The West Fortification Mountain Rx is located adjacent to White Pine Ski Area approximately 10 miles north of Pinedale, Wyoming. Crews will ignite the 190-acre unit by hand using drip torches. Implementation will take one to two days and mop-up and monitoring efforts will take one to two weeks. Public information will be available on site in the White Pine parking lot during ignitions.

This burn is part implementation of the Skyline Wildland Urban Interface Fuels Reduction Project to remove hazardous fuels build up and increase firefighter and public safety in the event of a wildfire. Additional resource benefits include aspen enhancement/restoration, Douglas fir restoration, old growth tree enhancement and reduced hazard trees near powerlines and communication sites.

Fire managers are also hoping to burn the Cottonwood II Rx on the Big Piney Ranger District, in mid to late June. This 155-acre unit is located approximately 20 miles west of Daniel, Wyoming on Sjhoberg Creek on the north side of North Cottonwood Creek drainage.

Objectives include, increase aspen stand regeneration, reduce conifer encroachment, increase forage conditions for wildlife habitat and reduce hazardous fuels build-up while restoring fire-adaptive ecosystems. This vegetation treatment is an interagency cooperative effort with Bureau of Land Management, Wyoming Game & Fish Department, Sublette County Unified Fire and Teton Interagency Fire.

Actual ignitions for these burns will depend on meeting strict parameters for weather and fire behavior conditions. Smoke will be visible from Hwy 191/189, Pinedale and surrounding area during the ignition phase and for a short time after lighting has been completed. No closures are anticipated with these projects.

For more information on prescribed fire, fuels reduction projects, and defensible space, visit www.tetonfires.com or call the Pinedale Ranger District at (307) 367-4326.

---
Chronic Wasting Disease public meeting on June 4 (posted 5/19/19)
Wyoming Game & Fish
PINEDALE, WYOMING — The public is invited to participate in a meeting in Pinedale held by the Wyoming Game and Fish Department to provide information and gather crucial public input on chronic wasting disease (CWD). The meeting will be held from 6-9 p.m., Tuesday, June 4, at the Sublette County Library in Pinedale.

This meeting is a part of the Game and Fish CWD collaborative process facilitated by the Ruckelshaus Institute, Haub School of Environmental and Natural Resources with the University of Wyoming to develop a revised CWD management plan.

CWD is widely distributed across Wyoming and is fatal to deer, elk and moose. "Providing information and hearing from the public is important as Game and Fish works to address CWD in Wyoming," said Scott Edberg, Game and Fish deputy chief of wildlife. "We hope people will come to these meetings to learn about CWD and have conversations with us. It is essential to learn what people in Wyoming know and think as we work through this collaborative process."

The meeting will begin with Game and Fish sharing foundational information about CWD before dividing into smaller groups with the public to discuss ideas on the management plan. Following the meetings, the Ruckelshaus Institute will compile the information gathered from across the state and present it to the 32 members of the newly-appointed Game and Fish CWD working group. The group will consider this information as well as other information developed from within the working group as they work to develop a revised CWD management plan.

"The work in these meetings will be informative to all parties involved," said Jessica Western, director of the Collaboration Program in Natural Resources for the Ruckelshaus Institute. "Game and Fish and the public will learn from each other and, at the end of this process, have a solid CWD management plan that is rooted in science and the needs of Wyoming's public. I look forward to facilitating these meetings and the working group."

For those unable to attend in person, a meeting will be recorded and available to view on the Game and Fish website, as well as an opportunity to submit online comments for consideration in the revision of the CWD management plan. Additional meetings are being held in Laramie, Casper, Sheridan and Worland.

---
Wolf News Roundup May 17, 2019 (posted 5/17/19)
Cat Urbigkit, Pinedale Online!
Wolf delisting comment period
The U.S. Fish & Wildlife Service has extended the comment period for its proposal to remove gray wolves in the contiguous United States from the list of federally protected species.

According to a press release from the agency: "The Service is extending by 60 days the public comment period on a proposed rule to remove the gray wolf from the List of Endangered and Threatened Wildlife under the Endangered Species Act. We are extending the comment period to allow all interested parties additional time to comment on the proposal."

Comments must be received on or before July 15, 2019. Full details are provided at the link below.

Oregon
The Trump administration's proposal to remove gray wolves from the list of federally protected species drew the support of the head of Oregon's wildlife department, but the governor of that state issued a letter overriding the wildlife department, instead declaring that "The state of Oregon and its agencies do not support the delisting of wolves…"

Washington
Washington state officials are assessing whether to relocate wolves from the eastern portion of the state to the western region where no breeding wolf population currently exists. Wolves in the eastern one-third of Washington were removed from federal protections in 2011, but remain federally protected in the remainder of the state. Wolves throughout Washington are also subject to a state endangered species law.

Outfitter permit contested
A Jackson Hole outfitter illegally killed a wolf last year, and now the Humane Society of the United States has request that his outfitting license be revoked. Click on the link below for the article in the Jackson Hole News & Guide.

Related Links:
Delisting proposal - Regulations.gov
Oregon spat - Post Register
Washington - Lewiston Tribune
Outfitter - Jackson Hole News & Guide
Wolf Watch - by Cat Urbigkit, Pinedale Online!

---
Skyline Fuels Reduction Project work resumes (posted 5/16/19)
Expect heavy logging traffic on Skyline Drive beginning May 20
Bridger-Teton National Forest
PINEDALE, WYOMING - Pinedale Ranger District of the Bridger-Teton National Forest announces that work will resume on the Skyline Wildland Urban Interface Fuels Reduction project beginning May 20.

Contract crews, timber sale loggers and Forest Service fire crews will be working on fuels treatment and timber sales units along Skyline Drive in Sweeney Creek and Kelly Park, White Pine thinning area, Surveyor Ridge and from Mulligan Park to Elkhart Park.

Visitors to the area should be aware of heavy traffic due to large logging trucks and crew haulers along the narrow, winding road. Other hazards include falling trees in the work units and equipment and chainsaw use.

Four Timber sales totaling approximately 70 acres have been awarded or will be soon, and are awaiting implementation once the ground is bare of snow and workers can access the area. Work will continue through the summer until complete.

The Skyline Fuels Reduction project was designed to lower the risk from wildfire to homes and private property by removing hazardous fuel loads in the Wildland Urban Interface. This effort will help moderate fire behavior during a wildfire and increase firefighter and public safety
Skyline Wildland Urban Interface Fuels Reduction Project Final Decision Notice and Finding of No Significant Impact was signed in 2016.

Additional information can be found at www.tetonfires.com on the Projects page, or call the Pinedale Ranger District at 307-367-4326.

---
Forest Service requests public assistance identifying a person of interest in the Roosevelt Fire investigation (posted 5/15/19)
Bridger-Teton National Forest
BONDURANT, WYOMING – Fire investigators with U.S. Forest Service Law Enforcement and Investigations on the Bridger-Teton National Forest are continuing their efforts to locate the person, or persons responsible for the ignition of the Roosevelt Fire. The incident led to the loss of numerous private homes and structures in the Bondurant area, as well as serious injuries to National Forest visitors. Interviews conducted during the course of the investigation have led to a description of a person of interest in the case.

Investigators have determined the Roosevelt fire to be human caused, originating from an abandoned, or inadequately extinguished warming fire in the upper reaches of the Hoback River drainage. The fire ignited approximately three miles west of the Upper Hoback Trailhead, on a small topographic bench, along a steep timbered slope, approximately 110 yards above the trail, on the south side of the canyon. The area is located approximately three-quarters of a mile east of the lower reaches of Roosevelt Meadows, just inside the Sublette County line.

Investigators are seeking to identify an individual observed on the afternoon of Friday, September 14, 2018 below the point of origin. He is described as a white adult male, between the ages of 40 and 50 years old with brown hair and a short, scruffy beard. The individual is believed to be between 5'10" and 6' 0" tall, weighing approximately 185-200 pounds. He was seen carrying both a hunting rifle and compound bow on his pack that day. He was reported to be glassing the north rim of the canyon for an extended period of time. It's believed this person may have information as to how the fire began.

Anyone with information as to the cause of the incident, or the identity of the individual observed in the area, is urged to contact U.S. Forest Service Law Enforcement at 208-557-5852. Please leave a detailed message with information as to how investigators may reach you. Continued support from National Forest visitors and our citizen partners in the community is greatly appreciated.

---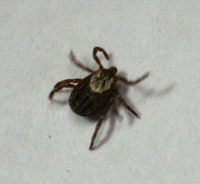 Ticks are out. Photo by Pinedale Online!

Avoid ticks to avoid diseases they spread (posted 5/9/19)
Wyoming Department of Health
As Wyoming's warmer days approach, avoiding ticks when spending time outdoors can also mean escaping some potentially serious diseases, according to the Wyoming Department of Health (WDH).

Diseases sometimes passed on by infected ticks in Wyoming include tularemia, Rocky Mountain spotted fever (RMSF) and Colorado tick fever (CTF). Lyme and Powasssan diseases can be a concern during travel to other states, but are not known to be spread by Wyoming ticks.

"When we walk through, play or sit in brushy and grassy areas, or handle certain animals we can be exposed to ticks," said Dr. Alexia Harrist, state health officer and state epidemiologist with WDH. "Ticks can be active in Wyoming most of the year, but spring and summer are typically the peak seasons when we see related illnesses."

Tularemia symptoms include fever, swollen and painful lymph glands, inflamed eyes, sore throat, mouth sores, skin ulcers and diarrhea. If the bacteria are inhaled, symptoms can include sudden onset of fever, chills, headache, muscle aches, joint pain, dry cough and progressive weakness and pneumonia. Colorado tick fever usually causes fever, headache, muscle and joint pain, and, occasionally, a rash. Initial RMSF symptoms may include fever, nausea, vomiting, muscle pain, lack of appetite and severe headache. Later signs and symptoms may include rash, abdominal pain, joint pain and diarrhea. RMSF and tularemia patients often require hospitalization.

General recommendations to help avoid tick-related diseases include:

- Wear light-colored clothing to make it easier to see ticks crawling on clothing.
- Tuck pant legs into socks.
- Apply insect repellents such as those containing 20 percent or more DEET and/or picaradin.
- Upon return from potentially tick-infested areas, search yourself and children for ticks and remove if found.
- Check pets for ticks; use tick control products recommended by veterinarians.

Tularemia, also known as "rabbit fever" or "deer fly fever," frequently affects rabbits, hares and rodents and has been associated with rabbit die-offs. People may acquire tularemia when bit by infected ticks, deer flies or horse flies. It can also be transmitted by handling infected animals, or through ingestion or contact with untreated, contaminated water or insufficiently cooked meat.

Learn more about Colorado tick fever, including how to remove ticks, at https://health.wyo.gov/publichealth/infectious-disease-epidemiology-unit/colorado-tick-fever/.

Information about RMSF is available at
https://health.wyo.gov/publichealth/infectious-disease-epidemiology-unit/rocky-mountain-spotted-fever/.

More details about tularemia are available online at https://health.wyo.gov/publichealth/infectious-disease-epidemiology-unit/tularemia/.

---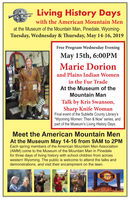 Living History Days at the Museum of the Mountain Man May 14-16

Living History Days at the Museum May 14-16 (posted 5/8/19)
Museum of the Mountain Man
The Museum of the Mountain Man in Pinedale will host their annual Living History Days Tuesday, Wednesday and Thursday, May 14-16, 2019 with members of the American Mountain Men Association (AMM) on hand to give living history talks and demonstrations.

There will be a special evening program on Wednesday, May 15th at 6:00pm as part of the annual Living History Days programming. Sharp Knife (Kris Swanson) will tell the story of Marie Dorion who accompanied the Astor Expedition (1811-1812) and was one of the first women to cross the continent to settle in Oregon. A mixed-breed Iowa Indian, Marie has been called the female "revenant" for her heroics. Sharp Knife will also share more general insights on the lives of Native American women. This is the final program of the Sublette County Library's "Wyoming Women: Then and Now" series. The event is free and open to the public.

Living History Days brings hundreds of school children from southwestern Wyoming to the Museum to learn about the fur trade era from members of the American Mountain Men. Demonstrations on black powder firearms and fire building, Native American sign language, beaver skinning, tipi living, clothing and blacksmithing help the students understand the challenges of daily living in the 1800's. Programs are free and open to the public thanks to generous sponsorship by Sublette BOCES, Sweetwater BOCES and the Rocky Mountain Power Foundation. The talks and demonstrations May 14-16 will be from 9 am to approximately 2 pm. The public is welcome to visit with the American Mountain Men at their encampment on the north lawn in the afternoon hours as well. The Museum is open from 9am to 5pm daily.

The American Mountain Men organization was formed in 1973 by a group of mountain man enthusiasts who wanted to learn the life of mountain men by living it. They all have regular jobs, but live and learn the mountain man ways as a hobby. All told, there are approximately 600 members throughout the United States.

The Museum of the Mountain Man was opened in 1990 and is operated by the Sublette County Historical Society, the oldest historical society in Wyoming. The Historical Society holds over 20,000 artifacts ranging from pre-historic to the settlement era and was originally established in 1935 for the preservation of historic sites of the fur trade and rendezvous, marking of settler graves and trails, and to collect all records, documents and items pertaining to the historical background of Sublette County.

For more information or to schedule a school or home school group to be a part of Living History Days, please call the Museum at 307-367-4101.

Related Links:
www.mmmuseum.com Museum of the Mountain Man
---
BLM Wyoming seeks nominations to Resource Advisory Council (posted 5/6/19)
Bureau of Land Management
The Bureau of Land Management (BLM) announced that it is seeking public nominations for positions on 31 Resource Advisory Councils (RACs) nationwide. These citizen-based committees assist in the development of recommendations that address public land management issues.

The BLM maintains 38 such advisory committees formally chartered under the Federal Advisory Committee Act (FACA) and the Federal Policy and Land Management Act (FLPMA) across the West. Of those committees, 31 are RACs and the remainder site or subject-specific Advisory Councils. Each RAC consists of 10 to 15 members from diverse interests in local communities, and they assist in the development of recommendations that address public land management issues.

"Input from local communities and stakeholders is crucial towards improving our management of public lands. Our Wyoming Resource Advisory Council is designed to enable local leaders to provide us feedback on current issues, concerns and proposals," said BLM Wyoming State Director Mary Jo Rugwell. "By including diverse membership from across the state, we further our goal of ensuring we receive a wide variety of public perspectives to guide our work."

RACs are critical in assisting the BLM in continuing to be a good neighbor in communities served by the Bureau, providing advice and recommendations on issues including land use planning, fire management, off-highway vehicle use, recreation, oil and gas exploration, noxious weed management, grazing issues, and wild horse and burro herd management issues.

Individuals may nominate themselves or others to serve on a RAC. Nominees, who must be residents of the state or states where the RAC has jurisdiction, will be reviewed based on their training, education, and knowledge of the RAC's geographic area. Nominees should also demonstrate a commitment to consensus building and collaborative decision-making. Letters of reference must accompany all nominations from any represented interests or organizations, a completed RAC application, and any other information that speaks to the nominee's qualifications. To access the Wyoming RAC application materials, visit .

The Wyoming RAC has seven different positions open in the following categories:

• Category One – Representatives of organizations associated with energy/mineral development; federal grazing permit holders; the timber industry; transportation or rights-of-way; off-highway vehicles users; and commercial and developed outdoor recreation.
• Category Two – Representatives of archaeological and historic organizations; dispersed recreation users; wild horse and burros organizations; and nationally or regionally-recognized environmental organizations.
• Category Three – Representatives of state, county, or local elected office; Indian tribes located within or adjacent to the area for which the RAC is organized; academicians employed in natural resource management or natural sciences; employees of a state agency responsible for management of natural resources; and the public at large.

As published in a notice in today's Federal Register, the BLM will consider nominations for 45 days, until Sunday, June 14. For more information, please contact Emmet Pruss, Wyoming RAC Coordinator, epruss@blm.gov, 307-775-6266.

---
Update on the Marbleton tornado (posted 5/1/19)
The National Weather Service put out some more information on the tornado that touched down in Marbleton on Sunday, April 26th. They confirmed that it was a tornado, calling it a very small one. It tore off the roof of a building, turned over a travel trailer, and scattered debris quite a ways around. They said it lasted for about one minute, from 12:30 to 12:31PM and had a rating of EF0. They estimated the wind speeds to be about 80 miles per hour. It was about 20 yards wide and had a path length of about 1/10th of a mile.
Click on this link to see the National Weather Service summary of the event.

Click on this link to see a YouTube video of the event taken by an area resident: April 26, 2019 tornado in Marbleton, Wyoming (video courtesy Tobi Holt Sherbrook)

Related Links:
Reported tornado touches down in Marbleton Pinedale Online, April 26, 2019

---
Measles vaccination remains important for Wyoming residents (posted 5/1/19)
Extra doses or boosters not currently needed
Wyoming Department of Health
A Wyoming Department of Health (WDH) official says increased cases of measles in some areas of the United States show why vaccination is important, but extra vaccine doses or boosters for state residents are not currently needed.

There has not been a reported case of measles in Wyoming since 2010. However, more than 700 measles cases, the most since 1994, have been confirmed across the country this year by the federal Centers for Disease Control and Prevention (CDC). The majority involved unvaccinated people.

"Measles should be taken seriously, because it can sometimes lead to pneumonia, swelling of the brain known as encephalitis and death," said Dr. Alexia Harrist, WDH state health officer and state epidemiologist.

"We are concerned about the growth in measles cases across the country, but believe no new or extra actions are needed in Wyoming at this point. We want people to follow the vaccination recommendations that are already in place," Harrist said.

Harrist said measles begins in most people with fever, runny nose, cough, red eyes and sore throat, followed by a rash that spreads over the body.

"Measles is extremely contagious and easily spreads to others through coughing and sneezing," Harrist said. "It is important to be up to date on vaccinations because anyone who is not protected against measles, including children too young to be vaccinated, could become infected with a serious disease."

Experts recommend a safe and effective vaccine that provides protection against three diseases: measles, mumps, and rubella (MMR). Children should get one dose at 12 through 15 months old and then another at age 4 through age 6.

There are also specific recommendations for international travel:
• Infants 6-11 months old need one dose of measles vaccine.
• Children 12 months and older need two doses separated by at least 28 days.
• Teenagers and adults who do not have evidence of immunity against measles should get two doses separated by at least 28 days.

Evidence of immunity, or protection from measles, for adults involves:
• Written proof of one or more doses of a measles-containing vaccine for adults not at high risk or two doses for those at high risk.
• Birth before 1957
• Laboratory evidence of immunity
• Laboratory confirmation of measles

Adults who do not have evidence of immunity and who were born after 1957 should consider getting at least one dose of MMR vaccine. Adults at increased risk include college students, healthcare workers and international travelers. "People in this high-risk group should consider two doses if they do not have proof of immunity," Harrist said.

"The CDC estimates 3 to 4 million people got measles each year in this country before our vaccination program began in 1963, with thousands of hospitalizations and hundreds of deaths," Harrist said. "Vaccination against this serious disease has been quite successful."

Measles is still common in many parts of the world including some countries in Europe, Asia, the Pacific and Africa. People in the United States still get measles in rare situations.

"Every year, unvaccinated people get measles during international travel, bring the disease into the United States, and spread it to others who are unvaccinated," Harrist said. "Ongoing spread of the disease is a risk in communities with pockets of unvaccinated people and can lead to outbreaks."

More information about measles is available from the CDC at https://www.cdc.gov/measles/index.html.

---




PacifiCorp updates economic analysis of coal fleet (posted 4/25/19)
Updated study will inform broader resource plan development
Rocky Mountain Power
SALT LAKE CITY, April 25, 2019 — PacifiCorp has released an updated economic study of its coal fleet that will inform how the company meets the long-term customer energy needs of its customers. PacifiCorp operates as Rocky Mountain Power in Wyoming, Utah and Idaho.

The study was conducted as part of the company's 2019 Integrated Resource Plan, which is still under development and anticipated to be completed in August. The IRP, which is updated every two years, identifies actions the company anticipates taking over the next 20 years to provide reliable and least-cost electricity to customers.

Informed by the earlier analysis of 22 coal units, the study reviewed coal units that are part of PacifiCorp's broader resource mix to determine if customers would benefit from closing a unit or combination of units earlier than currently planned. Most of the company's coal units will reach the end of their depreciable lives at different points over the next 20 years.

While no resource decision will be made ahead of completion of the 2019 IRP, the study identified potential benefits for customers through early retirement of some coal units.

"We continuously examine the costs and benefits of how the company generates electricity to ensure we are making the best decisions for customers," said Rick Link, PacifiCorp vice president of resource planning and acquisitions. "The study reflects the ongoing changing economics for coal driven by market forces."

For purposes of the study, the company examined whether customers would benefit if units are retired as early as 2022 and replaced with other resources. The timing and sequencing of any actual coal unit closures will ultimately be determined by a range of factors that also include workforce and community transition considerations.

The units the study identifies as being less economic to operate beyond 2022 than alternatives and are candidates for early retirement are:

• Naughton Units 1 and 2 in Wyoming.
• Jim Bridger Units 1 and 2 in Wyoming. PacifiCorp is a majority owner and the operator of these units.
Next steps. The company anticipates issuing a preferred portfolio for input from regulators and stakeholders before submitting a final plan to state regulators in August.

The company will also work to ensure communities and employees that would be affected by the potential early plant closures are informed and involved in the process.

"We understand the impact of these resource decisions on customers, employees and communities and are committed to ensuring these impacts are known and planned for," said Link.

The completed coal unit analysis can be seen through the following link
http://www.pacificorp.com/es/irp.html

---
Winter wildlife closures end May 1, 2019 (posted 4/25/19)
Bridger-Teton National Forest
Winter wildlife restrictions will lift on the Bridger-Teton National Forest on May 1. 2019.

There is a significant snowpack across the Forest this year and it has been melting off slowly and steadily. However, roads may still be drifted, flooded or just impassable due to lingering snowpack after May 1. Visitors should be prepared to walk into areas or take their horses. While there won't be any restrictions to human presence, some roads may not be drivable. The Forest patrollers will be assessing the roads and trailheads in the days leading up to May 1, and the conditions will be updated regularly as spring melt off continues.

Areas that are popular in the spring, but as of today are still drifted with snow include Horse Creek, Wilson Creek, Josie's Ridge, Adam's Canyon and Leeks Canyon, to name a few. These areas are popular for visitors wanting to look for antler sheds but with predicted weather, it isn't possible to forecast if the roads are going to be passable with vehicles. Additionally all of the areas of the Forest around Hoback Junction including the south slopes of Munger Mountain, the area near Camp Creek and the hillsides east of Hoback Junction are still under a deep lingering snowpack.

People come to the Bridger-Teton from long distances including areas like Gillette WY; Maybell and Rifle, CO; and even closer communities like Rocksprings and Dubois, WY to look for antlers that have been dropped as wildlife moves from the winter ranges to higher ground. The Forest reminds all recreationists that antlers are not available for gathering on this side of the Continental Divide until May 1 each year.

The status of roads on the Jackson Ranger District for those planning to venture out on May 1 is the following:
• Gros Ventre road – lower gate opens at approximately 6:00 a.m.; road open to Slate Creek; upper road closed to motorized vehicles until June 1; non-motorized use is allowed. Several landslides near Atherton Creek are being repaired this week.
• Flat Creek road – the gate on the National Elk Refuge opens at 8:00 a.m. and people will be able to drive to the Forest trailhead; road closed past trailhead due to snow
• Curtis Canyon road – the gate on the National elk Refuge opens at 8:00 a.m. and people will be able to drive up Curtis to the campground/overlook area; upper part of road will likely be closed due to snow
• Shadow Mountain north and south roads – likely closed due to snow
• Ditch Creek road – likely closed due to snow
• Fall Creek road – likely closed due to snow
• Granite Creek road – likely closed due to snow
• Mosquito Creek road – likely closed due to snow
• North Fork Fall Creek – likely closed due to snow

Visitors to the Bridger-Teton National Forest can obtain free copies of motor vehicle use map by visiting http://www.fs.usda.gov/main/btnf/maps-pubs. No wheeled motor vehicle travel is permitted off of designated roads. The higher elevation roads take a long time to dry out after the winter. Even at lower elevations, pockets of wet areas can keep an entire road closed.

Depending on spring warm up and drier weather, the Bridger-Teton may be able to report the opening of some lower elevation roads by May 1, but some years the wet conditions prevent that from happening. When roads are wet, vehicle travel can cause considerable resource damage by creating deep ruts. Road widening can also occur when vehicles drive around deep pools of water. The chances of getting stuck are higher earlier in the season.

Once roads open remember to not attempt routes above your skill level and be prepared in case you get stuck. Be aware of damage driving on wet roads can cause, including deep ruts and unauthorized routes. Changes in weather can result in impassable conditions even when roads are open. To learn if a road is open or closed please call the Bridger-Teton National Forest at 307-739-5500 or visit http://www.fs.usda.gov/recmain/btnf/recreation for the latest in trail, road and campground conditions.

---
Wyoming property tax refund available (posted 4/21/19)
The State of Wyoming offers several property tax refund programs. There is a low income program and there is a veteran's property tax exemption. Residents may qualify if:

- You own your own home.
- You have paid your 2018 property taxes on that home in a timely manner and have a receipt for the same
- You have been a Wyoming resident for the past five years
- Your total personal assets do not exceed $120,339 per adult household member.
- Your household income is equal to or less than the greater of three fourths of the median household income for the state or county in which you reside ($59,325 for Sublette County)

The due date for the Veteran's Property Tax Exemption is the fourth Monday in May.

The due date for the Wyoming Property Tax Refund is the first Monday in June.

Application forms are available from the local County Treasurer or Wyoming Department of Revenue, 122 W 25th Street, 3-East, Cheyenne, Wyoming. For more information contact your county treasurer or call the Department of Revenue at 307-777-7320.

Wyoming Property Tax Refund brochure

Click on this link for more information: http://revenue.wyo.gov/administrative-services/property-tax-refund-program

---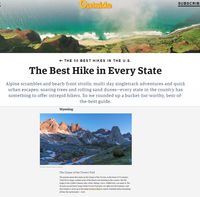 50 Best Hikes in the U.S.

Cirque of the Towers Trail named Wyoming's Best Hike by Outside magazine (posted 4/16/19)
Great Outdoor Shop mentioned as place to stock up on gear
Outside magazine posted an article online on April 15th listing "The 50 Best Hikes in the U.S.," calling it a bucket-list-worthy, best-of-the-best guide. The magazine polled their writers and editors to come up with what they feel are the very best hike in each of the states of the nation.

Here is what they had to say about Wyoming:
The Cirque of the Towers Trail
The granite spires that make up the Cirque of the Towers, in the heart of Wyoming's Wind River range, contain some of the finest rock climbing in the country. But the range is also a hiker's dream: lake, rivers, fishing, views, wildflowers, you name it. The 18-mile out and back Cirque of the Towers Trail gets you right into the business. And don't forget to stock up at the Great Outdoor Shop in nearby Pinedale before launching off into the backcountry.

Click on this link to read the full article: THE 50 BEST HIKES IN THE U.S.

---




Rocky Mountain Power

Scam Alert: Beware phone calls about utility bills (posted 4/11/19)
Rocky Mountain Power warning customers about latest phone scams
Rocky Mountain Power
A number of customers have reported receiving fraudulent calls from scammers posing as utility representatives. The caller insists that the customer is behind on their bill and then threatens that, without an immediate payment, service will be disconnected.

This week the reported scam calls have primarily been targeted to business customers. Some insist on the victim obtain a prepaid card and share the code while one customer was even asked to meet the scammer at a specific location.

Customers can protect themselves from these types of schemes by being aware of the following tips:

If the caller asks for your credit card number or advises you to purchase a pre-paid card from a store and to call back with the code. Rocky Mountain Power will never ask for payment via prepaid credit card. We offer a variety of ways to pay a bill, including accepting payments online or by phone. However, payment via prepaid card will never be demanded

If the caller claims your electric service will be disconnected if you don't make a payment immediately, particularly if you haven't received any prior notice about late payments or a potential disconnection. We don't threaten our customers and work with customers who are behind on their payments to help them get back on track. Generally, notices about past due bills are sent to customers in the mail or delivered to their home, or they receive an automated phone message.

If the caller says he is with the "Rocky Mountain Power Disconnection Department." No such department exists.

If you receive one of these calls, ask the caller to state your account number and compare it with the number listed on your bill. Rocky Mountain Power customer service employees will always have your account number.

Remember, if you still have concerns about the legitimacy of a call, you can always call back at our published customer service number, 1-888-221-7070. Rocky Mountain Power is asking customers to report any scam calls received, including the phone number the person is calling from and any information that may help to track down the crooks.

About Rocky Mountain Power
Rocky Mountain Power provides safe and reliable electric service to more than a million customers in Utah, Wyoming and Idaho. The company works to meet customers' growing electricity needs while protecting and enhancing the environment. Rocky Mountain Power is part of PacifiCorp, one of the lowest-cost electricity providers in the United States. More information at www.rockymountainpower.net.

---
Business Directory
Click here for
Advertising Information