Spring burns are planned on the Bridger-Teton National Forest (posted 4/28/17)
Fuels reduction projects will create some visible smoke near Pinedale and in Wyoming Range – no closures anticipated
Bridger-Teton National Forest
The Bridger-Teton National Forest is planning to conduct prescribed burning on the Pinedale and Big Piney Ranger Districts in the coming weeks.

Fire Managers will be taking advantage of warming temperatures and road access to begin work on the Skyline and Cottonwood 2 fuels reduction projects. Slash and ground fuels in the Skyline Wildland Urban (WUI) Interface Fuels Reduction project will be ignited to reduce the fuel load in timbered stands near the Sylvan Bay summer homes and limit the spread and intensity in the event of a wildfire fire. This unit includes approximately 120 acres along the Sylvan Bay Road to the south of the subdivision and 20 acres of hand piled slash near the day use area and summer homes.

Crews were busy last fall thinning trees and piling slash in the summer home area and will continue work beginning in May and continuing through a portion of the summer. This project was designed to provide greater defensible space and lower the risk from wildfire to homes and private property by removing hazardous fuel loads. This effort will create more open areas to help moderate fire behavior during a wildfire and increase firefighter and public safety.

The Cottonwood II prescribed burn is located approximately 20 miles west of Daniel, WY on Bare Pass near Red Castles. Fire managers hope to burn approximately 88 acres on Bare Pass in mid-May to late June.

Objectives for this project include; increase aspen stand regeneration, reduce conifer encroachment, increase forage conditions for wildlife habitat, and reduce hazardous fuels build-up while restoring fire-adaptive ecosystems.

Actual ignitions for the prescribed burns will depend on meeting strict parameters for weather and fire behavior conditions. Smoke will be visible from Hwy 191/189, Pinedale and surrounding area during ignition operations and for a short time after lighting has been completed. No closures are anticipated with either of these projects.

For more information on prescribed fire, fuels reduction projects, and defensible space, visit www.tetonfires.com or call the Pinedale Ranger District at 307-367-4326.

---
Showing of film 'The Drift' Film & Discussion in Farson May 12 (posted 4/28/17)
Everyone is invited to a showing of the new film "The Drift" in Farson from 6-8PM at the Farson Community Center, 4017 US 191. The event is free and open to the public. Popcorn and refreshments will be provided. Description: Every year in the early summer, a group of Wyoming ranchers drive their cattle high into the Rocky Mountains to the largest unfenced federal grazing area in the United States. The Green River Drift is an old-fashioned horseback cattle drive – in some cases, the livestock travel 100 miles – but the threats it faces are modern: roads, drilling rigs, government-protected grizzly bears, vacation homes, and the waning interest of a younger generation in this arduous and communal enterprise. Special guest will be film producer Geoff O'Gara. By ThinkWY/Wyoming Humanities, sponsored by Kim and Jody Brown Family Foundation. For more information call 307-699-2680 emy@thinkwy.org.

---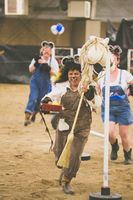 PFAC Kentucky Derby May 6

PFAC preps for Annual Kentucky Derby Fundraiser May 6 (posted 4/27/17)
Nashville's Matt Haeck to headline concert
Pinedale Fine Arts Council
The Pinedale Fine Arts Council (PFAC) may have just ended their 5-event season ticket series but the 41-year-old local arts organization doesn't have much time to kick back and relax. In little over a week PFAC will host their annual Kentucky Derby Fundraiser on May 6 at the Sublette County Fair Grounds. Proceeds benefit PFAC's extensive school arts programs in Pinedale and Big Piney and, in typical PFAC fashion, it's a pretty big production.

Centered around the actual Kentucky Derby, the PFAC event starts with a full broadcast of the Derby on a giant television followed by a 6-team stick horse obstacle race featuring local businesses as the jockeys. After the race is a full 4-course dinner (this year is beef brisket) and when 7pm rolls around the live music and dancing starts. Add in a hat contest, custom photo booths and, of course, mint juleps and you'll have a pretty good grasp of the event.

"It's pretty crazy when you think about all the different things we try to pull off," Tim Ruland, PFAC Marketing/Outreach Director says. "It's really five or six events crammed into one and that's before you even get to the music."

This year's music headliner is Nashville honky-tonker Matt Haeck (pronounced Heck) who is touring the U.S. in support of his debut album Late Bloomer. Between playing legendary venues in Brooklyn and Austin, Matt and his 4-piece band will bring their energetic live show to the Fair Grounds Stage.

And while the Derby Fundraiser bills itself as Sublette County's biggest party, at the heart of the event is PFAC's school programs which, in the past three years, have reached every single student in every single grade in the county.

"Reports by the College Board show creativity is among the top five applied skills sought by business leaders – with 72 percent saying creativity is of high importance when hiring" says PFAC Director Kari DeWitt "It's not just that the students enjoy these programs and the teachers request them year after year. It's that exposure to the arts is setting them up for success later in life, and that's powerful."

Tickets for PFAC's Kentucky Derby Fundraiser are $40 per adult or $25 per student and available at Office Outlets (Pinedale & Big Piney), the Cowboy Shop and online at pinedalefinearts.com.

For those who just want to catch the Matt Haeck concert portion of the evening, just show up at 7 p.m. and pay $5 at the door. Be sure to bring your dancin' shoes!

PFAC is also happy to announce that they will be offering both a shuttle service to and from the full event as well as on-site childcare for just $10 per child. Both services can be booked at pinedalefinearts.com under the event's ticket purchase section.
---
Wyoming wolves now under State management (posted 4/25/17)
Cat Urbigkit, Pinedale Online!
Governor Matt Mead announced today (Tuesday, April 25, 2017) the Circuit Court of Appeals in Washington, D.C. entered its final order upholding Wyoming's wolf management plan which confirms Wyoming's management of wolves. The US Fish and Wildlife Service (FWS) will file notice in the Federal Register in the coming days.

"I am delighted that the Circuit Court recognized Wyoming's commitment to manage a recovered wolf population," said Governor Mead. "Our wolf management plan is a result of years of hard work by people across Wyoming. We recognize the need to maintain a healthy wolf population. I thank former Secretaries of the Interior Ken Salazar and Sally Jewell as well as former Fish and Wildlife Service Director Dan Ashe and the Wyoming Game and Fish Department for their commitment to getting this done. This is a good day for Wyoming."Wyoming managed wolves from 2012 to 2014. In 2014, a federal District Court judge reinstated federal protections for wolves on the premise that population commitments in Wyoming's wolf management plan needed to be found in regulation or statute. Wyoming and the federal government appealed that decision and ultimately prevailed in the D.C. Circuit Court. For more information about management in both the Trophy Game Management Area and the predator zone, please contact the Wyoming Game and Fish Department or visit their website: wgfd.wyo.gov.

A press release from the Wyoming Game & Fish Department noted: Now that wolves are delisted, wolf hunting will not occur in the Trophy Game Management Area, as there is currently not an active season in place. This part of the state is where the majority of wolves in Wyoming live. To re-establish hunting seasons Game and Fish would use the current population estimates to develop hunt area quotas for hunting that would occur the following hunting season. All season development would go through the full public comment process as it has in the past.

Wolves outside the Trophy Game Management Area are now considered predatory animals as defined in state law and therefore can be harvested. Any wolf harvested in the predator zone must be checked in to the Game and Fish within 10 days of harvest. Game and Fish does not manage for population viability outside the Trophy Game Management Area as wolves that occur in these areas are much more prone to conflict with humans.

While wolves were on the endangered species list the federal government was still removing many wolves from the population to manage to reduce the high number of conflicts. Those removals and other human caused mortalities in past years will be considered in future wolf conservation decisions.

Related Links:
Wyoming wolf management - Wyoming Game & Fish Department
Wolf Watch - by Cat Urbigkit, Pinedale Online!

---
Search for Wamsutter man believed lost in Seminoe Reservoir suspended (posted 4/24/17)
Sweetwater County Sheriff's Office
(ROCK SPRINGS, WYOMING. - April 24, 2017) The search for 25-year-old Michael G. Proberts of Wamsutter, believed lost in a kayaking mishap on Seminoe Reservoir northeast of Rawlins in Carbon County, was suspended on Friday, April 24.

On Monday, Sweetwater County Sheriff Mike Lowell passed along an April 21st media release from Carbon County Undersheriff Archie Roybal: "The search for a Twenty-Five (25) year old Wamsutter man was suspended at approximately 2:30 PM today, Friday, April 21, 2017, after six (6) days of search efforts from members of Tip Top Search and Rescue Sonar Team out of Sublette County, Rawlins Search and Rescue, Encampment and Saratoga Search and Rescue ROV Team, the Sweetwater Dive Team, Wyoming Game and Fish, and Classic Air Medical Helicopter Crew.

"The Tip Top Search and Rescue Sonar team provided the towfish sonar device for four (4) days of the search and the Encampment and Saratoga Search and Rescue ROV team members assisted as well.

"The Wyoming Game and Fish Department will to continue to patrol the east shoreline at Seminoe Reservoir in an effort to recover the body should it surface. Air support will be used in the future when sufficient time has lapsed to warrant its use.

"The Carbon County Sheriff s Office is very much appreciative of the assistance of all search and rescue members, Game and Fish Wardens, Sweetwater Dive Team, Classic Air Medical Helicopter Crew, and Tip Top Search and Rescue Sonar Team."

---
Forest roads may not be passable on May 1 (posted 4/24/17)
Late winter conditions may delay accessibility to backcountry
Bridger-Teton National Forest
While winter wildlife restrictions will lift on the Bridger-Teton National Forest on May 1. 2017, most forest roads will not yet be drivable or open.

"We still have a long period of snowmelt ahead and we are seeing several issues our roads and highways already." said Jackson District Ranger Dale Deiter. "While we will be lifting the winter wildlife closure on May 1, roads may still be snow drifted, heavily saturated, or impassable," he said. "Visitors should be prepared to walk into areas or take their horses. There will no longer be restrictions to human presence, but the reality is that access roads may not be drivable or may be closed to prevent resource damage." he said. "We are also concerned with the overall wet forecast between now and May 1st." Lastly, Deiter stated, that "we are committed to opening roads as soon as practical because we want to have people out enjoying their public lands."

People come to the Bridger-Teton from faraway places such as Wisconsin, Gillette WY; Maybell and Rifle, CO; and even closer communities like Rocksprings and Dubois, WY to look for antlers that have been dropped as wildlife moves from the winter ranges to higher ground.

The current status of roads on the Jackson Ranger District for those planning to venture out on May 1 is the following:

• Gros Ventre road – lower gate may open at midnight depending on conditions; regardless the road will be closed to motorized vehicles until June 1st above the gate near Red Rock Ranch; non-motorized use is allowed. Several landslides near Atherton Creek and Russold Hill are being repaired this week.

• Flat Creek road – the gate on the National Elk Refuge opens at midnight April 30th and people will be able to drive to the Forest trailhead; the road will be closed past the trailhead

• Curtis Canyon road – the gate on the National elk Refuge will probably open at midnight depending on conditions and people will be able to drive up to the campground/overlook area; the upper part of road will remain closed due to snow and wet road conditions

• Shadow Mountain north and south roads – closed due to snow

• Ditch Creek road – closed due to snow

• Fall Creek road – closed due to snow

• Granite Creek road – closed due to snow

• Mosquito Creek road – closed due to snow

• North Fork Fall Creek – closed due to snow

Visitors to the Bridger-Teton National Forest can obtain free copies of motor vehicle use map by visiting http://www.fs.usda.gov/main/btnf/maps-pubs . No wheeled motor vehicle travel is permitted off of designated roads and motorized trails. The higher elevation roads take a long time to dry out after the winter. Even at lower elevations, pockets of wet areas can keep an entire road closed.

Depending on spring warm up and drier weather, the Bridger-Teton may be able to report the opening of some lower elevation roads by May 1, but some years the wet conditions prevent that from happening. When roads are wet, vehicle travel can cause considerable resource damage by creating deep ruts. Road widening can also occur when vehicles drive around deep pools of water. The chances of getting stuck are higher earlier in the season.

Once roads open remember to not attempt routes more beyond your skill level or vehicle capabilities and be prepared in case you get stranded. Be mindful of the damage driving on wet roads can cause as the Forest has limited capacity for repairs and impacts may persist through the summer and fall. Changes in weather can result in impassable conditions even when roads are open. To learn if a road is open or closed please call the Bridger-Teton National Forest at 307-739-5500 or visit http://www.fs.usda.gov/recmain/btnf/recreation for the latest in trail, road and campground conditions.

---
Adventure Lovers invited to answer the 'Call of the WY' (posted 4/21/17)
Wyoming Office of Tourism's Immersive Promotion features a tiny house and epic adventures
Wyoming Office of Tourism
The Wyoming Office of Tourism is looking for an adventurer who's ready to leave their regular life behind for six weeks of exploring Wyoming's epic landscapes as part of an experiential "Call of the WY" promotion this summer.

Part of the larger national "That's WY" campaign for the Wyoming Office of Tourism, the "Call of the WY" promotion includes a casting call that invites interested adventurers to apply at HGTV.com/CallOfTheWY, where they will be asked to tell WOT about themselves and share why they'd like to spend six weeks under Wyoming's big blue skies as they explore the state's wide-open spaces.

"For those of us lucky enough to live in Wyoming, we understand the things that make it so special. The wide-open spaces, the mountains, the outdoor recreation, the beautiful skies, the wildlife and most importantly the people," said Wyoming Governor Matt Mead. "Visitors to the state get a glimpse of this, but with the 'Call of the WY' promotion, those participating will get to experience the full breadth of why we choose to live in Wyoming."

Through the "Call of the WY" promotion, Wyoming and its diverse landscapes, activities and colorful characters will be highlighted through the eyes of the selected adventurer as they road trip around the state in a 200-square-foot tiny house.

"Wyoming is a destination that's ideal for adventure," said Diane Shober, executive director of Wyoming Office of Tourism. "We know that prospective travelers have Wyoming on their vacation radar because it's a place that remains wild and free and where anything is possible."

During their six weeks in the Cowboy State, the adventurer from the casting call will visit iconic locations and have authentic Wyoming experiences that include driving the Beartooth Highway and soaking in natural hot springs in Cody/Yellowstone Country, attending a pow wow in Wind River Country, stargazing near Pinedale and hiking in Flaming Gorge National Recreation Area.

The "Call of the WY" will be hosted on HGTV.com/CallOfTheWY and the WOT website at TravelWyoming.com/Call-Of-The-WY, with commercial spots running on HGTV. In addition, it will have a strong digital presence on HGTV channels and a social media presence on WOT's channels--including Facebook, Twitter and Instagram--while the selected adventurer from the casting call will be sharing their first-person experiences at HGTV.com/CallOfTheWY and on their own social media channels.

"This promotion combines the three trends of tiny house living, road trips and authentic experiences," added Shober. "And there's no better way to have an immersive experience in the place we call home than to travel through Wyoming for six weeks."

---




Beware the 'Facebook scam'

Beware of 'Facebook Friend' scam (posted 4/17/17)
Sweetwater County Sheriff's Office
ROCK SPRINGS, WYOMING - April 20, 2017 - The Sheriff's Office today issued an alert concerning a social media scam circulating in the county.

Sheriff Mike Lowell said his office has received reports, particularly from Green River residents, concerning a resurgent "Facebook Friend" scam.

Intended victims receive a "friend" request from someone they know on the Facebook network; the red flag is (or should be) that the individual is already one of his or her Facebook friends.

Thinking it's safe because they know the individual, the victim-to-be accepts the "friend" request, and that's when the trouble starts.

Criminals re-create an already-existing Facebook profile using that individual's profile picture and "About" information. Next, they employ the fake new profile to send "friend" requests to that person's Facebook friends.

If the friend request is accepted, the scammers then have access to the many personal details in a person's profile, including location, photos, date of birth, and status updates. These simple details can be used as substantial steps toward full-blown identity theft and the havoc that ensues.

This particular "Facebook Friend" scam adds an additional twist, Lowell said.

If you "friend" the scammer, you are then contacted by him/her (posing as your friend), who informs you that your name has appeared on a government award list that says you are entitled to stimulus/grant/award money in some large amount - in this latest instance, $90,000. Your "friend" then provides a text number to contact, where you learn that you must send in a "collection charge" - ranging from $750 to $1,000.

That, of course, is the sting: if the scammer is successful, you send in the bogus "collection charge" and you never hear from your counterfeit "friend" again.

Lowell said that when it comes to scams of all sorts, the Sheriff's Office works to foster awareness and prevention.

"We encourage everyone to follow the MAP principle," he explained. "Remember the letters of the word MAP. "

M - If you are contacted and they ask for Money (M), it's a scam.
A - If you are contacted and they ask for Account information (A), it's a scam.
P - If you are contacted and they ask for Personal information (P), it's a scam.

Cybercrime specialists recommend that Facebook users exercise caution and never accept "friend" requests from someone who is already a Facebook friend. Another strategy has also proven helpful - to avoid being contacted by these scammers, consider changing your Facebook security settings so strangers can't see your photos, profile or friends list.

For more information on scams of all kinds, the Sheriff's Office recommends the Federal Bureau of Investigation's website at www.fbi.gov/scams-safety/fraud as an excellent source of information.

---
Game & Fish delays opening of four Wildlife Habitat Management Areas near Pinedale to protect migrating deer (posted 4/20/17)
Wyoming Game & Fish
PINEDALE, WYOMING - Coming off one of the hardest winters western Wyoming has seen in recent history, the Wyoming Game and Fish Department has announced it will delay opening the Soda Lake, Fall Creek, Halfmoon and, the recently acquired, Luke Lynch Wildlife Habitat Management Areas near Pinedale until May 10, 2017. The closure prohibits any human activity. The decision was made primarily to afford migrating mule deer extra protection from human disturbance. These four Game and Fish administered properties are located within a major migration corridor for the Sublette Mule Deer Herd. Game and Fish considered other closures, but these four are the most important for mule deer at this time.

The delayed opening of the Soda Lake Wildlife Habitat Management Area will also preclude anglers from accessing Soda Lake for fishing until May 10.

It's no secret that this past winter has been particularly hard on local deer and pronghorn populations. Wildlife managers are estimating a minimum of 80 percent of last year's mule deer fawns to have perished this past winter, as well as an above average portion of the adult animals.

There cannot be an extension to the annual antler hunting season on other public lands, because that season is set in state law. The antler hunting season closure law prohibits the gathering of shed antlers from January 1 through April 30 on all public lands west of the Continental Divide in Wyoming. These dates have been set by the Wyoming State Legislature and cannot be changed by the Wyoming Game and Fish Commission.

Game and Fish officials are asking all recreationists to respect these seasonal closures and to use good judgment when encountering wildlife after a long, hard winter. "We realize the extensions on the winter closures are an inconvenience for antler hunters and others wanting to get out and recreate," said Pinedale Region Wildlife Supervisor, John Lund. "There are still other places people can go and we believe the extension will benefit deer migrating through these critical areas. Deer that have survived this winter are in poor body condition and are extremely vulnerable to continued mortality throughout the spring. We ask everyone to be part of helping our mule deer and all wildlife start to recover from this winter."
---
Rocky Mountain Power seeks rate decrease for Wyoming customers (posted 4/18/17)
Rocky Mountain Power
CASPER, Wyoming (April 17, 2017) Rocky Mountain Power has asked the Wyoming Public Service Commission for a rate decrease for customers totaling $16.2 million. For the average residential customer using 733 kilowatt hours per month, this will mean a decrease of approximately $15.36 annually.

In addition to today's request for a rate decrease, Rocky Mountain Power pledges to not increase base rates before January 1, 2020.

"When customers' rates are set, they include the costs of electricity such as fuel and wholesale electricity purchases. These costs fluctuate, so there is a method to adjust rates for our customers. This proposed decrease is the result of an annual filing and, if approved by the Wyoming Public Service commission, will be effective June 15, 2017, on an interim basis," said Rita Meyer, Rocky Mountain Power Vice President.

Part of this requested decrease includes adjustment for the sale of Renewable Energy Credits (RECs). The RECs represent the environmental attributes of renewable energy produced by the company. RECs are sold on the open market and revenues are credited to customers to lower their bills.

"These adjustments led us to request a decrease for our Wyoming customers," Meyer said. "We work hard to provide reliable electric service at reasonable prices, and these annual power cost adjustments are made so our customers do not overpay or underpay for the electricity they use."

The Wyoming Public Service Commission will review the request for this decrease with interim rates scheduled to take effect June 15, 2017.

About Rocky Mountain Power
Rocky Mountain Power provides safe and reliable electric service to more than a million customers in Utah, Wyoming and Idaho. The company works to meet customers' growing electricity needs while protecting and enhancing the environment. Rocky Mountain Power is part of PacifiCorp, one of the lowest-cost electricity providers in the United States. More information at rockymountainpower.net.

---
Business Directory
Click here for
Advertising Information