Eclipse viewing info (posted 8/18/17)
Sublette County Sheriff's Office
Fires: Click on these links for details of Fire Ban in Sublette County and on the Bridger-Teton National Forest & area national parks.

Cell phone service: It is anticipated that cell phones may not work due to the high congestion of bandwidth. Agency personnel (Forest Service, BLM, Sublette County Unified Fire, Sublette County Sheriff's Office, Wyoming Highway Patrol and Wyoming Game and Fish) are going to be available throughout the county beginning Thursday, August 17th through Tuesday August 22nd. If you do have an emergency and can't get through to 911 please locate one of these agency personnel or go to the closest ranger station or area fire hall (Pinedale, Bondurant and Kendall Valley) where there will be information, radios and emergency services.

Information: Joint Information Center (JIC) in Pinedale is set up next to the Hampton Inn. Agency representatives will be there to assist tourists and answer any questions regarding the eclipse.
More information can be found on the Sublette County Interagency Information Center Facebook page:
https://www.facebook.com/pg/Pi nedalewyeclipse2017-1563826270 341860/posts/?ref=page_ internal

Designated viewing areas: The Forest Service was looking at designating viewing areas for 'Eclipse-goers'. They have been inundated with requests and are now more concerned about actually closing areas as they reach capacity. Below is a report from them listing the areas in and around Sublette County open to the general public for viewing and camping.

Viewing Sites:
Where to View- Day Use Viewing Areas:
Jackson Day use viewing areas (no fees, spots not reservable)
Max. Capacity = 170 (plus locations along Hatchet-Flagstaff road)
- Togwotee overlook - estimate 35 spots
- Hatchet-Flagstaff road - estimate 4 locations (reservoir, Baldy Mtn., Cabin spur, Flagstaff fishing)
- Teton Pass summit - 60 spots (including overflow area)
- Wedding Tree pull-out - 8 spots
- Gros Ventre Geological Interpretive Site - 12 spots
- Lower Slide Lake overlook - estimate 40 spots
- Curtis Canyon overlook - estimate 15 spots

Teton Pass Area (Day use only)
- Phillips Ridge trail - access from Phillips Bench trailhead
- Glory Mountain ridge - non-system trail, steep and loose

Cache- Game Creek Area (Day use only)
- Skyline trail - access from Snow King or Cache Creek

Munger Mountain (Day use only)
- Wally World trail - access from Munger Mtn. north trailhead
- Big Munger trail - access from motorized trailhead, Munger Mountain summit

Pinedale Day Use Viewing Areas:
- All of Pinedale District. Not specifying sites.

Camping Areas
Where to Camp- No Reservations Accepted in Advance:
Jackson Area Developed Campgrounds: (fee sites, services) (each site max. 8 people, 2 vehicles) Not reservable in advance
Max. Capacity = 205 sites
- Atherton Campground - 20 sites
- Crystal Creek Campground - 6 sites
- Curtis Canyon Campground - 11 sites
- East Table Campground - 20 sites
- Granite Campground - 51 sites
- Hoback Campground - 13 sites
- Kozy Campground - 8 sites
- Station Creek Campground - 16 sites
- Wolf Creek Campground - 20 sites
- Hatchet Campground - 9 sites
- Sheffield Campground - 5 sites
- Turpin Campground - 18 sites
- Pacific Creek Campground - 8 sites

Pinedale Area: Developed Campgrounds - Not reserveable:
- Green River Lakes Campground - $12/ day (39 sites) with drinking water, tables, toilet, corrals, lake
- Whiskey Grove Campground - $12 (9 sites) with drinking water, tables, toilet
- New Fork Lake Campground - $7 (15 sites) with tables and toilet
- Willow Lake - (6 sites) with tables and toilet
- Trails End Campground - $7 with (8 sites) with tables, toilet and corrals
- Boulder Lake Campground - $7 (15 sites) with tables, toilet and corrals
- Big Sandy Campground - $7 (5 sites) with tables, toilet and corrals
- Scab Creek Campground - (20 sites) BLM - with water table toilet corrals
- Sweetwater Bridge Campground - (7 sites) BLM - Table and toilet
-Warren Bridge Campground - $10 (15 sites) BLM - with water, table, toilet

Pinedale Area Group sites NOT RESERVEABLE (BLM):
- Sweetwater G.S. Campground - (17 sites) BLM - with table and toilet

Jackson Area Temporary RV Camping Areas: (fee site, services) Max. Capacity = 290 sites
- Togwotee Snowmobile parking - estimate 50 sites
- Spread Creek gravel pit - estimate 160 sites
- Hatchet snowmobile parking - estimate 9 sites
- Wolf Creek staging area - estimate 8 sites
- Hoback no-name camping area - estimate 18 sites
- Crystal Creek overflow area - estimate 5 sites
- Shadow Mountain base area - 15 sites

Jackson Area Undeveloped Campsites: (along Forest roads) (no fees, no services)
Max. Capacity = 142 sites (note: the gate on Phillips Ridge road will be closed)
- Spread Creek road - 9 sites
- Toppings Lake road - 15 sites
- Shadow Mountain - 23 sites
- Gros Ventre corridor - 40 sites (Forest boundary to Yellowjacket Flat)
- Curtis Canyon - 16 sites
- Flat Creek – 5 sites- Fall Creek corridor - 10 sites
- Granite Creek - 16 sites
- Little Granite Creek - 8 sites

Wilderness and Backcountry Camping
Gros Ventre Wilderness (note group size limit = 15 people, bear awareness, LNT)
- Jackson Peak - trailhead access road requires high clearance, limited camping at lake
- Crystal Butte trail - accessible from town, steep trail, no camping/no water
- Blue Miner Lake - limited camping at lake, provides ridge access to Sleeping Indian
- Alkali Ridge trail - no water or campsites along trail but nice open ridge to overlook
- Cream Puff Peak - trailhead access from Bull Creek (along Hoback canyon road)
- Sleeping Indian - very limited parking, no camping along trail/no water (camp along Flat Creek road)
Palisades Wilderness Study Area
- Mount Elly - access from Teton Pass, easy trail, parking may be tight, no camping/no water
- Wolf Mountain - access from Dog Creek, rough trail, likely less people
Wyoming Range and Mount Leidy Highlands
- Anne's Ridge trail - access from Willow Creek trailhead, open ridges
- Palmer Creek trail - access from Hoback Junction area (Johnny Count road), limited parking
- Dog Creek lookout trail - remote location in upper Gros Ventre, high clearance vehicle for TH access

Camping Areas

Where to Camp- Reservations ACCEPTED
Pinedale Area: Campgrounds Reserveable, single sites
- Narrows Campground - $12 (18 sites) with tables, toilet, corrals
- Fremont Lake Campground - $12 (50 sites) with drinking water, tables, toilet, lake
- Half Moon Lake Campground - $7 (17 sites) with tables, toilet,
* To make site reservations in campgrounds with reservable sites, please call 1-877-444-6777 (toll-free) or http//:www.recreation.gov

Jackson Developed Group Campgrounds (fee sites, services)
Max. Capacity = 140 people at one time
- East Table overflow - 40 people at one time
- Little Cottonwood -40 people at one time - already booked for the eclipse (8/15-8/22)
- Station Creek group - 60 people at one time - already booked for the eclipse (8/17-8/23)

Pinedale Developed Group Campgrounds - can be reserved
- Green River Lakes Group Sites A & B - $35/day (2 sites) with drinking water, tables, toilet, corrals, lake
- Green River Lakes Group Site C $70 (1 site) with drinking water, tables, toilet, corrals, lake
- Fremont Lake Group Site - $35 (1 site) with water, tables, toilet
- New Fork Lake Group Site - $35 (1 site) with tables and toilet

* To make site reservations in campgrounds with reservable sites, please call 1-877-444-6777 (toll-free) or http//:www.recreation.gov

---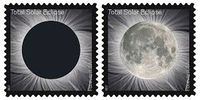 Special heat-sensitive solar eclipse stamps offered by the U.S. Postal Service.

Bondurant Post Office offers special eclipse postmark (posted 8/17/17)
Between now and Monday, August 21st, the U.S. Postal Service is offering special postmarks at post offices along the path of the solar eclipse totality.

The Bondurant post office gets to be one of the few offering the special postmark. They are located at 13884 US Hwy 191 (south of Bondurant near the Branding Iron Cafe). Any item bearing current first-class postage stamps will be postmarked at no charge. Sheets of the special forever stamps will also be available.

The Total Eclipse of the Sun stamp was issued on June 20, 2017 and is a special one-of-a-kind forever stamp. It is heat sensitive and transforms the solar eclipse image into the moon from the heat of a finger. Once cooled, the image reverts back to the eclipse. The stamps are sold in panes of 16 forever stamps and are available at post offices nationwide and online at usps.com/shop.

---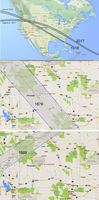 Historic eclipses

The Solar Eclipses of 1878, 1889 and 1918 (posted 8/16/17)
A bit of history
Pinedale Online!
Wyohistory.org is a history website project of the Wyoming State Historical Society with many stories about Wyoming history. They have an interesting story about historical solar eclipses as seen from Wyoming. The story was written by Rebecca Hein. "Three total solar eclipses have crossed Wyoming since territorial times—in 1878, 1889 and 1918. Two in particular drew prominent astronomers and scientific discoveries."

The solar eclipse of 1878 crossed Wyoming in a diagonal from northwest to southeast, at somewhat of a sharper angle than this year's eclipse will do. Pinedale, Jackson and Yellowstone Park were in the pathway of totality in that one. Noted astronomers from around the country came via the transcontinental railroad and set up scientific equipment at viewing stations about 14 miles west of Rawlins.

The 1889 solar eclipse just clipped the northwest corner of Wyoming and Yellowstone National Park and Wyoming didn't play a big part in the viewing hoopla since the eclipse was more easily viewed from other more accessible locations.

The 1918 solar eclipse crossed the southeast corner of Wyoming including Green River and Rock Springs on a path similar to this year's, but shifted a bit more southerly. At least six well-known astronomers, plus many spectators, visited Wyoming for this eclipse bringing "gigantic cameras and spectrographs," mirrors and other equipment for viewing and taking measurements.

Click on this link to read the full story on eclipse history in Wyoming on wyohistory.org: Moon Shadows over Wyoming: The Solar Eclipses of 1878, 1889 and 1918

Related Links:
Eclipseblog May 10, 2017
The Solar Eclipses of 1878, 1889 and 1918 More graphics of historic eclipse paths here

---
Yellowstone Park to see just a partial eclipse on August 21 (posted 8/16/17)
Grand Teton Park is in the totality. Pack your patience and expect heavy visitation.
National Park Service – Yellowstone National Park
MAMMOTH HOT SPRINGS, WYOMING – Next week on August 21, a partial solar eclipse will turn day to night for a few short minutes. If you plan to visit the park before, during, and after the eclipse, develop a plan, and keep the following facts in mind.

Yellowstone National Park is not in the path of totality, but Grand Teton National Park is. Yellowstone does not recommend traveling in or out of the South Entrance on August 21. That entrance borders Grand Teton National Park where the center-line of the solar eclipse will pass. August 21 is anticipated to be the busiest day in the history of Grand Teton National Park.


• Check road conditions online and by phone at (307) 344-2117 before and during your visit.
• Do not block emergency vehicles or traffic flow. Yellowstone will ticket or tow vehicles that obstruct traffic.
• Do not park on roadsides.
• Park only in designated pullouts and parking lots.
• Watch for park staff at popular attractions, entrances and congested road junctions who will provide visitor information and manage traffic.
• Expect temporary entrance or road closures if the park experiences gridlock.
• Access restrooms at all visitor centers and most picnic areas.
• Bring plenty of food and water for everyone in your group for the entire day. Make sure your vehicle is filled with fuel.
• Camp only in designated campsites.
• Yellowstone National Park will not waive entrance fees on August 21, 2017.

Communication
• Expect limited cellular voice and data service due to high demand.
• Read electronic information signs along park roadways for traffic information.
• Get information at visitor centers and entrance stations, as well as on our website, Facebook, and Twitter.

Emergency
• Find a ranger or call 911 if you experience an emergency. All emergency requests will be prioritized and responded to as quickly as is feasible.
• Anticipate long emergency services response times due to eclipse-related traffic congestion.
• Expect an increased law enforcement and emergency services presence before, during, and after the eclipse.

Green & Clean
• Consider packing out your recyclables and trash on eclipse day.
• Discard trash and recyclables in bear-resistant trash and recycle containers if you leave them in the park.
• Keep the air clean. Do not idle your car.
• Get required Aquatic Invasive Species inspection and appropriate permits if you intend to watch the eclipse on park waters.

Safety
• Bring appropriate eclipse viewing glasses (available in park general stores and bookstores) and solar filters for cameras, binoculars, or telescopes.
• Supervise young children carefully.
• Build campfires in designated fire rings only. Campfires must be extinguished and cold to the touch after use. Fire danger in Yellowstone is currently high.

The next solar eclipse visible from the continental United States will be April 8, 2024.
---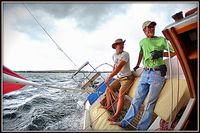 Jason Essington and David Payne roll with the waves during a storm on Fremont Lake during the Sailing Regatta. Photo by Terry Allen.

Fremont Lake Sailing Regatta 2017 (posted 8/14/17)
Every Year Since 1970
Terry Allen
Little Shay Paravicini and I had a discussion about pirates during the Pinedale Boat Club's Annual Sailing Regatta on Fremont Lake.

"They go, Aarrgghhh," she said. "We have a pirate boat and I'm a pirate girl and pirate girls go, Aarrgghhh! Daddie's a pirate and he likes to eat fish and drink beer and rum, but he isn't racing today, Jason is the only pirate in today's race."

Lucky for me, Jason "The Pirate" Essington had invited me a year ago to come along for this year's race, the 47th. They have held this race every year since 1970. His boat is named, Opa's Dream. Opa is German for "Grandpa." "I bought Burt Reno's old boat," he said. "He brought sailing to Fremont Lake and I bought it to make sure we still have sailing here." "He weighs about 5000 pounds and the next heaviest boat in this race weighs about 2000 pounds. It takes more wind to get us going, but it is real good in the unpredictable squalls that kick up here."

While I was waiting for the race to start I talked to a few other racers. David Pendell sails Rosie. "I used to sail Nirvana, but used to spend too much time upside down, bailing and other situations, so we got Rosie, who is more understanding of older gentlemen. Oh yeah, at last year's race we saw a funnel cloud."

I got a news tip from Allan and Sharon Holmes who summer at the cabins in Sylvan Bay, telling me about Richard and Peggy Krebill who have summered at Sylvan Bay for 50 years. "They are in the 80's, and they sail a boat with a frowny face on it," Allan said.

I never did find a frowny face anywhere, but I did find Rich and Peggy Krebill who have sailed this race for about seventeen years. Turns out they live in a home they built themselves with lumber they had cut at the old mill that used to be out in Daniel. "We don't have hot water in the cabin," said Peggy. "We use a solar shower. If we get a sunny day we get a pretty hot shower right out of the bag. If we don't get a sunny day, then we warm up some water on the wood stove. That is the stove we cook our food on, too. That stove used to belong to the American Legion and my Mom bought it for us when the Legion got a new one."

Jason gave me a heads up to go to the head if I needed to because it might not be easy out there. Once I got in the boat he gave me three spots I was allowed to be in and told me not to be offended if he yelled at me. I'm used to this advice as I get the same advice from cowboys when I do rodeo and branding stories. So far I ain't walkin' funny, so I'll keep listening.

The start of the race is sort of like Musical Chairs for boats. You get a five minute blow on an air horn and in that five minutes all the boats run all over the place close to the orange mark buoy and try to be right at it when the start horn blows. It gets pretty tight and it's a little like bumper cars, but no one yelled at anyone too bad. I couldn't tell exactly where the line was but everyone seemed to know who got across the start line first and that's when the beer came out and the trash talking started. We were in the doldrums just like Magellan and the insults were creative. Jason opened a beer for me with his wedding ring. "Titaniun," he said. "Gold ain't much good for opening beer."

We were looking for "texture" in the surface which indicates wind, but it took a long time coming. Every time a dark front with a little lightning moved in, we thought we'd get going. But it didn't happen...until it happened suddenly. One minute we were commenting on David Payne's big fat toes and the next we were grabbing at anything with an edge so we wouldn't go over the side. Someone turned cowboy music up loud and there were cowboy whoops and "yeehaw's" all over the fleet as the wind almost threw everyone off their feet. I crashed into one side of the cabin or the other until I learned to anticipate the changes, but I cracked a few body parts pretty good in the process.

Luckily, my camera has never left my hands in spite of all the spills I've taken over the years, so I just kept shooting as I scrambled. Unfortunately, I must have bumped my head so I can't remember how I ended up leaving my camera in the cabin and joining Jason and David pulling sail lines. It ain't easy pulling on those little skinny twiney things. As I pulled my line I watched my camera roll around the cabin floor and then it was joined by my camera bag...which spilled out all the lens's, batteries, filters and mixed together on the floor with beer bottles, radios, life jackets, Cheetos, bikini bottoms and lake spray. Damn, I was missing some good shots...so I scampered down there and got back to work.

Jason and David were shouting Viking songs into the wind as they stood at 90 degrees off level or is it 45? Hope you like that shot. Somehow, in spite of the waves coming over the front of the boat, they kept their eyes on the second marker and kept steering toward it...tho Dave did ask me to clean his glasses at least once.

After awhile we looked around us and it seemed a few boats were giving up and dropping their sails or trying to. It felt good to be in Jason's boat. He and David worked together like they'd been handling this stuff all their lives, so I felt totally secure. Never had a moments misgiving. I was a little disappointed that we turned around, too...until I realized we had capsized boats and people overboard in the race.

Riley Bennett had flipped and his mast was pointed toward the bottom of the lake. Riley Wilson on his little Butterfly was nowhere to be seen; Howard Bartlett had been thrown overboard and had been in the cold water twenty minutes since he'd last been seen. We also were unable to raise the boat with the Merman and his Mermaids from New York on the radio. Every boat that could get underway joined to the search and rescue.

Jason was on the radio trying to account for everyone but I couldn't figure out a single word that came thru that radio. It sounded like a heavy metal song mixed together with sounds of someone getting murdered and finger nails on a chalk board.

Eventually everyone was accounted for; Riley was able to get his boat halfway up with the help of two boats pulling on opposite ends and then dragging him to Sandy Beach. Monte Bolgiano said they were so far over water was coming into the cockpit. I was glad we headed in when we did. I found myself pretty focused on weighing my barfing options...a small plastic bag or crowd Jason and heave over the side. Then I'd look at the horizon and try to take my mind off it. Stepping onto dry land got me on the road to recovery, but I needed something more.

I found Howard "twenty minutes in the water" Bartlett all bundled up in the lodge and he admitted he was hypothermic. "One boat came close and I held up my hand in the waves, but there was so much rain, hail and wind they didn't see me as they went by," he said. So just like the movies I went up to the bar and brought us both down a Jameson Whiskey. I know, Kenna Tanner...I forgot. Whiskey isn't a good way to fight if off since it will pull the cool blood from your extremities into your core, further lowering your body temp. That is why we have people like you who train and train and train...so they won't make things worse for their friends like I just did. But, we liked it anyway, didn't we Howard?

So guess who won the race?
Eighty-one year old Richard Krebill and his buddy, seventy-year old Charlie Kulp. I sat with them and Peggy and told them of my high time on the lake and asked them what their secret was. "Well, we didn't have any beer," said Richard.

I'll just leave that there, since I didn't pursue it with Richard either. Some topics we just can't entertain.

Thank you Dawn Ballou of Pinedale Online for sponsoring this grand adventure. Thanks to all the racers and volunteers and Lakeside staff who were so kind to me. Jason, I can't thank you enough. Best time of my life. You all are free to use these low-rez images for personal use. I do sell hi-rez images which helps me replace camera gear who give their lives in pursuit of a good story. I have a lot more photos, but I just can't post them all. Terry: txpartisan@gmail.com

Click on this link for more of Terry's pictures of the sailing regatta: Fremont Lake Sailing Regatta 2017

Related Links:
2017 Sailing Regatta results (PDF)
www.lakesidelodge.com Lakeside Lodge

---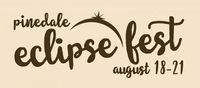 Pinedale Eclipse Fest Aug. 18-21

Pinedale orgs plan huge Eclipse Festival Aug. 18-21 (posted 8/15/17)
Pinedale Fine Arts Council
In anticipation of Wyoming's total solar eclipse, a number of Pinedale organizations will host a four-day celebration August 18-21 which will feature everything from live music to solar-based kids' activities to lectures on the phenomena of solar eclipses.

The Pinedale Eclipse Festival kicks off Friday, August 18 with all events taking place at the Museum of the Mountain Man. Astronomy historian Kevin Schindler from the Lowell Observatory in Flagstaff, Arizona will give two lectures (see schedule below) on the phenomena of solar eclipses as well as other celestial events throughout recorded history.

A jam-packed Saturday, August 19 will see all events take place at American Legion Park in Pinedale beginning with science stations for kids, an inflatable star lab with ongoing demonstrations, and a solar oven cook-off.

Saturday night will see a huge line-up of live music at American Legion Park featuring The Deer, The Lonesome Heroes and Whippoorwill. All three bands are based out of Austin, Texas and will perform as part of the Pinedale Fine Arts Council's Soundcheck Summer Music Series. Music starts at 5 pm.

Following music in the park, both the Lonesome Heroes and Whippoorwill will keep the party going by playing a very special after-party at Wind River Brewing Company in downtown Pinedale.

On Sunday, August 20 the festival will wind down with an evening outdoor screening of Guardians of the Galaxy at the American Legion Park at 9 p.m.The screening is part of Pinedale's ongoing Park After Dark film series.

The Total Solar Eclipse will take place on Monday, August 21 and much of the Pinedale area lies in the path of totality. For more information on the Pinedale Eclipse Festival visit visitpinedale.org and sublettechamber.com.

Participating organizations include The Pinedale Fine Arts Council, The Museum of the Mountain Man, Sublette B.O.C.E.S, The Town of Pinedale and Wind River Brewing Company.

SCHEDULE OF EVENTS

FRIDAY, AUGUST 18 - ALL EVENTS AT MUSEUM OF THE MOUNTAIN MAN
1:00 - 5:00 PM: Solar Eclipse Presentations by Kevin Schindler
Presented by Museum of the Mountain Man
1:00 pm – 1:45 PM: Lecture by Mr. Schindler
2:00 pm – 2:45 PM: Telescope viewing of the sun
3:00 pm – 3:45 PM: Lecture by Mr. Schindler
4:00 pm – 4:45 PM: Telescope viewing of the sun

SATURDAY, AUGUST 19 - ALL EVENTS AT THE AMERICAN LEGION PARK
11:00 AM - 5:00 PM: Solar Science Stations for Kids
Presented by the Museum of the Mountain Man
11:00 AM - 5:00 PM: Inflatable Star Lab
Presented by Sublette BOCES
12:00 PM - 2:00 PM: Solar Oven Cook-off
Presented by Sublette BOCES
5:00 PM - 9:00 PM: Soundcheck Summer Music Series (free)
Presented by the Pinedale Fine Arts Council and the Town of Pinedale
5:30 PM: Whippoorwill (Austin, TX)
6:30 PM: The Lonesome Heroes (Austin, TX)
7:30 PM: The Deer (Austin, TX)
9:30 PM - 11:30 PM: Soundcheck After-Party with Live Music
@ Wind River Brewing Company (feat. Lonesome Heroes)

SUNDAY, AUGUST 20 - ALL EVENTS AT AMERICAN LEGION PARK
8:00 PM - 11:00 PM: Movie Night at the Park (free)
Presented by Sublette BOCES and the Great Outdoor Shop

Related Links:
www.mmmuseum.org Museum of the Mountain Man
www.subletteboces.com Sublette Board of Cooperative Education Services
www.greatoutdoorshop.com Great Outdoor Shop
www.pinedalefinearts.com Pinedale Fine Arts Council
www.townofpinedale.us Town of Pinedale

---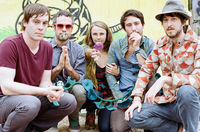 The Deer

Trio of Austin Bands conclude PFAC's Soundcheck series (posted 8/15/17)
Saturday, August 19th during the Pinedale Eclipse Festival
Pinedale Fine Arts Council
The Pinedale Fine Arts Council will conclude the 10th Annual Soundcheck Summer Music Series this Saturday, August 19 with a trio of Austin, Texas-based bands at American Legion Park with music slated to start at 4 p.m. The final Soundcheck will be held in conjunction with Pinedale's Eclipse Festival which hosts a weekend of activities leading up to the much anticipated total solar eclipse on August 21.

Headliners The Deer encompasses the innovation of the modern indie-folk revival and the cross-pollination of Austin's diverse music scene. Described as transcendental Texas folk and stargaze surf-western, The Deer create psychotropic soundscapes and tranquil, vivid dream-pop.

Playing middle bill, and certainly no stranger to Pinedale, Austin's The Lonesome Heroes return after a two hiatus from playing Sublette County. Austin's KUTX describes them as "the soundscape that occurs when indie rock and country artfully cross paths."

Opening Saturday night's show will be the Ft. Collins/Austin-based Whippoorwill. Featuring members of The Patti Fiasco and Von Stomper, Whippoorwill is cathartic, experiential alt-folk written by boots-in-the-dirt, partner-in-crime country girls and delivered across drummer Tobias Bank's vast percussive landscape.

Following the music in the park, both The Lonesome Heroes and Whippoorwill will play a special after-party at Wind River Brewing Company which kicks off at 9 p.m.

For more information on Eclipse Fest activities and a full schedule please visit visitpinedale.org.

Related Links:
www.pinedalefinearts.com Pinedale Fine Arts Council

---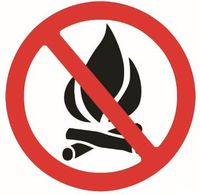 Fire restrictions in effect

Local fire restrictions enacted (posted 8/15/17)
Stage 1 Fire Restrictions in effect
Sublette County Unified Fire
SUBLETTE COUNTY, WYOMING - Effective Tuesday, August 15, 2017, Sublette County has enacted fire restrictions that limit fires within the county. The Sublette County Board of Commissioners voted unanimously via conference call to enact fire restrictions following the recommendations of Fire Chief Shad Cooper. Fire restrictions have also been implemented for Teton County, Bridger-Teton National Forest, Grand Teton National Park, the Bureau of Land Management, and Wyoming State Forestry administered lands.

The restrictions were enacted due to the current high fire danger and prediction for warmer and drier weather. Additionally, increased visitation for the upcoming total solar eclipse could potentially see several new fire starts in the area. The increased fire activity may limit the number of available fire resources and personnel available to respond to the additional fires.

The Sublette County Fire Restrictions prohibit all outdoor fires, incendiary devices, and the discharge of fireworks within the county. The following exceptions are allowed if the fire activity is controlled in a cleared area at least 10' in radius, and a fire extinguisher is immediately available: campfires contained within an established fire ring; trash or refuse fires within containers provided with spark arresters between 6:00 PM and 8:00 AM; charcoal fires within enclosed grills; acetylene cutting torches or electric arc welders; and fire branding activities.

Additional fire restrictions have also been enacted on the Bridger-Teton National Forest, Bureau of Land Management High Desert District, National Elk Refuge, Grand Teton National Park, and Wyoming State Lands and Parks. These additional fire restrictions apply primarily to restricting campfires and smoking on state and federal lands, in addition to the normal year-round wildfire prevention restrictions on fireworks, incendiary ammunition, burning of hazardous materials, and operating off-road vehicles/chainsaws without properly installed spark arresters.

For specific information about fire restrictions on public land, please see the following:
https://gacc.nifc.gov/gbcc/dispatch/wy-tdc/documents/information/education-prevention/restrictions/Interagency_stage_1_fire_restrictions_081417.pdf

Approved: Shad Cooper
Sublette County Fire Chief/Warden

---
Rocky Mountain Power offers free onsite energy assessment for small businesses in Wyoming (posted 8/15/17)
Call soon to schedule an appointment
Rocky Mountain Power
Rocky Mountain Power representatives are currently in a number of Wyoming towns introducing small businesses to new lighting technologies that can make their operations more energy efficient.

Crews are reaching out to businesses in Green River, Evanston, Pinedale, Big Piney, Boulder and Marbleton, Wyoming. During this time, wattsmart Small Business Direct technicians will be conducting on-site energy assessments by going door-to-door or by appointment. Qualifying small businesses may receive enhanced incentives to save as much as 75 percent of the overall project cost.

"Small businesses face many challenges, and our energy efficient lighting incentives make it easier to save energy, money and time when upgrading existing lighting systems," said Clay Monroe, Rocky Mountain Power customer solutions program manager. "We also want our small business customers to know the wattsmart Small Business Direct technicians will provide reliable information and quality work."

The program covers some of the most common interior and exterior lighting upgrades, including LED lighting technology. Businesses will save money both on the incentives for the upgrade work and on energy use in the future.

To get started, business owners should set up an appointment for the on-site energy assessment by calling toll free 844-712-6232. Once the assessment is completed, business owners will have time to review the project proposal, the incentives offered and determine whether or not to proceed. The wattsmart Small Business Direct team will take care of installation and paperwork.

"We're looking to make this very easy for customers," Monroe said. "Saving energy helps everyone, and we certainly hope local business customers keep our technicians very busy during their time here."

For more information, call 844-712-6232, or visit the company's web page at https://www.rockymountainpower.net/bus/se/wyoming/sb.html.

---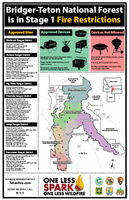 Fire restrictions in effect

Partial Fire Restriction begin Tuesday, August 15 on public land (posted 8/15/17)
Interagency Fire
WESTERN WYOMING — Stage 1 fire restrictions will be go into effect for Bridger-Teton National Forest, Grand Teton National Park, Bureau of Land Management High Desert District and National Elk Refuge beginning 12:01 a.m. Tuesday, August 15.

Stage 1 fire restrictions apply primarily to campfires and smoking. The restrictions are based in part on the current high fire danger and predictions of continued warm and dry weather. Other factors include current regional and national fire activity and increased visitation to the area during the upcoming total solar eclipse. Several geographic areas are experiencing major incidents which have the potential to exhaust all agency fire resources. "The limited number of available fire resources due to the national fire situation and the increased traffic may limit our ability to respond to fires in a timely fashion," said Mike Johnston, assistant fire management officer for the Bridger-Teton National Forest. "We want people to take the danger seriously and obey the restrictions that are in place."

Fire managers study the moisture content of various fuel types, track current and expected weather conditions, and monitor available fire-fighting resources, as well as the occurrence of human-caused fires, to determine when fire restrictions need to be applied to public lands. The Teton Interagency Dispatch Center has recorded over 73 unattended campfires so far this summer.

Teton and Sublette Counties will also begin fire restrictions this week. The Shoshone and Caribou-Targhee National Forests have implemented some form of ire restrictions as well. Teton Wilderness on the Blackrock Ranger District, and the Bridger Wilderness on the Pinedale Ranger District of the Bridger-Teton National Forest, will be exempted from the stage 1 restriction order. These areas are higher in elevation and the fuels are not as dry as the rest of the forest.

Stage 1 fire restrictions include:

• Lighting, building, maintaining, attending or using a fire, campfire, barbecue or grill is allowed only at designated recreation sites such as established campgrounds or picnic areas. Use of portable stoves and lanterns using gas, jellied petroleum or pressurized liquid fuel, or use of a fully enclosed sheepherder type stove with a spark arrester screen is permitted.

• Smoking is allowed only in an enclosed vehicle, building (unless otherwise prohibited), developed recreation site, or while in an area at least three feet in diameter that is barren or cleared of all flammable materials (i.e. parking lots, developed campsites, or locations surrounded by water).

The following restrictions exist year round:

• Operating a chainsaw is prohibited in national parks and on the wildlife refuge. Operating a chainsaw on national forest lands is permitted only when equipped with a USDA or SAE approved sparkarrester that is properly installed and in effective working order. Operators must also carry a chemical pressurized fire extinguisher with a minimum rating of 2A and one round point shovel with an overall length of at least 36 inches.

• Discharge of fireworks and use of explosives requiring blasting caps are prohibited.

• Charcoal burning fires are only allowed in official campgrounds and picnic areas.

• Stoves and grills that burn contained fuel sources that can be turned off and on are allowed. Stoves and grills must be attended to all times and be setup on hardened surfaces devoid of vegetation at least three feet in diameter.

Violation of these prohibitions is punishable by a fine of up to $5,000 for an individual or $10,000 for an organization, and/or by imprisonment for more than six months.

Unattended or abandoned campfires can quickly escalate into wildfires, and it is extremely important that all campfires are completely extinguished and cold to the touch before campers leave their site. Visitors should NEVER leave a fire unattended, and should prepare for the unexpected by having a water bucket and shovel on hand and ready to use. The fine for an abandoned campfire as well as campfires in unapproved areas is up to $5000 or 6-months in jail, but campers can also be held liable for suppression costs if their campfire becomes a wildfire.

A copy of the order and additional information on allowable stoves is available on www.tetonfires.com. To report a fire or smoke on the Bridger-Teton National Forest, Grand Teton National Park, or National Elk Refuge, call 307-739-3630.

---




Interagency Eclipse Information Center opens August 17 across from the Hampton Inn in Pinedale

Pinedale Eclipse Information Center opens August 17 (posted 8/14/17)
Lauren McKeever, Sublette County Joint Information Center
PINEDALE, WYOMING – The Sublette County, Wyoming interagency team has been working together for months to safely and efficiently manage services and operations for residents and visitors to Sublette County and the Wind River mountain area during the 2017 Total Solar Eclipse on August 21, 2017.

Agency personnel from county, state and federal agencies have been pulling together resources to respond to any incidents during the total eclipse on the morning of August 21, in order to provide emergency services, inform visitors coming from around the world, and maintain safety in the community. A Joint Information Center will be operating starting on Thursday, August 17th, across from the Hampton Inn in Pinedale.

"Totality" is the phenomenon when the moon will completely block the sun for a few minutes, depending on the vantage point. The community of Bondurant will be entirely in totality, while Pinedale, Daniel and Boulder will be minutes from the totality viewing path.

Xavior M. Jubier's free map is excellent for learning specifics of the eclipse path: http://xjubier.free.fr/en/site_pages/solar_eclipses/TSE_2017_GoogleMapFull.html.

Since thousands of extra visitors are already arriving to the area, federal, state and local agencies are advising the following:

Cell phone service is expected to be overloaded, so it is possible 911 calls may not work. Plan accordingly. If you do have an emergency and cannot use 911, find agency personnel (local police, fire, or federal or state agency personnel) who will be present throughout the area on public lands. Information and emergency services will also be available at ranger stations and at the forest boundary at the end of Highway 352, known locally as the Green River Lakes Road. Information and emergency assistance will also be available at area fire halls: Pinedale, Bondurant and Kendall Valley (off of Highway 352).

Cell phone service is usually not available in the remote backcountry such as the Wind River Mountains. Plan your route in advance, pack a map and be prepared. Have a compass.

Campers on public lands are discouraged from making campfires August is peak wildfire season and a small spark can rapidly become a large fire. Be aware of local fire restrictions that are in place.

Practice "Leave No Trace" ethics while visiting Pack It In, Pack It Out. Keep a clean camp and don't invite wildlife into your camp. It's dangerous for you and for them.

• Plan Ahead and Prepare
• Travel and Camp on Durable Surfaces
• Dispose of Waste Properly
• Leave What You Find
• Respect Wildlife
• Be Considerate of Other Visitors
• Be "bear aware" https://www.fs.fed.us/visit/know-before-you-go/bears
• Leave gates how you found them. If they were closed, close them behind you, if they were open, leave them open.

Be aware of altitude sickness, Pinedale's elevation is nearly 7,200 feet and most visiting areas are higher. Be familiar with the signs of altitude sickness. Drink plenty of water and rest as necessary. Arrive early to acclimate; avoid alcohol.

Finally, enjoy your time in Wyoming's beautiful northwest mountains. Additional information is available from agency websites:

For the Pinedale, Wyoming area: http://pinedalewyeclipse.weebly.com/
https://www.blm.gov/node/11354 Bureau of Land Management
https://www.facebook.com/BridgerTetonBridger-Teton National Forest
http://www.sublettechamber.com/2017-total-solar-eclipse Sublette County Chamber of Commerce, 307-367-2242

Related Links:
www.visitpinedale.org Pinedale Visitor Information website
www.greatamericaneclipse.com

---
Grizzly depredations in Upper Green (posted 8/4/17)
Cat Urbigkit, Pinedale Online!
According to Wyoming Game and Fish Department reports, the head count of dead cattle in the Upper Green has increased in recent weeks. For the week of July 15 to July 21, 13 calves were killed or injured by grizzly bears. One adult male grizzly was removed from the population due to repeated depredations, while two males were captured and relocated.

The week prior, grizzlies had killed or injured five calves, and two other calves the first week of July.

The Interagency Grizzly Bear Study Team keeps a running tally of confirmed grizzly bear mortalities (both natural and human-caused) in the Yellowstone ecosystem, and that number stands at 12 grizzlies so far in 2017. Two of these bears were killed in collisions with motorists.
---
Wolf News Roundup (posted 8/5/17)
Cat Urbigkit, Pinedale Online!
Great Lakes wolves remain protected
Last week the D.C. Circuit Court of Appeals affirmed a lower court ruling that vacated a U.S. Fish and Wildlife Service rule to remove Endangered Species Act protections for gray wolves in the western Great Lakes region, which includes Michigan, Minnesota, and Wisconsin. The ruling maintains federal protections for wolves and blocks the states from asserting control and opening up sport hunting and commercial trapping seasons targeting the animals.

The Humane Society of the United States and a coalition of wildlife protection groups, including Born Free USA, Help Our Wolves Live, and Friends of Animals and Their Environment, brought the lawsuit against FWS's December 2011 delisting decision – the third time FWS has attempted to remove protection for wolves in the region.

The court decision is attached below.

Washington
State wildlife managers plan to remove members of a wolf pack that has repeatedly preyed on livestock in Stevens County since 2015. Jim Unsworth, director of the Washington Department of Fish and Wildlife (WDFW) authorized his staff to take lethal action against the Smackout wolf pack, based on four occasions where wolves preyed on livestock since last September.

Unsworth said that action, set to begin this week, is consistent with Washington's Wolf Management Plan of 2011, which authorizes WDFW to take lethal measures to address repeated attacks on livestock.

It is also consistent with the department's policy that allows removing wolves if they prey on livestock three times in a 30-day period or four times in a 10-month period, said Donny Martorello, WDFW's lead wolf manager. That policy was developed last year by WDFW and its 18-member Wolf Advisory Group, which represents the concerns of environmentalists, hunters, and livestock ranchers.

"The purpose of this action is to change the pack's behavior, while also meeting the state's wolf-conservation goals," Martorello said. "That means incrementally removing wolves and assessing the results before taking any further action." The Smackout pack is one of 20 wolf packs documented in Washington state by WDFW in 2016. At that time, the pack was estimated to consist of eight wolves, but it has since produced an unknown number of pups.

Martorello noted that the state's wolf population is growing at a rate of about 30 percent each year.

The pack's latest depredation on livestock was discovered July 18 by an employee of the livestock owner who found an injured calf with bite marks consistent with a wolf attack in a leased federal grazing area.

During the previous month, the rancher reported to WDFW that his employee had caught two wolves in the act of attacking livestock and killed one of them. The department has since determined that those actions were consistent with state law, which allows livestock owners and their employees to take lethal action to protect their livestock in areas of the state where wolves are no longer listed under the federal Endangered Species Act.

Over the past two months, radio signals from GPS collars attached to two of the pack's members have indicated that those wolves were frequently within a mile of that site, Martorello said.

"This rancher has made concerted efforts to protect his livestock using non-lethal measures," Martorello said. "Our goal is to change the pack's behavior before the situation gets worse.

Since 2015, WDFW has documented that wolves have killed three calves and injured three others in the same area of Stevens County.

Gray wolves are classified as "endangered" under Washington state law, but are no longer protected in the eastern third of the state under the federal Endangered Species Act. The state's wolf plan sets population recovery objectives and outlines methods for minimizing wolf-livestock conflicts

Oregon
Oregon Department of Fish & Wildlife managers intend to remove some of the adult wolves in northeast Oregon's Harl Butte pack to limit further livestock losses as non-lethal measures and hazing have not been successful in limiting wolf depredations.

On July 28, ODFW received a lethal removal request from several affected livestock producers from a local grazing association after two depredations were confirmed in a five-day period. They asked that the entire Harl Butte pack be removed due to chronic livestock depredation. ODFW has decided to deny the request and will take an incremental approach instead, removing two members of the pack and then evaluating the situation. "In this chronic situation, lethal control measures are warranted," said Roblyn Brown, ODFW Acting Wolf Coordinator. "We will use incremental removal to give the remaining wolves the opportunity to change their behavior or move out of the area."

In the past 13 months, ODFW has confirmed seven depredations by the Harl Butte Pack in Wallowa County, which killed three and injured four calves. Six of the depredations have occurred in an area that supports dispersed livestock grazing in large forested pastures on private and public lands. ODFW believes that depredations may continue or escalate despite non-lethal deterrent measures in place due to the history of depredation by this pack.

When non-lethal deterrence measures are not sufficient, the state's Wolf Management and Conservation Plan allows for lethal control as a tool to address continuing depredation. At the request of a producer or permittee, ODFW can consider lethal control of wolves under these circumstances: if it confirms at least two depredations of livestock; if the requester documents unsuccessful attempts to solve the situation thru non-lethal means; if no identified circumstance exists that attracts wolf-livestock conflict; and if the requester has complied with applicable laws and the conditions of any harassment or take permit.

In this situation, the livestock producers have maintained a significant human presence in the area of the depredations. Human presence is recognized as one of the best non-lethal methods to limit wolf-livestock conflict in dispersed grazing situations because wolves tend to avoid people. The producers coordinate between themselves, their employees, a county-employed range rider and a volunteer to ensure daily human presence coverage of the area. They increase human activity in areas when they see wolf sign, learn (through telemetry of a radio-collared wolf) that wolf activity is in close proximity to livestock, or when livestock show behavior that could indicate wolf presence.

The increased human presence has given the livestock producers and the range rider multiple opportunities to haze wolves that were chasing or in close proximity to livestock. On seven different occasions in June and July 2017, wolves have been hazed away from cattle by yelling, firing a pistol, shooting at, walking towards, and riding horseback towards the wolves.

Producers or their employees have also been spending nights near their cattle. Several producers are keeping their stock dogs inside horse trailers at night (as wolves are territorial and may attack dogs). Other producers are changing their typical grazing management practices including bunching cow/calf pairs in a herd (which enables cows to better protect themselves) or delaying pasture rotation to avoid putting cattle in an area where wolves have been.

While investigating reported livestock depredations, ODFW looks for attractants to wolves such as a bone pile or carcass that may contribute to the conflict. Livestock producers have also been watching for vulnerable livestock and carcasses in order to keep them from becoming wolf attractants and have been quick to remove them. Three injured or sick livestock were moved to home ranches for treatment and to protect them from predators. One dead domestic bull was removed from an area of concentrated cattle use (a pond). ODFW has not identified any circumstances or attractants that could promote wolf-livestock conflict in this area. All these methods used by livestock producers have complied with Oregon's applicable laws.

The Harl Butte Pack's first depredation of livestock was confirmed in July of last year. ODFW received a request for lethal control in October 2016, after the fourth confirmed depredation. The department denied this request because most cattle were being removed from the large dispersed grazing pastures and out of the depredation area, so future depredation was unlikely.

The situation is different now because cattle will be grazing in the area on public lands until October and private lands into November, so ODFW expects the depredation will continue.

"Based on the level of non-lethal measures already being used and the fact that wolves are likely to be in the presence of cattle in this area for several more months, there is a substantial risk that depredation will continue or escalate," said Brown.

ODFW intends to remove up to two adult uncollared wolves from the Harl Butte Pack by trapping or shooting from the ground or air. Once two wolves have been removed, the removal operation will stop. If two wolves have not been killed after two weeks, ODFW will assess whether removal efforts will continue another two weeks. If a new depredation occurs after the removal of two wolves, lethal control may resume.

About the Harl Butte Wolf Pack
The Harl Butte wolf pack may have formed and bred as early as 2015 though they were not documented until 2016. ODFW counted 10 wolves at the end of last year and observed seven wolves in the pack in March. One wolf in the pack, OR50, was collared in February 2017 and is believed to be the breeding male of the pack. The pack is expected to have bred this year, and their weaned pups would now be about four months old, though the exact number of pups is unknown.

California
California Department of Fish and Wildlife (CDFW) biologists have captured and fitted a tracking collar to a female gray wolf in Lassen County, and confirmed that the wolf and her mate have produced at least three pups this year.

During summer and fall 2016, remote trail cameras captured images of two wolves traveling together in Lassen County. There was no evidence they had produced pups at that time. While the female's origins remain unknown, genetic samples obtained from scat indicated the male wolf originated from Oregon's Rogue Pack. The famous wolf OR7 is the Rogue Pack's breeding male.

In early May 2017, partner biologists from the U.S. Forest Service (USFS) found evidence of recent wolf presence in the Lassen National Forest. CDFW biologists began surveying the area and planning a capture operation to collar one of the animals. On June 30, after 12 days of trapping attempts, the 75-pound adult female gray wolf was captured. After a thorough exam by the biologists and a wildlife veterinarian – including the collection of genetic and other biological samples – the wolf was collared and released.

"The anesthesia and collaring process went smoothly and the wolf was in excellent condition," said CDFW's Senior Wildlife Veterinarian Dr. Deana Clifford. "Furthermore, our physical examination indicated that she had given birth to pups this spring."

The following day, July 1, CDFW biologists returned to the field for a routine follow-up check on the female. They encountered tracks of what appeared to be wolf pups, and then found that a nearby trail camera operated by USFS had captured photos of the female with three pups. The pups were gray in color and were serendipitously photographed playing in front of the camera.

These wolves, named the Lassen Pack by the USFS employee who first detected their location, are the second pack of gray wolves known in California since their extirpation in the 1920s. The first confirmed breeding pair in California produced five pups in eastern Siskiyou County in 2015, and are known as the Shasta Pack. The current status of the Shasta Pack is unknown, although one of the 2015 pups was detected in northwestern Nevada in November 2016.

The tracking collar affixed to the Lassen Pack female will collect data relative to her activity patterns, survival, reproduction and prey preferences. The Lassen Pack regularly traverses both public and private lands, including industrial timberlands, and the collar may also help to minimize wolf-livestock conflicts by providing information about the pack's location relative to livestock and ranch lands. While most of the pack's known activity to date has been in western Lassen County, some tracks have also been confirmed in Plumas County.

Gray wolves are currently both state and federally listed as endangered. Their management in California is guided by endangered species laws as well as CDFW's Conservation Plan for Gray Wolves in California, finalized in 2016. CDFW's goals for wolf management in California include conserving wolves and minimizing impacts to livestock producers and native ungulates.

Related Links:
Great Lakes - DC Court of Appeals decision (54 pages, 20K)
Wolf Watch - by Cat Urbigkit, Pinedale Online!

---
WYDOT plans for influx of visitors; offers safety tips for travelers (posted 8/1/17)
Wyoming Department of Transportation
Travelers in Wyoming will notice additional maintenance and safety measures in place during the Aug. 21 solar eclipse.

The Wyoming Department of Transportation will use its overhead message signs, stop some construction projects, temporarily stop oversize and overweight loads from driving through the state, have extra personnel on hand to handle the increase in travelers and ensure its rest areas are well maintained.

On Aug. 21, the moon will block out the sun, causing a total solar eclipse across Wyoming and in other states. The last time there was a total solar eclipse in Wyoming was in 1918. In Wyoming, the eclipse will impact nine counties and the Wind River Reservation.

To help with the increase in traffic, WYDOT will temporarily stop road construction in the path of the totality and along some main highways people will use to access the eclipse's path from Aug. 17 through Aug. 23.

"With Wyoming expecting increased traffic and tourism, WYDOT officials decided it would be best to temporarily stop construction projects," WYDOT Director Bill Panos said. "We want to ensure traffic flows smoothly during the eclipse. We always strive to provide a safe, high quality and efficient transportation system, and the measures we are putting in place will do just that."

The Wyoming Highway Patrol will not issue any oversize or overweight permits on Aug. 20, 21 and 22 to help with traffic flow.

Patrol will also have troopers working 12-hour shifts to handle any law enforcement issues statewide.

Another way WYDOT is helping to keep motorists safe and informed is through an interactive eclipse map. WYDOT's GIS/ITS program partnered with the Wyoming Office of Tourism to develop the map. Visitors can access the map on Tourism's website to learn more about eclipse viewing, campgrounds and other vital information.

Visitors can ensure their enjoyment of the eclipse by following several guidelines:
• Only camp in designated public areas. Camping is allowed on Wyoming's public lands, including at campsites in the national parks, national forests, Wyoming state parks and BLM-managed lands. Do not camp or park on private property.
• Use eclipse glasses to safely view the eclipse. These glasses provide eye protection from the eclipse, which can burn the retina of a person's eye in seconds.
• Bring plenty of water, sunscreen and snacks.
• Ensure vehicles have plenty of fuel. There are some areas in Wyoming where there are long distances between gas stations. Plan travel accordingly.
• Don't stop and pull off onto the side of the roads during the eclipse. It's illegal to park on the shoulders or in any ditch areas.
• Don't use the median crossings on the interstates for turning around or parking. Those crossings are for authorized vehicles.
• Don't build a campfire or set off fireworks in WYDOT's rights-of-way or rest areas. August is Wyoming's peak fire season. Don't park on any highway shoulder or in any ditch area. That can not only be dangerous for you and other drivers, but a person's car exhaust could start a grass fire.
• Pay attention, and don't drive distracted. Drive defensively because there will be more motorists on the road, and some of them may be slowing down or may not be paying attention when the eclipse is occurring. Motorists should watch out for distracted drivers.

---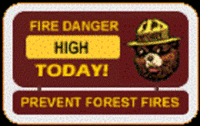 High Fire Danger

Fire Danger increases to High (posted 8/1/17)
On Bridger-Teton National Forest and National Parks in Wyoming
Teton Interagency Fire
Teton Interagency fire managers announce that the fire danger rating is high for the Bridger-Teton National Forest, Grand Teton National Park, National Elk Refuge, and Teton Interagency Dispatch Area. The potential for fire activity has increased due to normal summer curing of vegetation combined with hot temperatures, and dry, windy afternoons.

A high fire danger rating means that fires can start easily and spread quickly. When determining fire danger, fire managers use several indicators such as the moisture content of grasses, shrubs, and trees; projected weather conditions including temperatures and possible wind events; the ability of fire to spread after ignition; and availability of firefighting resources across the country.

As increased visitation associated with the total solar eclipse approaches, visitors and local residents alike are reminded that unattended or abandoned campfires can easily escalate into wildfires; therefore, it is important that all campfires are completely extinguished and cold to the touch before leaving a site. Campers and day users should have a shovel on hand and a water bucket ready for use.

Visitors have abandoned 56 campfires on the Bridger-Teton National Forest and in Grand Teton National Park so far this summer. Campers should be mindful that they could be held liable for suppression costs if their campfire becomes a wildfire. Local residents and area visitors are reminded to know the risks, exercise caution, and practice heightened fire safety at all times.

Fireworks are not permitted in Grand Teton National Park, on the Bridger-Teton National Forest, or in the National Elk Refuge. It is critical that everyone comply with this regulation, especially given the very dry vegetation and warm temperatures throughout the Teton Interagency Dispatch Area.

The total solar eclipse on August 21 will take place during peak fire season in Western Wyoming. Visit www.tetonfires.com and agency social media sites to learn more about fire safety and what fire regulations are in place. To report a fire or smoke in Bridger-Teton National Forest or Grand Teton National Park, call the Teton Interagency Fire Dispatch Center at 307-739-3630.
---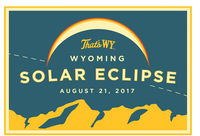 Total Solar Eclipse, Monday, August 21, 2017.

Eclipse viewing safety important all across Wyoming (posted 7/31/17)
Wyoming Department of Health
Wyoming residents and visitors of all ages hoping to enjoy the August 21 total solar eclipse should take steps to protect their eyes, according to a Wyoming Department of Health (WDH) official.

"We know many Wyoming communities will be treated to a total solar eclipse and that's something to be excited about," said Dr. Alexia Harrist, state epidemiologist and acting state health officer with WDH. "Eye safety is very important in those specific areas and beyond because all of Wyoming will experience a solar eclipse of more than 90 percent 'totality' that morning."

During a total solar eclipse, the moon moves in front of the sun, covering it completely for a few minutes and darkening the sky. The last total solar eclipse in Wyoming occurred in 1918.

"While staring directly at the sun is never good, the temptation to look at the sun during the eclipse will no doubt be strong for all of us, including for children," Harrist said. "If you're going to look at the sun from anywhere in Wyoming without protection your eyes could be damaged."

Harrist noted the only safe way to look directly at the uneclipsed or partially eclipsed sun is through special-purpose solar filters, such as eclipse glasses or hand-held solar viewers. "Ordinary sunglasses, even if they are very dark, will not allow you to safely look at the sun," she said.

Many vendors are selling eclipse glasses in stores or online and they may also be available at Wyoming eclipse-related community events. To do the job, eclipse glasses or solar viewers should:
- Have certification information with a designated ISO 12312-2 international standard
- Display the manufacturer's name and address
- Not be used if they have scratched or wrinkled lenses or are older than three years

"It's also important you do not look at the sun through an unfiltered camera, telescope, binoculars or similar device," Harrist said. "You also should not look at the sun through a camera, a telescope, binoculars or other device while also using your eclipse glasses or hand-held solar viewer. The concentrated solar rays can damage the filter and seriously injure your eyes."

Harrist said other options for safe viewing include pinhole projectors or other projection techniques, certain welding hoods or specialized solar filters for telescopes.

Comprehensive information about the eclipse, including more details about safe viewing, are available from NASA at https://eclipse2017.nasa.gov/.

Information about viewing the eclipse in Wyoming, including maps and location details, is available at http://www.travelwyoming.com/Eclipse.

---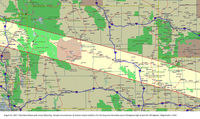 Map of path of August 21, 2017 total solar eclipse across Wyoming.

No oversize or overweight loads permitted in Wyoming Aug 20-22 (posted 7/27/17)
Notes for the solar eclipse
Pinedale Online!
The Wyoming Highway Patrol reports that no oversize/overweight loads will be permitted in/through Wyoming from Sunday, August 20th through Tuesday, August 22nd. Oversized loads cannot travel during that time period even with a permit in hand.

The eclipse will take place on Monday, August 21st. It will start traveling through Wyoming at Grand Teton National Park around 11:35 a.m. MST and follow in a diagonal across the state. In the days ahead of the eclipse and just after, high volumes of visitor traffic are expected in Wyoming. Many lodging establishments along the viewing path have been booked well in advance for that weekend. Anyone still looking for lodging should contact the local Chamber of Commerce for updates on local availability.

Wyoming Highway Patrol encourages people to arrive early at their viewing destinations and stay late to avoid potential traffic congestion.

Other tips:
• Be prepared for distracted drivers
• Traffic volumes are expected to create travel congestion
• Note that cell phone reception may be limited or not available in some areas
• No parking is permitted along the highways.

Law enforcement authorities have commented they believe food and fuel may become limited during eclipse weekend along the viewing path. Residents are encouraged to fuel up the tanks of their vehicles ahead of time and stock up on the food they will want during that time as store shelves may become depleted. Ice may also become in short supply. Travelers are encouraged to have their supplies in advance before traveling through the eclipse route as some things may become out of stock at local stores in the eclipse viewing area.

Visitors who will be going into the Wyoming forests and undeveloped areas are reminded that the mountains of western Wyoming are bear county. Both grizzly and black bears inhabit many parts of the area. Campers should be bear aware, carry bear spray, and keep meticulously clean campsites. Teach kids to not leave out food, packaging wrappers, and to be aware of their surroundings. Keep pets under control at all times, and be aware they can attract bears to your campsite. Please "pack it in and pack it out" for your litter, and it is appreciated if thoughtful people would pick up the litter that may be left behind by others to keep our landscape clean. Please be very careful about fire. Keep some water by your campfire. Make sure campfires are completely doused and out before leaving them. Be careful with cigarettes. Also be aware that wildfires can be started from the exhaust of idling vehicles over dry grass. It's a good idea to carry a shovel and a bucket in your vehicle if you're planning on being in the back country. Have a good spare tire and working jack in your vehicle – our back roads can be rough and flat tires common if you go off the main roads. Carry a first aid kit. You may be the first responder with no cell phone coverage to reach outside help in case of emergency.

Related Links:
www.travelwyoming.com Wyoming Travel & Tourism
Pinedale Eclipse Fest August 18-21, 2017, Pinedale, Wyoming
www.visitpinedale.org Pinedale Travel & Tourism
www.sublettechamber.com Sublette County Chamber of Commerce & Visitor Center, 307-367-2242
---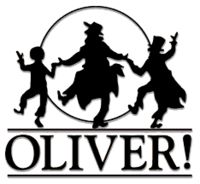 Show dates for Oliver are October 26, 27 and 28 in the Pinedale Auditorium.

Auditions coming up for 'Oliver' (posted 7/26/17)
Auditions in August, Performances in October
Pinedale Community Theatre
Pinedale Community Theatre's (PCT) Managing Director, Valerie Lee is encouraging everyone to get ready for auditions for PCT's upcoming production of "Oliver" by Lionel Bart based on the novel "Oliver Twist" written by Charles Dickens.

The production has a cast of 28 with roles for 12 children.

PCT board members will conduct workshops for aspiring actors, singers and dancers to prepare for auditions. Workshops are scheduled on August 8 from 6 to 8PM at the Pinedale High School (PHS) auditorium for children 6 to 13 and again on August 9, from 6 to 9PM at the PHS auditorium for high school students and adults of all ages. Sessions will cover singing, dancing and acting and all participants are encouraged to take advantage of the opportunity to learn what happens at auditions and how to get ready to participate.

Auditions for Oliver are scheduled August 24, 25 and 26 at the PHS auditorium. Show dates for the production of Oliver are October 26, 27 and 28 in the auditorium.

Scripts and vocal scores are available at the Pinedale Fine Arts Council office in Pinedale.

Call Kari DeWitt at 307-231-3210 or email kari@pinedalefinearts.com for appointments or more information. Additional information is also on PCTs website pinedaletheatre.com.
---
Business Directory
Click here for
Advertising Information