Recreation Board budget requests hearings March 13 & 14 (posted 2/22/18)
The Sublette County Recreation Board will hear BUDGET REQUESTS for the fiscal year 2018-19 in Pinedale and Marbleton.

Pinedale: Tuesday, March 13, 2018
6:00 pm – Sublette County Courthouse – Commissioner Meeting Room

Marbleton: Wednesday, March 14, 2017
6:00 pm - Marbleton Town Hall

The members of the Rec Board would appreciate your cooperation in meeting the following guidelines when requesting funds:

• Grant applications can be obtained by contacting Board Clerk, Betty Cheeney at 307-367-6444, or Online at the Sublette County Website under the Recreation Board.

• A representative of your project/organization must attend one of the budget hearings and provide, 11 copies of the completed grant application, list of items requested in order of priority, profit/loss statement and balance sheet. Request packets should only be four pages or less.

Click on this link for the Grant Application form (PDF)

Grant applications will not be accepted after March 14, 2018.
---
New Fork River Restoration Project planning begins (posted 2/22/18)
Bureau of Land Management
PINEDALE, WYOMING - The Bureau of Land Management (BLM) Pinedale Field Office and the Wyoming Game and Fish Department (WGFD) are proposing a project to improve stream and riparian habitat and boating access on the New Fork River near Pinedale.

This restoration project is located on the New Fork River at the "old" boat ramp site referred to as the "Gas Well Site." This project helps BLM provide opportunities for economic growth with space for traditional uses such as ranching, mining, logging, and energy development as well as hunting and fishing.

BLM and WGFD staff are developing the environmental assessment, which will analyze any impacts of this project. The New Fork River Habitat Restoration and Boat Access project would improve boat access and improve stream and riparian habitat. Fish habitat would be improved by increasing pool habitat and diversity in the river by creating a narrower and deeper river and by decreasing river bank erosion. Ultimately, these habitat improvements will increase trout abundance in this section of the New Fork River. This section of the river currently has some of the lowest trout numbers, based off WGFD electrofishing population surveys. This part of the river also contributes over 3,000 tons of sediment each year due to erosion from unstable banks.

The restoration work would be completed in two phases. Phase one would reconstruct the boat access site and address riparian habitat and erosion issues immediately upstream and downstream of the boat access. The reconstruction of the old boat launch site would increase public access at the boat ramp access area, providing a higher quality recreational experience.

The second phase will address the remaining river and riparian habitat issues within the two-mile segment of the river. Some of the proposed work includes using trees with roots attached as anchors along the riverbank, decreasing the slope of eroding banks, and planting sedges, grasses, willows, and other vegetation to increase stability to the streambank and deflect water from the bank. Other improvements include rerouting short segments of the stream channel, increasing the number of pools, and fencing to protect treated areas.

For more information, call Alex Gardiner, BLM, (307) 878-4500, or Luke Schultz, WGFD, (307) 367-4352.

---
Pinedale Anticline Project Office announces 2018 proposed projects (posted 2/22/18)
Bureau of Land Management
PINEDALE, WYOMING – The Pinedale Anticline Project Office received several project applications and is currently considering the following projects.

• Hoback Ranches Wildlife Friendly Fence
• Mesa Mule Deer Shrub Planting
• Pape-Miller Mule Deer Habitat
• Soaphole Perennial Pepperweed
• Winter Ozone Modeling

Project details are available for public review on the Pinedale Anticline Project Office (PAPO) website located at https://www.wy.blm.gov/jio-papo/whatsgoingon.htm.

Project applications that benefited mule deer, greater sage-grouse, aquatic species and air quality were accepted from November 2017 through February 2018.

All submitted applications are being reviewed and ranked by the PAPO staff. Project rankings are determined using a ranking scorecard that takes into consideration the project office's strategic plan goals, current priorities in the Pinedale Anticline project area, availability of matching funds, geographic considerations and potential benefits to resources.

The PAPO staff consists of specialists from the Wyoming Game and Fish Department, Wyoming Department of Environmental Quality, the Wyoming Department of Agriculture, and the Bureau of Land Management.

Final decisions on funding the 2018 projects will be made by the PAPO Board of Directors at the May 3, 2018 board meeting in Pinedale, Wyoming at the BLM Pinedale Field Office, 1625 W. Pine St., Pinedale WY, 82941. There is no guarantee that any submitted project will be funded.

The 2018 proposed project applications and score sheet are available at https://www.wy.blm.gov/jio-papo/whatsgoingon.htm. For more information, please contact PAPO Project Coordinator Kellie Roadifer at 307-367-5309 or kroadife@blm.gov.

---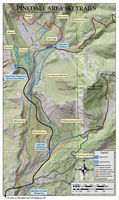 Nordic Ski Trail map courtesy Sublette County Recreation Board.

Nordic ski trail grooming report – Feb. 22, 2018 (posted 2/22/18)
Mike Looney, Groomer, Sublette County Recreation Board
Thursday, February 22, 9:15AM report:
Chilly. -10F below was the low this morning. Currently 0F degrees and warming up slowly. All trails above groomed this morning. Road and parking lot plowed. This is likely the last grooming until Monday.

This Nordic Ski Trail grooming report is courtesy of the Sublette County Recreation Board. For more information, contact Mike at 307-360-8488.

Related Links:
X-C Ski Trail Map - (356K PDF)
Road and Weather links
www.visitpinedale.org Pinedale tourism website (lodging, dining, area information)
www.whitepineski.com White Pine Resort, 307-367-6606, (food services, restroom)
www.greatoutdoorshop.com The Great Outdoor Shop, 307-367-2440
www.sublettechamber.com Local businesses & services, 307-367-2242
www.golfpinedale.com Rendezvous Meadows Golf Course (food services, restroom)

---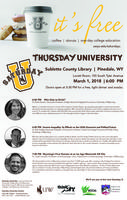 Saturday University Thursday, March 1 at the Pinedale Library

Saturday U returns to Pinedale March 1 (posted 2/20/18)
Sublette BOCES
The University of Wyoming is working with community partners (BOCES and the Library) to bring Saturday University back to Pinedale on Thursday, March 1 at 5:30 p.m. in the Lovatt Room of the Pinedale Library. Yes, March 1 is a Thursday evening and that makes this one unique. The free event will still have three professors presenting and there will be food.

Hosting the Saturday U event on a Thursday evening should fit better into the busy lives of people in Sublette County. People are invited to be there at 5:30 p.m. to have a little meal of sandwiches, chips, drinks and cookies at no charge. The event speakers will begin at 6 p.m.

Dr. Kristi Hansen, a professor in Agricultural and Applied Economics, will present a talk entitled "Who Gets to Drink?" Dr. Hansen will use the perspective of an economist to examine how competing claims to water get settled and draw lessons from our river basin and the rest of the Upper Colorado River Basin.

Dr. Rob Godby will deliver the second talk and it will be about "Income Inequality: Its Effects on the USA's Economic and Political Future." Dr. Godby is a professor in Economics and the director of the Center for Energy Economics & Public Policy at the University of Wyoming. This talk will focus upon the growing economic divide in the country and what it means for our future.

Dr. Todd Surovell is the Chair of the Department of Archaeology and he will present a talk on the first humans in Wyoming. If you are interested in the early people who inhabited Wyoming, this is a talk you shouldn't miss.

Sublette BOCES and the Sublette County Library have worked with the Wyoming Humanities Council to bring Saturday University to our community to help stir us all to think more deeply. The event is designed to provide everyone with a one-day college education experience. All ages are invited and it is a chance to show your children what college will be like.

Related Links:
www.subletteboces.com Sublette BOCES

---
Wyoming Legislature update – Feb. 19, 2018 (posted 2/20/18)
Albert Sommers, House District #20 Representative
Hello Sublette County, this is Albert Sommers reporting to you from Cheyenne and the 2018 Budget Session.

First, amendments were brought forward to HB08, a bill regarding stalking laws. The amendments attempted to address the definition of fear in the bill and how fear would be assessed by law enforcement. Both amendments failed, but HB08 did move on to a third reading. I support this bill.

HB28 increases the reporting of education information from children of military families. An amendment that would have changed the bill to apply only to actively deployed military members failed. HB28 then went to a final vote and passed the House. This bill is designed to track the educational outcomes of military dependents, to ensure that this mobile population does not fall through the cracks. I supported the bill.

HB74 creates an Investment Task Force to help coordinate the investment of state funds and public employee retirement funds. After discussion, HB74 passed the House. The Treasurer's Office and the Retirement Board invest billions of dollars of taxpayer money; finding efficiencies and better investment strategies is critical to optimizing our savings. I supported the bill.

Another major point of today's session was the beginning of debate on the budget bill, HB01. HB01 will be discussed in Committee of the Whole for the next few days as the House goes through the budget of every state agency one by one. It will again be open for discussion in the House on Second and Third Readings. It is my responsibility to present the budgets of the following entities: Office of Public Defender, Attorney General's office, Livestock Board, Community College Commission, Supreme Court, Board of Law Examiners and Judicial Districts, Commission on Judicial Conduct and Ethics, School Finance, and the Department of Education.

I can be reached at albert@albertsommers.com

Thank you
---
VOTING IN WYOMING---THE NEXT DECADE! (posted 2/19/18)
Mary Lankford, Sublette County Clerk
Sublette County Clerk Mary Lankford will be conducting two Community Meetings in Sublette County to discuss VOTING IN WYOMING---THE NEXT DECADE!

This is a statewide effort by Wyoming County Clerks to discuss current voting methods, future trends, and the necessity to update election equipment.

The meetings will be conducted on the following dates in February:

Pinedale, Wednesday, February 21, 2018---Commissioners Meeting Room, Sublette County Courthouse, 6 p.m.

Marbleton, Thursday, February 22, 2018---Town Council Chamber, Marbleton, 6 p.m.

Input from voters and constituents is vital! Please plan to attend!

---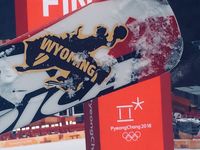 Cassy Johnston's skis

Hello from PyeongChang 2018! (posted 2/19/18)
Cassy Johnston sent in this photo from the 2018 Olympics in PyeongChang, South Korea. She has gone from Pinedale to join her husband, rancher Tom Johnston, who is the chief of race for ski events at the 2018 Winter Olympics. He is responsible for preparing the snow to world-class conditions at the 2018 Games. The 2018 Winter Olympics run from February 9 - 25, 2018. More information about Pinedale rancher Tom and his role as 'master of snow' for the 2018 Olympics in South Korea can be found here: Tom Johnston gains international fame as Chief of Race for ski events at the 2018 Olympics.
---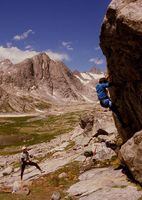 Sue top-roping an overhanging boulder problem in Titcomb Basin belayed by friend J.H. Gaines / Wind River Mtns. / circa 1989. Photo by Fred Pflughoft.

The Glory Days (posted 2/18/18)
New photo gallery by Fred Pflughoft
Local photographer Fred Pflughoft has posted a new album in his photo gallery on Pinedale Online. It is a great compilation of many of the adventures he and his wife Sue have had over their long years of adventures backpacking, climbing, and skiing all over the western United States and Canada.

"When Sue & I moved in to this community over 21 yrs. ago I'm sure many of you old-timers wondered who are these guys and why are they here. Most of you now know us from my work at the Great Outdoor Shop and Sue's at the P.A.C.. But you really don't know that much about us. Many people dream about adventure but we lived it. For the first 11 yrs. of our marriage we backpacked, climbed, winter camped and backcountry skied all over the western U.S. & Canada. We were also Outdoor Recreation Models and to my surprise many of you still don't know that I am a Professional Photographer with over 30 titles to my name and 3 of those done in collaboration with PBS Documentaries on the "Great Lodges" of the National Parks. My newest album is a very small sampling of some of those first 11 years (before kids) and our adventurous lifestyle. Hope you enjoy!"

Click on this link to see his newest photo gallery: The Glory Days

---



Pinedale Stage Stop of the International Pedigree Sled Dog Race. Photo by Chris Havener.

Pedigree Sled Dog Race 2018 (posted 2/18/18)
The 2018 Pedigree Sled Dog Race was held January 26 through February 3, 2018. The race was done in a stage stop format, traveling to a different town each day. It started in Jackson Hole, Wyoming, then went to Alpine, Kemmerer, Big Piney/Marbleton, Pinedale, Lander, Wyoming, over to Driggs, Idaho, then ending back in Jackson.

One hitch to the schedule was at the Big Piney/Marbleton stage which was cancelled due to lack of snow. The racers made up that leg by coming back to Pinedale on an off day in the week to get times.

Ultimately, race director Dan Carter announced that Lina Streeper from Fort Nelson, British Columbia was the overall winner of the 2018 Pedigree Stage Stop Race with a cumulative overall time of 22:15:00. Dave Torgerson from Red Lodge, Montana placed second overall with 22:37:34; Bruce Magnusson from Manchester, Michigan placed third with a cumulative overall time of 22:41:13; Alix Crittenden from Bondurant, Wyoming placed fourth with 22:54:11; and Jeff Conn from Ester, Alaska placed fifth with 24:56:51. Awards and cash prizes were handed out at the final banquet in Jackson, Wyoming on Saturday, February 3rd.

The total payout for the 2018 race was more than $150,000.

The race was begun in 1996 by Frank Teasley, with the help of public nurse Jayne Ottman, to showcase the beautiful state of Wyoming and to make sled dog racing more accessible to the public. In addition, the race worked to spread the word about the need for childhood immunizations and each year the race makes a contribution to communities on the race route for childhood immunizations.

The race is done in a stage stop format, similar to the Tour de France. Held over the course of a week, it stops in a different town each night. Pedigree Food For Dogs has been title sponsor of the Pedigree Stage Stop for 15 years. It has had other sponsors in the past. Last year the title sponsor was Eukanuba. In earlier years it was called the IPSSSDR, International Pedigree Stage Stop Sled Dog Race, and the ISSSDR, the International Stage Stop Sled Dog Race.

The race gives back to animal shelters in the host towns of the race. These include:
• Jackson Animal Shelter
• Animal Humane Association of Star Valley
• Town of Pinedale Animal Shelter
• Lander Pet Connection
• Paws & Claws
• Happy Tails Fur Ever
• Dr Bob Biereman

2018 Racers:
#1 Jerry Scdoris from Bend, Oregon
#2 Alix Crittenden from Bondurant. Wyoming
#3 Chris Adkins, from San Coulee, Montana
#4 Austin Forney, from Leadville, Colorado
#5 Greta Thurston, from Oak Creek, Colorado
#6 Dave Torgerson, from Red Lodge, Montana
#7 Jerry Bath from Lander, Wyoming
#8 Jeff Conn from Ester, Alaska
# 9 Lina Streeper, Fort Nelson, British Columbia, Canada
#10 Bruce Magnusson from Manchester, Michigan
#11 Jake Golton from L'Amable, Ontario, Canada (withdrawn)

#12 Laura Daugereau from Port Gamble, Washington
#13 Dennis LaBoda from Hovland, Minnesota
#14 JR Anderson from Buyck, Minnesota
2018 Pinedale Junior Mushers
Maggie Williams
Collin Edwards
Fisher Mills
Samual Bazzle

2018 Day Purse
Days 2-7
1st $868.00
2nd $726.00
3rd $589.00
4th $476.00
5th $393.00
6th $310.00
7th $260.00
8th $218.00
9th $176.00
10th $151.00

2018 Race Purse
Overall Standings
1st $10,000.00
2nd $8,300.00
3rd $6,650.00
4th $5,300
5th $4,300.00
6th $3,300.00
7th $2,700.00
8th $2,200.00
9th $1,700.00
10th $1,600.00
11th $1,400.00
12th $1,200.00
13th $1,000.00
14th $850.00
15th $700.00
16th $500.00
17th $500.00
18th $500.00
19th $500.00
20th $500.00

Past winners:
1996 Rick Swenson
1997 Hans Gatt
1998 Hans Gatt
1999 Jeff King
2000 Hans Gatt
2001 Hans Gatt
2002 Melanie Shirilla
2003 Gwen Holdmann
2004 Blayne "Buddy" Streeper
2005 Hernan Maquieira
2006 Melanie Shirilla
2007 Wendy Davis
2008 Melanie Shirilla
2009 Melanie Shirilla
2010 Blayne "Buddy" Streeper
2011 Blayne "Buddy" Streeper
2012 Blayne "Buddy" Streeper
2013 Aaron Peck
2014 Blayne "Buddy" Streeper
2015 Blayne "Buddy" Streeper
2016 Blayne "Buddy" Streeper
2017 Lina Streeper

Click on this link for more pictures.

Click on this link for more information and pictures: www.wyomingstagestop.org

Related Links:
Facebook page Pedigree Stage Stop Race

---
Regional High School Basketball Tournament comes to Pinedale March 1-3, 2018 (posted 2/16/18)
Need: Late night dining options, hotel rooms, meal donations, & event volunteers
Pinedale is hosting the Regional High School basketball tournament Thursday through Saturday, March 1-3, 2018. This event will bring in 16 teams and their families from across Wyoming to Pinedale. Games will be played all day, with the last games at 9:00PM.

Pinedale High School is seeking volunteers to help with shirt/ticket sales, crowd control and hospitality. The high school is required to supply meals to coaches and referees and they are asking for help from the community. They are seeking late-night dining options, hotel rooms, meal donations and event volunteers. Businesses or individuals who can donate food or money are greatly appreciated and will be recognized throughout the tournament. For more information contact Jake Rich at 307-367-2137 or via email at rich@sub1.org.

This is a great opportunity for businesses, especially restaurants, to stay open late and offer specials. Please let the Sublette County Chamber of Commerce know if your business will be offering a special or changing business hours for this event, 307-367-2242.

The Museum of the Mountain Man has announced they will open for special hours during the basketball tournament, Thursday, Friday, Saturday, March 1-3, 2018 from 9AM to 5PM to give visitors and locals an opportunity to visit the Museum. Special discount rates will be available by picking up their rack card available at the information booth at the basketball tournament. The Museum's regular season opens May 1st. www.mmmuseum.com

---
Local Services:
Abortion Alternatives
Accounting & CPA
Apartments/Townhomes
Arts & Entertainment
Attorneys & Legal
Automotive
Aviation Services
Banks & Financial
Bars
Beauty Salons
Bed & Breakfasts
Boating
Bookkeeping
Builders & Contractors
Building Material
Business Services
Cabins
Cellular
Child Care
Churches
Cleaning Services
Clothing
Commercial Art
Computer Supplies
Condos
Consultants
Convenience Stores/Fuel
Convention/Meeting
Dentists
Dining
Dry Cleaning
Events
Fabric & Crafts
Fencing
Fishing
Flooring
Food & Drink
Funeral Homes
Furniture
Gifts/Western
Government
Graphic Design
Grocery & Market
Guest Ranches & Lodges
Handyman Services
Hardware & Feed
Heating
Health Care & Medical
Horseback Adventures
Insurance
Interior Design
Internet/Web/Advertising
Landscaping
Laundry
Liquor Stores
Lodging
Log Homes
Marketing
Massage Therapy
Modular Homes
Motels
Mountain Biking
Movie Theaters
Museums
Nails
Newspapers
Office Supplies
Oil Field Services
Optometrists
Organizations
Outdoor Equipment
Outfitters & Guides
Packaging & Shipping
Painters
Pet Stores
Pharmacies
Photography
Plumbing
Professional Services
Radio
Real Estate Agencies
Real Estate-FSBO
Remodeling
Retirement
Retreats
RV Camping
Schools
Scrapbooking
Septic Services
Skiing
Snowmobiling
Snow Plowing
Storage and Storage Units
Tanning
Tattoos & Body Art
Tax Preparation Services
Taxidermy
Transportation/Shuttle
Trash Services
Trucking
Veterinarians
Visitor Services