1st Annual SAFV Task Force Golf Tournament, Dinner & Auction September 19th (posted 7/28/15)
The 1st Annual SAFV Task Force Golf Tournament, Dinner & Auction will be held on Saturday, September 19th at Rendezvous Meadows Golf Course in Pinedale. To sign up a team, for dinner tickets, or for more info please call SAFV at 307-367-6305. This event is generously sponsored by Jonah Energy.

Related Links:
SAFV Coordinated Care of Sublette County
SAFV Facebook page

---
Sublette County Fair Lynn Thomas Memorial Art Show gains momentum (posted 7/28/15)
Charmian McLellan
The second annual Sublette County Fair Lynn Thomas Memorial Art Show sparkled with the creative energy of fine artists from both in and out of Sublette County. The show opened on July 19 and closed July 25.

Artists from the Mixed Media Art Group worked diligently to display 178 pieces of artwork submitted by 40 artists. The diverse exhibit ran the gamut of oil, acrylic, watercolor, pastel, and encaustic paintings to graphite drawings, pottery, and sculpture. The subjects included many excellent landscapes, abstracts, still lifes, and wildlife. There was a total of 16 sales. There was a special exhibit of paintings by Lynn Thomas on loan from Albert and Jonita Sommers, Mack and Ruth Rawhouser, and Clete and Laurie LaMere.

Well-known artist, Kathy Wipfler of Jackson, WY, chose Pinedale artist Melita Snow's encaustic painting, "Sunflowers", as Best of Show. Director's Choice went to Sharon Schell of Big Piney for her sculpture, "Justin". Idaho Falls artist, Mark Marino, walked away with "People's Choice" for his beautiful oil painting, "September Song".

Four Sublette County businesses generously committed to Purchase Awards. The Waterhole selected Daniel artist Kay Meeks's oil painting, "Juvenile Jaunt". Farm Bureau Insurance purchased Dubois, WY, artist Gary Keimig's oil painting, "The Aspen". First Bank selected Cora ceramist Rita Donham's stoneward vase. The Bank of Sublette County purchased Pinedale artist Melita Snow's watercolor, "Relection".

Seven artists participated in a "Paint-Out" on Thursday, July 23. These were Debbie Despain, Laurie LaMere, Charmian McLellan, Kay Meeks, Bonnie Nelson, Dee Parker, and Dorothy Selman. The public was treated to a festive reception that evening followed by an auction of the "Paint-Out" artwork. Tim Sims of LaBarge was auctioneer.

This year, the artists of Mixed Media sponsored Bailey Schupp, their first "Promising Young Artist to Watch". Also, youngsters were encouraged to become "Art Detectives" by searching for various subjects and styles in the paintings. They were permitted to choose a prize after completing their quest.

The fairgrounds Community Hall has found a whole new purpose thanks to the hard work and enthusiastic support of the Sublette County Fair Board, Jay and Brianne Brower and their crews, Kailey Barlow, Mixed Media Artists, all the participating artists, and the businesses who granted Purchase Awards.

For further information, please contact Charmian McLellan at 307-537-5488.

---
Road work begins on Skyline Drive (posted 7/28/15)
Summer traffic delays of up to 20 minutes possible up to White Pine
Bridger-Teton National Forest
PINEDALE, WYOMING - The Skyline Drive, which is located 3 miles north of Pinedale, Wyoming in the Bridger-Teton National Forest, is currently undergoing much needed reconstruction to enhance its safety.

This 15 mile-long paved road (Forest Road #37-740) provides spectacular views of the Wind River Range, Fremont Lake, and much of the Pinedale valley. During the summer and fall, this road provides access to the popular Elkhart Trailhead, Wind River Resort, Half Moon Lake Resort, Half Moon Campground and Boat Site, dispersed campsites, OHV routes, firewood gathering, and hunting opportunities along its 15 mile length. In the winter, this road also provides access to the White Pine Ski Resort and groomed cross-country ski trail system on the National Forest.

Approximately 7 miles of Skyline Drive will be reconstructed over the next two years, beginning at the Fremont Lake Road junction (FS 37-741) and ending approximately 1 mile north of the turnoff to White Pine Sky Area (FS Rd 37-747). Construction will occur during the summer and fall of 2015 and 2016, during which time the roadway will remain open to the public with estimated delays of up to 20 minutes. Road closures or delays during the winter are not expected.

This project is necessary to improve the safety, usability, and longevity of this portion of Skyline Drive. Safety concerns include an abrupt drop-off to unpaved shoulders, narrow width of road surface, short sight distances due to excess vegetation, limited informational signing, and limited availability of parking pullouts. Additional safety concerns involve winter use and snowplowing of this road to access the White Pine Ski Area and cross-country ski trail system.

The roadway will be widened to more safely accommodate two-way traffic and realigned in several locations to reduce sharp turns. Shoulders will be extended on both sides of the roadway, culverts will be replaced, and the Surveyor Creek timber bridge will be replaced with a metal arch pipe. Other improvements include removal of vegetation impeding visual site distance, installation of new guardrails, and addition of pullouts and informational signing in selected areas.

The Skyline Drive Reconstruction Project is a cooperative project involving the Central Federal Lands Highway Division, Sublette County Roads & Bridges, Bureau of Land Management, and the Bridger-Teton National Forest. Funding for this project will be provided by Central Federal Highways and Sublette County Roads & Bridges, with Central Federal Highways responsible for administering the contract.

The reconstruction contract was recently awarded by Central Federal Highways to Hooker Creek Construction, Inc., from Red Bluff, California. The contractor has begun clearing the road right-of way, and plans to remove and transport rock to a preapproved holding and processing site along Skyline Drive, where rock will be crushed for use on the project. The project is scheduled to be completed in the fall of 2016. Upon completion of this long-overdue reconstruction project, Sublette County Roads & Bridges will assume year-round maintenance of the newly reconstructed 7 mile segment of Skyline Drive.

For more information about this project, contact South Zone Natural Resource Manager Cindy Stein at (307) 367-5717.

---
'Healthy Living in the Summertime' July 30 (posted 7/28/15)
The Sublette County SAFV Task Force is sponsoring "Healthy Living in the Summertime" on Thursday, July 30th. Participants will learn some ideas for cooking fun and healthy meals this summer, some easy ways to live healthier, and how to care for skin naturally and on a budget. Everyone welcome. It will be in the kitchen area next to the Lovatt Room in the Sublette County Library in Pinedale from 5:15-7PM. A light meal will be provided. Child care is available upon request. For more information and to RSVP regarding child care, please call Sarah at 307-367-6305.

---
Town holds public meeting to discuss movie theater proposal (posted 7/28/15)
Pinedale Online!
The Pinedale Town Council chambers were packed to overflowing Monday evening for a public meeting to discuss a proposal for the Town to build a movie theater complex. The Council heard comments and discussion for an hour and a half on the topic with many people speaking both for and against the proposal and asking questions. The location, final configuration, and management details have not been worked out to any great detail at this time. The current proposal is to spend $2 million of Town reserve money on a three theater movie complex. Annual maintenance is estimated to be about $½ million. On a general show of hands regarding how people felt about the project, the vast majority raised their hands on being neutral and wanting more information, about 17 people said they were for the theater, and a handful of people said they were against it.

The Town Council decided they want to have more discussion about the idea and come up with more solid details, partnering options, and financial analyses of proposed options. The Town plans to hold another public meeting sometime in the future to continue the discussion. Information and more details about the proposal so far will be posted on the Town's website, www.townofpinedale.us.

---
Memorial Funeral Service for Reid Schouboe July 29 (posted 7/27/15)
Covill Funeral Home
A memorial funeral service for Reid Schouboe (pronounced 'Skoe-Bee') will be held Wednesday, July 29th at 1:00 P.M. at the Pinedale High School Auditorium.

---
Roll-over crash claims life (posted 7/27/15)
Sublette County Sheriff's Office media release
(Pinedale, Wyoming – July 27) On Saturday, July 25, at approximately 10:30 a.m., Sublette County Sheriff's Office deputies and EMS responded to the Fayette Pole Creek area, south of Pinedale, for a report of a roll-over crash involving a side-by-side utility vehicle. Upon arrival, it was determined that the driver, a 14-year-old male, had succumbed to his injuries. The crash is being investigated by Wyoming Highway Patrol.

The Sublette County Sheriff's Office extends their deepest condolences to the friends and family of the deceased.

Contact for more information:
Sgt. Katherine A. Peterson
Administrative Assistant/ Public Information Officer
Sublette County Sheriff's Office
PO Box 701
Pinedale, WY 82941
(Ph) 307-367-4378
(Fax) 307-367-4360
kpeterson@subso.com

---
Weather Alert: Thunderstorms, snow, freezing overnight temperatures, elevated fire danger (posted 7/27/15)
Monday, July 27, 7:00AM: A cold front with moisture will bring thunderstorms across Wyoming today with hail, lightning and heavy downpours at times. Possibility of a tornado and flash flooding on east side of the state as the cold front moves through. Outside burning not recommended due to strong winds – be careful with any possible ignition source (motor vehicle engine exhaust, ATVs, cigarettes, welding and chain saw sparks, etc). Upper elevations of NW WY mountains and Yellowstone & Grand Teton Parks could see snow above 9,000 feet tonight and Upper Green River Basin will have much colder temperatures by early Tuesday morning including dipping to below freezing - protect sensitive outside plants.

---
Cancer Screenings talks July 28th in Pinedale and Marbleton (posted 7/26/15)
Sublette County Rural Health Care District
On Tuesday, July 28, St. John's Medical Center and Sublette County Rural Health Care District will host "All about Cancer Screenings" presentations at the senior centers in Marbleton/Big Piney and Pinedale, Wyoming. The featured speaker is Randy Kjorstad, MD, a general surgeon with St. John's Medical Center who provides services at regular clinics in Sublette County.

Dr. Kjorstad will speak at the Rendezvous Pointe Senior Center in Pinedale from 10:30 to 11:30 am and at the Southwest Sublette County Pioneers Senior Citizen Center in Marbleton from 1:00 to 2:00 pm.

Dr. Kjorstad's presentations will provide an overview of the guidelines for, and effectiveness of, various cancer screenings, including those for lung, breast, and colon cancer. Dr. Kjorstad will also provide information on the colonoscopy screenings now available at the Marbleton-Big Piney Clinic. Each talk will conclude with a question and answer session.

For more information, call Karen Connelly at 307-739-7380 or Dawn Forrester at 307-749-4137.

Related Links:
www.sublettehealthcare.com Sublette County Rural Health Care District

---
2015 Sublette County Fair livestock results (posted 7/23/15)
2015 Beef Show Results
2015 Junior Horse Show Results
2015 Jr Sheep and Goat Show Results
2015 Junior Swine Show, including Market and Showmanship classes Results

Related Links:
www.sublettecountyfair.com Sublette County Fair

---
Mosquito spraying in Pinedale August 2 & 3 (posted 7/23/15)
Town of Pinedale
Public Notice: Bee keepers please be advised! Mosquito Abatement District 1, which includes the Town of Pinedale, will be sprayed aerially on August 2, 2015 and August 3, 2015. This will occur if weather permits. In addition, fogging will take place at various locations in July 28th and 30th, weather permitting.

---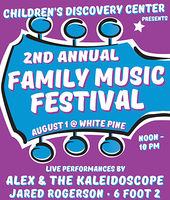 2nd Annual Family Music Festival at White Pine Resort August 1st.

White Pine gears up for upcoming season (posted 7/23/15)
Season Lift Passes now on sale; Fun events August 1st & 2nd
White Pine Ski Resort
Lift passes for the 2015/16 winter season at White Pine Ski Resort are now on sale. Priced at $280 for an adult (18-69 years old), pre-season lift purchases represent a 30% saving on the price of a season pass on opening day. The early discount continues through to August 31st. Student (13-18) and Senior (70+) season passes are $230.00, Junior (6-12) are $180.00 and child (5 and under) is $45.00.

To help promote the early discounts, White Pine Resort will be holding "Funday Sunday" on Sunday August 2nd at the resort, offering complimentary hamburgers and hot dogs. The lifts will be operating for mountain bike enthusiasts and hikers wanting to enjoy a free ride up to the top of Fortification Mountain and make their own way down. "Everyone is invited. This was so popular last year that we decided to repeat the Funday again this year," says co-owner Roy DeWitt. "It is going to a great weekend at White Pine with the Family Music Festival on Saturday August 1st."

The Family Music Festival offers entertainment from noon to 10pm with a mix of local and out-of-state bands. Kid's favorite is sure to be Alex and the Kaleidoscope featuring local celebrity Samatha Rice who will have kids and grandparents dancing to their fun action songs. A Bouncy House, face painting and crafts will all be set up adjacent to the lodge for the 2nd annual Children's Discovery Center fundraiser. Band line up also includes Sublette County stars Jared Rogerson and 6 Foot 2 as well as Utah's Rick Gerber Band. "As a member of a number of Salt Lake City supergroups, Rick Gerber has established himself as a crowd-pleasing, full-tilt rocker with a stage presence that can't be beat," promises the band's promotional material. Tickets are Adult $30, Child $10, Family $75.

White Pine has tents, RV spaces and cabins available for rent for those wishing to stay overnight and make the most of the weekend.

Available again is the winter season pass cancellation waiver which provides a full refund to cover the unexpected incidences such as injuries or job transfer which would prevent use of the season pass. Priced at $10/person when purchased with a season pass, a full refund is available up until November 30th no questions asked.

White Pine Resort will also be offering ski rental season packages. "As parents of young children, we know how quickly our children outgrow their shoes, and at White Pine we want to cater to that need by making equipment changes available throughout the winter as part of the equipment package," says DeWitt. "We have a shipment of skis and snowboards arriving shortly for all age groups." Ski rental season packages start at $99.00.

And for those who are tired of lugging gear up to the mountain, White Pine will be offering a number of 6' ski lockers available for rent. Priced at $110 for the winter, it will mean somewhere to leave ski equipment safe but close to the lifts.

Full details can be found on the "White Pine Season Passes 2015-16" mail-in form available at Rock Rabbit and Office Outlet in Pinedale. Visit White Pine's website www.whitepineski.com, phone 307-367-6606 or email skiinfo@whitepineski.com to request the season pass application form.

For Further Information: Robyn Blackburn, cell 307-360-6272, robyn@goark.com.
---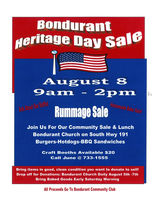 Bondurant Heritage Day Sale August 8th

Bondurant Heritage Day Sale August 8 (posted 7/23/15)
Join the Bondurant community for their annual Rummage Sale and Lunch at the Bondurant St. Hubert the Hunter Church on Saturday August 8th. Bring items in good, clean condition you want to donate to sell. All proceeds go to the Bondurant Community Club. There will be raffles, burgers, hot dogs, BBQ sandwiches, home-made bake sale. Craft booths are available for $20. Call June for more information, 307-733-1555.

---
Write Away Writer's Workshop August 4 (posted 7/23/15)
The Sublette County Artists Guild and Sublette County Library in Pinedale are offering a Write Away Writer's Workshop on August 4. The workshop is for youth and adults. It will be on Tuesday from 9:30AM to 2PM at the Sublette County Library in Pinedale. Registration is at 9:30AM. In the morning there will be creative writing talks and presentations. Madeline Murdock will give a presentation about Diaries; Elaine Crumpley – Journals; Mary Ann Almquist – Inspiration. Following the presentations will be Creative Writing Outside and Refining. Lunch will be provided at noon. At 1PM the public is invited for recitations by workshop participants plus poetry and recitations by Sublette County Artist Guild members. Call Kay Meeks for questions and more information, 307-859-8828.

---
PAC Joint-Powers Board meeting July 28 (posted 7/22/15)
Pinedale Aquatic Center
Public Notice: The Pinedale Aquatic Center Joint-Powers Board will meet Tuesday, July 28, 2015 at 6:00 pm in the classroom of the Pinedale Aquatic Center, 535 N. Tyler Ave. Pinedale, Wyoming. More info: 307-367-2832, www.pinedaleaquatic.com

---
Pinedale P&Z Commission meeting Aug. 3 (posted 7/22/15)
Town of Pinedale
Public Notice: There will be a Planning & Zoning Commission meeting held on Monday, August 3, 2015 at 6:00PM at Pinedale Town Hall. On the Agenda: Zone change request for three blocks within the Bloomfield Addition. The change in zoning would be from Commercial (C-1) and Mobile Home (MH) to Light Industrial (I-1), and Sublette County Clinic setback variance requests.

Related Links:
www.townofpinedale.us Town of Pinedale

---
Local Services:
Abortion Alternatives
Accounting & CPA
Arts & Entertainment
Attorneys & Legal
Automotive
Banks & Financial
Bars
Beauty Salons
Bed & Breakfasts
Boating
Bookkeeping
Builders & Contractors
Building Material
Business Services
Cabins
Cellular
Child Care
Churches
Cleaning Services
Clothing
Commercial Art
Computer Supplies
Consultants
Convenience Stores/Fuel
Convention/Meeting
Dentists
Dining
Dry Cleaning
Events
Fabric & Crafts
Fencing
Fishing
Flooring
Food & Drink
Funeral Homes
Furniture
Gifts/Western
Government
Graphic Design
Grocery & Market
Guest Ranches & Lodges
Handyman Services
Hardware & Feed
Heating
Health Care & Medical
Horseback Adventures
Insurance
Interior Design
Internet/Web/Advertising
Landscaping
Laundry
Liquor Stores
Lodging
Log Homes
Massage Therapy
Modular Homes
Motels
Mountain Biking
Movie Theaters
Museums
Nails
Newspapers
Office Supplies
Oil Field Services
Optometrists
Organizations
Outdoor Equipment
Outfitters & Guides
Packaging & Shipping
Painters
Pet Stores
Pharmacies
Photography
Plumbing
Professional Services
Radio
Real Estate Agencies
Real Estate-FSBO
Remodeling
Retirement
Retreats
RV Camping
Schools
Scrapbooking
Septic Services
Skiing
Snowmobiling
Snow Plowing
Storage and Storage Units
Tanning
Tattoos & Body Art
Tax Preparation Services
Taxidermy
Transportation/Shuttle
Trash Services
Trucking
Veterinarians
Visitor Services