Renaissance Faire September 8th (posted 8/13/18)
The Pinedale Renaissance Faire returns to the Pinedale Library on Saturday, September 8th from 10 am until 4 pm. Enjoy live music, sword fighting and blacksmith demonstrations, fortune telling, falconry, nerf archery and stick horse jousting, horse drawn wagon rides, Giant Chess, a trebuchet, games, crafts, food and drink, a costume contest, face painting, and so much more medieval merriment... all on Pinedale Library grounds. Fun for all ages. Free admission. Come in costume if you wish!

Sign up now for team Tug of War!
Who has the strongest team in Sublette County? Sign up your agency now for the Ultimate Battle for Strength in this friendly competition. Your team may have up to 4 people and all team members must be a member of your agency. The teams of 4 people will go head-to-head in this elimination event until we reach our top two teams. The top two teams will then face off in an Ultimate Battle of Strength. There is no fee to enter. The winning team will receive Exclusive Bragging Rights! The deadline to sign up your team is September 7th. Contact Jenn Burton at the Pinedale Library for more info or to sign up: Call (307) 367-4114 or email jburton@sublettecountylibrary.org.

---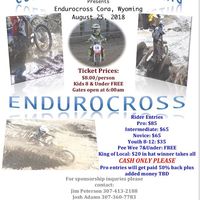 Endurocross 2018

Endurocross Dirtbike Race August 25 (posted 8/13/18)
Endurocross dirtbike race on Saturday, August 25th at Sagebrush Downs Racetrack in Cora, Wyoming. Signups start at 7am, races start at 10 am. Bring the whole family out and watch, or bring your bike and race. Concessions provided. For more information find and like us on Facebook, https://www.facebook.com/Snow-Explorers-Altitude-Off-Road-Inc-196164957065685/

---
Funeral Mass for Karmen Marincic August 13 (posted 8/10/18)
Covill Funeral Home
Karmen Marincic, 89, of Daniel, Wyoming passed away Thursday morning, August 9th at the Sublette Center in Pinedale. A Funeral Mass will be held Monday morning, August 13th at 10:00 AM at Our Lady of Peace Catholic Church in Pinedale. Rosary-Vigil service will be held Sunday evening at 7:00 PM at the church. Interment will follow the services in the Pinedale Cemetery.

---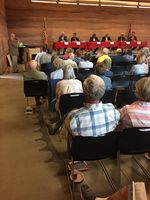 Sublette GOP primary election candidate forum in the Lovatt Room of the Pinedale Library on August 6, 2018. Photo courtesy Bob Rule, KPIN 101.1 FM Radio.

Sublette GOP concludes primary election candidate events (posted 8/10/18)
August 6th, 2018, all six Republican candidates running for Wyoming Governor came to Pinedale for a local forum. The candidates were Bill Dahlin, Foster Friess, Harriet Hageman, Sam Galeotos, Mark Gordon, and Taylor Haynes. The forum was conducted by State Senator Fred Baldwin from Kemmerer.

After the Pledge of Allegiance and prayer, each candidate shared opening remarks, followed by each answering questions, and then each gave their closing remarks. The public was asked to submit questions, and the local party thanked those who submitted questions.

Three candidates for US Senate also spoke - Dave Dodson, Charlie Hardy, and Anthony Van Risseghem.

To raise funds for the Sublette County Republican Party, a quilt donated by Deanne Bradley was auctioned. Foster Friess was the high bidder.

Nathan Winters, running for State Auditor, and Leland Christensen, running for State Treasurer, as well as many of the local candidates also attended.

Five of the Gubernatorial candidates also were in Marbleton at the senior center at 8 am for cinnamon rolls and coffee. Liz Cheney, running for US Representative; Dave Dodson and Charlie Hardy, both running for US Senate also attended. With an estimated 60 local people present, the crowd was given the opportunity to ask several questions of each group of candidates.

Several of the candidates also went to Rendezvous Pointe in Pinedale for lunch later that day, and a Meet & Greet following the noon meal.

The August 6th candidate functions concludes the scheduled Sublette County Republican Party primary election events. For anyone who missed the Governor or County Clerk/County Attorney forums, they were recorded and are available on the public Sublette County Republican Party Approved Facebook page. Sublette GOP encourages citizens to vote in the primary election on or before August 21st.

Thank you to Donna Shafer, Sublette County Republican Party Chairman, for her contribution to this story.

---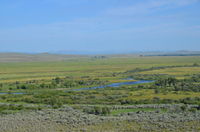 The Wyoming Stock Growers Land Trust will host their 17th Annual Roundup Fundraiser & BBQ on Saturday, August 25th at the Sommers Ranch.

WSGLT 17th Annual Roundup Fundraiser & BBQ Aug. 25 (posted 8/10/18)
The Wyoming Stock Growers Land Trust will host their 17th Annual Roundup Fundraiser & BBQ on Saturday, August 25th. This year's event will be held at the Sommers Ranch, on the Green River southwest of Pinedale. The funds raised at this event directly support u Land Trust's conservation and stewardship efforts, and help to educate producers and the public about agriculture and conservation.

Highlights of the evening include live music by country western singer Brenn Hill, food by Pitchfork Fondue, and a free tour of conserved ranches. There will be a live and silent auction to benefit agricultural land conservation. The Annual Roundup fundraiser is a family-friendly event, so bring the youngsters!

The adjacent Sommers Homestead Living History Museum, operated by the Sublette County Historical Society, will stay open late during the evening so event guests can walk over and tour the Homestead. Restored buildings on the historic site include the 100-year-old two story log homestead house, a log ice house, underground root cellar, garage/shop, log bunkhouse, meat house, and log barn. The museum does living history to interpret homestead era history of the early 1900s in the Upper Green River Valley. There are a lot of hands-on living history things to do at the Homestead, so the kids will have a lot of fun milking the cow, collecting chicken eggs, digging for blocks of ice in the ice house, hand washing laundry on scrub boards, roping, doing leather work, playing on the Homestead playground, and more.

Schedule of Events:
3:00 - 4:30 PM: Free tour of the conserved properties
4:00 – 5:00 PM: Cocktail hour with music from Brenn Hill
6:00 PM: Program begins
7:00 PM: Paddle Raiser and Live Auction

Click on this link to purchase tickets: https://www.wsgalt.org/events/2018-annual-roundup-barbeque/

For more information, contact Kaylee Madigan, Kaylee@wsgalt.org, 307-772-8751.

---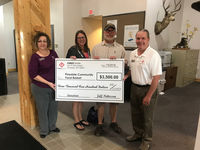 Pictured (L to R) are Melissa Flanagan, First Bank Operations Manager; Leah Pletcher & Tom Peters Pinedale Food Basket; and Jeff Patterson, First Bank Branch Manager.

First Bank donates $3,500 to Pinedale Community Food Basket (posted 8/8/18)
First Bank donated $3,500 to the Pinedale Food Basket to assist with paving the parking lot at their facility. Monies granted come from the First Bank Endowment fund at the Wyoming Community Foundation.

---
Leadership Sublette County begins August 8 (posted 8/7/18)
The Sublette County Chamber of Commerce is hosting Leadership Sublette County. This is an opportunity for anyone who is looking to increase their leadership skills. Gain insight into your beliefs and values, polish your interpersonal and communication skills, learn how to handle your stress, learn how to empower, motivate and inspire others, learn more about Sublette County issues, economics and resources.

Classes run from 9AM to noon, then lunch from noon to one, field experience from 1-3PM, then group work from 3-5PM. Participants are required to actively participate in eight of the ten class sessions as well as attend one board meeting and one community based committee meeting outside of class. Attendees will collaborate to determine and develop and implement a group project.

Classes are on Wednesdays on the following dates:
August 8 – Guest Speaker: Robin Schamber, Knowing and Managing Yourself
September 12 – Guest Speaker: Robert Condie (SBDCN), Networking & Leadership
October 10 – Guest Speaker: Kent Noble (UW), Values & Ethics
November 14 – Guest Speaker: Domenic Bravo (WY State Parks), Identifying Strengths & Improving Weaknesses
December 12 – Guest Speaker: Mary Martin (UW Extension), Strategic Planning
January 9 – Guest Speaker: John Anderson (Sublette BOCES), Government Functions
February 13 – Wyoming Legislative Day in Cheyenne
March 13 – Guest Speaker: Jenn & Jason Burton, Team Building & Relieving Stress
April 10 – Guest Speaker: Ron Wild (Rocky Mountain Power), Public Relations/Speaking
May 8 – Guest Speaker: Curt Haws, Conflict Resolution & Negotiation
June - Graduation

Sponsored by Sublette BOCES, Jonah, Ultra, Pinedale Energy Partners, and the Sublette County Chamber of Commerce. For more information contact director@sublettechamber.com.

---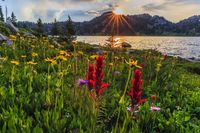 No Name Lake. Photo by Dave Bell.

No Name Lake Photo Gallery (posted 8/5/18)
Photos by Dave Bell
Dave Bell and several friends spent a week in the Bridger
Wilderness of the Wind River Mountains from July 28 to
August 3rd. They explored the No Name Lakes area including a
trip to the top of 12,068' Glover Peak. "The flowers are
incredible this year!" he said. "In spite of some smoke, we
had a really terrific week in our beautiful mountains."
Click on this link to see photos from their backcountry
adventures: href="http://www.pinedaleonline.com/photogallery/davebell/No
NameLakesBridgerWi/home.htm">No Name Lake – Bridger
Wilderness – July 28 to August 3 2018 album
---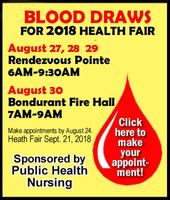 Blood draws

Pinedale 2018 Health Fair & blood draws (posted 7/23/18)
Sublette County Public Health Nursing will be holding a Health Fair in Pinedale on Friday, September 21, 2018. There will be several blood draws in August for the health fair.

Blood Draws:
Aug 27th, 28th & 29th
Rendezvous Pointe, Pinedale
Monday, Tuesday, Wednesday from 6am to 9:30am

Aug 30th
Bondurant Fire Hall
Thursday, 7am to 9:00am

Schedule your appointment and register online here:
Blood Draw Registration & Appointment

Please schedule your appointment and register before 5pm, August 24, 2018.
Walk-Ins welcome after 8am.

Blood Screenings Available:
HealthScreen: Organ Function, Lipid Panel, TSH, Iron Panel $35.00
CBC—Complete Blood Count: Blood Health and Immunity $20.00
PSA—Prostate Specific Antigen: Prostate Cancer or Issues $30.00
Hemoglobin A1c: Comprehensive Sugar Screening $30.00
Vitamin D: Aids in absorption of vitamins & minerals $40.00
Vitamin B12 and Folate: Energy level, lowers heart & stroke risk $40.00
Testosterone, Male: Level of testosterone in blood $45.00
Testosterone, Female: Level of testosterone in blood $45.00
Gluten Intolerance Screening: Celiac disease $45.00
Insure Fit Colon Kit: Colon Health $25.00

Reminders:
• Fasting recommended for 12 hours.
• Diabetics shouldn't fast.
• Drink water
• Wear loose sleeved clothing
• Take Prescribed Medications

For questions, no internet access, or to schedule an appointment call Public Health at 307-367-2157 or 307-276-3575.

Click on this link for a flyer: 2018 Pinedale Health Fair & Blood Draws (PDF)

---
Local Services:
Abortion Alternatives
Accounting & CPA
Apartments/Townhomes
Arts & Entertainment
Attorneys & Legal
Automotive
Aviation Services
Banks & Financial
Bars
Beauty Salons
Bed & Breakfasts
Boating
Bookkeeping
Builders & Contractors
Building Material
Business Services
Cabins
Cellular
Child Care
Churches
Cleaning Services
Clothing
Commercial Art
Computer Supplies
Condos
Consultants
Convenience Stores/Fuel
Convention/Meeting
Dentists
Dining
Dry Cleaning
Events
Fabric & Crafts
Fencing
Fishing
Flooring
Food & Drink
Funeral Homes
Furniture
Gifts/Western
Government
Graphic Design
Grocery & Market
Guest Ranches & Lodges
Handyman Services
Hardware & Feed
Heating
Health Care & Medical
Horseback Adventures
Insurance
Interior Design
Internet/Web/Advertising
Landscaping
Laundry
Liquor Stores
Lodging
Log Homes
Marketing
Massage Therapy
Modular Homes
Motels
Mountain Biking
Movie Theaters
Museums
Nails
Newspapers
Office Supplies
Oil Field Services
Optometrists
Organizations
Outdoor Equipment
Outfitters & Guides
Packaging & Shipping
Painters
Pet Stores
Pharmacies
Photography
Plumbing
Professional Services
Radio
Real Estate Agencies
Real Estate-FSBO
Remodeling
Retirement
Retreats
RV Camping
Schools
Scrapbooking
Septic Services
Skiing
Snowmobiling
Snow Plowing
Storage and Storage Units
Tanning
Tattoos & Body Art
Tax Preparation Services
Taxidermy
Transportation/Shuttle
Trash Services
Trucking
Veterinarians
Visitor Services