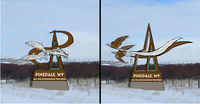 Do you like one, both or none for the proposed Pinedale gateway signs? Cast your vote!

Cast your vote for the Pinedale Gateway Project (posted 3/27/15)
Pinedale Fine Arts Council
The Pinedale Gateway Project committees would like to your help in deciding to move forward with signage on both sides of Pinedale. Please visit the Pinedale Fine Arts Council website at www.pinedalefinearts.com and scroll down on the home page for the survey link.

The Pinedale Gateway Project set out to combine art, signage, and landscaping to create a welcoming entrance into Pinedale to attract visitors to stop, look around and shop our local businesses. The two committees involved (Main Street Pinedale and In|Site:Ex|Site Public Art) wanted something simple that matched the wayfinding signs and reflected some aspect of Pinedale. The committees chose not to focus on big game or bronzes simply because it was too cost prohibitive, with the average bronze costing $130,000 each. The committees secured two grants from the Wyoming Office of Tourism and Wyoming Main Street. Next the committee selected Nationally Acclaimed artist Don Rambadt and his concepts (above). While the committees pursued local artists, they were invited to apply, but none felt able to complete the project.

---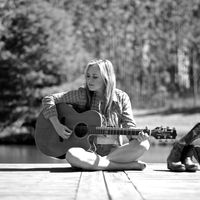 Cary Laine hopes to record her first album.

Cary Laine asks fans to go to Kickstarter campaign to help fund her first album (posted 3/27/15)
Aspiring singer has ties to Pinedale
Country/Americana artist Cary Laine is set to record her first ever full-length album, "Miss America." She is asking her fans to go to Kickstarter. Laine, who lived in Pinedale for a time, appeared on the 6th Season of NBC's Emmy Award Winning Show 'The Voice,' getting a 4-chair turn.

After making music for years, and living on the Gulf Coast, Cary Laine and her family headed out West for a new adventure. Little did she know, moving across the country to Wyoming would lead to a 4-chair turn on 'The Voice' and a battle between the coaches over her and her infamous red leather boots.

Since her feature on 'The Voice' in 2014, she has moved back to the Gulf Coast, written newmusic, traveled across the country playing shows, and is now gearing up to let the world hear just what's she's been up to.

Teaming up with producer, multi-instrumentalist, and long-time friend, Anthony Crawford (Neil Young, Steve Winwood, Dwight Yoakam) from groups Willie Sugarcapps and Sugarcane Jane, Cary Laine has begun recording her debut album, Miss Alabama, at Admiral Bean Studio in Loxley, Alabama. Her album is set to be released Summer 2015.

In order to finish her dream album, she is asking for help from her fans. Supporters can go online to
https://www.kickstarter.com/projects/carylaine/first-full-album-miss-alabama and help fund the project. The goal is $15,000 and will pay for recording, packaging, distributing, and promotion of the album. Rewards for helping make this dream a reality include early digital downloads from the new album, Miss Alabama, hand-written lyrics, signed CDs, a house concert with Cary Laine, and even some of her attire from the blind auditions of The Voice including her red boots.

The Kickstarter campaign runs until April 8th to raise the $15,000.

Related Links:
www.carylaine.com
Cary Laine Facebook page
Pinedale's Cary Laine appears on 'The Voice' Pinedale Online, February 27, 2014

---
Prenatal Classes begin April 8th in Pinedale (posted 3/27/15)
The Sublette County Public Health office in Pinedale is offering Prenatal Classes beginning April 8 from 6-8pm. They will be held every Wednesday for three weeks. Classes will take place at the Public Health office in Pinedale. Classes will cover pregnancy, labor and delivery and postpartum care. They will be taught by Janna Lee, BSN, Public Health Nurse. Please call for more information. 307-367-2157 or 307-276-3575.

---
Easter Egg Hunt in Big Piney April 4th (posted 3/27/15)
Hell Hole Archery Club, the Big Piney 4-H Archery Club and community members in Big Piney will host an Easter Egg Hunt on Saturday, April 4th at the Events Center of the Sublette County Fairgrounds. It starts at 9AM. The hunt is free and is for kids age 2-12.

---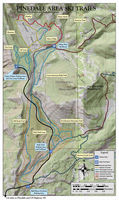 Nordic Ski Trail map courtesy Sublette County Recreation Board

Nordic ski trail grooming report – March 27, 2015 (posted 3/27/15)
Report courtesy of Mike Looney, Groomer
Friday, March 27, 8:45AM report: Groomed up from Nordic building to Kelly Park, Kelly Park, Kelly Tie-In, Lower and Upper Surveyor and Old Road Trail. 36 degrees at Nordic Building, 30 degrees at White Pine before sunup. Expect soft, slushy conditions today. May be better skiing on un-groomed portions of the trail. Use caution on southern slopes of Kelly Park, very thin coverage and some bare spots. Trail bare in Lower Surveyor where it loops around up by White Pine Ski Area. This will be the last grooming report of the season. Thank you to everyone who used the trails, particularly to those who cleaned up after their pets. It was a huge help. This Nordic Ski Trail grooming report is courtesy of the Sublette County Recreation Board. For more information, call or text Mike Looney, 307-360-8488. Permission granted for other outlets to redistribute this Nordic ski trail grooming report.

Related Links:
X-C Ski Trail Map - (356K PDF)
Road and Weather links
www.visitpinedale.org Pinedale tourism website (lodging, dining, area information)
www.whitepineski.com White Pine Resort
www.greatoutdoorshop.com The Great Outdoor Shop
---
Kenneth Becker exhibit opening reception at the Library April 2nd (posted 3/26/15)
Sublette County Library
During the month of April, view the works of Kenneth Becker (1913-1972) in the Sublette County Library's gallery at 155 S Tyler Ave in Pinedale. Kenneth is the father of Pinedale's Kenny Becker and was an accomplished lithographer, though he most enjoyed creating oil paintings and watercolors. Originally from Illinois, he had a passionate love of painting the western and southwestern landscapes, working from both memory and from photographs. Four of Kenneth's watercolors are part of the permanent collection of the Art Institute of Chicago. Enjoy an opening reception on Thursday, April 2nd at 6:30 pm.

For more information visit the library website: sublettecountylibrary.org or call the library at 307-367-4114.

---
Road construction starting April 6th on Spruce Street in Pinedale (posted 3/26/15)
Town of Pinedale
Notice to Residents of Spruce Street: Road construction will commence the week of April 6th to repair the damage on the east portion of the roadway. This will NOT just be a patch. The damaged portion of the street will be completely removed and re-paved from north curb to south curb. If you have any questions and/or concerns please, contact Pinedale Town Hall, 307-367-4136.

Related Link
www.townofpinedale.us Town of Pinedale

---
Town of Pinedale update: Spring Indoor Soccer (posted 3/25/15)
Town of Pinedale Mayor Bob Jones
Hello Sublette County. This is Bob Jones and I would like to introduce Spring indoor soccer. As you know, Spring in Wyoming with its highly variable weather makes our county a tough place to plan outdoor sports. In a partnership with QEP, Sublette County, Pinedale Soccer Association, PAC and The Town of Pinedale, I am happy to announce the start of an indoor soccer program that is open to all Sublette county kids. The season starts April 20th and will be at the Pinedale ice arena. The program will be run by Pinedale High School soccer coach John Mivshek. John will be supported by several other highly qualified coaches. The goal of this program is to make sure our kids learn the necessary skills at a young age from qualified Coaches. We are also hoping we can get some parents who may not understand soccer to participate and receive training that would help make them feel comfortable participating as coaches in the Fall outdoor soccer program. Along with skills training, the kids will spend a lot of time playing small sided 3 v 3 games. We will do our best to make sure your child plays with kids that are at the same skill level. This will help to ensure that every kid is part of the game and ensure as many touches on the ball as possible.

The cost will be $25 per child and scholarships are available if needed. The season starts April 20th and ends May 28th. Practices and games will be held in the evenings Monday through Thursday. Your child's practice days will be announced as soon as registration is complete. Please register online at www.pinedalesoccer.com and go to Spring Soccer Registration. If you have any questions, contact John Mivshek at John@townofpinedale.us or call town hall at 307-367-4136.

Please sign up as soon as you can. I hope to see you on the field.
 

---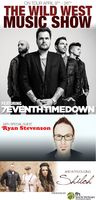 The Wild West Music Show in Pinedale April 11th

The Wild West Music Show April 11th (posted 3/25/15)
The Wild West Music Show, featuring 7Eventhtimedown, a mainstream American Christian rock band listed on the top 20 charts, and special guest Ryan Stevenson and Shiloh, will be appearing at the Pinedale Wrangler Gym on Saturday, April 11th at 7PM. Advance tickets are $5.50, available online (www.7eventhtimedown.com and click on the "Tour" link) and at Office Outlet in Pinedale. Tickets will also be available at the door for $7.00.

Related Links:
www.7eventhtimedown.com

---
Mountain Man Back Country Horseman meeting April 6th (posted 3/25/15)
Mountain Man Back Country Horseman will meet on Monday, April 6th at the Marbleton Town Hall at 6PM. Veterinarian Bob Beiermann D.V.M will present a program on horse nutrition and first aid kits. All members and interested parties are welcome to attend.

---
White Pine Ski Resort Spring Carnival & last day March 28th (posted 3/23/15)
White Pine Ski Resort is winding down for the season. Warmer days and lack of snowfall have brought forward their closing date for winter 2014/15. White Pine Resort will be open the weekend of Friday, March 27th and Saturday, March 28th, which will be their last day for the season. Come up on Saturday for their Spring Carnival from 9AM to ??? There will be a Costume Contest, Easter Egg Hunt, Pond Skim, Prizes, and more. For more information, call White Pine at 307-367-6606.

Related Links:
www.whitepineski.com White Pine Ski Resort

---
Colors & Corks, Art & Wine Painting Class March 28th (posted 3/23/15)
With artist Kay Meeks
Paint a picture while sipping on wine and eating hors d'oeuvres. No talent necessary - you only need to try. Class will be on Saturday at Stockman's Banquet Room. Pastel Painting from 2-4PM (Registration at the door 1:30pm)
Watercolor Painting from: 5-7PM (Registration at the door 4:30pm)
Pre-registration is recommended - they sold out last time. Cost of the class is $30. Wine is extra cost. Register by Wednesday, March 25th by calling Kay Meeks, 307-859-8828. Proceeds go to Our Lady of Peace Building Fund.

---
Bar J Wranglers Benefit Concert April 17 (posted 3.23.15)
Benefit for the Pregnancy Resource Center
The Bar J Wranglers in be performing in concert in Pinedale on Friday, April 17th. The concert is a benefit for the Pregnancy Resource Center of Sublette County. Seating will begin at 6:30PM, the concert starts at 7PM at the Pinedale High School Auditorium. Tickets go on sale starting March 26th, $20/person, available at the Cowboy Shop, Office Outlet in Pinedale and Big Piney, and the Pregnancy Resource Center. For more information call 307-367-7707.

---
Lions Club Easter Egg Hunt April 4th in Pinedale (posted 3/23/15)
The Pinedale Lions Club will host its annual Easter Egg Hunt in Boyd Skinner Town Park on Saturday, April 4th at 10:00 AM sharp! Children from toddler through 5th grade are welcome to come and join in the fun. Don't be late; you can't hold back hundreds of kids from all those eggs –toddler stampedes have been known to happen! The Easter Bunny will make an appearance again this year, so be sure to bring your camera. The Pinedale Lions Club has been putting this fun event on for the children of Pinedale for over 20 years.

---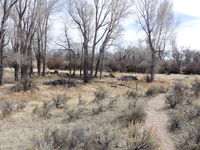 A one-mile walking path leads through the 100-acre historical park located on the west side of the New Fork River. The historic Lander Trail goes through the site, which was used by thousands of emigrants crossing in wagons westward during the mid-1800s. The park had its grand opening last year. The warm spring weather has allowed the Sublette County Historical Society to open the park early this year. No green leaves yet, but on the good side the bugs aren't out yet either.

New Fork Historical Park open for the season (posted 3/22/15)
Pinedale Online!
Got cabin fever and itching to get outside to enjoy the beautiful spring-like weather? The Sublette County Historical Society has opened the Lander Trail-New Fork River Crossing Historical Park for the season. "We know it is early," said Sublette County Historical Society President, James Thomas, "but the snow is off and the road and parking lot are dried out, so we wanted to open it up and let people go in and visit the park."

The new 100-acre historical park had its grand opening in the spring of 2014. It is located where the Lander Trail, a branch of the California-Oregon Trail system, crosses the New Fork River. There is a walking trail through the park and nine interpretive signs tell how the New Fork River was a dangerous river crossing along the emigrant's journey westward and the beautiful cottonwood tree grove was an important resting and camping site along the way.

Today people can take a leisurely stroll through the lovely cottonwood tree grove along the nearly one-mile long rustic walking path, fish in the river, and enjoy seeing birds and wildlife. Dogs are welcome and do not have to be on leash, but please do keep them under control and do not allow them to chase wildlife in the park. The water is still low (but cold), and it's great fun to throw sticks for the dogs to fetch. The round rocks along the river's edge are great for skipping rocks across the water and seeing who can skip theirs all the way to the other side of the river. The park is walk-in access only. There is a graveled pathway from the parking lot to the river overlook sign. The rest of the trail goes across the native soil. Wear comfortable walking shoes. It's also fine to go off trail and just explore through the park. Deer and moose can often be seen and there are a wide variety of raptors and waterfowl in the area.

From Pinedale, take US 191 south 10 miles to Paradise Road (just north of Boulder), then travel south another 14 miles. (If you get to Hwy 351, you've gone about a mile too far). The Park and parking area will be on your left. Park your vehicle and take the footpath into the Park. The Historical Society is still in the process of building and fundraising for improving the infrastructure at the park, so note that the only bathroom currently onsite is an outhouse in the administrative area in the middle of the park. It is suggested to use the more modern restroom at the BLM campground just south of the park (access from US 351). They also hope to get picnic tables and a group gathering area constructed in the near future. The park is a "Pack it in – Pack it out" area for garbage. It is day-use only, no overnight camping and no campfires permitted.

There is no charge to visit the park, but the historical society always welcomes donations to help with upkeep and continue to put in improvements such as picnic tables, build a group area, expand the trail system, and put in more interpretive signs. Volunteers are also very welcome. There will be a work day/BBQ in the next couple of weeks to work on the trails, do spring clean up, cut logs for seating, spread native seed, repack the ADA trail, and more.

For questions or more information, see www.newforkpark.org, or email info@newforkpark.org, or contact the Sublette County Historical Society at the Museum of the Mountain Man in Pinedale, 307-367-4101.

Click on this link for more pictures.

Related Links:
Grand Opening of the Lander Trail-New Fork River Crossing Historical Park Pinedale Online, June 25, 2014
106 Success Story: Strong Public-Private Coalition leads to Establishment of New Fork River Crossing Historic Park Advisory Council on Historic Preservation

---
Local Services:
Abortion Alternatives
Accounting & CPA
Arts & Entertainment
Attorneys & Legal
Automotive
Banks & Financial
Bars
Beauty Salons
Bed & Breakfasts
Boating
Bookkeeping
Builders & Contractors
Building Material
Business Services
Cabins
Cellular
Child Care
Churches
Cleaning Services
Clothing
Commercial Art
Computer Supplies
Consultants
Convenience Stores/Fuel
Convention/Meeting
Dentists
Dining
Dry Cleaning
Events
Fabric & Crafts
Fencing
Fishing
Flooring
Food & Drink
Funeral Homes
Furniture
Gifts/Western
Government
Graphic Design
Grocery & Market
Guest Ranches & Lodges
Handyman Services
Hardware & Feed
Heating
Health Care & Medical
Horseback Adventures
Insurance
Interior Design
Internet/Web/Advertising
Landscaping
Laundry
Liquor Stores
Lodging
Log Homes
Massage Therapy
Modular Homes
Motels
Mountain Biking
Movie Theaters
Museums
Nails
Newspapers
Office Supplies
Oil Field Services
Optometrists
Organizations
Outdoor Equipment
Outfitters & Guides
Packaging & Shipping
Painters
Pet Stores
Pharmacies
Photography
Plumbing
Professional Services
Radio
Real Estate Agencies
Real Estate-FSBO
Remodeling
Retirement
Retreats
RV Camping
Schools
Scrapbooking
Septic Services
Skiing
Snowmobiling
Snow Plowing
Storage and Storage Units
Tanning
Tattoos & Body Art
Tax Preparation Services
Taxidermy
Transportation/Shuttle
Trash Services
Trucking
Veterinarians
Visitor Services