MESA Horse Show July 18 (posted 7/2/15)
Amberley Snyder Demonstration and Reception
MESA Therapeutic Horsemanship will hold their Horse Show on Saturday, July 18th at the Sublette County Fairgrounds in Big Piney. The MESA Horse Show begins at 5:30 p.m. with MESA riders showcasing their skills in the saddle.

Reception doors open at 6:45 p.m. Tickets are $25 each and can be ordered online here: https://www.eventbrite.com/e/amberley-snyder-demonstration-and-reception-at-the-mesa-horse-show-tickets-17535654615.

MESA is proud to host Amberley Snyder after its MESA Horse Show. There will be a reception of cocktails and hors d'oeuvres followed by a demonstration and motivational speech.

About MESA Therapeutic Horsemanship, Inc.
MESA Therapeutic Horsemanship, Inc. was founded and has been in operation since 2012. It aims to provide high quality equine-assisted activities and therapies to individuals with a wide range of physical, mental, and behavioral disabling challenges in Sublette County, Wyoming. MESA strives to accomplish their mission of promoting self-esteem, confidence, physical independence, and social interaction through equine-assisted activities. Their vision is to strengthen an atmosphere of support, cooperation, and respect in an equestrian environment that will create an appreciation for individuals with disabling challenges, supporting the MESA acronym of Mind, Energy, Spirit and Attitude.

For more information contact Carla Sullivan, Executive Director.
M.E.S.A. Therapeutic Horsemanship, Inc.
PO Box 516
Pinedale, WY 82941
Phone: 307-749-3979
Email: subletterides@gmail.com
Web: www.mesarides.org

---
VFW-American Legion Pancake Breakfast July 4th in Pinedale (posted 7/2/15)
The VFW and American Legion are sponsoring a donation Pancake Breakfast on the morning of Saturday, July 4th at the VFW in Pinedale from 8-10AM.
---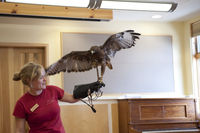 Photos by Tyler Foster

Raptor program in Big Piney (posted 6/30/`5)
The Teton Raptor Center put on a raptor program at the Big Piney Library on Tuesday, June 30th. Click on this link for more pictures.

Photos by Tyler Foster

---
Use of fireworks banned in Sublette County (posted 6/29/15)
Sublette County Unified Fire
The 4th of July is quickly approaching. This is a holiday full of activities like barbeques, picnics, family outings, camping and boating, to name a few. This holiday is also the celebration of our country's independence and forte with honoring the nation's flag and displays of fireworks.

This is a reminder that without a permit the manufacture, sale, distribution and use or displays of fireworks are banned in Sublette County (Resolution 88-183T). This includes all public, private and Federal lands.

Sublette County and all Federal lands are currently at the high fire danger level. This means any fire caused by the use of firework could start fires resulting in significant fire damage. It is a misdemeanor for illegally using fireworks in Sublette County punishable by a fine of not more than $750.00 and a violation on Federals lands of a fine of $250.00.

Sublette County Unified Fire, along with the Towns of Pinedale and Big Piney/Marbleton, will host a public fireworks display on July 4th. Pinedale's display begins at 10:00 PM at the baseball field and Big Piney/Marbleton at 10:00 PM at the Marbleton hill.

---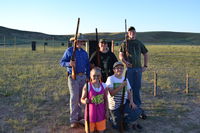 4-H Muzzleloader Shoot. Caleb, Jed, Nathan (standing) and Rylee and Sam kneeling. Photo courtesy Robin Schamber, UW Sublette County Extension 4-H & Youth Development.

4-H Muzzleloader Shoot (posted 6/30/15)
RESULTS

Senior Division
Grand champion: Nathan Lee 226
Reserve champion: Jed Johnson 224

Intermediate Division
Grand champion: Sam Johnson 209
Reserve Champion: Caleb Helm 189

Junior Division
Grand champion: Rylee Helm 99
---
Notice of Road Closure for 4th of July Town Picnic (posted 6/2915)
On Madison Street
Town of Pinedale
A road closure will commence Saturday, July 4th, to enable safe recreation during the Pinedale Town Picnic. Madison St. will be closed between Hoback and Bonneville Streets on Saturday, July 4th from 8 AM until 10 PM. Please remove all vehicles, boats, and other vehicles from the street prior to the closure. If you have any questions and/or concerns please, contact Maureen at Pinedale Town Hall,
307-367-4136.

---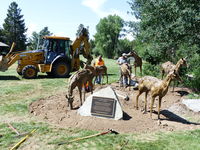 Installing pronghorn sculpture.

Pronghorn statues installed (posted 6/29/15)
The Town of Pinedale installed the Path of the Pronghorn bronze statue in the American Legion Park in Pinedale on Monday, June 29th. The dedication will be held at 6PM during the Town's Independence Day celebration on Saturday, July 4th. The sculpture is a tribute to the pronghorn migration in the Upper Green River Valley. The sculpture was created by artist Georgia Bunn. Click on this link for more photos: Path of the Pronghorn sculpture Photo by Pinedale Online.
---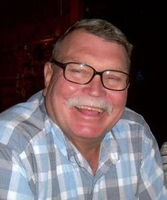 Timothy Wells

Obituary - Timothy Patrick Wells (posted 6/29/15)
Timothy Patrick Wells, 63, of Rock Springs and Boulder Wyoming passed away on Thursday, June 25, 2015 at his home in Rock Springs. A long-time resident of Rock Springs, Wyoming, Mr. Wells died following an eighteen month battle with cancer.

He was born on June 3, 1952 in St. Paul, Minnesota, the son of John F. Wells and Anita L. Gillis Wells.

Mr. Wells attended schools in Hudson, Wisconsin and was a 1971 graduate of the Hudson High School. He served a four year apprenticeship to become a Journeyman Carpenter.

He married Jacalyn Lanman on July 20, 1974 in Bloomington, Minnesota.
Mr. Wells was employed as a Carpenter Business Agent for Wyoming Carpenters Local 1620 and retired in July of 2007.

His interests included fishing, hunting, woodworking and logging.

He was a member of Holy Spirit Catholic Community, Carpenter's Union, Wyoming Building Trades, Past President of Sweetwater County Democratic Party, Sweetwater County 4-H, Rock Springs Swim Club, Little League Football, Southwest Labor Council, President of High Meadow Ranch Homeowner's Association in Boulder the past several years. He lobbied for worker's rights and obtained a grant for the new water system at High Meadow Ranches with the Wyoming Legislature. He was also instrumental in getting Sublette County to take over the maintenance of Meadow Lark road.

Survivors include his wife Jacalyn Wells of Rock Springs, Wyoming; his mother Anita Wells of Hudson, Wisconsin; two sons Anthony "Andy" Wells and wife Trudi and Ryan Wells and wife Ashley all of Rock Springs, Wyoming; four grandchildren Brenden Wells, Brittnie Wells, Morgan Wells and Hadley Wells; five brothers John Wells and wife Sue of Boulder, Wyoming, Dan Wells and partner Roger Morgan of Valley Center, California, Mike Wells and wife Bonnie of Dresser, Wisconsin, Pat Wells and partner Dave Lamangan of Silver Spring, Maryland, Tom Wells and wife Jenifer of Seattle, Washington; three sisters Mary Wells, Margaret Sanderson and husband Greg and Jeanne Denis and husband Jeff all of Hudson, Wisconsin; several aunts, uncles, nieces and nephews.

He was preceded in death by his father John F. Wells.

Following cremation, a Mass of Christian Burial will be celebrated at 11:00 A.M. Thursday, July 2, 2015 at Saints Cyril & Methodius Catholic Church, 633 Bridger Avenue, Rock Springs, Wyoming. A rosary will be recited at 4:00 P.M. on Wednesday, July 1, 2015 at the church. Friends may call at the church, one hour prior to the rosary on Wednesday and on Thursday morning one hour prior to services.

The family of Timothy P. Wells respectfully suggests that donations in his memory be made to Holy Spirit Catholic Community, c/o Church Elevator Fund, 116 Broadway, Rock Springs, Wyoming or Hospice of Sweetwater County, 333 Broadway, Suite 220, Rock Springs, Wyoming or www.myhsc.org.

Condolences may be left at www.vasefuneralhomes.com

---
Mountain Man Back Country Horseman meeting July 6 (posted 6/29/15)
The Mountain Man Back Country Horseman will meet at the group site at New Fork Lake, across from the Boy's Scout facility. The meeting will be held at 6PM on July 6th. A Dutch oven dinner will be provided by Rex Hamner. Final plans for our State Rendezvous will be discussed. All chapter members are encouraged to attend.

---
Pinedale AA meetings (posted 6/29/15)
AA meetings are held in Pinedale on Sunday, Monday, Wednesday, Friday at 8pm. Tuesday at 5:45pm, Thursday at Noon. All meetings at Our Savior's Lutheran Church, 512 N. Tyler (across from the Aquatic Center).

Alcoholics Anonymous is an international fellowship of men and women who have had a drinking problem. It is nonprofessional, self-supporting, multiracial, apolitical, and available almost everywhere. There are no age or education requirements. Membership is open to anyone who wants to do something about his or her drinking problem. www.aa.org
_______________________________________

(Editor's Note: See our Calendar of Events page for more meeting places and times for help groups – scroll down to the bottom of the page under Repeating Events)

---
Funeral services for Tad Lozier July 2 in Big Piney (posted 6/27/15)
Covill Funeral Home
Funeral services for Tad Lozier will be held Thursday July 2 at 11:00 A.M. at the Big Piney L.D.S. Church. Interment will follow the services in the Plainview Cemetery.

---
Funeral services for Abbie Woolwine July 2 in Jackson (posted 6/26/15)
Covill Funeral Home
Funeral services for Abbie Woolwine of Daniel, Wyoming will be held at Our Lady of the Mountains Catholic Church in Jackson, Wyoming on Thursday, July 2, 2015 at 10:30am with a reception to follow. All are welcome to attend (and feel free to wear your favorite colorful outfit; This is a celebration!)

---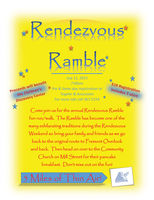 Rendezvous Ramble July 11th in Pinedale

Rendezvous Ramble July 11th (posted 6/22/15)
5 Mile fun walk/run to Fremont Lake overlook
The annual Rendezvous Ramble will be held on Saturday morning, July 11th in Pinedale. This is a fun 5-mile walk/run that will return to the original route to Fremont Lake overlook and back. After the Ramble, head on over to the Community Church on Mill Street for their pancake breakfast. Proceeds from the event will benefit the Children's Discovery Center. $10 registration, which includes a t-shirt. Pre- and same-day registration at Tegeler & Associates. For more information call 307-367-2154.

---
2015 4th of July Chuckwagon Days (posted 6/22/15)
Celebration in Big Piney & Marbleton
Schedule of Events:
Friday, July 3rd: Chuckwagon Days Lil' Buckaroo Rodeo
Sublette County Fairgrounds Ag Center, 6PM. For kids age 12 and under. Stick Horse Barrels, Goat Tail Tying, Calf Roping, Mutton Busting, Bareback Riding, Calf Riding, and Mini Bull Riding. Entry deadline is Thursday, July 2nd at 5:00PM. No late entries will be accepted. For questions, contact Brianne Brower, 307-749-3546. Click here for entry form (PDF)

Saturday, July 4th:
7:00AM: 5K, 10K Run. Starts at Big Piney High School.
7:00-9:00AM: Pancake Breakfast, St. John's Episcopal Church, donations welcome!
9:30AM: Parade lineup at EOG resources
10:00AM: Parade down Budd Avenue
11:00AM: Community BBQ, Sublette County Fairgrounds
1:00PM: Chuckwagon Days Rodeo
6:00PM: Street Dance, near the Big Piney Library
Dusk (about 10PM): Fireworks

Related Links:
www.chuckwagondays.com Chuckwagon Days

---
2015 Music in the Courtyard at the Pinedale Library (posted 6/22/15)
Enjoy a variety of free live music each Thursday from 6:30 pm –7:30 pm through August at the Sublette County Library in Pinedale. Bring the kids and a folding chair. For more information see www.sublettecountylibrary.org or call the Pinedale Library at 307-367-4114.

June 25th: Brooke and Michael Lauderback on piano
July 2nd: American Folk & Patriotic Sing-a-long with Sue Briggs-Stanfill, Doc Johnston and George Ditton
July 9th: Chandra Stough on the fiddle & Bob McCarty on the guitar
July 16th: Talli Manning and special guest Casey Manning on guitar
July 23rd: Treva Hutchinson, Maggie Nobel and Bonita Griffin playing on dulcimer
July 30th: Lars Michnevich on guitar
August 6th: Samantha Rise on vocals and Arlaina Goddard with her banjitar (cross between a banjo & guitar), guitar and uke: original music with Joni Mitchell, and Simon and Garfunkel covers
August 13th: Karin Loya on cello and Bob McCarty on guitar
Treva Hutchinson, Maggie Nobel and Bonita Griffin playing on dulcimer
July 30th: Lars Michnevich on guitar
August 6th: Samantha Rise on vocals and Arlaina Goddard with her banjitar (cross between a banjo & guitar), guitar and uke: original music with Joni Mitchell, and Simon and Garfunkel covers
August 13th: Karin Loya on cello and Bob McCarty on guitar

---
Town of Pinedale update: 4th of July celebration (posted 6/18/15)
Summer is finally here. The Staff at the Town is ramping up for another fun filled 4th of July celebration at the American Legion Park.

This year we have a few updates. Quite a few of our local non-profits have jumped in to add even more activities. We help from Green River Wilderness Outreach, (GROW), MESA Therapeutic Horseback Riding, Green River Valley Land Trust, The Sublette Group for Community Initiate, the PAC, Wrangler Basketball, and of course Pinedale Fine Arts. If you want to join in, call the Pinedale Town Hall and ask for Maureen. The number is 307-367-4136

A 3-on-3 basketball tournament will start at 2PM - come out and cheer them on. We will have old fashioned games like sack races and 3-legged races, plus roping lessons starting as early as 3:30PM and going up until 5 when the music starts. Kid's crafts go from 4-5PM.

Town employees and council members will serve up a great BBQ again this year, providing hot dogs, hamburgers, and kielbasa from 4-6PM. Please bring your favorite side dish to share.

Because there will be so many people, some sitting on the grass eating, we ask that this day you please leave your dogs at home. Avoid traffic and parking issues, and ride the wagon down to the park!

The fun doesn't stop after dinner, it is just getting started. At 5PM Rosie and the Ramblers plays their Two-steppin' honkey tonk music.

Then, during a break in the music, the Sublette Group for Community Initiative will have a special dedication of the long-awaited Path of the Pronghorn bronze sculptures. This will be a wonderful addition to our beautiful Town.

Just when you think you can't have any more fun, Sublette County Unified Fire will blast off the Fireworks at 10 PM at the Ball Fields.

So, mark your calendars to come out and have a great day of celebration- this is what small town America is all about.

Related Links:
www.townofpinedale.us Town of Pinedale

---
Local Services:
Abortion Alternatives
Accounting & CPA
Arts & Entertainment
Attorneys & Legal
Automotive
Banks & Financial
Bars
Beauty Salons
Bed & Breakfasts
Boating
Bookkeeping
Builders & Contractors
Building Material
Business Services
Cabins
Cellular
Child Care
Churches
Cleaning Services
Clothing
Commercial Art
Computer Supplies
Consultants
Convenience Stores/Fuel
Convention/Meeting
Dentists
Dining
Dry Cleaning
Events
Fabric & Crafts
Fencing
Fishing
Flooring
Food & Drink
Funeral Homes
Furniture
Gifts/Western
Government
Graphic Design
Grocery & Market
Guest Ranches & Lodges
Handyman Services
Hardware & Feed
Heating
Health Care & Medical
Horseback Adventures
Insurance
Interior Design
Internet/Web/Advertising
Landscaping
Laundry
Liquor Stores
Lodging
Log Homes
Massage Therapy
Modular Homes
Motels
Mountain Biking
Movie Theaters
Museums
Nails
Newspapers
Office Supplies
Oil Field Services
Optometrists
Organizations
Outdoor Equipment
Outfitters & Guides
Packaging & Shipping
Painters
Pet Stores
Pharmacies
Photography
Plumbing
Professional Services
Radio
Real Estate Agencies
Real Estate-FSBO
Remodeling
Retirement
Retreats
RV Camping
Schools
Scrapbooking
Septic Services
Skiing
Snowmobiling
Snow Plowing
Storage and Storage Units
Tanning
Tattoos & Body Art
Tax Preparation Services
Taxidermy
Transportation/Shuttle
Trash Services
Trucking
Veterinarians
Visitor Services