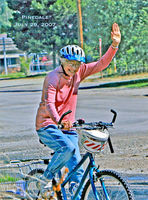 Sally Mackey. Photo by Pete Arnold, 2007.

Celebration of Life for Sally Mackey August 10 (posted 7/29/16)
Celebration of Life for Sally Mackey August 10
There will be a Celebration of Life for Sally Mackey on Wednesday, August 10th at 1:00PM at the Sublette County Library in Pinedale. Come share stories, recount memories and enjoy an afternoon of friendship.

---
Photo Workshop in Pinedale August 2 (posted 7/29/16)
Would you like to learn how to take better landscape and wildlife photos? The Wyoming Game & Fish Department is offering a free photography workshop on Tuesday, August 2nd in Pinedale. The 2-hour long workshop will include a presentation and the opportunity to shoot under the guidance of photographer, Jessica Grant. The workshop will be from 2-4PM in the Pinedale Game & Fish office, 432 E Mill St. Participants should bring a camera and RSVP to Jessica Grant at jessica.grant1@wyo.gov.

---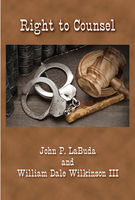 "Right to Counsel' is a new book by Pinedale residents John LaBuda and William Dale Wilkinson, III (Trey).

Book signing for 'Right to Counsel' August 17 (posted 7/29/16)
New book by John LaBuda and Trey Wilkinson
Book signing for 'Right to Counsel' August 17
New book by John LaBuda and Trey Wilkinson

Pinedale residents John LaBuda and William Dale Wilkinson, III (Trey) have co-authored a new book entitled, "Right to Counsel." The book is a murder mystery based in Pinedale, Wyoming. This is the first book for both men. There will be a book signing at the Pinedale Library on Wednesday, August 17th starting at 5PM.

"This was a project John had in mind for some time and starting a little over two years ago we started working on it together," said Trey. "It's a murder mystery based in Pinedale, Wyoming, with a unique twist at the end."

About the Book
A quiet little mountain town in western Wyoming is awakened when one of the town's prominent figures is murdered. The wife of Pinedale's mayor is found dead at a local hotel and questions arise when a handful of characters are questioned and become involved.

Jimmy J, the town drunk, looks good for the murder; however, his attorney believes in innocence until proven guilty.

The mystery adds a unique twist when a pair of lovers are pitted one against the other in the courtroom. The tactical prosecutor, Angela Scott, and highly decorated defense attorney, J.B. Royce, must trust one another as they go to battle in the legal arena.

An incompetent sheriff, an ambitious young reporter, a mysterious businessman, and a talented, yet ethically-challenged lawyer will leave readers wondering who's right?...who's wrong?...and who's the murderer?

About the Authors

John Patrick LaBuda grew up in Berlin, Wisconsin. He obtained a Bachelor of Arts Degree from the University of Wisconsin-Stevens Point. After earning his undergraduate degree, he made his way out west to attend the University of Wyoming College of Law. He graduated in 1992. John began the practice of law as a public defender in Sheridan, Wyoming. He then spent time in Rock Springs, Wyoming, partnering in a business.

In 1997, John moved to Pinedale, Wyoming, where he currently resides, and started LaBuda Law Office, P.C., a general practice law firm. John has served as Secretary-Treasurer for the Wyoming State Bar. He has also volunteered for a number of organizations and events during his time in Pinedale. He is excited to have pursued his ambition to write his first novel. John is married to Mary Anne. They have three children: Thomas, Hannah, and Katherine Beverly.

William Dale Wilkinson, III (Trey) is originally from Rochelle, Illinois, outside of Chicago. He currently lives in Pinedale, Wyoming. Trey graduated from the University of Illinois with a major in Communications and worked in the newspaper industry for a number of years. He currently is a licensed commercial insurance agent and is involved in the purchase and sale of real estate. Trey is married to Jennifer and they just welcomed their first child, a little girl. Trey is also the head basketball coach for Pinedale, Wyoming, the setting for this novel.

"Right to Counsel" is available online in softcover and Kindle ebook at
www.amazon.com.
It is also available in softcover at:
www.createspace.com/6386878
www.barnesandnoble.com

---
Pinedale Renaissance Faire Sept. 10 (posted 7/29/16)
The Sublette County Library will host the Pinedale Renaissance Faire on Saturday, September 10th. On the grounds of the Pinedale Library. Enjoy music, games, crafts, food and drink, sword fighting, tug of war, fortune telling, belly dancing, falconry and lots more at this first-ever event for Pinedale. Fun for all ages. Free admission. If you are interested in helping or having a vendor booth, please contact Sukey Hohl, 307-367-4114, www.sublettecountylibrary.org/.

---
Green River Valley Land Trust annual Summer Picnic Aug. 6 (posted 7/29/16)
The Green River Valley Land Trust will host their annual Summer Picnic on Saturday, August 6th. There will be friends, food and fun while hearing the latest news from the Land Trust. The event will be held at the Double J Ranch in Daniel. The picnic will be from 12:30 to 3:00PM. Admission is by donation. Bring a dessert to share if you like. Please RSVP so they can get a count, call 307-231-0942. For more information about the Green River Land Trust go to www.grvlandtrust.org.

---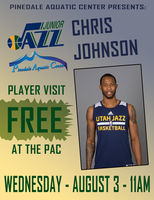 Jazz player Chris Johnson will be at the PAC on Wednesday, August 3rd for a free event.

Jazz player Chris Johnson at the PAC August 3 (posted 7/28/16)
Jazz player Chris Johnson will be at the Pinedale Aquatic Center on Wednesday, August 3 at 11am. This event is free. Meet on the outdoor tennis courts. For more information call 307-367-2832 or go to www.pinedaleaquatic.com.

---
Town of Pinedale update (posted 7/23/16)
Water billing, Wind River Mountain Festival
Town of Pinedale
As you may have noticed, no water bills were sent at the beginning of July. This is not a mistake. Water billing will be conducted monthly from here forward. You will receive your next bill at the beginning of August. It will be prorated to get it on track for a monthly billing cycle.

Any metered use you see on your bill is just for information only at this point. Currently, the water bill is still based on the same flat rate it has always been. It is just being divided by 3 to accommodate the new monthly schedule.

Early this fall, we will be transitioning to metered billing. Dates and rates will be published on www.townofpinedale.us as soon as possible. We strongly suggest you check your past and current bill so you know what you are currently consuming at your home or business. This will help you manage in the future. We appreciate your patience while we undergo this change.

This weekend, be sure to stop by the Wind River Mountain Festival at the American Legion Park. This is the first annual celebration of Pinedale receiving the Continental Divide Trail Coalition Community designation. This prestigious designation will be celebrated with educational events, shopping, food, beer games and activities, music, silent auctions, and more. Be sure to check out all the fun this Friday night and Saturday, at the American Legion Park. For details visit: www.greatoutdoorshop.com/windriverfest.

The Pinedale Fine Arts Council teamed up with the Wind River Mountain Festival to bring us Laney Jones and the Spirits, live in concert at the park, here in Pinedale. Laney Jones and the Spirits were recently covered with rave reviews in Rolling Stone Magazine. Local favorite Jason Burton kicks off the show at 5:30 PM. Don't miss this show. Food and beverages will available on site, and benefit both the festival and the Pinedale Fine Arts Council.
---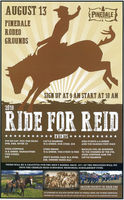 Ride for Reid

2016 Ride For Reid August 13 (posted 7/27/16)
The 2016 Ride For Reid will be held at the Pinedale Rodeo Grounds on Saturday, August 13th. Sign up is at 9AM, start at 10AM. Events: #10 No Cap (pick one, draw one, $100, enter 2x), Steer Stopping (16 and under, guaranteed two steers, $40), Cattle Daubing (10 and under, one steer, $20), Steer Riding (12 and under, this event is free), Men's Barrel Race (18 and over, $30, winner takes all), Kid's events (6 and under and the famous foot face). Buckles will be awarded to the winners of the #10, steer stomping and the cattle daubing. There will be a calcutta for the men's barrel race, 20% of the proceeds will go into the Charles Reid Schouboe Memorial Scholarship Fund. Concessions by the Burger Barn. For more information call 559-359-6914 or 307-699-0612 or go to Ride For Reid on Facebook.

Related Links:
2015 Ride for Reid Memorial Rodeo August 25, 2015
Roll-over crash claims life July 27, 2015

---
Wildfire smoke health risks (posted 7/23/16)
Sublette County Rural Health Care District
Wildfire smoke can be a significant health risk for those individuals with respiratory and cardiac disease as well as the very young or elderly. With the recent and ongoing wildfires on both the Bridger-Teton and Shoshone National Forests, smoke in Sublette County can be expected. The smoke from both forest and grass fires can be very irritating to the eyes, throat and lungs due to the particles the smoke contains.

Malenda Hoelscher, Health Care Administrator for the RHCD states, "The wildfire smoke can be especially bothersome for our community residents that already have pre-existing respiratory conditions such as asthma or COPD (Chronic Obstructive Pulmonary Disease). Symptoms that are typically associated with wildfire smoke include: difficulty breathing normally, cough with or without mucus, chest discomfort, wheezing and shortness of breathing and exacerbation of already present seasonal allergies."

For most healthy people, low amounts of wildfire smoke are more unpleasant than a health risk. However, David Kappenman, MD warns: "if wildfire smoke is triggering symptoms, especially for those with pre-existing conditions, it is critical that patients should:

Take their medications as prescribed and use a rescue inhaler if one has been prescribed. They should not attempt to take more medication without consulting their medical provider. Consider leaving the area until the air is clear again and/or stay indoors as much as possible with windows closed. Limit or eliminate outdoor exercise until the air clears."

Dr. Kappenman concludes that it is critical if patients are experiencing new or increased symptoms and/or feel they need additional medications or oxygen, they should call the clinic for help in determining the best treatment.

The good news is that while many people may have respiratory symptoms when breathing smoky air, most symptoms are short-lived and resolve as the smoke dissipates.

If you are experiencing new or increased respiratory symptoms as a result of wildfire smoke inhalation, please feel free to call either the Pinedale Medical Clinic at 307-367-4133 or the Marbleton-Big Piney Clinic at 307-276-3306. Please dial 911 for emergencies.

---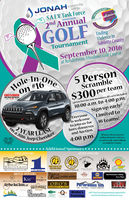 SAFV 2nd Annual Golf Tournament

SAFV 2nd Annual Golf Tournament Sept. 10 (posted 7/23/16)
The SAFV 2nd Annual Golf Tournament will be held on Saturday, Sept. 10 from 10AM to 4PM at Rendezvous Meadows Golf Course in Pinedale. The tournament is sponsored in part by Jonah Energy LLC. All proceeds go to ending domestic violence, sexual assault, and stalking in Sublette County. 5 Person Scramble, $300 per team. Sign up early, limit to 16 teams. Everyone welcome to the Auction at 4PM, hors d'oeuvres will be served.
---
Kendall Valley Fire 10th Annual BBQ Aug. 13 (posted 7/20/16)
Kendall Valley Fire will hold their 10th Annual BBQ on Saturday, August 13th at the firehall, 2470 Hwy 352, north of Cora, starting at noon. They will have fire engine rides for the kids, a 50/50 raffle, dessert auction, burgers, beverages and sides. They will accept free-will donations. Thank you to the community for your support of the firefighters. "You come to our BBQ, we'll come to your fire!"

---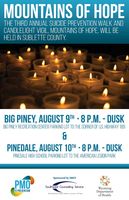 2016 Mountains of Hope Suicide Prevention and Awareness candlelight vigil and walk

Suicide Awareness Walks & Candlelight Vigils August 9 & 10 (posted 7/21/16)
In Big Piney and Pinedale
The third-annual Mountains of Hope Suicide Prevention and Awareness candlelight vigil and walk will be held on August 9th and August 10th in Sublette County.

The walks begin at 8 p.m. on both days.

The August 9th walk will begin at the Big Piney Recreation Center parking lot, and end at the corner of U.S. Highway 189. The August 10th walk will begin at the Pinedale High School parking lot and end at the American Legion Park. A candlelight vigil will be held following both walks to commemorate those Wyoming residents who were lost to suicide.

This events are free and anyone is welcome to attend. Participants are encouraged to carry pictures of loved ones they lost by suicide

Southwest Counseling Service is hosting this event, along with the Prevention Management Organization of Wyoming.

For more information, contact Ranae Pape, Community Prevention Specialist with the Prevention Management Organization of Wyoming at 307-360-6382 or by email at
rpape@pmowyo.org or call Allison Clemmer at SWCS at 307-367-6445.

Hope begins with you. For more information on suicide prevention efforts in Wyoming – and how to become part of the solution - visit the Prevention Management Organization of Wyoming's website at www.pmowyo.org or www.sublettepmo.org

---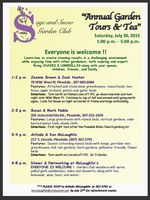 Garden Club Tea July 30

Annual Garden Tours & Tea July 30 (posted 7/20/16)
The Sage & Snow Garden Club will host their Annual Garden Tours & Tea on Saturday, July 30. Learn how to create stunning results in a challenging environment while enjoying time with other gardeners, both aspiring and expert. Bring chairs and umbrellas. Everyone welcome.

Tour schedule:
1-2PM: Jeanne Brown & Jack Hunter, 78 Wild West Place, Pinedale
2-3PM: Susan & Mark Noble, 205 Industrial Site Road, Pinedale
3-4PM: Arlinda & Ken McLaughlin, 217 S Lincoln, Pinedale
4-5PM: Dinner and networking at McLaughlin's, everyone welcome. Garden Club members will serve pulled pork sandwiches, sides and desserts along with tea, lemonade, wine, beer and water.

Please RSVP by Wednesday, July 27th to Arlinda McLaughlin at 307-367-2791 or email kmclaughlin@centurytel.net for refreshment counts.

---
Local Services:
Abortion Alternatives
Accounting & CPA
Arts & Entertainment
Attorneys & Legal
Automotive
Banks & Financial
Bars
Beauty Salons
Bed & Breakfasts
Boating
Bookkeeping
Builders & Contractors
Building Material
Business Services
Cabins
Cellular
Child Care
Churches
Cleaning Services
Clothing
Commercial Art
Computer Supplies
Condos
Consultants
Convenience Stores/Fuel
Convention/Meeting
Dentists
Dining
Dry Cleaning
Events
Fabric & Crafts
Fencing
Fishing
Flooring
Food & Drink
Funeral Homes
Furniture
Gifts/Western
Government
Graphic Design
Grocery & Market
Guest Ranches & Lodges
Handyman Services
Hardware & Feed
Heating
Health Care & Medical
Horseback Adventures
Insurance
Interior Design
Internet/Web/Advertising
Landscaping
Laundry
Liquor Stores
Lodging
Log Homes
Massage Therapy
Modular Homes
Motels
Mountain Biking
Movie Theaters
Museums
Nails
Newspapers
Office Supplies
Oil Field Services
Optometrists
Organizations
Outdoor Equipment
Outfitters & Guides
Packaging & Shipping
Painters
Pet Stores
Pharmacies
Photography
Plumbing
Professional Services
Radio
Real Estate Agencies
Real Estate-FSBO
Remodeling
Retirement
Retreats
RV Camping
Schools
Scrapbooking
Septic Services
Skiing
Snowmobiling
Snow Plowing
Storage and Storage Units
Tanning
Tattoos & Body Art
Tax Preparation Services
Taxidermy
Transportation/Shuttle
Trash Services
Trucking
Veterinarians
Visitor Services