Primary Candidate Introduction August 13th in Pinedale (posted 7/30/14)
Hosted by the Sublette County Chamber of Commerce
The Sublette County Chamber of Commerce will host their 2014 Primary Candidate Introduction on Wednesday, August 13th from 6-8PM in the American Legion Park in Pinedale. The Chamber will provide each candidate with a three minute opportunity to introduce themselves and talk about why they are running for office. This will be followed by an informal meet and greet to provide an opportunity to talk one-on-one with each candidate.

The Primary Election for Sublette County takes place August 19th. "We look forward to hosting this public event to provide the voters of Sublette County an opportunity to meet the candidates and make informed decisions at the polls," the Chamber said in a release. For more information, call the Chamber at 307-367-2242.

---
Bondurant Heritage Days Community Sale August 9th (posted 7/30/14)
The Bondurant Community Club will host Bondurant Heritage Days Community Sale on Saturday, August 9th from 9AM-3PM. There will be a raffle, lunch, and bake sale. $1.00 bags starting at 1PM. Raffle drawings at 2PM – need not be present to win. There will be lots of bargains on clothes, tools, furnishings, appliances, dishes, gear, and more.

Craft booths are available for $20. Contact June at 307-733-1555. Drop off donations at the Church mornings August 6-8th. Bring baked goods early Saturday morning to the Bondurant St. Hubert the Hunter Church.

All proceeds benefit the Bondurant Community Club.

Related Links:
www.BondurantWyoming.org
---
1st Annual Sublette County Fair Lynn Thomas Memorial Art Show & Sale a success (posted 7/30/14)
Features 150 pieces of art
Mixed Media Art Group
Members of the Sublette Co. Fair Board and the Mixed Media art group are pleased to report a successful launch of the first annual Sublette County Fair Lynn Thomas Memorial Art Show and Sale. Already they are looking forward to bigger and better next year.

The fair board's selection for "Best of Show" went to Bonnie Nelson of Pinedale. She also received a cash award sponsored by John and Judy Andrikopoulos. Daniel artist Kay Meeks received both "People's Choice" and "Artist's Choice". The Purchase Awards were as follows: Gary Keimig, Dubois, from the Sundance Motel; Madeleine Murdock, Pinedale, from Bank of Sublette County; Deon Quitberg, Green River, from Cottonwood Ranches; and Charmian McLellan, Boulder, from Pinedale Dental.

There were 21 participating artists, 150 pieces of art work, and 22 sales. The reception was a gala party for the public and it was very well attended. Thanks to all who participated, worked so hard, and supported this inaugural event.

Anyone seeking information about the show may contact Charmian McLellan at 307-537-5488.

---
Grizzly Bears relocated away from Pinedale (posted 7/30/14)
Wyoming Game & Fish
The Wyoming Game and Fish Department trapped and relocated an adult female grizzly bear with a cub of the year July 28, 2014. The bears were captured for killing livestock on a U.S. Forest Service grazing allotment north of Pinedale, Wyoming.

In cooperation with the U.S. Fish and Wildlife Service and the Shoshone National Forest, the bears were relocated to the Fox Creek drainage of the Clarks Fork River approximately 15 miles northwest of Crandall, Wyoming. The release site is located in currently occupied grizzly bear habitat.

Grizzly bear relocation is a management tool afforded bear management personnel to minimize conflicts between humans and grizzlies. The decision to relocate and the selection of a relocation site is made taking into consideration the age, sex, and type of conflict the bear was involved in. Since grizzly bears are listed as "Threatened" under the Endangered Species Act, consultation with the U.S. Fish and Wildlife Service and the appropriate land management agency is also made to minimize the chance of future conflicts and maximize the survival potential of the relocated grizzlies. Bears are relocated in accordance with federal law and regulation. When selecting a relocation site, the department makes every consideration to minimize potential conflicts with livestock and people.

Bears can create conflicts after they have obtained food rewards. The department continues to stress the importance of keeping all attractants (food items, horse feeds, bird seed, and others) unavailable to bears. Reducing attractants reduces human-bear conflicts.
---
Presentation on underage drinking and drug use trends Sept. 1 in Pinedale (posted 7/30/14)
Sublette County Prevention Coalition
The Sublette County Prevention Coalition and the Prevention Management Organization will offer a free presentation on underage drinking, alcohol, clothing trends and drug trends from 6:30-8 p.m. on Monday, September 1 at the Hampton Inn in Pinedale. The presenter is Officer Jermaine Galloway (A Tall Cop Says Stop), an Idaho law enforcement officer since 1997 who has more than 11 years experience in underage drinking, drug and alcohol enforcement.

This free presentation will open your eyes to what is around you as a parent, and community member. Galloway's presentation also covers current clothing trends of youth and young adults. Many of these clothing items are purchased unknowingly – and thus support drug financed companies and gang-related support. Many fashion trends also promote drug and alcohol symbols and behavior, unknowing to many parents but a symbol to the community. Galloway presents information that all parents, school teachers and police officers, counselors, nurses and anyone who works with our youth should know and understand.

At 6-foot, 9-inches tall, Galloway looks like an intimidating presence, but he is devoted and passionate about education, training and enforcement when it comes to alcohol and drug use and abuse prevention. Officer Galloway is a nationally and internationally recognized instructor and is well known for his countless hours of research on alcohol and drug trends.

Officer Galloway has worked several different assignments, including: crime scene investigation (CSI), DUI task force, officer mentoring and as a field training officer. He has coordinated and led thousands of alcohol related initiatives. He currently provides nationwide training to police officers, prevention personnel, educators, counselors, parents, treatment providers, health professionals and community coalition members on alcohol and drug trends, drug identifiers, drug clothing, party patrols, party drugs, Fake ID's, drug concealment, alcohol and energy drinks, drug logos, synthetic drugs, drug concentrates, non-traditional ways of alcohol consumption, cough medicine abuse, alcohol laws, drug stash compartments, popular culture music, and other community based alcohol and drug initiatives.

Galloway also spends much of his time speaking to youth on the harms of underage drinking, drug abuse and tobacco. Each year Jermaine has spent countless hours talking to youth at school assembly's and town hall meetings. Currently, Galloway has trained more than 50,000 people nationwide and internationally. For more information on Galloway's lectures, visit www.tallcopsaysstop.com.

For more information, contact:
Ranae Pape, Community Prevention Professional, Prevention Management Organization of Wyoming, Sublette County
307-360-6382, rpape@pmowyo.org, wwwpmowyo.org.

About the Prevention Management Organization of Wyoming:
Through research, data and valued partnerships, we empower our communities to steer their own prevention efforts surrounding suicide, chronic disease, alcohol, tobacco and other drugs. With a dedicated team of community prevention professionals, we are committed to using effective strategies that are proven to change perceptions and behaviors.

---
Graveside Funeral Service for Harold Faler August 4th (posted 7/28/14)
Covill Funeral Home
A graveside funeral service for Harold Faler will be held Monday morning, August 4th at 10:30 AM at the Pinedale Cemetery

---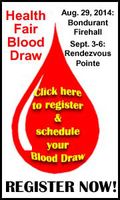 Blood Draw

Blood Draws for Pinedale Health Fair (posted 7/28/14)
Draws in August & early September, Health Fair Sept. 19th
Public Health of Sublette County will host blood draws in Bondurant and Pinedale in August and early September to get ready for the upcoming Pinedale Health Fair in Pinedale on Friday, September 19th (the day before the Pinedale Half Marathon.)

Blood draw schedule:
Friday, August 29, 2014: Bondurant Fire Hall, 7-9AM
Wednesday, Thursday, Friday, September 3-5, Rendezvous Pointe, 6-9AM
Saturday, September 6, Rendezvous Pointe, 7-9AM

Schedule your appointment and register online before noon on August 27th for the Bondurant blood draw and August 29th for Pinedale. If you do not have internet access to visit the online registration page, call Sublette County Public Health and make an appointment: 307-367-2157 or 307-276-3575, or or click here.

Blood draw results can be picked up at the Pinedale Health Fair on Friday, September 19th from 12:30-5PM at the Pinedale Aquatic Center.

Laboratory Screenings Available and Costs:
Health Screen/TSH/Direct LDL/ Ferritin, $30.00
CBC (Complete Blood Count), $15.00
PSA (Prostate Specific Antigen), $30.00
Hemoglobin A1C (Diabetes screening), $30.00
Vitamin D (D2, D3, Total), $40.00
InSure FIT (Colon Screening Kit), $30.00
Gluten Intolerance/Celiac, $45.00
Vitamin B-12 and Folate, $40.00
Testosterone, Male, $45.00
Testosterone Female, $45.00

---
WLCI Local Project Development teams meet in August (posted 7/28/14)
Sublette County meeting August 14
Land owners, project proponents and the public are invited to attend the Wyoming Landscape Conservation Initiative (WLCI) Local Project Development Team (LPDT) meetings in August for updates on existing conservation projects and a review of projects approved for 2015.

The LPDT meetings are scheduled for:

Sweetwater
Friday, Aug. 1, 9 a.m.
Wyoming Game and Fish Department
Green River Regional Office
351 Astle Ave., Green River, Wyo.

Carbon County
Tuesday, Aug. 5, 10 a.m.
Saratoga Conservation District Office
101 Cypress Ave., Saratoga, Wyo.

Lincoln/Uinta Counties
Wednesday, Aug. 13, 10 a.m.
Kemmerer Public Library
519 Emerald St., Kemmerer, Wyo.

Sublette County
Thursday, Aug. 14, 10 a.m.
Bureau of Land Management
Pinedale Field Office
1625 W. Pine St., Pinedale, Wyoming

For more information, please call Eric Decker at 307-367-5386 or visit www.wlci.gov.

---
Wildfire activity report (posted 7/27/14)
Two lightning-caused fires are burning in the Upper Green River Valley area.

The Bang Creek fire was discovered in the Bacon Ridge (Union Pass) and Gros Ventre area over the weekend, it is currently at 52 acres in size. Smoke is visible from the Green River and New Fork Lakes area. This fire is being allowed to fill its natural place on the forest landscape. Fire activity is reported to having moderate spread potential burning in aspen, mixed conifer and subalpine Fir.


The Scab Creek wildfire was first reported on Thursday, July 24th burning approximately 11 miles east of Boulder, Wyoming in the Scab Creek Wilderness Study Area. It is about 150 yards from the Bridger Wilderness boundary. It has has burned approximately 1/4 acre of timber, brush and grass in steep, inaccessible terrain in the Silver Creek drainage. The fire is creeping and smoldering, but producing significant smoke due to heavy timber. Based on current and expected weather as well as concern for firefighter safety due to the extreme topography, the fire will remain in monitor status unless fire activity increases. If this occurs, minimum impact suppression tactics will be used with safety remaining the number one priority.

Outdoor recreationists are urged to use caution or avoid these areas entirely since fire behavior can change suddenly and fire spread is unpredictable if high winds develop. Fire managers advise to be cautious when traveling in these areas and be aware of signage. For more wildfire information visit www.tetonfires.com and to report a wildfire, call Teton Interagency Fire at 307-739-3630.

---
Senator Enzi Meet & Greet in Pinedale August 12 (posted 7/24/14)
Wyoming Senator Mike Enzi and wife Diana will be visiting Pinedale on Tuesday, August 12th. There will be an Ice Cream Social at the Gazebo in the American Legion Park from 3pm to 4pm. The Senator is visiting all 23 Wyoming counties to conclude the campaign. Everyone is welcome to attend and say hello to Senator and Mrs. Enzi.

---
Ducks Unlimited Banquet & Auction August 23 (posted 7/24/14)
Ducks Unlimited will hold their annual banquet in Pinedale on Saturday, August 23rd at Rendezvous Pointe, 425 E. Magnolia Street in Pinedale. The doors open at: 4:30pm. Cocktails, Appetizers, Games begin at: 4:30pm. Dinner starts at: 6:00pm. There will be a Live Auction immediately following the dinner.

Ticket prices:
Single - $45
Couple - $80
Youth - $25

Corporate Gun Table - $800 (includes 8 memberships, 8 meals, a gun, and much more)
Sponsor - $295
Sponsor Couple - $330

Space is limited so reserve your ticket(s) today!

Contact Bryan and Katie Lane for tickets and information at 307-537-5841.

---
Town of Pinedale launches new website (posted 7/23/14)
The Town of Pinedale invites the public to check out their new website. It's at the same domain address, www.townofpinedale.us. Online information includes contact information for Town staff, a calendar of events with dates of upcoming meetings for the Town Council and boards, licensing requirements, Planning & Zoning permits and regulations, parks & recreation information, Town code, online bill pay, links to other useful information, and more. It is still a bit of a work in progress as they add to the document center, agendas, meeting minutes and a few other places. All content will ultimately be searchable.

The Town looked at three quotes for the website redesign and selected CivicPlus, a company that has done other Wyoming government websites, including Sublette County's. The price for the website redesign cost $19,155.50, which included a complete redesign, staff training, a new software package with many new tools, secure web hosting and more. The company was chosen based upon both price and the quality of the product. The annual fee for the website is $4,340 which includes 24/7, 365-day tech support, secure off-site hosting, use of software for local access to update the pages, and a free redesign after five years. The Town welcomes comments and suggestions to make the website more useful.

---
Republican Meet & Greets July 30 & 31st (posted 7/20/14)
The Sublette County Republican Party will be holding two Meet and Greets in July. The first will be Wednesday, July 30th at the Marbleton Senior Center, 111 Rakestraw Ave., in Marbleton from 4:30 to 7:00 pm. The second will be Thursday, July 31st in the Lovett Room at the Sublette County Library, 155 S. Tyler Ave., in Pinedale from 4:30 to 7:00 pm. All state and local Republican candidates have been invited. These are opportunities for the community to meet and visit with the candidates.

---
White Pine season lift passes on sale (posted 7/20/14)
White Pine Resort
Lift passes for winter 2014/15 at White Pine Resort are now on sale. Priced at $245 for an adult (18-69 years old), pre-season lift purchases in July represent a 45% saving on the price of a season pass on opening day. The early discount continues through to July 31st. Student (13-18) and Senior (70+) season passes are $195.00, Junior (6-12) are $145.00 and child (5 and under) is $40.00.

To help promote the early discounts, White Pine Resort will be holding "Funday Sundays" on July 27th and August 24 at the resort, offering complimentary hamburgers and hot dogs with live musical entertainment. Additionally the lifts will be operating for mountain bike enthusiasts and hikers wanting to enjoy a free ride up to the top of Fortification Mountain and make their own way down. "We are looking forward to meeting our local skiing population and we wanted to tempt them with some great pre-season prices. Purchase early and enjoy the savings" says new co-owner Roy DeWitt.

New for 2014/15 is a cancellation waiver priced at $10.00. "Purchase your season pass now and if for any reason, you are unable to ski this season, we will provide a full refund. People get transferred, injured or simply change their mind. If a season-pass holder buys the waiver and contacts White Pine before November 30, 2014 requesting a refund, they will receive their money back, no questions asked" says co-owner Alan Blackburn.

White Pine Resort will also be offering ski rental season packages. "As parents of young children, we know how quickly our children outgrow their shoes and at White Pine we want to cater to that need by making equipment changes available throughout the winter with seasonal equipment packages" says DeWitt. "We will have a shipment of skis and snowboards arriving in the fall and we will have skis and snowboards available for rent for all age groups" promises DeWitt. Ski rental season packages start at $99.00.

And for those who are tired of lugging gear up to the mountain, White Pine will be offering a number of 6' ski lockers available for rent. Priced at $110 for the winter, it will mean somewhere to pick up or leave skis and poles close to the lifts.

Full details on pricing can be found on the "White Pine Season Passes 2014-15" mail-in form available at Rock Rabbit and Office Outlet in Pinedale. Phone 307-367-6606 or email skiinfo@whitepineski.com to request a copy of the mail-in form.

Discounted lift tickets will be available up to opening day, however the pre-season price increases at the beginning of each month.

For more information contact Robyn Blackburn, 307-360-6272, robyn@goark.com.

Related Links:
www.whitepineski.com

---
Local Services:
Abortion Alternatives
Accounting & CPA
Arts & Entertainment
Attorneys & Legal
Automotive
Banks & Financial
Bars
Beauty Salons
Bed & Breakfasts
Boating
Bookkeeping
Builders & Contractors
Building Material
Business Services
Cabins
Cellular
Child Care
Churches
Cleaning Services
Clothing
Commercial Art
Computer Supplies
Consultants
Convenience Stores/Fuel
Convention/Meeting
Dentists
Dining
Dry Cleaning
Events
Fabric & Crafts
Fencing
Fishing
Flooring
Food & Drink
Funeral Homes
Furniture
Gifts/Western
Government
Graphic Design
Grocery & Market
Guest Ranches & Lodges
Handyman Services
Hardware & Feed
Heating
Health Care & Medical
Horseback Adventures
Insurance
Interior Design
Internet/Web/Advertising
Landscaping
Laundry
Liquor Stores
Lodging
Log Homes
Massage Therapy
Modular Homes
Motels
Mountain Biking
Movie Theaters
Museums
Nails
Newspapers
Office Supplies
Oil Field Services
Optometrists
Organizations
Outdoor Equipment
Outfitters & Guides
Packaging & Shipping
Painters
Pet Stores
Pharmacies
Photography
Plumbing
Professional Services
Radio
Real Estate Agencies
Real Estate-FSBO
Remodeling
Retirement
Retreats
RV Camping
Schools
Scrapbooking
Septic Services
Skiing
Snowmobiling
Snow Plowing
Storage and Storage Units
Tanning
Tattoos & Body Art
Tax Preparation Services
Taxidermy
Transportation/Shuttle
Trash Services
Trucking
Veterinarians
Visitor Services