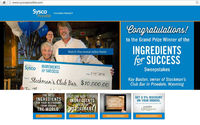 Kay Buston, owner of Stockman's restaurant, was selected over tens of thousands of people as the winner of Sysco's "Ingredients for Success" sweepstakes.

Kay Buston, Stockman's Club Bar, winner of Sysco's Ingredients For Success Sweepstakes (posted 11/22/14)
Dawn Ballou, Pinedale Online!
Kay Buston, owner and manager of Stockman's Club Bar, in Pinedale, was notified late in July that she was the winner of Sysco's Ingredients For Success Sweepstakes. She was selected from tens of thousands of people who entered the sweepstakes. Representatives from Sysco came and surprised her with the presentation, which included being given a $10,000 credit check into her Sysco account by President of Sysco Intermountain Lisa Gough. The sweepstakes award also included a personal visit by Food Network celebrity Chef Robert Irvine who will come to Pinedale to meet Kay and spend time with her, her staff and her customers.

"Kay is well-known and respected in her local community and her restaurant has graced Pinedale's Pine Street for nearly 60 years. She's been a loyal Sysco customer for over 15 years," Sysco posted the announcement of her being selected as the winner on their website. Kay has been in Pinedale since 1950 and started the Stockman's restaurant in 1958.

Click on this link to see the video to see how Kay's local Sysco team surprised her with the news: Kay Buston, Stockman's Club Bar, winner of Sysco's Ingredients For Success Sweepstakes.

Click on this link for more information about the sweepstakes: www.syscopossible.com

Sysco is a global leader in selling, marketing and distributing food products to restaurants, healthcare and educational facilities, lodging establishments and other customers who prepare meals away from home. Its family of products also includes equipment and supplies for the foodservice and hospitality industries. The company operates 193 distribution facilities serving approximately 425,000 customers.

As part of the sweepstakes prize, Sysco brought famous Chef Robert Irvine and a camera crew to Pinedale on Thursday, November 20th to visit Kay, see Stockman's restaurant and visit with employees, and have an afternoon reception for invited guests. A large turnout came for the celebration which included tasty appetizers and drinks. After some socializing, Chef Irvine got the attention of the crowd and asked what foods the patrons especially liked. Beef, chicken fried steak, prawns and other dishes were called out. Chef thanked the community for supporting the restaurant. He is noteworthy for his culinary talents and several food-related TV programs, including one called "Restaurant Impossible" where he goes into struggling restaurants and helps them with makeovers. Kay and Stockman's are shining examples of proprietors who have spent years doing things right, but Chef couldn't resist to say he still had some suggestions to add to the menu and perhaps an interior paint color change… He told the Kay fans to watch for some fun changes in the future. Later he went into another room to accommodate requests for autographs and photo ops.

A good time was had by all.

We hope Chef got Kay Pfisterer Buston's autograph before he left.

Click here for photos: Kay Buston, Stockman's Club Bar, winner of Sysco's Ingredients For Success Sweepstakes (39 pictures)

Photos by Dawn Ballou, Pinedale Online!

Related Links:
www.sysco.com
www.chefirvine.com/
Chef Robert Irvine on The Food Network

---
PAPO and JIO Boards of Directors to meet in Cheyenne Dec. 4 (posted 11/22/14)
Bureau of Land Management
The Pinedale Anticline Project Office (PAPO) and Jonah Interagency Office (JIO) boards of directors will meet on Dec. 4 at the Wyoming Game and Fish Department (WGFD), 5400 Bishop Blvd., Cheyenne, Wyoming.

The PAPO Board will meet at 8 a.m. to review 2014 projects, deliberate project funding for 2015, receive an update on wildlife reports and discuss the 2013/14 Greater Sage-Grouse report conclusions and proposed mitigation actions. The JIO Board will convene immediately following the PAPO meeting around 10:45 a.m. Both boards will review staffing and budgets and receive activity updates from the Wyoming Department of Environmental Quality, the WGFD, the Wyoming Department of Agriculture and the Bureau of Land Management.

All PAPO and JIO board meetings are open to the public.

For more information on the PAPO and JIO, please visit www.wy.blm.gov/jio-papo/ or contact Eric Decker at 307-367-5386.

---



Grand Opening for Aspen Grove, senior Independent Living Community in Pinedale.

New senior independent living community opens in Pinedale (posted 11/21/14)
Aspen Grove opens as part of the Sublette Center senior complex
Dawn Ballou, Pinedale Online!
Aspen Grove, the newest Independent Living Community in Sublette County held their Grand Opening and ribbon cutting ceremony the evening of Wednesday, Nov. 19th. Guests were treated to a nice meal and beverages. Part way into the evening, everyone went outside for the ribbon-cutting ceremony. Long-time Pinedale resident Paul Hagenstein got to do the honors of cutting the blue ribbon. Sublette County Commissioners Jim Latta, Joel Bousman and Andy Nelson looked on.

The new adult retirement community is located at 280 Musket Ave, in-between the Sublette Center and Rendezvous Pointe Senior Center. The new facility offers studio, 1-bedroom and 2-bedroom apartments to anyone 60-years of age or older. The complex has 28 total units: 4 studios, 20 one-bedroom, 4 two-bedroom apartments. The complex is built to all be on a single story, with two wings and all apartments accessed from the inside by a central corridor, hotel-style. Each wing has coin-operated laundry services. Apartments have full kitchens with large refrigerator/freezers, electric stoves, dishwashers, and in-sink garbage disposals. Heat is by natural gas. Electricity is backed up by generators. Each room has special outlets, colored red, that are hooked up to the generator so that those outlets always get power even if the main power supply goes out. Bathrooms are wheel-chair accessible and showers are ADA. Wireless internet accessible in the building. Residents can sign up for either DirectTV or Dish, both of which are already built into the facility.

The new complex is about half rented as of this time. The room rates for the new facility are the same as for rooms in the independent living portion of the old building across the street. Studio apartments rent for $650/month. 1-Bedroom apartments are $905/month. 2-Bedroom apartments rent for $1,375/month. Rents include water, sewer, electricity, natural gas, heat, air conditioning, water utilities and trash removal, as well as weekly housekeeping services. Exterior and yard maintenance are also included. Pets are allowed, but there is a hefty security deposit to have them in the new building.

The complex was built with most money coming from Sublette County, which owns the buildings. The Town of Pinedale put in $1 million towards the building construction project. Total cost was about $6.2 million. Construction began in August, 2013. Groathouse Construction was the general contractor. The County leases operation of the facility to the Sublette Center, a non-profit organization led by a 7-member Board of Directors. Most donations towards the organization are tax deductable.

"Aspen Grove reflects the commitment of Sublette County to our senior citizens and I hope it lasts for many years," said Joel Bousman on behalf of the Sublette County Commissioners.

Click on this link for a photo tour of the facilities: New senior independent living community opens in Pinedale (69 pictures)

Contact information:
Aspen Grove Independent Living
250 Musket Ave
P.O Box 788
Pinedale, WY 82941
Phone: 307-367-4161
Fax: 307-367-4135
Email: screception@centurytel.net.
Website: www.sublettecenter.org.
Room staging was done by the Barn Door in Pinedale. Photos by Dawn Ballou, Pinedale Online!

Related Links:
Big Piney-Marbleton Senior Housing opens Pinedale Online, Oct. 31, 2013
www.bpmseniorhousing.com Big Piney-Marbleton Senior Housing

---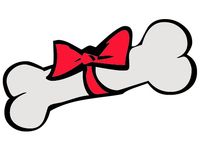 Happy Endings Animal Rescue Community Pet Food Drive Nov. 22 to Dec. 20th.

Community Pet Food Drive Nov. 22 – Dec. 20 (posted 11/20/14)
Help prevent pets from becoming homeless by providing pet food to struggling families
Happy Endings Animal Rescue (H.E.A.R.) in Pinedale is holding a Community Pet Food Drive seeking pet food donations they can provide to struggling families so they are able to keep their pets. When times get tough for families, pets are often sadly turned over to animal shelters because families can no longer afford to buy pet food to feed them. H.E.A.R.'s goal is to prevent pets from becoming homeless by working with the local community to proved pet food to struggling families.

The Community Pet Food Drive is from Saturday, November 22nd until Saturday, December 20th.
Items needed are:
Dry dog and cat food
Wet dog and cat food
Kitten and puppy chow
Treats and chew bones
Cat litter

Donations will help those in need to feed their four-legged family members. Donations can be dropped off at:

Creature Comforts Pet Shop, 269 S Cole in Pinedale
Tuesday through Saturday from 10AM to 6PM
307-367-6622
(Receive 20% off your donated items purchased at Creature Comforts)

Jensen Feeds, 1003 W Pine Street in Pinedale
Monday through Friday, 8:30AM to 6PM
Saturday, 8:30AM to 2:30PM
307-367-3635

H.E.A.R. Garage, 107 Fremont Ave, Pinedale
(Yellow garage)
307-360-6000 (Susan Kramer)
https://www.facebook.com/pages/Happy-Endings-Animal-Rescue/155954971106741 (Find more about them on their Facebook page.)
___________________________________________

Editor's Note: Happy Endings Animal Rescue (HEAR) is a non-profit 501-c3. It is all-volunteer run. They do not currently have a shelter of their own, so pets waiting for new homes are either in foster homes or at the Town of Pinedale Animal Shelter. H.E.A.R. hopes to someday be able to build their own shelter to house their rescue animals. If you have a spare room, a garage, or anyplace else where you can temporarily house animals while they are waiting for their permanent homes, or you can spare some time out of your day to volunteer, please let the organization know. Financial donations are always very much welcomed. Ridley's points can also be donated to H.E.A.R. Your gift will be put to good use and is greatly appreciated.

---
Visit with Santa at the Hampton Inn in Pinedale Dec. 13 (posted 11/20/14)
Everyone invited to come to the Hampton Inn in Pinedale on Saturday, December 13th for free photos with Santa from 9-11AM. Light refreshments will be served, gifts, family fun. Silent auction items and donations to benefit the Food Basket and the Jackson Thornton fund. For more information call 307-367-6700.

Related Links:
Hampton Inn in Pinedale, Wyoming

---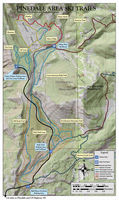 Nordic Ski Trail map courtesy Sublette County Recreation Board.

Nordic ski trail grooming report – November 18, 2014 (posted 11/18/14)
Report courtesy of Mike Looney, Groomer
Tuesday, November 18, 8:00AM report: There is a nicely groomed ski trail in Surveyor Park. Mostly flat groomed, some classic track. Use caution, coverage is thin. Recommend using your old skis. Also, not much padding on the sides to cushion falls. Some sections of trail might be best walked to avoid falls into gravel. Watch out for wildlife, especially moose, especially on Moose Ridge. Keep dogs under control at all times. Road up has some patchy ice. White Pine lodge is not open yet, but parking lot is plowed. Nordic Warming Hut is open and has a restroom.

This Nordic Ski Trail grooming report is courtesy of the Sublette County Recreation Board. For more information, call or text Mike Looney, 307-360-8488.

Related Links:
X-C Ski Trail Map - (356K PDF)
Road and Weather links
www.visitpinedale.org Pinedale tourism website (lodging, dining, area information).pdf
---



"Still Life With Acorn" by Charmian McLellan

Holiday Art Show during December at the Pinedale Library (posted 11/17/14)
Meet the artists on Saturday, December 13th
A group of Sublette County artists are organizing a Holiday Art Show at the Pinedale Library which will be on display through December. The show will feature paintings and pottery, many of which will be on sale for holiday gift-giving. Smaller sized, less expensive paintings will also be available.

The Pinedale Library book sale will be on Saturday, December 13th from 10:00 AM to 5:00 PM. The artists will set up their easels to paint for the day and talk with patrons as they shop or view the show. Hot chocolate will be available to warm the atmosphere. Lists of paintings, prices, artists, and their phone numbers will be available.

The show will go on display Monday, December 1st, and will be taken down after the holidays. Participating artists are Laurie LaMere, Jo Mack, Ruth Rawhouser, Charmian McLellan, Susan Nessan, Debbie Despain, Melita Snow, Rita Donham, Sharon Schell, Madeleine Murdock, and Kay Meeks.

For more information, call Kay Meeks at 307-859-8828.

---
Change in registration fee calculation for house trailers goes into effect Jan. 1, 2015 (posted 11/17/14)
Will be based on manufacturer's published unladen weight
Roxanna Jensen, Sublette County Treasurer
Effective January 1, 2015 W.S.31-3-101(a)(ii)E goes into effect. The state fee registration on house (camper) trailers and other noncommercial vehicles based on unladen weight shall be by the manufacturer's published weight, if available. The Treasurer's Office is currently adding weights to house (camper) trailers so the renewals go out with the weight based fee. If you disagree with the weight we put on, you will need to bring a weight slip when renewing.

Related Links:
http://legisweb.state.wy.us/2014/Engross/HB0024.pdf State of Wyoming statutes

---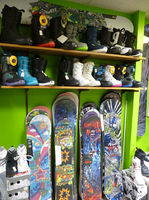 The Great Outdoor Shop carries a wide variety of outdoor sporting equipment for the whole family. See our stories for photo tours of 15 stores in Pinedale for more great holiday gift ideas.

Holiday shopping in Pinedale (posted 11/16/14)
Photo tour of local stores for gift ideas
Dawn Ballou, Pinedale Online!
We've had great fun going through a number of our local stores in Pinedale this past week to see what they have for holiday gift giving ideas. Shoppers can find a great variety that is sure to delight everyone on your holiday gift giving list. We found electronics, clothing, outdoor gear, furniture, flowers, cards, toys, baby items, sporting gear, artwork and more. We've broken our tours into three stories, each highlighting about five stores with lots of pictures to show what we found. Most of these stores also will give gift certificates.

We encourage readers to "shop local" and avoid driving for hours on icy roads to fight the crowds in out-of-town malls. See what local stores have to offer first and put the gas money you save back into the family piggy bank and enjoy having more time at home to be with family and friends this holiday season.

Remember that on Saturday, December 13th the Sublette County Chamber of Commerce will be hosting their annual "Mountain Man Christmas" in Pinedale with many stores open late with Open Houses for holiday shopping. There will be a night-time lighted parade, holiday tree lighting, caroling, refreshments and more fun for the whole family. Pinedale has many more stores that we didn't have time to go through, so we're just featuring a sampling here to give an idea of the wide selection that can be found locally.

Holiday shopping tours:
Unique holiday gift ideas in Pinedale This story features the Dandylion Den, Cowboy Shop, Isabel Jewelry, Blue Planet Foods, and Cowgirl Chique. (69 pictures)

More holiday gift ideas This story features Creature Comforts Pet Shop, Unique Finds and Home Designs, Pine Street Floral, Altitude Drug, Heritage Quilts and Fabric Shop & Western Trails Boutique. (65 pictures)

Shop Pinedale This story features Wyoming Wireless, the Great Outdoor Shop, Two Rivers Emporium, Rocky Mountain Home Center, and JAKs Salon & Boutique. (96 pictures)

---
Free soil testing for Sublette County residents (posted 11/13/14)
Attention all you garden enthusiasts out there! The Sublette County Conservation District is offering free soil testing. You can buy the most attractive plants or order the best seeds, but if the soil lacks the proper nutrition or the proper quality, they won't produce the best results. The Sublette County Conservation District thinks it is important for you to know your soils and they want to help residents achieve that. Think greenhouses, vegetable gardens, flower gardens and lawns…

1. To be eligible, you must be a resident of Sublette County. One test per household.
2. Sample kits available at 1625 W Pine Street in Pinedale, or call and request at 307-367-2257 ext. 100.
3. Return the soil sample back to the Sublette County Conservation District by Thursday, December 4, 2014. Please be sure the sample is dry before placing it in the bag.
4. Results will be returned to you with recommendations.

Related Links:
www.sublettecd.com

---
Local Services:
Abortion Alternatives
Accounting & CPA
Arts & Entertainment
Attorneys & Legal
Automotive
Banks & Financial
Bars
Beauty Salons
Bed & Breakfasts
Boating
Bookkeeping
Builders & Contractors
Building Material
Business Services
Cabins
Cellular
Child Care
Churches
Cleaning Services
Clothing
Commercial Art
Computer Supplies
Consultants
Convenience Stores/Fuel
Convention/Meeting
Dentists
Dining
Dry Cleaning
Events
Fabric & Crafts
Fencing
Fishing
Flooring
Food & Drink
Funeral Homes
Furniture
Gifts/Western
Government
Graphic Design
Grocery & Market
Guest Ranches & Lodges
Handyman Services
Hardware & Feed
Heating
Health Care & Medical
Horseback Adventures
Insurance
Interior Design
Internet/Web/Advertising
Landscaping
Laundry
Liquor Stores
Lodging
Log Homes
Massage Therapy
Modular Homes
Motels
Mountain Biking
Movie Theaters
Museums
Nails
Newspapers
Office Supplies
Oil Field Services
Optometrists
Organizations
Outdoor Equipment
Outfitters & Guides
Packaging & Shipping
Painters
Pet Stores
Pharmacies
Photography
Plumbing
Professional Services
Radio
Real Estate Agencies
Real Estate-FSBO
Remodeling
Retirement
Retreats
RV Camping
Schools
Scrapbooking
Septic Services
Skiing
Snowmobiling
Snow Plowing
Storage and Storage Units
Tanning
Tattoos & Body Art
Tax Preparation Services
Taxidermy
Transportation/Shuttle
Trash Services
Trucking
Veterinarians
Visitor Services