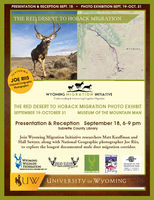 Photo exhibit at the Museum of the Mountain Man through October 31st. Reception and presentation on Sept. 18th at the Sublette County Library in Pinedale.

The Red Desert to Hoback Migration Photo Exhibit September 19-October 31 (posted 9/14/14)
Reception and Presentation on Sept. 18th
The Red Desert to Hoback Migration Photo Exhibit will be on display at the Museum of the Mountain Man in Pinedale September 19-October 31. There will be a Presentation & Reception on Thursday, September 18, from 6-9 pm at the Sublette County Library in Pinedale. Everyone is invited to join Wyoming Migration Initiative researchers Matt Kauffman and Hall Sawyer, along with National Geographic photographer Joe Riis, to explore the longest documented mule deer migration corridor.

---
PAPO calls for 2015 project applications (posted 9/14/14)
To benefit mule deer, sage-grouse or air quality and are located within the Pinedale Anticline Project Area
Bureau of Land Management
The Pinedale Anticline Project Office (PAPO) is accepting applications for potential 2015 project funding with preference given to those that specifically benefit mule deer, sage-grouse or air quality and are located within the Pinedale Anticline Project Area.

The 2015 application form, score sheet and guidelines are available at www.wy.blm.gov/jio-papo/index.htm. Submitted applications will be acknowledged and all will be reviewed by PAPO staff. Final funding decisions will likely be made by the PAPO Board of Directors at its May 2015 meeting in Pinedale, Wyoming. There is no guarantee that any submitted application will be funded.

Project applications and any supporting documents must be submitted by email to egdecker@blm.gov by 5 p.m. on Friday, Oct. 31.

For more information, please contact PAPO Project Coordinator Eric Decker at 307-367-5386.

---
2nd Annual Oktoberfest Oct. 3 (posted 9/14/14)
Fundraiser for Sublette County Democratic Committee and candidates
Update Monday, Sept. 15th: The Oktoberfest has been changed to Friday, October 3rd to accommodate Pete Gosar's schedule. The Bazaar will be rescheduled to a date to be announced.

The Sublette County Democratic Committee is hosting their 2nd Annual Oktoberfest on Friday, October 3rd. Oktoberfest will be held from 5:30-8:30PM in the Lovatt Room of the Pinedale Library. Cost is $25 adult, $5 child. Adults get one customized pint beer glass, 1 brat with fixins, and free refills of Wind River Brewing Blonde Ale. Non-alcohlic beverages will also be provided. Come and meet Pete Gosar, candidate for Wyoming Governor, and Courtney Skinner, candidate for Sublette County Commissioner. Proceeds will be split between attending candidates and the Sublette County Democratic Committee. Everyone welcome.
---
Pinedale Health Fair Sept. 19 (posted 8/14/14)
Sublette County Public Health is sponsoring the Pinedale Health Fair on Friday September 19 from 12:30-5:00pm at the Pinedale Aquatic Center. Featured will be screenings for bone density, blood pressure, body muscle/fat, vision, skin screen. There will also be many information tables. Come and see how you are doing and have some fun while you're at it. Pick up your blood results.

---



Obstinate Hope: The Western Expeditions of Nathaniel J. Wyeth, Volume 1, 1832-1833, by Jim Hardee. Museum of the Mountain Man-Sublette County Historical Society original publication.

Wyeth book garners Wyoming State Historical Society book award (posted 9/14/14)
The Sublette County Historical Society and the Museum of the Mountain Man are proud to announce that "Obstinate Hope: The Western Expeditions of Nathaniel J. Wyeth", Vol. 1, written by Jim Hardee, has been awarded a Wyoming State Historical Society book award. Wyoming State Historical Society book awards are intended to recognize individuals who have made significant contributions to the preservation of the history of Wyoming and the West.

"Obstinate Hope: The Western Expeditions of Nathaniel J.Wyeth", Volume I, is the first of a two-part examination on the life of Nathaniel J. Wyeth. The book begins with a look at Wyeth's early life and heritage in the New England area, his eastern business ventures and the many entrepreneurial ambitions he engaged in. Throughout history, little has been chronicled or interpreted about Nathaniel J. Wyeth and his role out West, whether as mountain man during the fur trade or commercial pioneer at the heart of rendezvous. Hardee uses letters, journals and historical documents to follow Wyeth's stubborn pursuit and persistence as he treks cross country from one seaboard to the other in 1832-1833. The 500-page novel is richly illustrated with ten maps and more than three dozen images, providing the reader with a delightful insight and scrutiny into this lesser-known man of the fur trade.

Featured in the following book reviews:
Muzzeloader Magazine, September-October 2014
Overalnd Journal, Volume 32, Number 2, Summer 2014

Obstinate Hope: The Western Expeditions of Nathaniel J. Wyeth
Volume 1
1832-1833
by Jim Hardee
Published by Museum of the Mountain Man – 2013
Hardback, 500 pages, Black and White illustrations, 6 x9 inches
First Edition – 2000 Copies
ISBN: 978-0-9768113-7-4
$24.95
Available to order online here: http://museumofthemountainman.com/product/obstinate-hope-the-western-expeditions-of-nathaniel-j-wyeth/

---
Michelle Hosler announces write-in campaign for Sublette County Clerk (posted 9/11/14)
Michelle Hosler has issued a media release announcing her intention to run as a Republican "write-in" candidate for Sublette County Clerk in the upcoming General Election in November. She is also seeking any assistance in volunteering time and/or donations for her campaign efforts and expenses. For more information, contact Michelle at 307-231-0118, or email michelle4clerk@yahoo.com, or find her on Facebook.

---
Game and Fish Commission to meet in Pinedale Sept. 18-19 (posted 9/11/14)
Wyoming Game and Fish
The Wyoming Game and Fish Commission will meet September 18-19 in Pinedale at the Sublette BOCES Center Building, 665 North Tyler Avenue.

The Commission will take action on several items including Fishing Regulations, Hunter Education Policy, Regulation Governing Fish Hatchery trends, boreal toads in the Green River Basin, and The Wildlife Society's Fellowship Program.

There will also be a joint meeting between the Commission and the Wyoming Board of Agriculture to discuss mutual issues of importance. In addition, the Commission will attend a tour, guided by Department field personnel, of an important segment of the Red Desert to Hoback Mule Deer Migration Corridor near Fremont Lake.

The State of Wyoming supports the Americans with Disabilities Act. Anyone needing auxiliary aids should contact the Wyoming Game and Fish Department at (307)777-4501. Every effort will be made for reasonable accommodations.

A complete agenda can be found online at: wgfd.wyo.gov.

---
Sublette County Library Surplus Equipment Sale Sept 17-19 (posted 9/10/14)
Sale location: Sublette BOCES Building, 665 N. Tyler, Rm 124
Dates: Wednesday, September 17th - Noon – 6pm
Thursday, September 18th- 8am – 6pm
Friday, September 19th- 8am-Noon

• Winning bidders must pick their items up by 4:30pm on Friday, September 19th.
• All items are being sold as-is without any guarantee or warranty of any kind.
• Sale items include computers, both Apple and MS Windows based that are outdated, may not function properly and in some cases don't have an operating system installed.
• There will also be some furniture, old AV equipment and other miscellaneous items.
• Buyers may submit bids at the sale through noon on Friday, September 19th. Bids will only be accepted during the sale hours.
• The highest bid will win the item. In the case of a tie a drawing will determine the winner.

---
Update from Representative Sommers (posted 9/10/14)
Albert Sommers, House District #20 Representative
On Monday September 8th, I attended the Joint Transportation Committee meeting in Riverton. I am not a member of this legislative committee, but I was there to present a bill regarding Class A and B drivers' licenses in Wyoming. Wyoming has two parallel license structures, which includes a commercial and non-commercial driver's license system. Both the commercial and non-commercial systems have Class A and B licenses in them. A Class A license is for vehicle combinations which exceed a 26,001 lb. Gross Vehicle Weight Rating (GVWR), when pulling a trailer that exceeds a 10,000 lb. GVWR. A Class B license is for vehicle combinations which exceed a 26,001 lb. GVWR, when pulling a trailer less than a 10,000 lb. GVWR. The federal government regulates this size of vehicle by requiring states to issue commercial driver's licenses, but they also allow states to exempt four classes of vehicles. These include agricultural vehicles within 150 miles of the farm/ranch, when driven by the farmer, family member, or employee; recreational vehicles, like fifth wheels; emergency vehicles, like fire trucks; and military vehicles.

Wyoming created a Class A, B, and C system back in the early 1970s, though with different weight restrictions than today. In 1989, Wyoming implemented the federal Commercial Driver's License Law, which was created in 1986, according to information presented by the Wyoming Department of Transportation (WYDOT). In 1989, Wyoming established the 26,001 lb. weight limit on both its newly created Class A and B Commercial Driver's License and on its non-commercial Class A and B license. The creation of this dual system has caused both concern and confusion. As I mentioned earlier the feds allow states to exempt certain classes of vehicles from the commercial license system. Wyoming took advantage of that option, and created exemptions for Ag, recreation, firefighting, and the military. However, Wyoming did not exempt these same classes of vehicles from their non-commercial Class A and B licenses. In 1989 that did not matter, because the vehicles which exceeded the 26,001 lb. limit were mostly tractor-trailer combinations, semis, and they had already been under a different licensing system from pickup truck drivers.

Fast forward to 2014, today we have one ton pickups that have a GVWR of 14,000 lbs. and horse trailers and fifth wheel campers exceeding 14,000-16,000 lb. GVWR. Combined these pickup and trailer combinations easily exceed the weight limit needed for a Class A license. So classes of vehicles that were never intended to fall into these heavy truck categories are now, and drivers are being cited for this offense, but only as a secondary offense.

When I looked into this issue, I found out that all of our adjacent states have exemptions for Ag, recreation, emergency, and the military in their commercial driver's license laws, and none of these states have a dual non-commercial Class A and B driver's license system. Utah, Idaho, Montana, South Dakota, Nebraska, and even Colorado do not require what Wyoming requires, and the feds allow these exemptions for Class A and B licenses as well.

I presented this information to the Joint Transportation Committee today, and brought them a bill which would allow Wyoming drivers to have the same exemptions as our neighbors. I had the support of Farm Bureau and the Wyoming Stock Growers Association. The committee took up the issue and the bill, and will be drafting a version to address some safety concerns expressed by committee members. WYDOT has some concerns about safety if we change our system, but admitted that our neighboring states did not seem to have any big problems. If the committee passes a bill to fix this problem, it has a much higher chance of making it into law than if I bring an individual bill to next winter's session. With some luck and good debate, I hope to make the rancher pulling that big trailer load of hay home with his pickup and the camper towing his big fifth wheel to the lake legal on our base Class C license. Wyoming, with our small population, should not be more restrictive than federal law and our neighboring states. This issue was brought to me by Sublette County citizens. Please contact me if you have any questions or concerns: albert@albertsommers.com

Albert

---
Loba Memorial Foundation Fundraiser Sept. 27th (posted 9/5/14)
Supports spay and neuter of pets
The Loba Memorial Spay and Neuter Foundation annual Dinner and Auction fundraiser will be held on Saturday, Sept. 27th from 5:30-9PM, in the Lovatt Room of the Pinedale Library. The event includes dinner, silent auction with raffles. Ben Davis will DJ, Andy Nelson will MC. Tickets are $100/person. All proceeds go to the foundation. For info and reservations call Wendi Schwartz at 307-367-6215.

Wendi, who is also Chef Wendi, will be doing the cooking making her version of chicken enchiladas (there will also be vegetarian ones) - a special coconut rice w/ cilantro, organic salad w/ salsa ranch sour cream dressing, black bean an corn salad, rolls and butter, and dessert. Hor d oeuvres will be artichoke dip, shrimp cocktail, seafood salad in mini filo cups, and cheese and crackers.

The Loba Memorial Spay and Neuter Foundation was started by Wendi Schwartz in memory of her Siberian Husky, Loba, who died 15 years ago of liver cancer.

Wendi had come to realize that numerous people in Pinedale have more than one pet and could not afford to have those pets spayed or neutered. She wanted to create a way to address the growing "unwanted" pet population, so she decided to create the Foundation to enable local residents to have an option to make good pet choices.

Wendi approached veterinarian Dr. Brent Dean, owner of the Animal Clinic of Pinedale, who agreed to help her address this problem by applying the Foundation's funds to the accounts of families who needed financial assistance in paying to spay and neuter their pets. The fund has since been expanded to cover emergency vet bills and now involves numerous veterinarians.

In the past year the Foundation has spayed and neutered over 56 cats and over 53 dogs, an increase from year. They have also helped with a few major injuries and accidents. They help with the issue of abandoned pets, many of which have been abandoned and left on the Mesa, Jonah Field, as well as animals left at area campgrounds and by the side of the road. In all, the Foundation has spayed and neutered over 471 cats and 714 dogs.

Kimberly Irvin has taken upon herself to capture feral cats in the past years. The Foundation makes sure they are healthy and have taken them in to be spayed or neutered, given shots, and either found homes or set them free.

The Loba Memorial helps Sue Kramer, director of Happy Endings Animal Rescue (HEAR) in Sublette County, who has taken care of finding homes for abandoned animals, Pinedale Animal control Officer Julie Early has also worked to help abandoned animals.

"So thanks for all your donated dollars… I am very happy to do this work with everyone's help," Wendi said.

---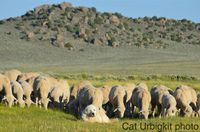 Livestock guardian dogs live with and guard the sheep herds to protect them from predators. Photo by Cat Urbigit.

Working Livestock Guardians (posted 9/4/14)
Cat Urbigkit, Pinedale Online!
Domestic sheep producers throughout the western United States often use livestock guardian dogs to protect their flocks from predators. Hikers, hunters, and other outdoor enthusiasts may encounter the dogs and their herds while on public land. Livestock producers using public lands do not want hikers being frightened by livestock guardian dogs, so here's a few pointers on what to do if you encounter the dogs, as well as a photo essay that shows how the dogs are raised to protect their herds.

Most livestock guardian dogs used in the American West do not perceive humans as a threat to the herd – that is, unless a strange human is approaching the herd. In most cases, when a strange human is encountered on the range, the guardian's reaction is going to be an attempt to intimidate the intruder. That means raised hackles and tail, and loud barking as the dog rushes toward the intrusion. I've encountered dozens (if not hundreds) of working guardian dogs in my travels here and in many countries abroad, and I've always stood quietly, talking to the dogs until they realize I'm not a threat
and go back to their sheep. I would never attempt to hike through the middle of a sheep herd I randomly encountered on the range. Skirting around the herd is appropriate.

Generally, if you are on foot, horseback, or an all-terrain vehicle and come close to sheep, a livestock protection dog should have time to see and/or hear you approach and recognize that you are not a threat to the livestock. But a rapidly approaching mountain biker, suddenly surprising the livestock protection dog, may appear to be a threat. Stop, get off the bike while keeping it between the dog and your body, and talk to the dog so it can recognize you are a human.

Hikers with domestic dogs may be perceived as a greater threat. An unleashed dog encountering sheep likely will be perceived as a predator, which could cause an aggressive confrontation with the livestock protection dog. Uncontrolled domestic dogs are the top killer of livestock in America, and a guardian dog's job is to keep these animals from harming the herd.

People hiking and biking on western rangelands are encouraged to carry pepper spray and be knowledgeable about how to use it. Pepper spray works on many animals that can be perceived as threatening – from bears and mountain lions, to dogs.

In some ares of the west, federal agencies post signs for the public that warn of the presence of livestock protection dogs, describe their purpose, and provide pointers for what to do when encountering these animals with their herds. The Colorado Wool Growers Association provides the following recommendations for hikers and bikers:

DO:
• Keep your dog on a leash and never allow your dog to harass the sheep

• Watch for livestock protection dogs near sheep (usually large white or tan dogs)

• Remain calm if a livestock protection dog approaches

• Stop and get off of your bike, put your bike between you and the dog

• Tell the dog to "go back to the sheep"

• Walk your bike until well past the sheep

• Keep your distance from the sheep

• Choose the least disruptive route around the sheep

• If the sheep are trailing, wait for them to pass

DO NOT:
• Chase or harass the sheep or dogs

• Try to outrun the dogs

• Throw things at the dogs

• Make quick movements

• Feed the dogs

• Take a dog with you

• Attempt to befriend or pet the dog

Livestock guardian dogs are generally viewed as effective, non-lethal predator deterrents. Producers who use guardian dogs report far fewer losses to predators than producers who do not use guardian animals.

Click on this link for more photos: Working Livestock Guardians

---
PAC seeking volunteers (posted 9/4/14)
The Pinedale Aquatic Center is seeking volunteers to help with upcoming events:

Punt, Pass and Kick
2:30pm on Friday, September 26 (note date/time change)
Korfanta Field
5-8 Volunteers

Swim Meet Timers
Various Dates beginning mid-September - Inquire for specifics
8+ Per Meet

Haunting
Evenings of Thursday, October 23 and Friday, October 24
PAC Gym
25-30 Volunteers per Night (16 years old and older, unless directly participating with a Parent)

Indoor Tri-Athlon
9:00 am on Saturday, January 17, 2015
6-8 Volunteers

If you are interested in volunteering for any of these events, please contact David Kieffer at Pinedale Aquatic Center, 307-367-2832, ext. 6243.

Related Links:
www.pinedaleaquatic.com Pinedale Aquatic Center

---
Sand Draw Ambulance Facility de-staffed as of September 2, 2014 (posted 9/1/14)
At the regular board meeting held on June 18, 2014, the Sublette County Rural Health Care District oficially decided to de-staff the Sand Draw Ambulance facility effective September 2, 2014. The Sublette County Rural Health Care District publicly thanks the staff, industry, county representatives and community members who participated in the process. They are confident this change will bring about enhanced care and services to the whole of Sublette County while allowing them to maintain fiscal responsibility.

Below is the Open Letter of Intent to Industry and the Community for more information regarding this change.

Open Letter of Intent to Industry and the Community

After much discussion with various entities in various settings, the Rural Health Care District Board of Trustees has arrived at the decision to de-staff Sand Draw effective Tuesday, September 2nd.

To facilitate the concerns of lndustry and the county as a whole, it is the intent of the Sublette County Rural Health Care District to offer the following:

-Consultative services to lndustry on the development of internal management of emergency services that will enhance first responder capability. This will include:

-Reassessment of current Sublette Emergency Response Team (SERT) status and capability

-Assistance in the development of policy and protocols that will provide guidelines for activation of emergency services (ie broken finger would be assessed by a First Responder and then transported per private vehicle vs. an explosion requiring implementation of 911 call, First Responder on the scene, initiation of air support, SCRHCD ambulance, Sheriff dept and Fire)

-Collaboration with Air Transport services

-Providing ongoing training and education

-Exploring the possibility of an industry run ambulance service (certified) by the State of Wyoming

-Continuation of response to emergencies wherever they occur throughout the county including industrial sites.

-Enhancement of our level of clinical capability with the addition of paramedic level service.

-Provide additional capability to meet the increased volume of calls related to tourism and outdoor recreation from Memorial Day through Labor Day. This will be accomplished by adding a fourth team 12 hours a day/ 6 days a week during that time period.

-Extend the benefits and/or opportunities that may arise through our affiliations with surrounding hospitals and health systems to lndustry and the community, as appropriate.

The Rural Health Care District is committed to providing the best health care possible while being fiscally responsible. In the ever changing world of health care, we will continually collaborate and explore partnerships with local and regional entities to make that commitment possible.

Signed,
Laura Clark, Chairman of the Board
Malenda Hoelscher, HCA
Dr. Buck Wallace, EMS Medical Director

Related Links:
www.sublettehealthcare.com/ Sublette County Rural Health Care District
Sand Draw Rescue Center & Ambulance Barn Construction updates (2006 – 2007)
Sand Draw Rescue Center Open House April 4, 2007

---
Local Services:
Abortion Alternatives
Accounting & CPA
Arts & Entertainment
Attorneys & Legal
Automotive
Banks & Financial
Bars
Beauty Salons
Bed & Breakfasts
Boating
Bookkeeping
Builders & Contractors
Building Material
Business Services
Cabins
Cellular
Child Care
Churches
Cleaning Services
Clothing
Commercial Art
Computer Supplies
Consultants
Convenience Stores/Fuel
Convention/Meeting
Dentists
Dining
Dry Cleaning
Events
Fabric & Crafts
Fencing
Fishing
Flooring
Food & Drink
Funeral Homes
Furniture
Gifts/Western
Government
Graphic Design
Grocery & Market
Guest Ranches & Lodges
Handyman Services
Hardware & Feed
Heating
Health Care & Medical
Horseback Adventures
Insurance
Interior Design
Internet/Web/Advertising
Landscaping
Laundry
Liquor Stores
Lodging
Log Homes
Massage Therapy
Modular Homes
Motels
Mountain Biking
Movie Theaters
Museums
Nails
Newspapers
Office Supplies
Oil Field Services
Optometrists
Organizations
Outdoor Equipment
Outfitters & Guides
Packaging & Shipping
Painters
Pet Stores
Pharmacies
Photography
Plumbing
Professional Services
Radio
Real Estate Agencies
Real Estate-FSBO
Remodeling
Retirement
Retreats
RV Camping
Schools
Scrapbooking
Septic Services
Skiing
Snowmobiling
Snow Plowing
Storage and Storage Units
Tanning
Tattoos & Body Art
Tax Preparation Services
Taxidermy
Transportation/Shuttle
Trash Services
Trucking
Veterinarians
Visitor Services