Sublette Commissioners meeting April 22 (posted 4/18/14)
Mary Lankford, Sublette County Clerk
BOARD OF COUNTY COMMISSIONERS
SUBLETTE COUNTY, WYOMING
AGENDA - TUESDAY, APRIL 22, 2014
COMMISSIONERS MEETING ROOM
PINEDALE, WYOMING

(Tentative Agenda, Subject to Change Up To 9 a.m. the Day of the Meeting)

9:00 a.m. Call to Order
Pledge of Allegiance
Approval of the Minutes
Butch Penton, Road & Bridge
10:00 a.m. Public Hearing, Solace Cabin Catering, Restaurant Liquor
10:15 a.m. Sheriff Dave Lankford, Executive Session, Personnel
10:30 a.m. Cat Urbigkit & Sue Sommers, State of the County Proposal
11:00 a.m. Old Business

1:00 p.m. Planning & Zoning
1:30 p.m. Rural Health Care District, Remodeling Proposal
2:00 p.m. Forsgren & Associates, Project Update

Related Links:
www.sublettewyo.com Sublette County website

---
Pedaling through Pinedale this summer (posted 4/16/14)
Meet & Greet April 17th at the Pinedale Library
Sublette County Library
The Greater Yellowstone Coalition (GYC) has revealed that its "Cycle Greater Yellowstone" 2014 route – which features 465 miles, five mountain passes, and nearly 20,000 feet in elevation gain – will be passing through Pinedale this summer.

The Sublette County Library invites you to join members of the Tourism Board and GYC communications director Jeff Welsch at 6:30 pm on Thursday, April 17th for a Meet & Greet where he will answer questions for the community about the second-annual "First Great Ride in the Last Best Place" set for Aug. 17-23.

The fully supported tour will begin in Teton Village, Wyo., and conclude a week later in Grand Teton National Park and includes overnight stops in Victor, Idaho, and Hoback Junction, Pinedale, Lander (two nights) and Dubois, Wyo.

"Nearly 500 riders from 42 states are already registered," Welsch said. "More than 800 riders and 100 volunteers are expected for what is already the fourth-largest multi-day bicycle tour in North America.

Last year, more than 660 riders and 80 volunteers from 44 states and five countries participated in the inaugural Cycle Greater Yellowstone, which began in West Yellowstone, Mont., and ended in Red Lodge, Mont.

For more information visit the Library website: sublettecountylibrary.org or call 307-367-4114.


---
Sublette County School District #1 recognizes QEP Resources (posted 4/14/14)
On April 7th, Sublette County School District #1 ("District") recognized QEP Resources, Inc. ("QEP"), for investing $200,000 to strengthen the Science, Technology, Engineering and Math (STEM) education programs for middle and high school teachers and students in Pinedale, Wyoming.

"With Wyoming's economic growth expected to continue well into the future, STEM education is vital to inspire and develop the next generation of engineers, scientists, technical experts and leaders," commented Mr. Jay Harnack, District Superintendent. "QEP recognizes this need, so I am excited to have the company and its employees as part of our school community as we serve together in support of our teachers and students."

Joel Bousman, Chairman of the Sublette County Commission, commented, "STEM education is vital for the future economic growth and competitiveness of Wyoming and our country. We believe that this program will make a real and lasting difference in our ability to compete in a global economy."

QEP's corporate giving program, QEP Cares, supports the growth and development of local communities. In 2014, QEP plans to invest $3.5 million, which includes $1.2 million allocated to STEM education. The funding will assist the district with teacher salaries and training, classroom and equipment upgrades, curriculum development and the enhancement and implementation of Project Lead the Way, a nationally-recognized STEM education program that prepares students for STEM careers.

"QEP is excited and thankful for the opportunity to invest $200,000 to support a school district that is ahead of the curve in its commitment to STEM and to providing students with a learning environment where discovery, innovation and creativity thrive," said Joe Redman, General Manager of QEP Energy's Pinedale Division. "As we safely and responsibly develop Wyoming's natural resources, we are committed to supporting the growth and development of the state's local communities through programs like this. In addition, we plan to allocate more than $275 million of capital investment to our Wyoming operations in 2014, and we look forward to continued investment in the state for years to come."

About QEP Resources
QEP Resources, Inc. (NYSE: QEP) is a leading independent crude oil and natural gas exploration and production company focused on some of the most prolific resource plays in the continental United States. QEP also gathers, compresses, treats, and processes natural gas. Headquartered in Denver, Colorado, QEP employs approximately 1,000 people in eight states and is an S&P 500 member-company. For more information, visit QEP Resources' website at: www.qepres.com

There will be a "Kick Off" for the Project Lead the Way programs (PLTW) Tuesday, April 15th at 11:00 in the Sublette County School District #1 Board Room in Pinedale. Governor Mead, Representative Sommers, Commissioner Bousman, and QEP General Manager, Joe Redman, as well as other dignitaries will be in attendance.

---
4 Pinedale students to go on to National History Day competition (posted 4/13/14)
Ann Noble
Four Pinedale High School History Day students are off to National Competition after placing in the top two spots at Wyoming History Day competition at the University of Wyoming in Laramie on April 7th. Tayln Hutta took first for her historical paper, "An Unforeseen Uprising". Foreign exchange students Tobias Kaecks, Veronika Kolitz, and Jia Choi, placed second in their website division for their project, "Divided Germany." They will advance to compete at the University of Maryland in College Park in June representing Wyoming.

Tayln Hutta also brought home three prestigious awards for her historical paper. She was awarded the Liz Byrd Cultural Diversity Award for the best entry which represents an aspect of Cultural Diversity or Human Rights; the Giving Voice Award for the best entry relating to giving voice to under-represented people; and the Wyoming State Historical Society Award, a $1500.00 scholarship to attend the University of Wyoming or a Wyoming Community College.

Mr. Mitch Irrgang, Middle School History Day Coach, won the prestigious "Patricia Behring Teacher of the Year Award" which recognizes outstanding National History Day teachers. Mr. Irrgang has been coaching History Day for twelve years at Pinedale Middle School. He was one of two teachers recognized from the state of Wyoming for this national award.

Related Links:
District History Day held in Pinedale Pinedale Online, March 28, 2014
www.nhd.org National History Day

---
Sarah Hunt announces candidacy for Pinedale Town Council (posted 4/12/14)
Sarah Hunt has announced her candidacy for the Pinedale Town Council. Ms. Hunt is hosting a Campaign Kick-Off reception for Sarah Hunt for Pinedale Town Council on Wednesday, April 16th from 4:30pm – 7pm at Wind River Pizzeria in Pinedale. If you have questions or would like to know more about the campaign, please contact Sarah at sayhunt@hotmail.com or 307-749-3401. Click on this link to read her campaign announcement media release.
---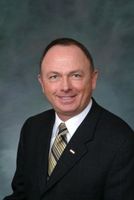 Monte Olsen. State of Wyoming file photo.

Death Notice: Monte Olsen (posted 4/11/14)
Below is a media release from the Teton County Coroner's Office (Jackson, Wyoming)

On 04/08/2014 (Tuesday, April 8), Jackson Police Officers were notified of a deceased male in a local motel. The Teton County Coroner's Office arrived and jointly investigated the death. The decedent was identified as Monte Olsen, 57, of Daniel, WY. There was no evidence of foul play at the scene and was classified as an unattended death.

As in all cases of unattended death, a forensic autopsy was conducted at the Ada County Coroner's Office in Boise, ID. The cause of death was determined to be Acute Myocardial Ischemia due to Arteriosclerotic Cardiovascular Disease. Toxicology is pending. At this time, the manner of death is natural.

For more information contact:
Kiley Campbell, Coroner
Teton County Coroner's Office
(307) 733-1430
kcampbell@ci.jackson.wy.us

Teton County media release (4/10/14)
___________________________

Editor's Note: Monte Olsen was elected as House District #22 Representative in the Wyoming Legislature in 2003.

Related Links
Monte Olsen – HD#22 State of Wyoming – House District members

---
SAFV Task Force Annual Spring Luncheon April 24 (posted 4/9/14)
Starting the Conversation
The Sexual Assault and Family Violence Task Force (SAFV) will host their annual Spring Luncheon on Thursday, April 24th from 11:45 am – 1:15 pm in the Lovatt Room of the Pinedale Library. The topic is: Services and support in Sublette County for victims of sexual assault and the prevention efforts of the agencies. Lunch provided by Moose Creek Catering, Cost is $20. Reserve tickets in advance by calling 307-367-6305 or 307-276-3975.
---
Local Services:
Abortion Alternatives
Accounting & CPA
Arts & Entertainment
Attorneys & Legal
Automotive
Banks & Financial
Bars
Beauty Salons
Bed & Breakfasts
Boating
Bookkeeping
Builders & Contractors
Building Material
Business Services
Cabins
Cellular
Child Care
Churches
Cleaning Services
Clothing
Commercial Art
Computer Supplies
Consultants
Convenience Stores/Fuel
Convention/Meeting
Dentists
Dining
Dry Cleaning
Events
Fabric & Crafts
Fencing
Fishing
Flooring
Food & Drink
Funeral Homes
Furniture
Gifts/Western
Government
Graphic Design
Grocery & Market
Guest Ranches & Lodges
Handyman Services
Hardware & Feed
Heating
Health Care & Medical
Horseback Adventures
Insurance
Interior Design
Internet/Web/Advertising
Landscaping
Laundry
Liquor Stores
Lodging
Log Homes
Massage Therapy
Modular Homes
Motels
Mountain Biking
Movie Theaters
Museums
Nails
Newspapers
Office Supplies
Oil Field Services
Optometrists
Organizations
Outdoor Equipment
Outfitters & Guides
Packaging & Shipping
Painters
Pet Stores
Pharmacies
Photography
Plumbing
Professional Services
Radio
Real Estate Agencies
Real Estate-FSBO
Remodeling
Retirement
Retreats
RV Camping
Schools
Scrapbooking
Septic Services
Skiing
Snowmobiling
Snow Plowing
Storage and Storage Units
Tanning
Tattoos & Body Art
Tax Preparation Services
Taxidermy
Transportation/Shuttle
Trash Services
Trucking
Veterinarians
Visitor Services