Funeral Services for Shannon Cave Oct. 24 (posted 10/22/14)
Funeral Services for Shannon Cave will be held on Friday, October 24th at 2:00PM at the Marbleton Senior Center.
---
Pinedale Mural Artist Reception Oct. 23 (posted 10/21/14)
Meet the artists of Pinedale's two newest murals
Please join the Pinedale Fine Arts Council in celebrating the 1nlSite:ExlSite Public Art Program's two newest murals by Sublette County artists Charmian McLellan and David K. Klaren. 6 PM –Thursday, October 23, 2014 at Rock Rabbit in Pinedale. There will be live music at 8:00PM featuring Green River Steamboat.

---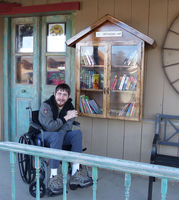 The Jimmy Sims Little Free Library.

There's a new library in town (posted 10/19/14)
Dawn Ballou, Pinedale Online!
And it's tiny. It's located on the outside of the Dandylion Den gift shop in Pinedale. It's one of the newest "Little Free Library"s that are popping up in neighborhoods all across the county as a fun way to encourage reading and community. The new little library was installed in mid-October and is ready to use.

What is a Little Free Library? It's a "take a book, return a book" gathering place where neighbors share their favorite literature and stories. In its most basic form, a Little Free Library is a box full of books where anyone may stop by and pick up a book (or two) and bring back another book to share. The goal is to promote literacy and the love of reading by building free book exchanges worldwide.

Pinedale's newest little library was put up by Kristy Sims who saw the idea from news stories about ones other people have done. She asked local carpenter Chris Lockwood to build her library case and he installed it on the outside of her store, the Dandylion Den, on south Sublette Avenue.

Little Free Library book cases come in all sorts of sizes, shapes, clever designs and colors. Most all have glass front doors to see the books inside. Cases placed outside are watertight to keep out the weather.

Sims went to the Pinedale Food Basket to stock it with the first set of books, a mixture of adult and children's books. She then found a nice bench to place next to the new Library. Sims named the new library the "Jimmy Sims Little Free Library," after one of her sons.

The first little libraries began to appear in 2009, and since then more and more people liked the idea and started making them. With the great grassroots movement, LittleFreeLibrary.org became a non-profit organization in 2012 in Wisconsin. They had the goal to build 2,510 Little Free Libraries—as many as Andrew Carnegie—and keep going. They reached that goal in August of 2012, a year and a half before their original target date. By January of 2014, the total number of registered Little Free Libraries in the world was conservatively estimated to be nearly 15,000, with thousands more being built. The idea has grown to other countries worldwide The Jimmy Sims Little Free Library has Charter No. 18,798.

Check it out!

Click on this link for more pictures.

Related Links:
www.littlefreelibrary.org

---
Rendezvous Pointe selected as 1 of 16 'High Performing Nonprofits in the Nation' (posted 10/19/14)
In 2013, two university scholars conducted a nation-wide sample for analysis and evaluation of human resource management practices in non-profit organizations delivering human services in the United States. Rendezvous Pointe Senior Center in Pinedale, Wyoming was selected as one of sixteen "high performers" out of the hundreds of organizations that responded to the survey.

Jessica E. Sowa, Associate Professor, School of Public Affairs at the University of Colorado in Denver, and Sally Coleman Selden, Professor of Management at Lynchburg College in Virginia conducted the research project over the course of two years.

Executive directors from 344 organizations responded to the survey. The top sixteen were selected from eight states including New Hampshire, Vermont, Michigan, Virginia, Idaho, Utah, New Mexico, and Wyoming. Rendezvous Pointe was also one of just four traditional senior centers selected in the eight states. The other nonprofits that were high performers included a YMCA, a YWCA, health clinics, a free clinic, and ones working to prevent domestic abuse, sexual assault, and child abuse.

After providing and completing an extensive survey and other data, each of the 344 responding nonprofits was ranked on ten measures including quality of service, ability to raise money, ability to secure grants, ability to retain essential employees, satisfaction of clients, and relationship with funders. From those responses, sixteen top performers were selected for further evaluation.

In the fall of 2013, researcher Jessica Sowa came to Pinedale and visited Rendezvous Pointe to complete their case study examination. Three staff members were personally interviewed, including Paul Jensen, the Executive Director. In addition, staff and volunteers completed a survey providing more information which was a critical component of the research.

Rendezvous Pointe's finances, financial management, program management, and the treatment and management of employees accounted for their status as a high performing nonprofit. Specifically, they were distinguished by sharing information with all employees, providing employees with an opportunity to express their views and participate in problem solving, and establishing performance based compensation and other non-monetary benefits such as flextime, some form of health care, retirement plans and verbal recognition of outstanding performance.

For more information, contact Paul Jensen, Executive Director of Rendezvous Pointe, 307-367-2881, edrpointe@centurytel.net.
---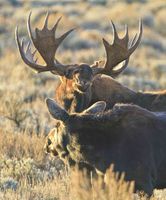 Courtship dance. Photo by Dave Bell.

Moose mating encounter (posted 10/18/14)
Dave Bell's business took him to Jackson earlier this week and, of course, his camera equipment joined him on the trip. He left early in hopes of photographing something spectacular. " I was certainly not disappointed. I was able to witness the entire mating ritual of the moose and photograph the entire event. It was very interesting as quite a lot of courtship is involved. This is not a "slam bam, thank-you maam" event as it goes on for quite some time." Click here for his gallery of the encounter: "moose mating encounter"

---
Bridger-Teton resumes prescribed burning in Wyoming Range (posted 10/17/14)
The Big Piney Ranger District of the Bridger-Teton National Forest is resuming ignitions on prescribed burn units in the Cottonwood area of the Wyoming Range. They plan to start Friday Oct. 17, on a unit at the head of Nylander Creek in North Cottonwood Creek. They anticipate a couple of days burning in that unit and then depending on weather and conditions, move on to a unit on the north side of S. Cottonwood drainage on Sunday or Monday.

There are no closures associated with the burns, but they ask that the public stay clear of the area while firefighters are working and be aware of hazards that will exist in the vicinity of burned areas post ignition: falling snags, hot pockets/stump holes, rolling rocks and debris on steeper slopes, smoke and active flames in the interior of burn units.

The Cottonwood II prescribed burn is located approximately 20-miles west of Daniel, Wyoming in the North and South Cottonwood drainages and on Bare Pass near Red Castles. The project consists of several units totaling 1,093 acres. Fifty acres were successfully treated with fire earlier in this spring and 120 acres previously. Teton Interagency Fire Managers are hoping to burn several units for a total of over 500 acres this fall.

The primary objective of the burn is to increase aspen regeneration and reduce encroaching conifer. "Fire is a very good tool to help bring back these aspen stands," said Paul Hutta, Fire Management Officer for the East Zone of the Bridger-Teton NF. "Aspen are shade intolerant and removing the overstory of conifers will allow suckering to occur." Additional benefits will be to increase forage conditions for wildlife habitat and reduce hazardous fuels build-up while restoring fire-adaptive ecosystems.

Forest users may experience temporary smoky conditions in the vicinity of the project area and hazards associated with fire will be present inside and adjacent to the burn units. Interagency fire managers will attempt to minimize any adverse impacts as the burn proceeds.

This vegetation treatment is an interagency cooperative effort with Bureau of Land Management, Wyoming Game & Fish Department, Sublette County Fire, and Teton Interagency Fire.

For more information about this project, contact the Big Piney Ranger District at 307-276-3375 or visit www.tetonfires.com or http://gacc.nifc.gov/egbc/dispatch/wy-tdc/prescribed-fires.php.

---
Pinedale Community Blood Drive Nov. 3 (posted 10/15/14)
Sublette County Rural Health Care EMS is sponsoring a blood drive on Monday, November 3rd from 1-6PM in the Pinedale EMS Building Training Room, 635 E. Hennick.

To make appointments, log onto www.bloodhero.com and use sponsor code: Pinedale. Or contact Jerry Kirchoff at 307-749-4137.

You can also save time by going online and doing a self-interview. Go to www.unitedbloodservices.org. Complete the Health History questionnaire on the day of your donation, print the ticket and bring it to the blood drive. Please bring your photo ID and donor card. Every donation gets a free cholesterol testing.

---
3 or 5 Commissioners question will go to voters again… (3rd time) (posted 10/14/14)
Media release from Mary Lankford, Sublette County Clerk:
"In response to an inquiry and a complaint received on October 3, 2014, the Sublette County Clerk's Office has reviewed the rejection of the 2014 3-5 Commissioners Petition on August 26, 2014, and certified 490 signatures. This number exceeds the required 441 signatures and will allow the ballot proposition to access the election ballot. This question will not appear on the November 4th General Election ballot. We are currently researching the scheduling for this election. Any questions, contact County Clerk Mary Lankford at 307-367-4372."

---
Local Services:
Abortion Alternatives
Accounting & CPA
Arts & Entertainment
Attorneys & Legal
Automotive
Banks & Financial
Bars
Beauty Salons
Bed & Breakfasts
Boating
Bookkeeping
Builders & Contractors
Building Material
Business Services
Cabins
Cellular
Child Care
Churches
Cleaning Services
Clothing
Commercial Art
Computer Supplies
Consultants
Convenience Stores/Fuel
Convention/Meeting
Dentists
Dining
Dry Cleaning
Events
Fabric & Crafts
Fencing
Fishing
Flooring
Food & Drink
Funeral Homes
Furniture
Gifts/Western
Government
Graphic Design
Grocery & Market
Guest Ranches & Lodges
Handyman Services
Hardware & Feed
Heating
Health Care & Medical
Horseback Adventures
Insurance
Interior Design
Internet/Web/Advertising
Landscaping
Laundry
Liquor Stores
Lodging
Log Homes
Massage Therapy
Modular Homes
Motels
Mountain Biking
Movie Theaters
Museums
Nails
Newspapers
Office Supplies
Oil Field Services
Optometrists
Organizations
Outdoor Equipment
Outfitters & Guides
Packaging & Shipping
Painters
Pet Stores
Pharmacies
Photography
Plumbing
Professional Services
Radio
Real Estate Agencies
Real Estate-FSBO
Remodeling
Retirement
Retreats
RV Camping
Schools
Scrapbooking
Septic Services
Skiing
Snowmobiling
Snow Plowing
Storage and Storage Units
Tanning
Tattoos & Body Art
Tax Preparation Services
Taxidermy
Transportation/Shuttle
Trash Services
Trucking
Veterinarians
Visitor Services