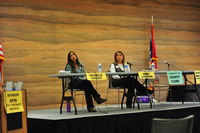 Sublette County Clerk's forum. Candidate Michelle Hosler on the left, incumbent Mary Lankford on the right. Photo by Terry Allen.

Listen to the Candidate Forum – audio files available (posted 10/30/14)
General Election candidates for Sublette County Commissioners, Sheriff, and County Clerk
Audio files are available for the Candidate Forum that was held on Tuesday, October 28th in Pinedale. The forum featured candidates for the contested races of Sublette County Commissioner (2 seats open), Sublette County Sheriff, and Sublette County Clerk.

The Sublette County Commissioner race featured incumbents Joel Bousman (R) and Andy Nelson (R) along with Democratic challenger Courtney Skinner. Click on this link to listen to that forum. Commissioner forum audio (46:17 minutes, 8.15 MB mp3)

The Sublette County Sheriff race had Republican nominee Stephen Haskell, and two write-in challengers, Brian Sparks and Scott Winer. Click on this link to listen: Sheriff forum audio file (39:37 minutes, 6.97MB mp3)

The Sublette County Clerk race had Republican incumbents Mary Lankford and write-in Independent challenger Michelle Hosler. Click on this link to listen: County Clerk forum audio file (24:10 minutes, Clerk audio file 4.25MB mp3)

This candidate forum was sponsored by KPIN 101.1 FM Radio, Pinedale Online, the Pinedale Roundup, and Sublette Examiner. MC for the forum was Bob Rule, owner of KPIN 101.1 FM radio, which broadcast the forum live during the event. Question askers were Ned Donovan, representing the two newspapers and Debbie Vickrey representing KPIN Radio. Dawn Ballou with Pinedale Online monitored online question submissions during the forum and did set up and refreshments. Helpers included Duke Edwards and Michael Anderson as radio broadcast technicians, Clint Gilchrist doing question compiling, and Sarah Murdock as timer/sign signaler, and Meghan Neher/Pinedale Roundup/Sublette Examiner for event planning and advertising. Special thanks to the Pinedale Library for the use of the Lovatt Room and for stage set-up, and to Terry Allen for photography.

Click on this link for more photos of the forum.

---
Halloween Business After Hours Trick-or-Treat Oct. 31 in Pinedale (posted 10/30/14)
The Sublette County Chamber of Commerce is sponsoring their annual Halloween Business After Hours Trick-or-Treat on Friday, October 31st from 4-6PM in downtown Pinedale. The event is for children 12 & under.

Participating businesses are:
1st Bank
Allen Agency Real Estate
Altitude Drug
Bucky's Outdoors
Castlerock Dodge
Chambers House B&B
Clean Wash Laundromat
Corral Bar & Grille
Country Lane
Dandelion Den
First American Title Insurance Company
Great Outdoor Shop
Isabel Jewelry
Jorgensen Associates
Northern Title Company
Office Outlet
Pinedale Aquatic Center
Pinedale Food Basket
Pinedale Town Hall
Pinedale Properties
Rocky Mountain Bank
Southwest Counseling
Sublette Communications
Sublette County Chamber of Commerce & Visitor Center
Sublette County Library
Sundance Motel
TD Real Estate
Tegeler & Associates
Two Rivers Emporium
Wells Fargo Bank
Wind River Brewing Company
Wind River Pizzeria
Wyoming Wireless

This event is sponsored by Jonah Energy, Linn Energy, QEP, Rocky Mountain Power, Shell, and Ultra Petroleum.

Related Links:
www.sublettechamber.com Sublette County Chamber of Commerce
---
Thanksgiving Pie Sale (posted 10/29/14)
Rendezvous Pointe is holding their annual Thanksgiving Pie Sale. Orders must be received by Wednesday, November 19, 2014.

Available pies and their cost are:
Pumpkin $13.00
Apple $13.00
Mincemeat $15.00
Pecan $15.00

Please call in your order at 307-367-2881, or write it in on the order form at the lunch desk. Pies will be available for pick up on Wednesday, November 26th.

---
McKenzie Meningitis Foundation Volleyball Tournament March 21, 2015 (posted 10/29/14)
The 13th Annual McKenzie Meningitis Foundation Volleyball Tournament will be held on Saturday, March 21, 2015 at the Wrangler Gym in Pinedale. Games start at 8AM.

The event is limited to 20 teams. Participants need to be high school age or older. Registration is $200 per team. All proceeds go to benefit the McKenzie Meningitis Foundation.

For more information and to register, call either Elisha Haley at 307-231-2230 or Paige Harrell at 307-231-2526.
______________________________________

Editor's Note: The McKenzie Meningitis Foundation is a nonprofit corporation that was created in honor of the late McKenzie Carter Hartwig. McKenzie attended high school in Pinedale and graduated in 2001. After graduation, McKenzie became a freshman at the University of South Dakota on a volleyball scholarship. That fall in August, with school hardly having just begun, she attended a volleyball tournament in North Dakota with her college teammates. She suddenly became ill and died that same evening. She had contracted meningococcal meningitis, a bacterial infection that causes inflammation of the spinal cord and brain. Sadly, McKenzie died of a vaccine-preventable disease.

Meningitis resembles the flu with nausea, high temperature, headache, neck stiffness, respiratory problems, drowsiness and bleeding under the skin. Many victims suffer permanent disabilities, such as hearing loss, blindness, brain damage, or limb amputation. Numerous cases of meningitis disease have led to death. Meningococcal meningitis strikes nearly 3,000 Americans each year. Military personnel and college freshmen are at a six-fold increased risk of contracting the disease because they are living together in crowded, communal quarters, lifestyle, and irregular sleep patterns. Meningococcal Meningitis is a vaccine-preventable disease, but many youth are not immunized.

McKenzie was the daughter of Laurie and Ken Hartwig of Pinedale who created the McKenzie Meningitis Foundation to provide funds for those who cannot afford to participate in the state vaccination program, or who are outside the age eligibility, but are still at risk. The annual McKenzie Volleyball tournament is held in remembrance of McKenzie and her love of volleyball, to help to raise funds for the Foundation to continue the cause of immunizing high school seniors against this vaccine-preventable disease.

Related Links:
www.TheMcKenzieFoundation.org The McKenzie Meningitis Foundation

---
Pinedale Snow Explorers Fall Potluck, Meeting, Board Elections & Winter Planning meeting Nov. 7 (posted 10/29/14)
Pinedale Snow Explorers Snowmobile Club will hold their Fall Potluck, Meeting, Board Elections and Winter Planning meeting on Friday, November 7th at 6:00PM in the Lovatt Room of the Pinedale Library. Bring a dish to share.

---
3-5 Commissioners Election, Wednesday, December 17, 2014 (posted 10/28/14)
Mary Lankford, Sublette County Clerk
The Special Election to increase the membership of the Board of County Commissioners from 3 to 5 members will be conducted by mail ballot on Wednesday, December 17, 2014. The following procedures will be used to facilitate the Election.

Election Day will be Wednesday, December 17, 2014.

UOCOVA/MOVE (Military & Overseas) voters will be sent ballots on November 3, 2014.

All voters who requested Absentee Ballots for the November 4th General Election will automatically receive Absentee Ballots for this Election. These ballots will be sent on November 10, 2014.

Absentee Ballots will be available in the County Clerk's Office on November 10, 2014, through December 16, 2014, at 5 p.m.

The Special Election Mail Ballots will be sent on November 24, 2014 to all Sublette County registered voters, who are registered as of November 18, 2014.

Replacement ballots will be available, if a ballot is destroyed, spoiled, lost, or for some reason not received by the voter.

Two Polling Places will be open on Election Day from 9 a.m. to 5 p.m.
The Polling Places will be:
Sublette County Clerk's Office, Courthouse, Pinedale, Wyoming
Marbleton Town Hall, Marbleton, Wyoming

Voter registration will be permitted at the Polls on Election Day with proper identification. Proper identification is your current Wyoming Driver's License or your Social Security number and current government-issued photo identification.

All Mail Ballots must be received by the Sublette County Clerk's Office by 5 p.m. on December 17, 2014.

The Sublette County Counting Board will count the ballots at the County Clerk's Office starting at 5 p.m. on December 17, 2014.

In preparation for this Special Election, the Election Judges will be verifying mailing addresses when you vote at the General Election on November 4th.

Please feel free to contact the Sublette County Clerk's Office with any questions concerning this Special Election at 307-367-4372, 307-276-3827, or mary.lankford@sublettewyo.com.

Related Links:
www.sublettewyo.com Sublette County website
---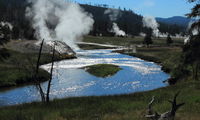 Photo by Fred Pflughoft

The Wonders of Yellowstone (posted 10/24/14)
Photos by Fred Pflughoft
Fred Pflughoft got the opportunity to spend a lot of time this past summer in Yellowstone National Park, which is about 130 miles north of Pinedale. He has posted a new photo album with pictures of the stunning scenery, wildflowers, and spectacular wildlife viewing. Click on this link to see the pictures: The Wonders of Yellowstone 2014 (102 photos)
---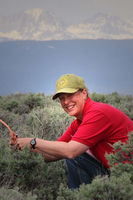 Jill Randall. Photo courtesy Wyoming Game & Fish.

Jill Randall honored as Wildlife Professional of the Year (posted 10/24/14)
Pinedale Habitat Biologist for the Wyoming Game & Fish Department
Wyoming Game & Fish
Wildlife professionals from across Wyoming have named Jill Randall, Pinedale Habitat Biologist for the Wyoming Game and Fish Department, as their 2014 Wildlife Professional of the Year. The Wyoming Chapter of The Wildlife Society, an international organization of professional wildlife researchers and managers, presented the award to Randall at their annual meeting in Sheridan recently.

Randall started her Game and Fish career in 2003 as a Brucellosis-Feedgrounds-Habitat biologist in Jackson. Then in 2005, Jill accepted the position as the Habitat Biologist in Pinedale where she has served ever since.

"Jill is a great team player with excellent interpersonal skills," said Eric Maichak, Pinedale Brucellosis-Feedground-Habitat Biologist and President of the Wyoming Chapter of the Wildlife Society. "Her unique ability to work with other agencies, conservation groups, and landowners has allowed her to accomplish a great deal for wildlife and their habitat in the Pinedale Region."

Maichak provided a recent noteworthy example where Jill played a pivotal role in coordinating with grazing permittees and federal land managers to allow the 64,000 acre Fontenelle Fire of 2012 two year's rest from livestock grazing. This required finding alternate grazing forage for no less than 11 different grazing allotments, thereby allowing the wildlife and habitat to realize the maximum benefit from the fire.

In addition, Jill has collaborated with the Bureau of Land Management (BLM), Forest Service and private landowners to implement a number of mule deer habitat projects in the Pinedale Region, and specifically for the renowned Wyoming Range mule deer herd. As a result, earlier this spring the BLM completed a comprehensive planning document that calls for treatment of some 28,000 acres of mule deer habitat in the Wyoming Range over the next 10 years. These extensive habitat treatments were initiated earlier this summer with nearly 1600 acres of sagebrush mowing, 60 acres of Dixie harrow/seeding, 70 acres of Plateau application to stimulate mountain mahogany regeneration, herbicide spraying of 200 acres for cheatgrass control and mechanical preparation of over 700 acres of aspen for future prescribed burns.

Prior to this work, Randall has been instrumental in implementing a number of important wildlife habitat improvement projects, including several prescribed burns to promote aspen along the Wyoming Range front and a variety of mechanical and chemical sagebrush treatments benefitting both wildlife and livestock. Furthermore, Randall has worked closely with area landowners and funding organizations to accomplish a number of conservation easements on key parcels of wildlife habitat within the Wyoming Range and Green River valley.

"While Jill has done an excellent job as the Pinedale Habitat Coordinator, she has also always been quite willing to help out other work units with their projects," said John Lund, Pinedale Regional Wildlife Supervisor, noting her involvement in projects such as the Pinedale elk test & removal project, sage grouse surveys, mule deer mortality surveys, and hunter check stations, among others. "Her commitment to Wyoming's wildlife resource is exemplary."

Randall is a native of Jefferson, Ohio. She is a year 2000 graduate of the College of Wooster in Wooster, Ohio, earning a Bachelor's degree in Biology. Immediately upon graduation from college, Jill left for Wyoming taking a job with Grand Teton National Park as a heavy equipment operator. Jill has also been very active in the Rocky Mountain Elk Foundation during her time living in northwest Wyoming.

In her free time, Jill, and her husband Mark, are kept busy with their two year old son, Garrett. When not chasing Garrett, the two are usually chasing one of a number of outdoor pursuits they enjoy, including hunting, hiking, kayaking or horseback riding, to name a few.

---
Big Horn Sheep Bow demonstration Nov. 4 & 5 (posted 10/23/14)
Talk about Native American bows by Wyoming artist Tom Lucas
The Sublette County Library invites everyone to one of two demonstrations of the lost Native American art of making the ancient bighorn sheep bow. There will be a talk on Tuesday, November 4th at 6:30 pm at the Pinedale Library and another presentation on Wednesday, November 5th at 6:30PM at the Big Piney Library.

Tom Lucas is an authority on bighorn sheep bows, considered to be the most powerful weapon before the gun. The bows, made of flattened bighorn sheep ram horn, were highly prized by native peoples including the Crow, Sheep Eater and the Mountain Shoshone Indians. The horns are softened to allow them to be bent in the reverse the curve of the horn.. The finished bow was strong and extremely powerful. One of the rare ones found still in existence is on exhibit at the Museum of the Mountain Man in Pinedale, and is a prized artifact.

Lucas's interest and passion of ancestral tool making has led him to be documented on PBS in such films as Sheep-Eaters: Life in the Mountains and Archers of the Yellowstone. Tom has mastered replicating Indian artifacts including bighorn sheep bows, war-bonnets, beaded clothing and shoes, horn scoops, knives and arrowheads. He is also an accomplished oil painting artist of over 40 years. His lifestyle as a cowboy, mountain man, hunter, trapper and outdoorsman serves as the ultimate foundation for his art. He currently resides in Dubois, Wyoming.

For more information visit the library's website: www.sublettecountylibrary.org or call 307-367-4114.

---
Local Services:
Abortion Alternatives
Accounting & CPA
Arts & Entertainment
Attorneys & Legal
Automotive
Banks & Financial
Bars
Beauty Salons
Bed & Breakfasts
Boating
Bookkeeping
Builders & Contractors
Building Material
Business Services
Cabins
Cellular
Child Care
Churches
Cleaning Services
Clothing
Commercial Art
Computer Supplies
Consultants
Convenience Stores/Fuel
Convention/Meeting
Dentists
Dining
Dry Cleaning
Events
Fabric & Crafts
Fencing
Fishing
Flooring
Food & Drink
Funeral Homes
Furniture
Gifts/Western
Government
Graphic Design
Grocery & Market
Guest Ranches & Lodges
Handyman Services
Hardware & Feed
Heating
Health Care & Medical
Horseback Adventures
Insurance
Interior Design
Internet/Web/Advertising
Landscaping
Laundry
Liquor Stores
Lodging
Log Homes
Massage Therapy
Modular Homes
Motels
Mountain Biking
Movie Theaters
Museums
Nails
Newspapers
Office Supplies
Oil Field Services
Optometrists
Organizations
Outdoor Equipment
Outfitters & Guides
Packaging & Shipping
Painters
Pet Stores
Pharmacies
Photography
Plumbing
Professional Services
Radio
Real Estate Agencies
Real Estate-FSBO
Remodeling
Retirement
Retreats
RV Camping
Schools
Scrapbooking
Septic Services
Skiing
Snowmobiling
Snow Plowing
Storage and Storage Units
Tanning
Tattoos & Body Art
Tax Preparation Services
Taxidermy
Transportation/Shuttle
Trash Services
Trucking
Veterinarians
Visitor Services