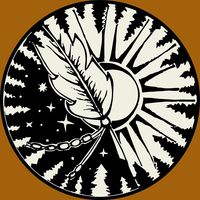 "Day and Night Pine" Cabochon by Bethany Cameron

Celebrate the Cabochons Oct 8 (posted 10/6/15)
In|Site Ex|Site, PFAC and Sublette County Chamber of Commerce invite the public to a Cabochon celebration on Thursday October 8th from 5:00 to 7:00 pm at the Sublette County Chamber of Commerce Courtyard. There will be hot cider, Cabochon-themed snacks and a chance to look over the latest installation. The public will have a chance to catch a unique peek into the process of the creation of these cast iron Cabochons.

---
PTSD Support & Educational Group begins in October (posted 10/5/15)
Help for Veterans with post-traumatic stress syndrome
Veterans are invited to attend an educational and support group to learn how to cope with symptoms of post-traumatic stress syndrome (PTSD) and meet fellow Veterans. The group is facilitated by Mary SimBarcelos, MS, LPC, who works as a mental health therapist at High Country Behavioral Health. Mary has been working with trauma survivors for over 25 years. Ken Murphy, MC, LPC, will be co-facilitating the group and also works as a therapist at High Country Behavioral Health. The workshops will be on Thursdays in October from 4:00PM—5:00PM in the Sublette County Public Health department in Pinedale. For more information, call: 307-367-2111.
---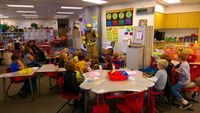 Fire Prevention Week in Big Piney

Fire prevention education (posted 10/5/15)
Sublette County Unified Fire Chief Shad Cooper and firefighter Tim Grazin put on a fire prevention presentation at the Big Piney first grade and third grades on Monday, Oct. 5th for Fire Prevention Week.

---
Sublette Co. Commissioners meeting agenda for Oct. 6, 2015 (posted 10/5/15)
Mary Lankford, Sublette County Clerk
BOARD OF COUNTY COMMISSIONERS
SUBLETTE COUNTY, WYOMING
AGENDA
COMMISSIONERS MEETING ROOM
SUBLETTE COUNTY COURTHOUSE
TUESDAY, OCTOBER 6, 2015

7:00 a.m. Breakfast at the Stockmans
The Commissioners and Agency Representatives

(Tentative Agenda, Subject to Change Up To 9 a.m. the Day of the Meeting)

9:00 a.m. Call to Order

Pledge of Allegiance
Chairman Nelson will call the meeting to order, lead the Pledge of Allegiance, and request approval of the prior meeting minutes
Butch Penton, Road & Bridge Report
This report will include a review of all present maintenance work being performed, project updates, materials and equipment
Richard Thomas, Hoback Ranches I&S District
Improvement District business
Shad Cooper, Fire Vehicle Bid Awards
Vehicle bids will be reviewed and a bid awarded for two Unified Fire pickups
Brianne Brower, Event Center Bid Award
Bids will be reviewed and a bid awarded for the Events Center floor upgrade project

9:30 a.m. Ron Gordon, Waste Management Report
This report will include a review of all landfill, recycling, and Transfer Station activity since the last meeting

10:00 a.m. Sarah Hunt, Domestic Violence Awareness Resolution
October is Domestic Violence Awareness Month

10:30 a.m. Sublette Center, Tax Exemption for Aspen Grove
Due to a recent Supreme Court decision, facilities like Aspen Grove will be required to pay property taxes. A request for an exemption will be discussed.

11:00 a.m. Janet Montgomery, Clerk of District Court, Executive Session, Personnel
This Executive Session is pursuant to W.S. 16-4-405(a)ii

11:15 a.m. Old Business
Approve and sign Wells Fargo parking agreement; Weed & Pest property transfer warranty deed; and extension of MOU with Rural Health Care District for the Sand Draw Ambulance.
Continuation of discussion on legal advertising.
Approve and sign grant and service contracts.
Letter of Support for High Meadow Water District grant application.
Each member will report on his activities since the last meeting

1:00 p.m. Planning & Zoning
The following items were advertised on 9/18/15.
Request for Change of Zoning District Boundary approval, pursuant to Chapter VIII, Section 2 of the Sublette County Zoning and Development Regulations; Robert and Deborah Brackett applicants. The application proposes a change of zoning district boundary for 10 acres of a 40 acre parcel from the current Agricultural zoning to Rural Residential 10 and for 30 acres of the same 40 acre parcel from the current Agricultural zoning to Rural Residential 20. Approval of the requested change of zoning district boundary will result in a subsequent application for Minor Subdivision to create the lot(s) allowed with the change of zoning. The Brackett parcel subject to the application seeking change of zoning district approval is located Section 27, Township 31N, Range 111W; generally described as 165 Muddy Creek County Road 23-190.

Request Minor Subdivision approval, pursuant to Chapter V of the Sublette County Subdivision Resolution, entitled Minor Subdivision; Robert and Linda Schroth applicants. The application for Minor Subdivision proposes the creation of two 10 acre lots within the Rural Residential 10 zoning district from two separate, but adjacent 35 acre lots. The parcels subject to the application for Minor Subdivision are located in Section 12, Township 36N, Range 113W; generally described as Tract 19 Hoback Ranches, Sheet 12; AKA Tracts 2 and 3 on the record of survey of the E/2W/2 and E/2W/2, Tract 19 of the Hoback Ranches Subdivision.

1:30 p.m. Deputy County Attorney Matt Gaffney, Irish Canyon Resolution
This resolution will accept a State of Wyoming Forestry easement for the Irish Canyon Road.

1:45 p.m. Robin Schamber and Glenn Ownings, Extension
Glenn Ownings, new Extension employee will be introduced.

2:00 p.m. Todd Hurd, Forsgren & Associates, Projects Update
The County's Owners Representative will review the two ongoing County construction projects.

2:30 p.m. Curt Covill, County Coroner, Budget Discussion
Coroner Covill will discuss a proposed change for the payment of services for day trips.

3:00 p.m. Eide Bailly, Financial Consultants
Representatives of EideBailly will discuss their upcoming financial review of the Sublette County Rural Health Care District

3:30 p.m. County Board of Equalization
Roxanne Kroeger, Tax Protest
Ms. Kroeger will present a tax protest for consideration
Findings of Facts and Conclusions of Law
McGarvey Appeal
STKM, LLC Appeal
The County Board of Equalization will make a final decision on the two tax appeals.

4:30 p.m. Executive Session
This Executive Session is pursuant to W.S. 16-4-405(a)ii and 16-4-405(a)ix.

Click on this link for a printable version of this agenda.

Related Links:
www.sublettewyo.com Sublette County website

---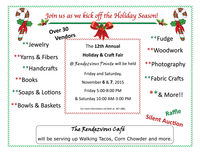 Annual Holiday and Craft Fair Nov. 6 & 7th

Annual Holiday and Craft Fair Nov. 6 & 7th (posted 10/5/15)
Rendezvous Pointe in Pinedale will host their Annual Holiday and Craft Fair November 6 & 7th. There will be over 30 vendors attending. There will also be a raffle and silent auction. There will be walking tacos, corn chowder and more at the Rendezvous Café. The Craft Fair will be on Friday, November 6th from 5-8PM and Saturday, November 7th from 10AM-3PM. For more information please call Beth at 307-367-2881.

---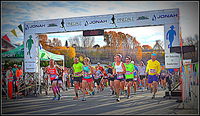 2015 Pinedale Half Marathon starting line. Photo by Terry Allen.

Pinedale Half-Marathon 2015 (posted 10/1/15)
The Pinedale Half Marathon was held on Saturday, Sept. 26th. The event includes the half marathon, a 10K walk/run and a 1 mile race. Click on this link for more photos: Pinedale Half Marathon
---
Pinedale Fire Station Open House Oct. 10 (posted 10/1/15)
Sublette County Unified Fire will host an Open House at the Pinedale Fire Station on Saturday, October 10th from 11AM to 2PM. There will be fire truck rides for the kids and they will serve hamburgers and hotdogs.

---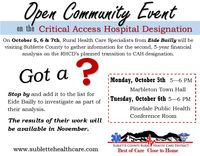 CAH public meetings

Critical Access Hospital public meetings October 5 & 6 (posted 10/1/15)
The Sublette County Rural Health Care District is hosting two public meetings in October to provide updates on their planned transition to Critical Access Hospital (CAH) designation. Rural health care specialists from Eide Bailly will be present to gather input for the second, 5-year financial analysis of the proposal. The public is invited to stop by and give their input. The first meeting will be on Monday, October 5th at the Marbleton Town Hall from 5-6PM. There will be another meeting in Pinedale on Tuesday, October 6th from 5-6PM in the Pinedale Public Health Conference Room. The results of their work will be available in November.

Related Links:
www.sublettehealthcare.com

---
Vocalists wanted for Community Choir (posted 10/1/15)
The Community Choir is about to kick off their 2015 season.
Rehearsals will start on Sunday, Oct. 4th at 5:30-7:30 p.m. at Our Lady of Peace Catholic Church, 112 South Sublette Avenue in Pinedale. This is a non-audition choir made up of community members high school age through adult. If you love to sing and make a joyful noise, please come join us. Community Choir rehearsals will be every Sunday, from 5:30-7:30PM at Our Lady of Peace Catholic Church until the December performance. If you are new to the Pinedale area and would like more information, contact Sue at (307)231-2555. Performance dates are Saturday, December 12th at the Sublette Center and Sunday, December 13th at the Catholic Church in Pinedale.

---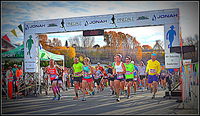 2015 Pinedale Half Marathon. Photo by Terry Allen.

Pinedale Half-Marathon 2015 (posted 9/30/15)
Terry Allen
From as near as the Sublette Center Retirement Home to as far away as Amsterdam, Netherlands, runners, walkers and rollers tensed at the starting line waiting for the crack of the pistol to release them onto the race course.

They charged uphill through autumn's golden leaves that drifted onto the trail. The foliage soon gave way to the faded green sage brush that lines Fremont Lake.

There on the flat south end of the lake, the sun beat down on eventual men's half marathon winner Jerrid Washburn of Green River. "This is by far our favorite race. If you are going to do a race, you should come up and do this one," he said. "That's why we keep coming back and making it a family event."

Only one minute behind ran a determined Kris Holmes of Daniel who finished with a silver medal.

Abigail Bever of Rock Springs celebrated her 25th birthday as the winner of the women's half marathon. "My family came out to run with me. I could not have asked for a better gift," she said. What did it take for Abigail to become a winning runner? "When I used to run in college, I always felt like I had to be serious at every race," she said. "Since then, I have chosen to approach races with the mindset of enjoying the atmosphere and fellow competitors. I have done my best running since I took this approach and I encourage other runners to do the same."

The several watering stations lining the course were staffed with volunteers dressed like the Pink Ladies in a Grease movie. Sweating runners and pink staff coordinated their movements like relay runners to hand off the dixie cups without dropping them.

Local running legend, Ken Konicek felt challenged by the half marathon. "It was hard," he said. "I didn't punch it too hard today. I'm doing the 10K also and I'm getting ready for the New York marathon in three weeks."

Surprise last minute entrants, Tessa and Mark Eerenberg of Amsterdam, Netherlands just happened to see the race posted online the day before the race. They looked at last year's results and thought something was funny about a 10K with times of 45 minutes. "We figured it out in the first 5K, it was all uphill," said Tessa. "This is a short race for us, but with the hills and altitude, we are happy it wasn't longer."

Denise Tegler felt she went a little slower than she was hoping for, but still finished the women's half marathon with a third place win. "I'm glad I did it," she said. "My result is encouraging, and I really love the camaraderie between runners. I love this community."

Ava Davis, age 97 of Big Piney, was the oldest entrant we found and she rolled her wheel chair in the one mile race. "I didn't do anything special to prepare for the race or to live this long," she said. "I eat bacon and everything."

Little three-month old Sakara Verska might have been the youngest entrant and felt it was so easy she slept her way through most of the race.

Then there is Jim Diego who is on a personal quest to run 50 half marathons in 50 states in one year. So far he has run in thirty-seven of them. He also sang the national anthem to open the race. Jim was observed along the course...partying and waving and shaking hands, so it is no surprise he finished sixty-three out of eighty-nine.

Finally, a few words from our race organizer, Nora Farrand: "For the past 12 years, the Pinedale Half Marathon has provided a fun and healthy opportunity for residents and visitors alike to enjoy what is often one of the last nice days of the summer (the race takes place each year on the fourth Saturday of September). Participants choose to run or walk any of the three courses – a half marathon (13.1 miles), 10K (6.2 miles), or 1 mile. The event attracts serious runners as well as families looking for some exercise and senior citizens glad to be taking part in a truly community event and concludes with a free community BBQ.

The PHM Committee relies on a cadre of volunteers and local sponsors and contributors to put on such a top notch event. Jonah Energy (PHM's premier sponsor), the Pinedale Lions Club, Sue Eversull, Tim Ruland of PFAC, Mindi Crabb (our announcer), the local banks (WFB, 1st Bank, BOSC) and the Baymont Inn are just a few of the sponsors and contributors to our event. The list of 50 plus volunteers who make up the PHM team, do everything from setting up the course, and then breaking down the course, stuffing bags, manning registration and bag pickup, bicycle patrolling the course, passing out water, course guidance, awarding medals at the finish line, and cleaning up at the end of the event, is too long to list all their names individually, but without their willingness to come out and help year after year, there would be no Pinedale Half Marathon event."

Results can be found at: http://www.pinedalehalfmarathon.com/registration.html

Click on this link for more pictures: Pinedale Half Marathon
____________________________________________

For story corrections or to buy prints, please contact Terry at 307-231-5355 or txpartisan@gmail.com

---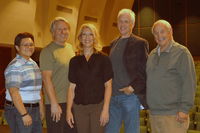 From left to right: Ivan Cano-Stage Manager, Curt Haws-Curly, Kim Buchanan-Laurey, Mark Hennessy-Director, George Welch-Musical Director & Conductor. Photo courtesy Pinedale Fine Arts Council.

Cast announced for Oklahoma! (posted 9/30/15)
Pinedale Fine Arts Council
The Pinedale Community Theatre Board is excited to announce that Mark Hennesey, director for the musical Oklahoma! Has selected the cast for the November 5, 6 and 7 production.

The cast is composed of Sublette County residents and ranges in age from 12 to 65. Individuals who will participate are
Curt Haws, Curly
Kim Buchanan, Laurey
Lorie Loftus, Aunt Eller
Shawn Buchanan, Jud Fry
Gannett Loftus, Will Parker
Taylor Ruckman, Ado Annie
Adam Stucki, Ali Hakim
Kelly Tegeler, Cord Elam
Neil Stroklund, Ike Skidmore
Ritamari Martin, Grandma Carnes
Hayley Ryckman, Gertie
Greg Allen, Andrew
Matt Daniels, Joe
Katie Smith, Ellen
Lauren McKeever, Virginia
Rebecca Stroklund, Vivian
Kendra Cross, Kate
Wes Hathaway, Mike
Ian Douglas, Slim
Isaac Loftus, Fred
Rachel Weksler, townswoman
Michelle Helm, townswomen
Cassidy Bateman, townsgirl
Bethany Essington, townsgirl
Preslie Ann Simkins, townsgirl

The PCT Board is thrilled that the production will be accompanied by a live orchestra conducted by George Welsh and comprised of
Pianist, Marianne Mrak
Strings, Chandra Stough and Erica Johannes
Flute, Sue Holz
Trumpets, Justin Smith and Craig Sheppard
French horn, Ann Stephens
Tuba, Luke Myszewski
Percussion, Ryan Ptasnik

The professional staff who will lead the production are Mark Hennessay, actor/director; George Welch,musical director/conductor; Jason Celaya, choreographer; and Ivan Dario Cano, state manager supported by the Pinedale Community Theatre Board members, Valerie Lee, Jo Crandall, Madeleine Murdock, Sue Holz, Kari DeWitt, Candy Herda Scott and Curt Haws

Oklahoma! is the first musical written by Rodgers and Hammerstein II. The show won a Pulitzer Prize in 1944 and features dancing, lariat-twirling, and many familiar songs including Oklahoma, Oh What a Beautiful Morning, Surrey With The Fringe on Top, Kansas City and People Will Say We're in Love which were written for this show and have become all-time favorites.

Tickets will be available at the Cowboy Shop and Office Outlet in Pinedale, Office Outlet in Big Piney and on line at the Pinedale Fine Arts Council website starting Oct. 7. Adults are $15 and students $7.
---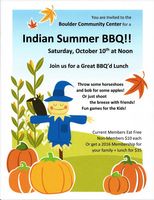 BBQ Oct. 10th at the Boulder Community Center

Boulder Community Center Indian Summer BBQ Oct. 10th (posted 9/29/15)
The Boulder Community Center (BCC) will host an Indian Summer BBQ on Saturday, October 10th. A BBQ lunch will be served at noon. Entertainment will be horseshoes, corn-hole, 3-legged race and bobbing for apples for the kids. Current members of the BCC get lunch for free as a thank you for their continued support. If you're not currently a BCC member, lunch with a 2016 membership is $35 for a family or $10 a meal. The Boulder Community Center is easy to find! Turn onto Hwy 353 at the Boulder Store, take the 2nd right (Jackson St) and look for the big white building with the blue roof.

---
Bridger-Teton plans prescribed burn in Wyoming Range (posted 9/29/15)
North and South Cottonwood Creek drainages
Bridger-Teton National Forest
BIG PINEY – The Bridger-Teton National Forest plans to conduct a prescribed burn in the Cottonwood area of the Big Piney Ranger District beginning late September or early to mid-October.

The Cottonwood II prescribed burn is located approximately 20-miles west of Daniel, Wyoming in the North and South Cottonwood drainages and on Bare Pass near Red Castles. The project consists of several units totaling 1,093 acres. Fire managers plan to begin ignitions on unit 4 (118 acres) which is located off the South Cottonwood Road by late September to mid-October. Actual ignition will be dependent on meeting strict parameters for weather and fire behavior conditions.

Forest users may experience temporary smoky conditions in the vicinity of the project area and hazards associated with fire will be present inside and adjacent to the burn unit.

Objectives of the burn include; increase aspen stand regeneration, reduce conifer encroachment, increase forage conditions for wildlife habitat, and reduce hazardous fuels build-up while restoring fire-adaptive ecosystems.

This vegetation treatment is an interagency cooperative effort with Bureau of Land Management, Wyoming Game & Fish Department, Sublette County Unified Fire, and Teton Interagency Fire.

For more information about this project, contact the Big Piney Ranger District at 307-276-3375 or visit www.tetonfires.com.

---
Flu shots available (posted 9/24/15)
Flu shots will be available by Sublette County Public Health Nursing on the following dates. For more information call the Sublette County Public Health Office, 307-367-2157.

September 30, 2015: 10AM-12PM and 1-6PM at the Public Health Office

October 6, 2015: 11AM -2PM at Rendezvous Pointe in Pinedale

October 7, 2015: 12 Noon – 6PM at the Marbleton Senior Center

October 13, 2015: 10AM – 1PM at the Marbleton Senior Center

---
Health talks in October (posted 9/21/15)
The Sublette County Rural Health Care District is offering health care programs in October.

Wednesday, October 7th - "Get Your Pink On!" Breast Cancer Fun Walk
Pinedale Medical Clinic AND Marbleton-Big Piney Clinic
12:00 PM – 1:00 PM

Thursday, October 8th - Joint Pain: Causes & Treatments
Talk with Q&A Session with Dr. Goetz, DO – SJMC
Southwest Sublette Pioneers Senior Center 10:00 AM – 11:00 AM
Rendezvous Pointe Senior Center 1:00 PM – 2:00 PM
*Lunch provided at Rendezvous Pointe from 11:30 AM – 1:00 PM – (RSVP to Beth at 307-367-2881 by October 6th)

Tuesday, October 13th - The Dr Is In
Open health chat session with Dr. Burnett
10:30 AM – 11:30 AM
Southwest Sublette County Pioneers Senior Center

Monday, October 19th - Medical Mojo
Open health chat session with a provider from the Pinedale Medical Clinic
11:00 AM – 12:00 PM
Rendezvous Pointe Senior Center

Friday, October 30th - Quilt Raffle Drawing
Tickets on sale at either clinic 1 for $5 or 3 for $10
Proceeds will be used to purchase mammograms for patients with a financial need
*Quilt was made by Patricia Berndt, Radiology Tech at the Marbleton-Big Piney Clinic, and will be taking turns being on display at both clinics throughout the month

---
Local Services:
Abortion Alternatives
Accounting & CPA
Arts & Entertainment
Attorneys & Legal
Automotive
Banks & Financial
Bars
Beauty Salons
Bed & Breakfasts
Boating
Bookkeeping
Builders & Contractors
Building Material
Business Services
Cabins
Cellular
Child Care
Churches
Cleaning Services
Clothing
Commercial Art
Computer Supplies
Consultants
Convenience Stores/Fuel
Convention/Meeting
Dentists
Dining
Dry Cleaning
Events
Fabric & Crafts
Fencing
Fishing
Flooring
Food & Drink
Funeral Homes
Furniture
Gifts/Western
Government
Graphic Design
Grocery & Market
Guest Ranches & Lodges
Handyman Services
Hardware & Feed
Heating
Health Care & Medical
Horseback Adventures
Insurance
Interior Design
Internet/Web/Advertising
Landscaping
Laundry
Liquor Stores
Lodging
Log Homes
Massage Therapy
Modular Homes
Motels
Mountain Biking
Movie Theaters
Museums
Nails
Newspapers
Office Supplies
Oil Field Services
Optometrists
Organizations
Outdoor Equipment
Outfitters & Guides
Packaging & Shipping
Painters
Pet Stores
Pharmacies
Photography
Plumbing
Professional Services
Radio
Real Estate Agencies
Real Estate-FSBO
Remodeling
Retirement
Retreats
RV Camping
Schools
Scrapbooking
Septic Services
Skiing
Snowmobiling
Snow Plowing
Storage and Storage Units
Tanning
Tattoos & Body Art
Tax Preparation Services
Taxidermy
Transportation/Shuttle
Trash Services
Trucking
Veterinarians
Visitor Services