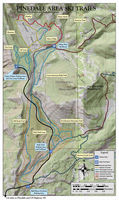 Nordic Ski Trail map courtesy Sublette County Recreation Board.

Nordic ski trail grooming report – December 20, 2014 (posted 12/20/14)
Report courtesy of Mike Looney, Groomer
Saturday, December 20, 9:00AM report: 1-2" of light fluffy snow in the past couple of days. 22 degrees, lightly snowing. Overcast, but can see the sun poking through. All trails above groomed this morning except for Heart Attack. CCC trails don't have enough snow yet for grooming – we'll see what this weekend's storm brings. This Nordic Ski Trail grooming report is courtesy of the Sublette County Recreation Board. For more information, call or text Mike Looney, 307-360-8488.

Related Links:
X-C Ski Trail Map - (356K PDF)
Road and Weather links
www.visitpinedale.org Pinedale tourism website (lodging, dining, area information)
www.whitepineski.com White Pine Resort
www.greatoutdoorshop.com The Great Outdoor Shop

---
Cultural Christmas party in Pinedale Dec. 20th (posted 12/19/14)
Everyone is invited to a cultural Christmas party taking place in the Lovatt Room in the Sublette County Library in Pinedale starting at 6:30PM on Saturday, December 20th. Bring your favorite dish and a holiday family tradition to share. Music, dancing and food. For more information call Karina, 307-367-8400.
---
Sublette County board position openings (posted 12/19/14)
Volunteer boards help advise the Commissioners
Sublette County has openings on several county boards. Anyone interested in volunteering should write a letter of application to the Board in care of Mary Lankford, County Clerk, PO Box 250, Pinedale, WY 82941, or email mary.lankford@sublettewyo.com or fax to 307-367-6396, or apply online at www.sublettewyo.com (click on Boards > Online Services (left-side menu) > Online forms > Board Application) by 5:00PM on Monday, January 5, 2015. The County Commissioners will make the board appointments on Tuesday, January 6, 2015.

Board openings:
Fair Board one 5-year term
Recreation Board two 5-year terms
Joint Big Piney-Marbleton Volunteer Fire Department one 3-year term
Certified Local Government one 3-year term
Ag. Center Committee one 3-year term

---
Giving this holiday season (posted 12/19/14)
Pinedale Online!
As another year winds down, the Thanksgiving and religious holidays bring the season of giving, getting ready to start a new year a time for review and reflection, and the end of the tax year to bring finances in order. If you find yourself in a position of having fulfilled all your needs and those of your family and still feeling a desire to do more, here are some suggestions for things you can do to spread the spirit of generosity this season to others who might still be struggling and in need of some help.

Make a donation to a worthy cause There are many organizations whose mission it is to help people who are in need or are doing good work for a good cause. There are many unsung heroes who are quietly and selflessly doing good work to help others without asking for personal recognition or glory for themselves. Consider finding an organization or cause in your local community and making a financial donation to help them continue to carry on their good work. Any donation, small or large, would be greatly appreciated to help them do the work they do. Donations to non-profits are tax deductible, if that is a factor for your end-of-year financial considerations. Not all organizations or individuals doing charitable work have that non-profit tax status, but they could still use any monetary donations to carry on their work for great causes. Even young children can be taught to donate and start learning the value of giving a dime, 25 cents or a dollar to a cause. Your spare change dropped into a donation box sitting on the counter can really add up to help that organization that is trying to fundraise and supplement their coffers helping people or animals in need.

Consider volunteering your time Do you have some free time and are looking for something interesting and fun to do or as a way to meet some new people who share the same interests you do? Volunteerism to local organizations has been on the decline in general for the past years across the country. If you have a desire to give back to the community in some way, find a worthy local organization that could use your help or skill set and offer them some of your time or expertise. If you like animals, help out at a local animal shelter or volunteer to be a host family for an animall waiting for adoption. If you have a passion for history, consider volunteering at your local museum. If you like kids, offer to help at a local school or to mentor with a local Big Brothers, Big Sisters type program. If you are community minded, consider helping at a local recycling center, food basket or shelter. Help a scout troop or church youth group keep going. Teach kids skills many don't get at home or in school anymore, like how to cook, sew, tie a knot, learn self-defense or how to shoot responsibly, how to use shop tools to build something, how to garden and grow things, how to take care of animals…

Teach a kid the value of community service Teaching kids while they are young to become community-minded and giving of their time is a gift that will help them learn to think about others and not just themselves as they move through their life path. This is a great place where grandparents can help step in where busy parents don't have time (or perhaps haven't learned this lesson themselves) to think about passing the spirit of selfless giving on to the next generation. If you've gotten all the golf games in you can stand for awhile and retirement playtime is getting a bit stale, consider finding ways to spend time with local area youth to help them learn to do meaningful things that are community-service oriented. Help a scout troop or church youth group find and organize a worthy project to do; become involved as a coach or helper with local youth sports programs to do things to fundraise for their cause; organizing a group to do clean-up in your community and then maintain it to keep it clean over time; help a school group that is trying to fundraise for a kid trip or activity find a cause to do that also helps the community. If you see an individual kid that is setting themselves apart in some meaningful way with leadership skills, find a way to encourage them to build their self-confidence and skills so they learn the value of becoming a giving person.

Going above and beyond If you have bigger ambitions, time and money, and are looking for a grand worthy cause beyond local needs, there are many people who are truly struggling in farther away places. If you have valuable skills or expertise, consider giving of your time or talents to an organization that works with third-world countries or disadvantaged communities to help them overcome their problems and issues. There are places where people still live in dirty slums, don't have clean water to drink, don't have electricity, or cannot raise enough food to feed the people living in their area. If you can help with your time, talents or money, these people are really in need and could use your help. There are many organizations and church outreach programs that are devoted to helping these people make their areas healthier and better places to live and would love to help match your skills to their needs.

Giving the gift of Love If you've done the million presents under the Christmas tree experience and realize you still feel somewhat unfulfilled and see that the kids don't really appreciate what they are getting, consider a change of mind and heart about the meaning of the season. If the latest, greatest new "thing" from Santa is a short-lived delight and no longer brings meaningful joy to your life, consider reconnecting to more simpler and authentic things in life. What's the greatest thing you can give for Christmas? Love. The spirit of Christmas doesn't come from the store in boxes and bags, it comes from the heart. How about turning off the electronics this holiday season and spending real time together with the family? Make Christmas cookies together, go out caroling at a senior center, spend family time doing something together you all enjoy. For some people and families this might take some real patience and tolerance to make work in a meaningful way. It might be hard to tear the kids or yourself away from Facebook, Twitter or email, but see if you can survive a day without the electronic fix and being constantly connected to the boob tube television or cell phone beeps and chirps. Can you survive a day of self-entertainment looking at your family members and really listening to what they have to say and finding out about what they are doing and are involved in? Consider a tentative step to reconciling or reconnecting with family or friends that perhaps some past rift may have caused distance. People change and grow over time. If you have room in your heart and mind to replace anger with love, the greatest gift you might give to someone this holiday season might be the gift of getting to see or hear from you again and having you back in a loved one's life.

---
White Pine Ski Area offers group ski & snowboard lessons over Christmas break (posted 12/18/14)
White Pine Ski Area is offering beginner and intermediate group ski lessons over the holidays. A beginner skier or snowboarder package is being offered Monday & Tuesday, December 22 & 23. A package for intermediate skier and snowboarders is being offered Monday and Tuesday, December 29 & 30th. Each package is $120 per student (20% discount) and includes lesson, lift ticket and lunch. Must be 8 years old or older. $75 if student has a White Pine season pass. Spots are limited, so call soon to reserve your place, 307-367-6606, or register by email at skiinfo@whitepineski.com.

White Pine is located approximately 10 miles from Pinedale in the Bridger-Teton National Forest. They offer downhill skiing and snowboarding, and lodge with grill, bar and meeting space, and condo lodging within walking distance of the lodge, lifts, and groomed Nordic ski trails. Lodging and dining also available in Pinedale.

Contact:
White Pine Ski Area and Resort
PO Box 190
Pinedale, WY 82941
307-367-6606
www.whitepineski.com

Related Links:
www.visitpinedale.org Pinedale tourism website

---
5 County Commissioners question passes by 69 votes (posted 12/17/14)
On Wednesday, Dec. 17th, Sublette County held a special election asking residents to vote for the third time on the question of whether or not to go from 3 to 5 County Commissioners. With a 47.51% voter turn-out, the question passed by 69 votes. The two new commissioners will be elected in the next general election. Click here for a printout of the unofficial results (PDF)

---



Santa and Mrs. Claus visited kids at Obo's in Pinedale on Monday.

Santa visits Pinedale (posted 12/16/14)
Santa has been making appearances in Pinedale recently to chat with youngsters and find out if they have been good little boys and girls and if there is anything special they might like for Christmas. In addition to receiving, he asks if they have been giving also, like helping their parents by cleaning their rooms, and being nice to their brothers and sisters, and being helpful around the house? Mrs. Claus joined Santa at a stop at Obo's in Pinedale on Monday (Dec. 15th).

Click on this link for more pictures: Santa visits Pinedale (7 photos)
---
'You left a note on my car' prank phone call (posted 12/16/14)
Pinedale Online!
There have been reports recently of people in the area getting phone calls from someone who says something to the effect of 'you left a note on my car saying you accidentally hit and damaged it and I'm just calling to follow up and get the name of your insurance company.' Be aware that this is a prank phone call going around. This may be a recording or a real person on the line. It is not illegal to make prank phone calls, but they can be very annoying. If you get one of these on your land line or cell phone, just hang up. If you can, block the phone number on your phone or ID the phone number in your contacts as a scam number so if they call again you'll see the Caller ID saying it is a prank call so you won't answer it again.

---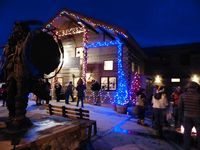 The Sublette County Chamber of Commerce hosted their annual Mountain Man Christmas on Saturday, Dec. 13th with an Open House, tree lighting, night-time lighted float parade, and late night shopping downtown.

Mountain Man Christmas in Pinedale (posted 12/15/14)
Dawn Ballou, Pinedale Online!
The Sublette County Chamber of Commerce hosted their annual Mountain Man Christmas in Pinedale on Saturday, December 13th. The Chamber had an open house at the Sublette County Visitor Center in the evening with refreshments and tastings for wines from Jackson Hole Winery and spirits from Wyoming Whiskey. Next was the official tree lighting of a huge tree on the Sublette County Courthouse lawn, the honors of which fell to Commissioner Jim Latta this year. After the sun set, people lined both sides of the street for an after-dark holiday parade down Pine Street with beautiful lighted floats.

The relatively warm temperatures made it pretty comfortable and many families turned out for the fun with their kids to enjoy the holiday fun. Many stores on main street stayed open after hours for late-night holiday shopping and offering specials for the day. The Sublette County Library had fun craft events during the day and evening for kids.

Click on this link for more pictures: Mountain Man Christmas in Pinedale (36 photos)

---
Pinedale's Christmas Bird Count Dec. 28th (posted 12/15/14)
Betty Boehm
The annual Christmas Bird Count is taking place throughout the country. Every year at the holiday season, large and small groups of birders head out into the cold weather to count birds. This is the largest citizen-based study in the world and the data that is compiled annually provides Audubon and other organizations data on population trends of birds. This is the 115th year of counting!

Here in Pinedale our count day will be Sunday, December 28. Every participant is assigned an area that is within a 7.5 mile radius of our public library. The object is to count every bird that can be identified within this area. At the end of the day all of the lists are compiled and added together. The information is then sent to the national data base. Pinedale has had a count circle since 2004 with an average of 40 species and approximately 1400 birds annually. We welcome all participants, beginning and serious birders who would like to venture out or even watch their bird feeder for the day.

A chili pot-luck dinner will take place at the end of the day in the boardroom of the Pinedale Library starting at 5:30 PM. After dinner we will have a slide show titled "Birds, Simple Moments of Beauty" updated with new photos.

If you would like to join us, give Betty Boehm a call at 307-367-7018 or send an email to wildcolorpobox@hotmail.com.
---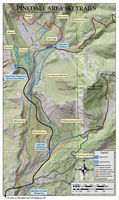 Nordic Ski Trail map courtesy Sublette County Recreation Board.

Nordic ski trail grooming report – December 15, 2014 (posted 12/15/14)
Report courtesy of Mike Looney, Groomer
Monday, December 15, 9:30AM report: All trails above groomed this morning. 1-2 inches new snow in last 24 hours. 18 degrees in Kelly Park now, was -5 degrees in Surveyor Park earlier this morning. The snow above is cold and slow. Kelly Park or Old Road Trail should be better skiing this morning. Use caution on Heart Attack trail and watch for obstacles – some willows and aspens sticking up in trail due to thin snow coverage. Road plowed. Sunny now. Thank you to those who are picking up after their pets – it makes for nice clean trails. This Nordic Ski Trail grooming report is courtesy of the Sublette County Recreation Board. For more information, call or text Mike Looney, 307-360-8488.

Related Links:
X-C Ski Trail Map - (356K PDF)
Road and Weather links
www.visitpinedale.org Pinedale tourism website (lodging, dining, area information)
www.whitepineski.com White Pine Resort
www.greatoutdoorshop.com The Great Outdoor Shop
---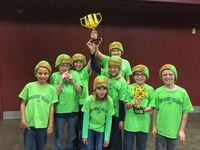 Pinedale's First Lego League Robotics team, the Iron Bridge Builders, took 1st Place in the First Lego League Wyoming State Championships in Casper, Wyoming December 4th & 5th. The team is composed of nine students ranging from 3rd to 6th grade in Pinedale Elementary and Middle School. Photo courtesy Sublette County 4-H.

Iron Bridge Builders Lego robotics team places 1st in First Lego League Wyoming State championship (posted 12/15/14)
Dawn Ballou, Pinedale Online!
Pinedale's First Lego League Robotics team, the Iron Bridge Builders, took 1st Place in the First Lego League Wyoming State Championships in Casper, Wyoming December 4th & 5th. The team is composed of nine students from Pinedale Elementary and Middle School. There were 64 teams from across the state of Wyoming who competed in the Championships competition. The team also won the most prestigious award: the Champions award which recognizes a team that embodies the FLL experience, by fully embracing First Lego League (FLL) Core Values while achieving excellence and innovation in both the Robot Game and Project.

The Iron Bridge Builders team includes Pinedale Elementary students: Janae Arne, Holden Saxton, Brooke Noble, Thayne Daniels, Garrett Swain, Zane McClain, Luke Gray and Jackson Harber, and Pinedale Middle School student John Covill.

All teams were judged on their research project presentation which surrounded the theme of "World Class Education." They were judged on teamwork and on their robot design. The final portion of the contest involved three rounds of teams working to solve specific missions with their programmable robot within a 2-minute, 30-second window.

The Iron Bridge Builders team did a research project learning about bridges and stability and strength in a flood zone. A video of their project can be seen here: https://www.youtube.com/watch?v=8431vpxb9mo.

The Iron Bridge Builders team has been invited to participate in the North American Tournament of Champions in California and the World Open in Barcelona, Spain. While the expense of the Spain tournament is out of the question for the team, they are planning to fundraise for the tournament of champions in California next year.

The Iron Bridge Builders team was sponsored by Sublette BOCES and Sublette County 4-H. Volunteer coaches were Sandra McLoughlin and Brian Gray. The Lego robotics program is led by Robin Schamber as part of an after-school 4-H and youth development program through the University of Wyoming/Sublette County Extension office. Robotics is funded by grants to the Sublette County 4-H program from Shell and Sublette BOCES in addition to support from Sublette County. The trip to Casper was funded by both of those grants. The robotics program was started in Sublette County 4-H in 2008 thanks to initial grants from EnCana and Shell that enabled the purchase of robotics equipment and supplies.

The Pinedale Middle School team, Robo Nerds also competed in the competition and placed 12th of 64 in robot performance. Students in this team are Liam and Ceilie Falon, Jacob and Makenzie Johnson, Timmy Hosler and Grant Fornstrom. This team researched and presented on how to teach robotics. Their presentation can be viewed online here: https://www.youtube.com/watch?v=MnCB6556kMs.

FLL is a robotics program for 9 to 14 year olds which is designed to get children excited about science and technology and teach them employment and life skills. Teams are comprised of up to ten children with at least one adult coach. They can also be associated with a school, pre-existing club or organization, homeschooled, or just be a group of friends who wish to do the challenge for fun.

Click on this link for more pictures: Iron Bridge Builders Lego robotics team places 1st in First Lego League Wyoming State championship (18 photos)

Related Links:
www.firstlegoleague.org First Lego League
Sublette County Extension Facebook page
Sublette County Extension Office website

---
Daniel Community Center Christmas Party Dec. 21 (posted 12/14/14)
The Daniel Community Center will hold their annual Christmas Party on Sunday, December 21st. Dinner starts at 5 pm. Santa at 6 pm. Please bring a salad, vegetable or dessert. Parents are encouraged to bring a small gift for Santa to deliver to their child. The Daniel Community Center is in the historic Daniel Schoolhouse, 18 Schoolhouse Lane. For more information, call 307-859-8606.

---
Wyoming Legislature update (posted 12/14/14)
Albert Sommers, House District #20 Representative
December 11, 2014

Hello Sublette County,

I attended the Joint Education Committee (JEC) meeting in Jackson on December 10th and 11th. On the 10th, we spent all day discussing the governance structure for K12 education in Wyoming. The focus of the discussion was whether Wyoming should retain an elected Superintendent of Public Instruction or move to an appointed director of education. The Co-chairs of the education committee and the Management Council of the Legislature hired an out-of-state consultant to provide us with information regarding Wyoming education, with a survey of stake holders, and with options for a path forward.

I did not agree with some of the conclusions of this study, especially where it portrayed K12 education in Wyoming as failing the state's children. The consultant's survey suggested that Wyoming residents were ready to eliminate the elected Superintendent position. This was not a scientific poll of the electorate. The Casper Star-Tribune did conduct such a poll in October, which revealed that 68% of Wyoming voters do not support eliminating the elected position of Superintendent. However, many good discussions about important issues in Wyoming education arose through the course of the consultant's presentation.

In the end, JEC in a narrow vote (7-5) chose to bring forward a resolution to bring a constitutional amendment to the voters, eliminating the elected Superintendent position. I voted against this resolution for three reasons. One, the Superintendent serves on some very important statewide boards, including the State Lands and Investment Board, and without that participation, education would not have a voice in those decisions. Second, I believe the public is tired of this issue. Finally, this issue has split the Legislature for two years, and we need to leave this issue alone and let hard feelings heal.

I proposed an alternative: to create a task force or an educational council which would bring all the factions of K12 education together to help solve some of the difficult issues surrounding education in Wyoming, including how to make the governance of K12 education more seamless. These "silos" of educational governance in Wyoming have become territorial. Communication and cooperation must improve to move education forward in Wyoming. We do not need to radically change our governance structure, but just find good solutions which will smooth the rough edges out. Local districts need to be a major player in this project. My motion failed by a slim vote, but the idea has wide appeal, and I will continue to pursue it. We need to define a vision for education in Wyoming and more clearly define the responsibilities of the silos of education, but we must do so in a collaborative manner.

I do not believe that the resolution to bring a constitutional amendment to voters, to eliminate the elected superintendent, will pass the full Legislature. A constitutional amendment is the right vehicle for radical change, but I do not believe the time is now, nor do I believe it is needed or desired by the electorate.

On the 11th, we heard a very positive report about the grant program for early childhood education, which was approved last session. This grant program is designed to aid, not supplant, local efforts in early childhood education, and several communities applied for the grants.

We heard a very good report on school safety, and out of that report three bills were generated for consideration by the Legislature. The first bill creates a tip hotline program, which will be nearly identical to Colorado's Safe2Tell program. This is not just a tip hotline, but a program designed to prevent tragedies and help troubled children, and it has been very successful in Colorado. The second bill would create a grant program, where the State of Wyoming would provide 1/3 the cost of a school resource officer (SRO) for districts which do currently have one. The third bill would provide districts funding to send teachers to Wyoming's law enforcement academy, to be trained as SROs. Providing districts with SROs was the number one recommendation of the Governor's Task Force on School Safety, and this conversation will continue through the recalibration of the school funding model this next summer.

Bills were also passed on distance education, excess mill levy rebate, and a reciprocity agreement with the Western Interstate Commission for Higher Education. For more information contact me at albert@albertsommers.com
---
Local Services:
Abortion Alternatives
Accounting & CPA
Arts & Entertainment
Attorneys & Legal
Automotive
Banks & Financial
Bars
Beauty Salons
Bed & Breakfasts
Boating
Bookkeeping
Builders & Contractors
Building Material
Business Services
Cabins
Cellular
Child Care
Churches
Cleaning Services
Clothing
Commercial Art
Computer Supplies
Consultants
Convenience Stores/Fuel
Convention/Meeting
Dentists
Dining
Dry Cleaning
Events
Fabric & Crafts
Fencing
Fishing
Flooring
Food & Drink
Funeral Homes
Furniture
Gifts/Western
Government
Graphic Design
Grocery & Market
Guest Ranches & Lodges
Handyman Services
Hardware & Feed
Heating
Health Care & Medical
Horseback Adventures
Insurance
Interior Design
Internet/Web/Advertising
Landscaping
Laundry
Liquor Stores
Lodging
Log Homes
Massage Therapy
Modular Homes
Motels
Mountain Biking
Movie Theaters
Museums
Nails
Newspapers
Office Supplies
Oil Field Services
Optometrists
Organizations
Outdoor Equipment
Outfitters & Guides
Packaging & Shipping
Painters
Pet Stores
Pharmacies
Photography
Plumbing
Professional Services
Radio
Real Estate Agencies
Real Estate-FSBO
Remodeling
Retirement
Retreats
RV Camping
Schools
Scrapbooking
Septic Services
Skiing
Snowmobiling
Snow Plowing
Storage and Storage Units
Tanning
Tattoos & Body Art
Tax Preparation Services
Taxidermy
Transportation/Shuttle
Trash Services
Trucking
Veterinarians
Visitor Services