A Christmas Celebration through Scripture and Song Dec. 11 (posted 12/5/16)
Free concert by the Community Choir
The Community Choir is ready once again to present a free concert to kick off the 2016 Christmas Season. This year's host church is Pinedale Community United Church of Christ located at 113 S. Maybell Avenue, Pinedale. A start time of 3:00 p.m. Sunday, Dec. 11th will start with a joyous song sure to put a smile on your face. Other pieces will include classical, traditional, and contemporary selections.

We are encouraged by our director, Candy Herda Scott who is in her 5th year of directing the Community Choir. Coralee Petersen has been the rehearsal accompanist, however, this year we will hear her singing while Julie Huntley accompanies the choir for the performance. We will also have guests violinist, Erica Johannes and percussionist, Katie Smith. A reception will follow the performance.

We are now a 501(c)3 and are able to give receipts for tax purposes for anyone wishing to support local music. We purchase 3-4 new arrangements each year and any help with these costs are greatly appreciated. Contact Sue at 307-231-2555 or susanbs.sbs@gmail.com for more information.

---
Sublette County Commissioners meeting agenda – December 6, 2016 (posted 12/5/16)
Mary Lankford, Sublette County Clerk
BOARD OF COUNTY COMMISSIONERS
SUBLETTE COUNTY, WYOMING
AGENDA
COMMISSIONERS MEETING ROOM
SUBLETTE COUNTY COURTHOUSE, PINEDALE, WYOMING
TUESDAY, DECEMBER 6, 2016

7:00 a.m. Breakfast Has Been Cancelled Until Further Notice

(Tentative Agenda, Subject to Change Up To 9 a.m. the Day of the Meeting)

9:00 a.m. Call to Order
Pledge of Allegiance
• Chairman Nelson will call the meeting to order, lead the Pledge of Allegiance, and request approval of the prior meeting minutes.
Butch Penton, Road & Bridge Report
• This report will include a review of all present maintenance work being performed, project updates, materials and equipment.

9:30 a.m. Ron Gordon, Waste Management
• This report will include landfill, recycling, and Pinedale Transfer Station activities.

10:00 a.m. Nikki Brunner & Irene Parsons, Congressional Delegation
Representatives for Senators Enzi & Barrasso
• Report from Congressional Delegation

10:45 a.m. Sheriff KC Lehr
• Report on Department Activities

11:00 a.m. Mark Cross, MHA, CPA
• Health Care Facilitation Proposal Presentation

11:30 a.m. Old Business
• Each member will report on recent activities

Click on this link for a printable version of this agenda

Related Links:
www.sublettewyo.com Sublette County website

---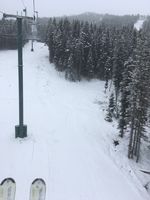 Photo courtesy White Pine Resort

White Pine Snow and Grooming update – Monday, Dec. 5, 2016 (posted 12/5/16)
White Pine Resort
Snow last 24 hours: 12" +

Forecast for Monday: A winter storm will spread moderate to heavy amounts of snow, along with windy conditions, into Western Wyoming through early Monday morning. The heaviest snowfall is expected to occur Sunday night as the main system and associated cold front move across the area. Light snowfall is expected to spread east of the Divide late Sunday night and into the day Monday, as the strong cold front plows southeast across Wyoming. Much colder air is expected in the wake of this cold front Sunday night and Monday. High temperatures on Tuesday will be about 20 degrees below average, with highs generally in the teens.

New Days of Operation for 2016/2017: Friday through Monday (open daily from December 16th to January 2nd)

LIFTS:
Little Spirit, RUNNING
Great Spirit, RUNNING
Sally's Tow (tubing), CLOSED MONDAYS

RUNS:
Lynx, Green Groomed
Porcupine, Green Groomed
Quail, Green Groomed
Coyote, Green Groomed
Competition, Green Groomed

Bonneville, Blue Groomed
Upper Fremont, Blue Fresh Powder
Lower Fremont, Blue Fresh Powder
Wind River, Blue Groomed
Wind River Return, Blue Groomed
Lander Cut off, Blue Groomed
Great Basin, Blue Groomed
Sunny's, Blue Fresh Powder
Sweetwater Gap, Blue Fresh Powder
Lower Pipestone, Blue Closed
Washakie Traverse, Blue Closed
Temple, Black Fresh Powder
Steve's, Black Fresh Powder
Upper Sky Pilot, Black Closed
Lower Sky Pilot, Black Closed
Upper Pipestone, Black Closed
Warbonnet, Black Closed
White Rock, Black Closed
Lost Eagle, Black Closed

Terrain Park: Open

White Pine Lodge:
New Days of Operation for 2016/17: Friday through Monday (open daily from December 16th to January 2nd)
Rental shop: Open, get your skis/snowboards waxed at White Pine for $15 or $20 for a premium wax
Ski School: Avoid disappointment. Call ahead and book 307-367-6606. Lots of options for ski lesson packages.
Grill: Breakfast served from 8:30am
Bar: Open from noon until 7pm
Birthday Parties: Call White Pine 307-367-6606

For further information and skiing and lodging packages visit www.whitepineski.com
---
Wyoming Public Lands Initiative Sublette County Advisory Committee Panel Discussion Dec. 14 (posted 12/5/16)
Bart Myers
The Wyoming Public Lands Initiative Sublette County Advisory Committee will host a panel discussion with representatives from the Forest Service and Bureau of Land Management on December 14, 2016 from 1 pm – 5 pm in the Commissioners Meeting Room located in the County Courthouse at 21 South Tyler Avenue in Pinedale. The panel discussion will address federal regulations with respect to Wilderness Study Areas, characteristics of wilderness areas and designations/options available to the Advisory Committee. The public is invited to attend this presentation; however public participation will not be included in the presentation and discussion.

Be advised that the Sublette County Advisory Committee meets the first Wednesday of every month, with the next regularly scheduled meeting slated for December 7, 2016 from 1 pm – 5 pm in Commissioners Meeting Room located in the County Courthouse at 21 South Tyler Avenue in Pinedale. Public comment is accepted during these regularly scheduled meeting.

Information regarding the Wyoming Public Lands Initiative and the Sublette County Advisory Committee is available from the Sublette County website www.sublettewyo.com or the Wyoming County Commissioners Association website www.wyo-wcca.org

Questions regarding the Wyoming Public Lands Initiative or the Sublette County Advisory Committee should be directed to Bart Myers at (307) 367-4375 or bart.myers@sublettewyo.com

Sublette County WPLI Advisory Committee Meeting Agenda
Wednesday, December 7, 2016
1:00 – 5:00 p.m.
Sublette County Commission Chambers
1:00PM Convene
Old Business:
Approve and sign charter
Review of impressions from overflights
Future panel presentations

New Business:
Discussion of alternative GIS platforms: county GIS and WYGISC-WPLI
Process map: moving from data collection to recommendations
Lake Mountain WSA: additional information to consider:
Outfitter/Guide permit information
Wildlife information: WYGISC-WPLI map layers
Vegetation data from grazing allotment file
Other
Data and information platforms: WCCA Hub? Create Sublette WPLI website?

4:45PM Public Comment

5:00PM Adjourn

---
Town of Pinedale Drinking Water Public Notice (posted 12/3/16)
Precautions if your water has lead exposure
Editor's Note: This is a republishing of a public notice from November 8, 2016.
________________________________________

DRINKING WATER
PUBLIC NOTICE
Corrosion Control Treatment Changes

The Town of Pinedale recently received a violation notice from the Environmental Protection Agency (EPA) for not complying with a drinking water treatment technique requirement. Even though this is not an emergency, as a customer, you have a right to know what happened, what you should do, and what we are doing to correct this situation. Note that the Town water supply (Fremont Lake) contains no lead and that the Town distribution system contains minute traces of lead.

Background

The Town started using sodium silicate for a corrosion control inhibitor in 1999. This treatment helps prevent lead in the pipes from dissolving into the water. In early 2010, the Town notified the EPA that the sodium silicate feed system would be moved up to the new water treatment plant at the lake where injection of sodium silicate would continue, and that a soda ash injection system would be installed in addition to the sodium silicate feed. The Town discontinued the injection of sodium silicate in the spring of 2015 and continued using soda ash. Once the new soda ash system came online it became the primary corrosion control system and the sodium silicate system was turned off, but kept ready if it was needed in the future. The Town communicated these change with the EPA. More recently the EPA notified the Town that this change was not documented according to EPA requirements, resulting in a violation of the National Primary Drinking Water Regulations.

What is being done?

The Town has started dosing sodium silica into the water distribution system and has turned off the soda ash injection. The sodium silicate will coat the pipes over time, providing protection from lead and copper corrosion.

For more information, please contact Josh Wilson, the Public Works Supervisor, at307-367-4136 or PO Box 709, Pinedale, WY 82941.

What should I do?

Listed below are some steps you can take to reduce your exposure to lead:
• Call the Town at 307-367-4136 to find out how to get your water tested for lead.
• Find out whether your pipes contain lead or lead solder.
• Run your water for 15-30 seconds or until it becomes cold before using it for drinking or cooking. This draws fresh water from the Town's water mains flushing any standing lead from within the service line pipes.
• Don't cook with or drink water from the hot water tap; lead dissolves more easily into hot water.
• Do not boil your water to remove lead. Excessive boiling water makes the lead more concentrated – the lead remains when the water evaporates.

What does this mean?

This is not an emergency. If it had been, you would have been notified within 24 hours.

Note that the Town water supply (Fremont Lake) contains no lead and that the Town distribution system contains minute traces of lead. Lead may be present in private service lines which were plumbed with lead solder and/or lead containing fittings and fixtures. Lead found in tap water typically comes from corrosion of these older fixtures and from copper pipes with lead soldered joints. If the water sits stagnant in these lines for several hours, the lead may leach into the water and potentially become consumed.

Infants and children who drink water containing lead in excess of the action level could experience delays in their physical or mental development. Children could show slight deficits in attention span and learning abilities. Adults who drink this water over many years could develop kidney problems or high blood pressure. Please contact your family physician about blood testing for lead.

Please share this information with all the other people who drink this water, especially those who may not have received this notice directly (for example, people in apartments, nursing homes, schools, and businesses). You can do this by posting this notice in a public place or distributing copies by hand or mail.

This notice is being sent to you by the Town of Pinedale Water System,
Water System ID#: WY5600041 C.

Date distributed: 11/8/2016.

---
'You Asked – The Travels and Adventures of Dan Abernathy' Dec. 13 (posted 12/3/16)
Dan Abernathy will be giving a program at 7PM in the Lovatt Room of the Pinedale Library on Tuesday, December 13th. In his program, 'You Asked – The Travels and Adventures of Dan Abernathy,' he will be showing photos and telling some stories from his travels around the US in the Chool Bus, in Cambodia where he was with an organization removing landmines placed by the Khmer Rouge, with the Hill Tribes in Northern Thailand, and time spent in a hospital for the handicapped in Nicaragua. He will be launching the "2017 Found Image of the Year," the ninth year of the Found Image Project. He will also have available free copies of his new newspaper, the 'Contributor', which he describes as 'sure to raise an eyebrow." Dan invites everyone to join him for an evening of art, photography, stories, poetry, jewelry, music, wine and fun.

---
LaBarge Ding-the-Ling Fishing Derby January 7 & 8 (posted 12/1/16)
The LaBarge Ding-the-Ling Fishing Derby will be held on January 7th and 8th. Registration starts at 8:00AM on the 7th at the Fontenelle boat ramp on W. Fontenelle Creek Road near the campground. Teams must be four members or less and entry fee is cash only – Adults $30 and children are $10. Contact Jenny at 307-388-0198 if you have any questions or go to https://www.facebook.com/labargedingtheling
---
Angel Wreaths still available (posted 12/1/16)
Helping families with children in need
Update: There are still plenty of Angels around town to be picked up. If you could help out, it would be greatly appreciated. There are still some at Rendezvous Pointe. For more information contact Beth Allen at 307-367-2881.
______________________________
About the program
Angel Wreath is a program that provides Christmas gifts to families in need. A team of seniors from Rendezvous Point works with local agencies to enroll families in need in the program. Working with information from an application, the needs and wants of each child are identified, such as coats, clothes, toys, books, etc.

Wreaths are located at the banks, library, Altitude Drug, Ridley's, Bomgaars, and at Rendezvous Pointe in Pinedale.

Each child is represented by two paper angels; each listing both needed and wished for items. Children aged 13-18 will receive gift cards; suggestions are listed on the paper angels.

Wrapped gifts are due at Rendezvous Pointe by Wednesday, December 7. Earlier drop offs are welcome and encouraged. Rendezvous Pointe hours are 8:00 AM to 4:00 PM.

Please consider filling a few angels with enough, rather than one with more than enough. Remember, each child has two paper angels. Last year we had many paper angels that did not get picked up.

Cash donations are welcome. They help provide for any left-over angels. Lunch Donations can be any cash/check amount. They are given to the school and disbursed to those families in need.

Please make checks out to Rendezvous Pointe with Angel &/or lunch in the memo.

If you have any questions please call Beth Allen at 307-367-2881. Thank you for your generous support of this program.


---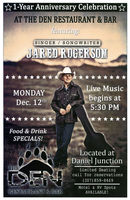 Live music by Jared Rogerson at The Den's 1st Anniversary Celebration on Monday, Dec. 12th.

The Den celebrates 1-Year Anniversary Dec. 12 (posted 11/28/16)
Food specials and live music by Jared Rogerson
The Den Restaurant & Bar invites everyone to their 1st anniversary celebration on Monday, December 12th, 2016. There will be food and drink specials. The evening will feature live music by Jared Rogerson beginning at 5:30 PM. The Den is located at the Daniel Junction, Highways U.S. 191 and U.S. 189. No cover charge. All ages welcome. Seating is limited so call (307) 859-8469 for reservations to ensure your table.

Related Links:
Facebook page The Den Restaurant & Bar
http://www.thedanieljunction.com/ Daniel Junction
www.jaredrogerson.com Jared Rogerson, singer-songwriter

---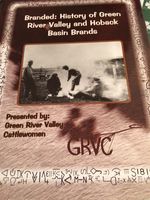 'Branded: History of Green River Valley and Hoback Basin Brands', new book just published by the River Valley Cattlewomen.

New brand history book available (posted 11/27/16)
Green River Valley and Hoback Basin brands
A new history book has just been published. The Green River Valley Cattlewomen have spent many months researching local area brands and compiled a new book entitled, "Branded: History of Green River Valley and Hoback Basin Brands."

The 306-page hardbound book has the history of nearly 300 brands, some of which date back to the 1870s and 1880s. The new book includes the history of branding livestock, Wyoming brand registration and brand inspectors, and the history of the cattle industry in the Upper Green River Valley. There is also a section on how to read brands. Some brand owners submitted their own information about their brands, others were researched through the Wyoming Livestock Board and Wyoming State Archive records. Also included is extensive additional personal family history about the people who owned the brands.

Family history research was done by Jonita Sommers, Terrie Springman, Rita Donham, Liz Wardell, Brenda Carnahan, McKenna Carnahan. The members of the GRVC brand committee are: Deanne Bradley, Jonita Sommers, Sherrri Bohleen, Rita Donham, Sharlene Lozier, Terrie Springman, Liz Wardell, Brenda Carnahan, McKenna Carnahan, Mavis James, Andrea James, Joy Ufford and Janet Beiermann.

The new brand history books are for sale in Big Piney at Office Outlet and Just Imagine. In Pinedale, the books are available at Office Outlet, the Cowboy Shop and Altitude Drug. Price is $35.

For more information contact the Green River Valley Cattlewomen, PO Box 749, Big Piney, WY 83113, 307-367-4756 or 307-231-1009, email: jonitasommers@gmail.com.

Click on this link for more pictures from the book: New brand history book available

---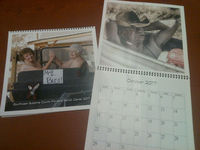 New Southwest Sublette County Pioneers Senior Center 2017 calendar now on sale.

Racy 2017 Big Piney Senior Calendar now on sale (posted 11/23/16)
The Southwest Sublette County Pioneers Senior Center has created a new 2017 calendar just in time for the holidays and new year. This is a very special calendar, based off the movie "Calendar Girls" from some time back. All of the pictures are of local seniors in tastefully done, artfully positioned, nude photos. The professional photos were taken with the historic backdrop of the Green River Valley Museum in Big Piney. The photography was by Kelsie Leavitt.

Remember the kerfluffle about a year ago when one of our long-time local deputies retired after 28 years with the Sheriff's Office over not being able to wear his cowboy hat and boots because of a new department uniform dress code? Well, Gene is Mr. October in the calendar, and he's wearing his cowboy hat and cowboy boots…. and that's all...

The calendar project is a fundraiser for the Senior Center in Marbleton. Cost is $20 each. They are available to purchase at the Southwest Sublette County Pioneers Senior Center in Marbleton and the Pinedale Office Outlet store. For more information or to order call 307-276-3249.

Related Links:
Sublette Co. Sheriff's Office uniform to-do makes Drudge Report
---
BLM offers Christmas Tree permits for sale (posted 11/23/16)
Bureau of Land Management
The Bureau of Land Management (BLM) is now offering Christmas tree permits for sale.

Permits may be purchased between 7:45 a.m. and 4:30 p.m., Mon.-Fri. from any BLM Wyoming field office. The cost for a permit is $5 to $10 per tree, depending on location. Up to a maximum of five Christmas trees can be purchased by an individual for personal use on BLM-administered lands.

A BLM permit is valid for trees located on BLM lands only. Permits for trees on U.S. Forest Service-administered land can be obtained at your local Forest Service office and at some BLM offices.

Tree cutters must have a valid permit with them while cutting a tree. Trees may not be cut within a wilderness area, wilderness study area, timber sale area, or administrative sites such as developed campgrounds.

Although the Christmas tree permits are for any tree species, the BLM recommends Engelmann spruce, sub-alpine fir, Douglas fir and lodgepole pine as the best species to cut for your Christmas tree. Christmas trees harvested from aspen stands and riparian areas will contribute to forest health and improve wildlife habitat.

It is the purchaser's responsibility to not trespass on private land and to make sure you're cutting the tree in the correct area. Be prepared for winter weather and high country conditions.

For more information call your local BLM office:

Buffalo Field Office (307) 684-1100
Casper Field Office (307) 261-7600
Cody Field Office (307) 578-5900
Kemmerer Field Office (307) 828-4500
Lander Field Office (307) 332-8400
Newcastle Field Office (307) 746-6600
Pinedale Field Office (307) 367-5300
Rawlins Field Office (307) 328-4200
Rock Springs Field Office (307) 352-0256
Worland Field Office (307) 345-5100
Wyoming State Office (307) 775-6314

---
Local Services:
Abortion Alternatives
Accounting & CPA
Arts & Entertainment
Attorneys & Legal
Automotive
Banks & Financial
Bars
Beauty Salons
Bed & Breakfasts
Boating
Bookkeeping
Builders & Contractors
Building Material
Business Services
Cabins
Cellular
Child Care
Churches
Cleaning Services
Clothing
Commercial Art
Computer Supplies
Condos
Consultants
Convenience Stores/Fuel
Convention/Meeting
Dentists
Dining
Dry Cleaning
Events
Fabric & Crafts
Fencing
Fishing
Flooring
Food & Drink
Funeral Homes
Furniture
Gifts/Western
Government
Graphic Design
Grocery & Market
Guest Ranches & Lodges
Handyman Services
Hardware & Feed
Heating
Health Care & Medical
Horseback Adventures
Insurance
Interior Design
Internet/Web/Advertising
Landscaping
Laundry
Liquor Stores
Lodging
Log Homes
Massage Therapy
Modular Homes
Motels
Mountain Biking
Movie Theaters
Museums
Nails
Newspapers
Office Supplies
Oil Field Services
Optometrists
Organizations
Outdoor Equipment
Outfitters & Guides
Packaging & Shipping
Painters
Pet Stores
Pharmacies
Photography
Plumbing
Professional Services
Radio
Real Estate Agencies
Real Estate-FSBO
Remodeling
Retirement
Retreats
RV Camping
Schools
Scrapbooking
Septic Services
Skiing
Snowmobiling
Snow Plowing
Storage and Storage Units
Tanning
Tattoos & Body Art
Tax Preparation Services
Taxidermy
Transportation/Shuttle
Trash Services
Trucking
Veterinarians
Visitor Services