Free board member training available in Marbleton Aug. 23 (posted 8/22/16)
Are you on a board or thinking of getting on a board and wondering what your roles and responsibilities are? A free board member training session is being offered on Tuesday, August 23rd at the Southwest Sublette County Pioneers Senior Center in Marbleton from 3-5PM. Ok to just show up. Trainer is Bill Miller from the Wyoming Local Liability Pool. Come by and hear good information on how to be an informed board member. For more information call 307-276-3249.

---
Sublette Co. Commissioners agenda – August 23, 2016 (posted 8/22/16)
Mary Lankford, Sublette County Clerk
BOARD OF COUNTY COMMISSIONERS
SUBLETTE COUNTY, WYOMING
AGENDA
SUBLETTE COUNTY COURTHOUSE
TUESDAY, AUGUST 23, 2016

7:00 a.m. Breakfast at the Stockmans
The Commissioners and Industry Representatives

(Tentative Agenda, Subject to Change Up To 9 a.m. the Day of the Meeting)

9:00 a.m. Call to Order
Pledge of Allegiance
Chairman Nelson will call the meeting to order, lead the Pledge of Allegiance, and request approval of the prior meeting minutes.
Butch Penton, Road & Bridge Report
This report will include a review of all present maintenance work being performed, project updates, materials and equipment.
Richard Thomas, Rim Road Maintenance
Dan McGillivray, WYDOT

9:30 a.m. Waste Management
Select Landfill Engineering Services

10:00 a.m. Shad Cooper, County Fire Warden
Monthly Report on Unified Fire

10:30 a.m. Sheriff KC Lehr
Report on Department Activities

11:00 a.m. Adjourn Meeting to Attend Korean Veterans Ceremony
Lovatt Room, Sublette County Library

1:00 p.m. Recreation Board
Ice Arena Committee

1:30 p.m. Jay Brower and Brianne Brower, Fairgrounds
Report on Fairground Activities

2:00 p.m. Todd Hurd, Forsgren & Associates
The County's Owners Representative will review ongoing County construction projects.

2:30 p.m. Old Business
Review Maintenance Superintendent Applications
Each member will report on activities since last meeting

Click on this link for a printable version of this agenda.

Related Links:
www.sublettewyo.com Sublette County website

---
Fall Expo Sept. 7 (posted 8/22/16)
Sublette BOCES and the Pinedale Aquatic Center are having their annual Fall Expo on Wednesday, September 7th. It will be from 3:30 to 6:00PM at Sublette BOCES, 665 N Tyler. There will be free food, raffle prizes and free BOCES Class Demos. Check out the renovated BOCES building.

---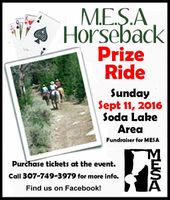 M.E.S.A. Prize Ride fundraiser Sept. 11th.

M.E.S.A. Horseback Prize Ride and BBQ Sept 11 (posted 8/17/16)
Fundraiser for M.E.S.A.
MESA Therapeutic Horsemanship will be holding their Horseback Prize Ride and BBQ on Sunday, September 11, 2016. The event is a fundraiser to help support MESA Therapeutic Horsemanship programs. The ride will be in the Soda Lake area, follow signs towards Little Soda Lake.

Schedule:
11AM - Cowboy Church Service
12 Noon Ride begins
3PM BBQ and activities

There will be a Dutch oven dinner hosted by the Pinedale FFA. They have limited horse rentals available upon request, call Carla at 307-749-3979.

Purchase tickets at the event.
Adult tickets are $20 for dinner, $25 for ride, additional hand $20.
Youth ticket (8-15) dinner $15, ride $15.
Kids under 8 free.
All youth under 12 must be accompanied by an adult throughout the ride.

M.E.S.A. Therapeutic Horsemanship, Inc. is a non-profit program aimed at providing equine-related therapy activities to individuals with disabilities within Sublette County, Wyoming. The mission of M.E.S.A. is to promote self-esteem, self-confidence, physical independence, and social interaction through equine-related activities.

Loba Memorial Spay & Neuter Foundation Dinner and Auction Oct. 1
The Loba Memorial Spay & Neuter Foundation Dinner and Auction will be held on Saturday, October 1st in the Lovatt Room of the Pinedale Library. Tickets are $100/person. There will be music, a silent auction, raffles and more. MC will be Andy Nelson. Dinner by Chef Wendi. For more info call 307-367-6215 or email lobaanddig1@yahoo.com.

---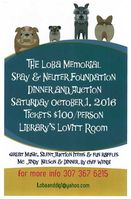 October 1, 2016

Loba Memorial Spay & Neuter Foundation Dinner and Auction Oct. 1 (posted 8/17/16)
The Loba Memorial Spay & Neuter Foundation Dinner and Auction will be held on Saturday, October 1st in the Lovatt Room of the Pinedale Library. Tickets are $100/person. There will be music, a silent auction, raffles and more. MC will be Andy Nelson. Dinner by Chef Wendi. For more info call 307-367-6215 or email lobaanddig1@yahoo.com.

---
Children's Learning Center offering fall enrollment (posted 8/17/16)
The Children's Learning Center (CLC) is now offering preschool enrollment for the 2016-2017 school year for children ages 3-5 years old. Morning and afternoon sessions in Big Piney and Pinedale schools available. CLC is considered among the top of early childhood programs and is accredited by the National Association for Education of Young Children (NAEYC). CLC educators emphasize learning through play both indoors and outdoors in our Outdoor Classrooms. CLC uses a curriculum that promotes social emotional development, literacy, critical thinking and problem solving. Full and partial tuition scholarships (limited) available for qualifying families. Please call 307-276-5415 in Big Piney 307-367-6306 in Pinedale. Learn more about CLC at www.childrenlearn.org.

---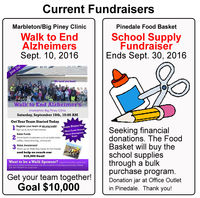 Fundraisers in Sublette County.

Fundraisers in Sublette County (posted 8/16/16)
Raising money for worthy causes
We recently posted a new page on Pinedale Online to highlight fundraising efforts people are doing in Sublette County. We've added two new fundraisers going on until September

Walk to End Alzheimer's – Sat. Sept. 10th The Walk to End Alzheimer's will be on Saturday, September 10th in Marbleton ath the Big Piney/Marbleton Clinic. Participants are asked to get a team together and hold fundraising events prior to the Walk: bake sales, car washes, head shavings, raffles, etc. Then on the day of the Walk, teams are encouraged to dress outrageously ready to turn heads. There will be a prize for the most money raised, and another for the most outrageous team. Sponsors are also welcome. Organizers hope to raise $10,000 with the Walk this year. For more information and details, please call 307-749-0497.

School Supplies Fundraiser – (ends Sept. 30th) The Food Basket is seeking financial donations so they can purchase school supplies for needy families on their help list. They will buy the school supplies in bulk, so all they are asking for is financial help. It costs about $35 to $40 to get the supplies for each child. Donations help needy families with elementary and middle school children in Sublette County. HOW TO DONATE: Drop off financial donations at the Pinedale Food Basket, 104 N Bridger Avenue or any spare change you might have into the donation box on the counter at Office Outlet in Pinedale. This fundraising drive goes until September 30, 2016. For more information call the Food Basket at 307-367-3206.

Click here to go to the Fundraising page: www.pinedaleonline.com/fundraising/home.htm
---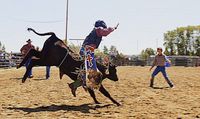 Ride for Reid. Photo by Terry Allen.

2nd Annual Ride for Reid Memorial (posted 8/15/16)
Terry Allen
Jessie Jensen stood on the corral rail and watched her brother Bodie work rosin into the rope he was going to hold onto when he rode in the steer riding event. I shook the bells at one end of the rope. "They put those cowbells on him and it makes him buck," she said. "I'm not riding this year because I'm four right now," she said. "But I'm just about ready to turn six."

Friends, families and fellow competitors came together to remember and celebrate the life of young Reid Schouboe; and raise money for a college scholarship fund by participating in a ranch skills event held at the Pinedale Rodeo Grounds on Saturday, August 13, 2016.

The events this day were: #10, Steer Stopping, Cattle Daubing, Steer Riding, Men's Barrel Racing, and Foot Racing. Participants got a chance to win belt buckles and a pair of special spurs.

There were a couple stools set up behind the bucking chutes and under the announcers booth, Kelly Andersen made headway cutting off the Mullet growing out of Colton's head. "Do you know the story of the Mullet?" she asked. I didn't. "Well, Reid had a Mullet and after he died all the boys made a pact to grow mullets out for a year in his memory. Everyone is getting them cut off today." A little two foot tall cowboy waited for each Mullet head to sit down on the stool and then he did a circle around them and wet 'em down real good.

Todd Stevie auctioned off hog sides as a fundraiser for the Reid Schoubie Memorial Scholarship. He stood up at the top of the announcer booth stairs and you could tell right away he could do it for a living. The hogs went fast and then he started off auctioning cowboys. Carolyn Bing made the high bid for her husband Bob. "I just bought Bob in the Calcutta so if he wins in the Men's Team Barrel Racing event, I get my money back," she said. "But, he'll have to be fearless to win."

Grady stood over at The Burger Barn waiting for his burger. In one hand he held a soda and in the other he clutched a wad of dollar bills. "I can't talk much right now," he said. "I gotta get back over to the bull riding, it's my favorite event."

Wade Tibbits rode by standing up in his saddle so he could see over the heads of the crowd. "Kid huntin'" he said as he rode by. His wife, Kyndall was at a roping event elsewhere, so it was his job to keep an eye on his little blond son.

There were a number of foot races and the last one was for the over 50 gang of athletes. Someone shot off a gun and off they went...like...a herd of elephants. Sort of weaving side to side, stirring up a lot of dust and making scary noises. Brian Beaver went down for no apparent reason and the herd just went right on past him. When they broke the finish tape and turn around, there was Brian rolling around in the dirt. John Hintz...his good friend, took a look to the sidelines. "His wife doesn't look too worried about it," he said. "All Beaver did was step on his tender bits."

Cora, Ella and Grandpa Phil were palled up and made their way over to the water faucet for a cold drink from the hose. Ella climbed the rails and looked over at the last of the Mullets getting cut off. Little Cora climbed up beside her cousin and Grandpa Phil stood ready to catch her if she went off backward. Cora talked to me in an excited pre-english language, her eyes got big and she threw herself back letting out a whoop. Grandpa let her know he was there in case she lost her grip, and she did an even riskier version. It was obvious she was taking greater and greater risks because she knew he was there to catch her.

This was the spirit of the people who gather together for events like this throughout the year. Looking out for each other, helping each other, offering food and drink to a dusty photographer, and patiently explaining what a dauber is.

Results:

Roping 6 & under:
Cort Snidecor and Kodee Wellemeyer

All-around Fast time:
Wes Miller & John Hintz

1st: Wes Miller & John Hintz
2nd: Derrick Peterson & Arye Espenscheid
3rd: Bryan Beaver & Jaden Burnett
4th: Annie Espenscheid & Derrick Peterson
5th: Frank Grimes & Clint Grimes
6th: Gary Gordon & Phil Selby

Steer Stopping:
1st: Colby Bradley
2nd: Buck Schouboe
3rd. Colt Ramsey
4th: Cole Redmond

Cattle Daubing:
1st: Hayes Espenscheid
2nd: Cael Espenscheid
3rd: Emry Selby

Mens Barrel Race:
JJ Butler

Steer Riding:
Buck Schouboe

Team Branding:
Eric Schouboe, Buck Schouboe, Derrick Petterson, Boone Snidecor

Click on this link for more pictures: 2nd Annual Ride for Reid Memorial
_______________________________________

Shoot me a text at 307-231-5355 if you want a hi-rez print or image. I sell them for not much.

---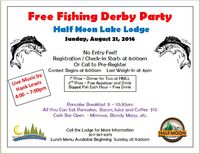 Half Moon Lake Resort free fishing derby party August 21st.

Half Moon Lake Resort Fishing Derby Party August 21 (posted 8/10/16)
Half Moon Lake Resort is hosting a Fishing Derby Party on August 21st. Registration and check-in start on Sunday at 8AM, or call 307-367-6373 to pre-register. There is no entry fee. Last weigh-in at 4PM. 1st Place Prize Dinner for 2 at Half Moon Lake Lodge, 2nd Place Prize Free Appetizer and Drink, Biggest Fish every hour free drink. Live music by Hank Lewis from 4-7PM. Pancake breakfast from 8-10:30AM ($10). Lunch available at the resort restaurant starting at 11:30AM. www.halfmoonlakelodge.com

---
Pinedale Airport's 5th Annual Fly-In and Pancake Breakfast Aug. 27 (posted 8/6/16)
Pinedale Airport's 5th Annual Fly-In and Pancake Breakfast will take place on Saturday, August 27th from 8-10AM at the Pinedale Airport. The Pinedale Lion's Club will be serving breakfast. They are offering free airplane rides to kids ages 6-16. For more information call Jim Parker at 307-360-9025.

---
Local Services:
Abortion Alternatives
Accounting & CPA
Arts & Entertainment
Attorneys & Legal
Automotive
Banks & Financial
Bars
Beauty Salons
Bed & Breakfasts
Boating
Bookkeeping
Builders & Contractors
Building Material
Business Services
Cabins
Cellular
Child Care
Churches
Cleaning Services
Clothing
Commercial Art
Computer Supplies
Condos
Consultants
Convenience Stores/Fuel
Convention/Meeting
Dentists
Dining
Dry Cleaning
Events
Fabric & Crafts
Fencing
Fishing
Flooring
Food & Drink
Funeral Homes
Furniture
Gifts/Western
Government
Graphic Design
Grocery & Market
Guest Ranches & Lodges
Handyman Services
Hardware & Feed
Heating
Health Care & Medical
Horseback Adventures
Insurance
Interior Design
Internet/Web/Advertising
Landscaping
Laundry
Liquor Stores
Lodging
Log Homes
Massage Therapy
Modular Homes
Motels
Mountain Biking
Movie Theaters
Museums
Nails
Newspapers
Office Supplies
Oil Field Services
Optometrists
Organizations
Outdoor Equipment
Outfitters & Guides
Packaging & Shipping
Painters
Pet Stores
Pharmacies
Photography
Plumbing
Professional Services
Radio
Real Estate Agencies
Real Estate-FSBO
Remodeling
Retirement
Retreats
RV Camping
Schools
Scrapbooking
Septic Services
Skiing
Snowmobiling
Snow Plowing
Storage and Storage Units
Tanning
Tattoos & Body Art
Tax Preparation Services
Taxidermy
Transportation/Shuttle
Trash Services
Trucking
Veterinarians
Visitor Services