Sublette County Rural Healthcare District Special Meeting April 30th (posted 4/26/15)
The Sublette County Rural Healthcare District will hold a Special Meeting on Thursday, April 30th at 6PM at the Marbleton Town Hall. Agenda is Overview of Critical Access Hospital Designation and Letter of Intent.

---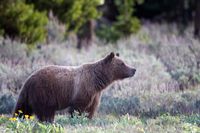 Grizzly bear. Photo by Mark Gocke, Wyoming Game & Fish.

G&F offers Large Carnivore Safety Workshop April 29th in Pinedale (posted 4/24/15)
Wyoming Game & Fish
With reports of bears venturing out of their winter dens in northwest Wyoming, we're reminded that it's a good time to think about how to avoid conflicts with large carnivores. The Wyoming Game and Fish Department is encouraging people to attend a free public workshop titled "Living in Large Carnivore Country." The workshop will be held on Wednesday, April 29, from 5:30-7:30pm at the Sublette County Library in Pinedale, Wyoming. Anyone who spends time in bear and lion country is encouraged to attend.

"We've found that there are a lot of people who may not be sure how they should react if confronted by a bear or mountain lion," says Mark Gocke, Public Information Specialist with the Wyoming Game and Fish Department. "These workshops provide people with good, practical information on how to prevent conflicts and what to do in an encounter with one of these large predators."

The workshop is designed to focus on how to avoid conflicts with large carnivores while recreating. There will be presentations by wildlife professionals with the Wyoming Game and Fish Department on topics such as: bear and mountain lion food habits, where one would expect to encounter a bear or mountain lion, food storage regulations, understanding bear and lion behavior, what to do in an encounter and the proper use of bear spray.

The workshops will also touch on the topic of wolves. "Wolves rarely attack people and we don't expect that to change," says Gocke. "But more people are encountering wolves and people have questions about their safety around wolves, so we will devote some time to the topic."

For more information people may contact the Pinedale Game and Fish office at (307) 367-4353 or 1-800-452-9107 (in-state).

The G&F supports the Americans with Disabilities Act. Anyone needing auxiliary aids to attend this meeting should call a number listed above. Every effort will be made for reasonable accommodations.

---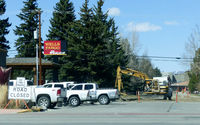 Roads are being torn up for water and sewer repair work on the north side of Pinedale near Wells Fargo bank. Pinedale Online photo.

Town of Pinedale Sewer & Water Project update (posted 4/23/15)
Replacing leaking underground pipes and road reconstruction work
Town of Pinedale Mayor Bob Jones
This is Bob Jones. As you may have noticed, the roads in Pinedale around the Wells Fargo bank have been torn up and there is a lot of activity going on. This is part of the Phase 7 Sewer and Water Replacement Project you may have heard about. This project will include Fremont Ave from the bank, north to Hennick St. It will also include everything one block to the east and one block to the west of Fremont.

The sewer and water lines are being replaced because they are in very poor condition and are leaking. The roads will be rebuilt as the pipes are replaced.

I completely understand that this project will be a big inconvenience for some of you that live and work in the area of construction. We have had several meetings with the engineers, contractors and property owners, and we have tried to formulate a plan that will mitigate as many problems as possible. As we all know, the best laid plans always need to be adjusted as a project of this nature progresses.

There will be a public meeting at Town Hall every Tuesday morning at 8:00 AM. The purpose of the meeting will be to update the public on the progress and to address any problems that may arise. Please feel free to come and participate.

As your Mayor, your health and safety are my top concerns. This project is all about providing a safe water and sewer system. Please remember, the workers are out there to help you, not to cause you a delay or an inconvenience. I would ask that you stay away from the construction unless you live, work or have business in the area. If you do have a reason to be there, please drive slow and watch out for the workers and equipment. Some of the equipment is very large and the operator's visibility can be very limited. If you find yourself around a piece of equipment, try to make eye contact with the operator before you proceed. If you can't do that, assume the machine may suddenly turn out in front of you. Please use caution and go slow. Allow a little extra time and have patience.

This project is scheduled to be completed in late August, weather and conditions permitting. I would like to thank all of you in advance for your patience.

This project is going to cost about $2.5 million to complete. The project is being paid for by the Town of Pinedale. Approximately $1.2 million will be reimbursed by state consensus funds that were approved by the County Commissioner last fall. Remember, if you have any questions, come to the Tuesday 8:00 meetings at Town Hall.

Related Links:
www.townofpinedale.us Town of Pinedale


---
Mountain Man Back Country Horseman meeting May 4th (posted 4/22/15)
The next meeting of the Mountain Man Back Country Horseman will be held at 6PM at the Public Health Office in Pinedale on Monday, May 4th. Hudson Hill from the University of Wyoming will speak on local hay production for horses. All members and interested persons are welcome.

---
Fishing update, April 2015 (posted 4/21/15)
Mike Kaul, Two Rivers Emporium
This season's fishing prospects for the Pinedale area are looking very good. We had significant amounts of surface moisture last fall, which filled the pot lakes in the high country and got the small, dried-up streams running to capacity. A lot of this water was absorbed into the thirsty ground and the remainder was soon frozen in place. We have a decent snow pack, averaging 96% of normal, that currently rests on top of last fall's surface moisture. Based on this, we have good moisture laden snow fields established in the mountains. As is the case every year, surface temperatures dictate the run-off. If we experience our normal temperatures through late April, May and June, we should have good fishing water conditions through the summer. The way things look now our prime fishing water conditions will be from the first week in July through the second week in September. This is historically when we have the best fishing water, insect activity and weather. We are fortunate to be located at the headwaters of several magnificent drainage systems originating in the Wind River Mountains which contain 7 of the 10 largest permanent glaciers in the lower 48 states. This glacier system allows us to keep a cool flow of water in our stream systems throughout the fishing season. Please feel free to contact us for the latest updates on water and fishing conditions in the local area. 1-800-329-4353 or e-mail 2rivers@wyoming.com.

Related Links:
www.2rivers.net Two Rivers Emporium

---
Tickets on sale for Dancing With The Sublette Stars (posted 4/21/15)
Fundraiser for the Children's Learning Center May 14 & 15
Tickets are available now for Dancing With The Sublette Stars, which will take place on May 14 & 15, 2015 at the Southwest Sublette County Pioneers Senior Center in Marbleton. Tickets for both the preview night and event night are available at the Children's Learning Center in Big Piney and Pinedale. Purchases directly benefit the Children's Learning Center and children in the community. Visit www.sublettestars.com to vote for your favorite dancer and more information, or call 307-367-6306.

---
Sheriff's Office seeks assistance after burglary of firearms (posted 4/21/15)
Sublette County Sheriff's Office
The Sublette County Sheriff's Office is seeking the community's assistance with the investigation of a burglary that occurred in Pinedale late last month in which four handguns, two rifles and a suppressor were stolen. The following is a list of the missing items:

Glock 23 handgun
Baby Desert Eagle handgun
Remington 1911 handgun
Sig Sauer P277 handgun
Smith and Wesson M&P 15 rifle
Springfield Armory M1A rifle
Osprey .45 suppressor

If anyone has information regarding this burglary or these firearms, please contact Detective Mackenzie of the Sublette County Sheriff's Office at 307-367-4378 ext. 5117.
---
Polarity Partnerships & Thinking workshop April 28th (posted 4/21/15)
The Sublette County Chamber of Commerce and the Town of Pinedale invite all Sublette County non-profit and community boards to attend a Polarity Partnerships & Thinking workshop on Tuesday, April 28th in Pinedale.

Special guest speaker Jake Jacobs, President of Global Consulting Services, will talk about leadership skills, task and relationships over time, polarity thinking, self-awareness, blind spots, and more. There will be two repeat sessions. The first will be Tuesday morning from 8-11AM and the second will be Tuesday evening from 6-9PM, both in the Hampton Inn meeting room in Pinedale.

This workshop is open to the public. Please RSVP in advance by calling the Sublette County Chamber of Commerce at 307-367-2242 or email membership@sublettechamber.com.

---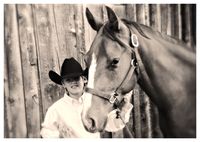 Spaghetti Dinner Benefit for Branset Stout May 16th in Pinedaleto help with medical expenses.

Benefit for Bransen Stout family May 16 (posted 4/21/15)
12-year old Bransen Stout was injured in an ATV accident recently and is undergoing extensive medical treatments. He has endured two surgeries and two more are needed in the future. To help the family pay for medical bills, a free-will donation spaghetti dinner will be held on Saturday, May 16th at the VFW Post 4801 in Pinedale. There will also be silent and live auctions and raffles for a hand gun, National Finals rodeo tickets, and a windshield with installation. The dinner will begin at 3PM. Have dinner and then go see the MMA fights at 7! Anyone who would like to mail a donation can send it to Jena Shriver, 51 Shriver Ln, Pinedale, WY 82941. Visit Bransen's Facebook page for more info: Benefit for Bransen Stout, or call Jena at 307-231-3130.

---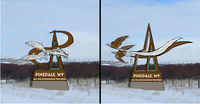 Pinedale Gateway signs

Pinedale Gateway Project moves forward (posted 4/21/15)
The Pinedale Fine Arts Council's recent public survey on the Gateway project received 303 responses, 80% were for the project moving forward, with the majority choosing the trout/eagle combination. In|Site:Ex|Site Public Art Program and Main Street Pinedale (The selection committee) were very pleased with the number of responses, and the thoughtful comments provided. The survey results are available to the public on the PFAC website.

The selection committee was looking for a design showcasing some aspect of Pinedale that was cohesive with the way-finding and visitor center signs, the tourism branding campaign, combined art and signage, and was as maintenance free as possible. Pinedale is very fortunate to have so many assets it is difficult to agree on which single thing it should be, and maybe the answer is, it shouldn't.

The committee liked the theme of wildlife as it is so abundant here, and you can go any number of directions with it. However, the committee ruled out big game because it was too expensive particularly for bronze (double the budget). Secondly, they wanted to set Pinedale apart from our neighboring towns which already have big game monuments. The committee preferred metal as a material not only for its lack of maintenance but also as a nod to the local gas industry, which combines old Pinedale and new Pinedale. This project is funded by State Grants earmarked for specific types of projects. The Tourism grant is specifically for signage, while the Main Street grant was specifically for a physical beautification project. Pinedale could only utilize the money for that, it could not be put towards something else (i.e. infrastructure). The committee encouraged local artists to apply and would have loved to support local talent. A local artist was selected as a semi-finalist, but withdrew because the size and scope of the project was too large.

The committee initially selected Don's concept for its simplicity, asthe design was well balanced with a triangle that could be representative of many things; mountains, trees, gas derricks, tipi's etc. Based on prior public comment the artist modified the design to look less like an A, and more literal like mountain, so it was easier to understand at face value.

The project is expected to be installed in Fall 2015.

Related Links:
Cast your vote for the Pinedale Gateway Project March 27, 2015

---
BLM Pinedale seeks public comment on Dry Piney Deep project (posted 4/21/15)
Public meeting on proposed natural gas and helium processing facility April 27th in Big Piney
Bureau of Land Management
The Bureau of Land Management¡¯s (BLM) Pinedale Field Office (PFO) is seeking public input on a proposed natural gas and helium processing facility in the Dry Piney Creek area, approximately 10 miles northwest of LaBarge, Wyoming.

QEP Resources, Inc. has proposed a gas development project which would include ten gas©\production wells with associated access roads and buried gathering pipelines; a gas processing plant, 7.6 miles of methane pipeline, 8.3 miles of CO2 pipeline, four CO2©\injection wells, 13 miles of an overhead, 230©\kilovolt (kV) electric transmission line, a 230/34.5 kV substation, one water©\supply well, one produced©\water disposal well and one sour©\gas disposal well.

The proposed facilities and supporting features would be constructed on a mix of public, state and private land, with the majority of the 355 acre gas processing plant facilities on private QEP-owned land.

A project-related public open house will be held from 4 ¨C 7 p.m., Monday, April 27, 2015, at the Big Piney branch of the Sublette County Public Library, 106 South Fish St., Big Piney, Wyoming. Representatives of QEP and BLM will be on hand to answer questions, provide information about the proposed project and accept written comments.

Additional information, including the draft plan of development, is available at the PFO, 1625 W. Pine St., Pinedale, Wyo., or online at http://www.blm.gov/wy/st/en/info/NEPA/documents/pfo/DryPineyDeep.html.

The PFO will be preparing an environmental assessment and public comments will help identify issues, potential impacts and possible mitigation measures and assist in developing a reasonable range of alternative actions. Comments should be as specific and constructive as possible. Please mail or deliver written comments to Pinedale Field Office, Attn: Joseph Debebe, P.O. Box 768, 1625 W. Pine St., Pinedale WY 82941-0768; email to blm_wy_dry_piney_deep_project@blm.gov; or fax to 307-367-5329.

BLM will accept public comments until May 20, 2015.

Before including your address, phone number, e-mail address, or other personal identifying information in your comment, you should be aware that your entire comment ¨C including your personal identifying information ¨C may be made publicly available at any time. While you can ask us in your comment to withhold your personal identifying information from public review, we cannot guarantee that we will be able to do so.

Persons who use a telecommunications device for the deaf (TDD) may call the Federal Information Relay Service (FIRS) at 1-800-877-8339 to contact the individual below during normal business hours. The FIRS is available 24 hours a day, 7 days a week, to leave a message or question with the below individual. You will receive a reply during normal business hours.

For more information, contact Natural Resource Specialist Joseph Debebe at 307-367-5360.

---
15th Annual Wind River Riders 4H Open Horse Show May 2nd (posted 4/20/15)
Wind River Riders will host their 15th Annual 4H Open Horse Show on Saturday, May 2nd at the Sublette County Fairgrounds arena north of Big Piney. There will be over 45 classes for youth through adult riders. This is a Bits n Spurs-sanctioned event. The show starts at 8AM. Winners of this horsemanship competition earn beautiful custom belt buckles sponsored by local businesses and community members. Spectators welcome. Food services will be available all day.

---
Open House at Marbleton-Big Piney Clinic April 28th (posted 4/19/15)
Open House at Marbleton-Big Piney Clinic April 28th
The Sublette County Rural Health Care District will be holding an Open House event on Tuesday, April 28th from 1:30-4:30PM at the Marbleton-Big Piney Clinic. Visitors will have the opportunity to get for FREE: health fair lab review by one of our physicians, immunization consultation, cancer screening consultation and blood pressure checks. Proactive Physical Therapy will be available for balance testing and Sublette County Unified Fire will be providing fire and fall prevention information. This will also be an opportunity to meet with District staff to learn more about the Critical Access Hospital, Medicare and the new Patient Portal. More info

---
Local Services:
Abortion Alternatives
Accounting & CPA
Arts & Entertainment
Attorneys & Legal
Automotive
Banks & Financial
Bars
Beauty Salons
Bed & Breakfasts
Boating
Bookkeeping
Builders & Contractors
Building Material
Business Services
Cabins
Cellular
Child Care
Churches
Cleaning Services
Clothing
Commercial Art
Computer Supplies
Consultants
Convenience Stores/Fuel
Convention/Meeting
Dentists
Dining
Dry Cleaning
Events
Fabric & Crafts
Fencing
Fishing
Flooring
Food & Drink
Funeral Homes
Furniture
Gifts/Western
Government
Graphic Design
Grocery & Market
Guest Ranches & Lodges
Handyman Services
Hardware & Feed
Heating
Health Care & Medical
Horseback Adventures
Insurance
Interior Design
Internet/Web/Advertising
Landscaping
Laundry
Liquor Stores
Lodging
Log Homes
Massage Therapy
Modular Homes
Motels
Mountain Biking
Movie Theaters
Museums
Nails
Newspapers
Office Supplies
Oil Field Services
Optometrists
Organizations
Outdoor Equipment
Outfitters & Guides
Packaging & Shipping
Painters
Pet Stores
Pharmacies
Photography
Plumbing
Professional Services
Radio
Real Estate Agencies
Real Estate-FSBO
Remodeling
Retirement
Retreats
RV Camping
Schools
Scrapbooking
Septic Services
Skiing
Snowmobiling
Snow Plowing
Storage and Storage Units
Tanning
Tattoos & Body Art
Tax Preparation Services
Taxidermy
Transportation/Shuttle
Trash Services
Trucking
Veterinarians
Visitor Services