Memorial Service for Ray Brazell June 2 (posted 5/24/18)
A Celebration of Life for Alfred 'Ray' Brazell will be held at 10:00AM on Saturday, June 2, 2018 at St. Andrew's in the Pines Church in Pinedale.

---
Pinedale Art Walk June 7th (posted 5/23/18)
Painted Dreams, along with some of the other art driven establishments in town, is trying to implement a monthly art walk the first Thursday of each month. The first one will be Thursday, June 7th, from 5-8 pm.

Those participating on June 7th will be: Mystery Print Gallery, Pinedale Art & Crafts, Painted Dreams, Pine Coffee Supply, Richard Burke at the Chamber building and the Sublette County Library.

Painted Dreams will have their Grand Opening for the season that evening. David Klaren will have a reception and art show. May Orm, of Pinedale Art & Craft, will have a show and reception for some youth group at the Library that same evening.

---
Memorial Service for Ed Skorcz May 25th (posted 5/23/18)
Covill Funeral Home
Ed Skorcz, 80, of Big Piney passed away Monday, May 21st at the Memorial Hospital of Sweetwater County. A memorial service will be held Friday, May 25th at 11:00 AM at the Marbleton Senior Center.

---
Death Notice: Carl Winters (posted 5/23/18)
Covill Funeral Home
Carl Winters, 82, of Pinedale passed away Tuesday, May 22nd at the Sublette Center. A memorial service will be held later in the summer.

---
Sublette Republican events (posted 5/22/18)
All events organized/sponsored by Sublette County Republican Party (SCRP).

Monday, June 11: Sublette County Candidate Connection! 5 pm Dinner at Pitchfork Fondue, Pinedale, 9888 US HWY 191. Meet the Republican Governor and our County Candidates. Outdoor venue so be prepared to be outside if the evening is cool or windy. Bring your appetite! Unique dining experience with beautiful views of the Wind River mountain range. Menu: All-you-can-eat steak and chicken and more! Guests may bring their own beer or wine. Cost $40/person or $75/couple. Children ages 5-11 $15/child. After June 1, cost will be $50/person. Tickets available at Office Outlet in Pinedale and Big Piney.

Tuesday, June 12: 11 am Lunch with the Republican Governor Candidates with Meet and Greet to follow, Southwest Sublette Pioneers Senior Center in Marbleton, 429 East 1st St. Cost - $5 for seniors (60+) or $8 for others. Please call 307-276-3249 to reserve a meal.

Tuesday, June 19: 11 am Lunch with the Top 5 minus the Governor Candidates with Meet and Greet to follow, Southwest Sublette Pioneers Senior Center in Marbleton, 429 East 1st St. Cost - $5 for seniors (60+) or $8 for others. Please call 307-276-3249 to reserve a meal.

Tuesday, June 19: 6 pm Top 5 minus the Governor Candidates Forum, Lovatt Room, Sublette County Library in Pinedale, 155 South Tyler.

Tuesday, July 24: 11 am Lunch with the Top 5 minus the Governor Candidates with Meet n Greet to follow, Southwest Sublette Pioneers Senior Center in Marbleton, 429 East 1st St. Cost - $5 for seniors (60+) or $8 for others. Please call 307-276-3249 to reserve a meal.

Tuesday, July 24: 6 pm Top 5 minus the Governor Candidates Forum, Lovatt Room, Sublette County Library in Pinedale, 155 South Tyler.

Monday, August 6: 6 pm Governor Candidates Forum, Lovatt Room, Sublette County Library in Pinedale, 155 South Tyler.

---
Funeral Service for Glen Dunning May 26 (posted 5/22/18)
Covill Funeral Home
Glen Dunning, 84, of Pinedale, Wyoming passed away Sunday, May 20th 2018 at the Sublette Center in Pinedale. A funeral service will be held Saturday, May 26th at 11:00 AM at the Pinedale L.D.S. Church. A viewing will be held one hour prior to the service at 10:00 AM at the church. Interment and military honors will follow in the Pinedale Cemetery.

---
Sublette County WPLI Advisory Committee meeting in Pinedale May 23 (posted 5/22/18)
Wyoming Public Lands Initiative (WPLI) is a collaborative, county-led process intended to result in one, multi-county legislative lands package that is broadly supported by public lands stakeholders in Wyoming, and advanced to the Congressional delegation for introduction in Congress. The ultimate goal is a new federal law that governs the designation and management of Wyoming's 42 Bureau of Land Management (BLM) and 3 U.S. Forest Service (USFS) Wilderness Study Areas (WSAs) in Wyoming; and, where opportunities exist, addresses other public land management issues affecting the broader landscape.

The Sublette County WPLI Advisory Committee will hold a meeting on Wednesday, May 23 from 4-9PM in the Sublette County Weed & Pest office, 12 S Bench Road, Pinedale, Wyoming. Below is the draft agenda.

May 23, 2018
4:00 p.m. – 9:00 p.m.
Sublette County Weed and Pest
12 S Bench Rd, Pinedale

The public is invited and encouraged to attend Sublette County WPLI Advisory Committee meetings. There will be two opportunities for public comment at each meeting at the times indicated in the agenda. Public comments and questions will be addressed at that time only.

4:00 pm Convene

Public Comment
Old Business
Approve minutes of May 2, 2018 meeting
New Business
Discuss status of proposals and straw polls as of last meeting
Discuss the Gros Ventre extension proposal presented at 5/02/18 meeting
Consensus vote on proposal
Discuss any new proposals, including changes to existing proposals, if any
Consensus vote on any new or amended proposals
Decide on next steps
What will be presented to the BOCC from the committee?
Discuss next steps and assign responsibilities

Public Comment (Approximately 8:45 p.m.)
9:00 pm Adjourn

Related Links:
WPLI – Frequently Asked Questions Wyoming County Commissioners Association
http://www.wyo-wcca.org/~wcca/ Wyoming County Commissioners Association

---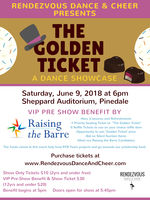 Dance Showcase June 9th in Pinedale

'The Golden Ticket' Dance Showcase June 9 (posted 5/14/18)
Rendezvous Dance & Cheer Dance will present a Dance Showcase on Saturday, June 9 at 6pm at Sheppard Auditorium in Pinedale. VIP Pre-Show Benefit at 5pm by Raising the Barre (non-profit leadership organization offered through RDC Studio). Show Only tickets $10 (2 years old & younger free). VIP Preshow Benefit & Show Tickets $30 (12 years old and under tickets $20). Doors open for show at 5:45PM. Tickets and more information at www.rendezvousdanceandcheer.com

---




Two Rivers Fishing Co, Pinedale, Wyoming

Pinedale Area Fishing Report: 05/11/2018 (posted 5/11/18)
Two Rivers Fishing Co
All right anglers, it's time to hit the lakes for a few weeks. The ice-out on our local lakes makes for great fishing until the surface water temps start to get to warmer in mid-June. Right now the fish are hungry and looking for a big meal. If you are looking for a clean river, call us up – every great fisherman has a secret spot and some of our guides will share. Each year some of the biggest fish of the season come to the net in May, so call us up and we'll talk over options for a guided trip-you may be surprised at what we have to offer. Don't forget, we're running a May special on all trips, so take advantage of this great deal and book your trip!

Green River
The Green River has been running high and dirty all week. Flows at Warren Bridge are at 2500 cfs as of this morning. The clarity on this river is very limited and consequently the fishing has been tough. The Upper Green on the Forest boundary has been fishing okay, but the water is pushing lots of debris and mud. The road is open now, so traffic will be picking up around the area, but you have to drive almost to the lake on early season dirt roads to find clean water. The lower lake is fishing great and always does this time of the year. We will be watching this river closely so call the shop or check back on the website for an up-to-date report as this river will be changing a lot in May and June. Best options for flies are big ugly streamers in black, white or yellow.

New Fork River
This river has finally spiked! There are still a few sections worth fishing, but below Boulder bridge the water is pretty dirty. Flows are at 2900 cfs as of this morning but may drop a little this weekend with some cooler weather. The rain is keeping things moving, too. Fish streamers and big nymphs looking for little pockets and deeper pools. Slow-moving water along the banks will start to hold more fish as the flows increase. Use big stoneflys or bull-head looking streamers and you can find a few big boys to play!

Seedskadee
This river is a great option for early season fishing. The flows have been on the rise, but the fishing has still been solid. The river is currently running at 2650 cfs and flows will continue to rise over the next few weeks. Most anglers fish under the surface on this tailwater with scuds, midges, worms and leeches. The fishing has been really good below the dam and when the wind dies down some dry fly action has been fun! Streamers work this time of the year, so make sure you chuck them too if the fishing slows down. A sink-tip line is your best bet right now. The flows will probably bump in the next few weeks, so come fish this window of opportunity during the month of May.

Lakes/Soda
Soda Lake has survived the second week and the craziness is starting to wind down a bit. Watch for Memorial Weekend though, it's always a popular camping and fishing spot during the holidays. The fishing has been good with leeches, scuds and buggers. Use a sinking line to get below the surface a little and fish the depth changes. Fish will cruise the shallows so be careful when wading into the lake. We have a few guides that have this trophy lake dialed in, so if you need a day learning stillwater fishing techniques give us a call. Mid-week is the best time to fish due to the limited number of fishermen. Early morning starts, mid-day Soda Lake feeding time, and late evening offer some of the best times to catch a true trophy brown trout or brook trout. TRFC has a few balanced leeches and buggers that produce big fish on Soda Lake. We are offering fishing trips on this lake to fit any angler's timeframe and fishing trip. If you want to fish late into the evening and dark, we've got you covered. If you want to fish it all day long, no problem. If you want to fish before first light-yep, we can do that too! We have been getting into some good fish at all different times of the day. Let us know if we can help you catch a fish of a lifetime on what we call Wyoming's Little Pyramid Lake!

Access Issues and Closures
Be careful if floating the rivers below Warren Bridge or on the New Fork. High water season can change the river and bring logs, trees and surprises to a float. Use caution when wading in high, dirty water-currents are swift and river bottoms can change-safety first!

Book your fishing trip today!
Green River: Flows at Warren Bridge are 2500 cfs.
New Fork River: Flows at Hwy 351 are 2900 cfs.
Seedskadee: Flows at Fontenelle are 2650

Guides' Choice:
New Gear: TRFC got some new rods in this week. We have a casting area behind the shop if you want to try casting some of these new rods. The Sage X against the Wintson BIIIX is a fun casting comparison.
Fly of the Week: Leeches! Lots of colors have been working- try them all, especially up at Soda!
Float of the Week: Seedsakdee is producing good fish and holds the best option for float trips.
Hot off the press: Two Rivers Fishing Company opened the doors at their new location in Pinedale. Come check out the new shop. We are located on Pine (main) Street across from the old Two Rivers Emporium. Also, stay tuned for our Grand Re-Opening Party coming up May 26!
Rods and Reels: The new fly rods at TRFC will fit anyone's needs and budget. We have the Sage X rods in and the Winston BIIIX. Both these rods are top of the line and make casting to early season wily trout feel like cheating.
________________________________________

This fishing report is courtesy Two Rivers Fishing Co. As always, pop in the shop and check out the largest selection of flies in Sublette County, and get the most up-to-date fishing conditions firsthand.

Source: https://www.tworiversfishing.com/blog/2018/05/11/pinedale-area-fishing-report/
Two Rivers Fishing Company (May 11, 2018)

Related Links:
www.tworiversfishing.com Two Rivers Fishing Co, Pinedale, Wyoming
Fishing Report archive (2001-2018) Pinedale Online!

---
SCSD 1 teams with PAC to provide sports opportunities to 6th graders (posted 5/11/18)
2018-2019 SCSD 1 Budget Reduction Plan eliminates 6th grade sports
SCSD 1 and Pinedale Aquatic Center joint media release
As a part of its budget reduction plan for 2018-2019, Sublette County School District 1 (SCSD 1) has eliminated 6th grade sports. Over the last three years, statewide funding reductions and local tax abatements have resulted in decreasing revenues for the district, and expenditures in the activities budget exceed revenues by $180,000. In addition, very few 3A schools in Western Wyoming offer team sports at the 6th grade level, making it difficult to fill a full schedule for 6th grade competitions.

SCSD 1 is working closely with the Pinedale Aquatic Center (PAC) and local USA sports programs to provide comparable opportunities for 6th grade students for the 2018-2019 school year.

The PAC will be expanding their current programs for football, volleyball, basketball, and track to include 6th grade students. The PAC has an existing partnership with USA Swimming and opportunities for 6th grade students currently exist through that program at the PAC. Questions regarding these programs for next year can be directed to the PAC at 367-2832.

The Pinedale Pummelers, a USA Wrestling program, currently offers opportunities in wrestling for 6th grade students. For more information regarding the Pinedale Pummelers and USA Wrestling, contact Aaron Wilson at (307) 360-7539.

Related Links:
www.sub1.org Sublette County School District #1

---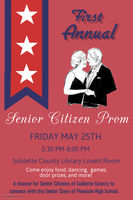 Senior Citizen Prom

1st Annual Senior Citizen Prom May 25th (posted 5/8/18)
The 1st Annual Senior Citizen Prom will be held on Friday, May 25th from 5:30 to 8:00PM in the Sublette County Library Lovatt Room.

There will be food, dancing, games, door prizes and more.

This is a chance for senior citizens in Sublette County to connect with the senior class of Pinedale High School.

---
Open Enrollment begins at Children's Learning Center (posted 5/8/18)
For preschool children age 3-5
Children's Learning Center Preschool is currently enrolling for the 2018-19 school year. Morning or afternoon sessions in Big Piney and Pinedale are available. Open to children ages 3-5. The preschool program follows an inclusion classroom model which brings together children of all abilities and backgrounds to enrich the lives of all children.

The only preschool in Sublette County currently accredited by the National Association for Education of Young Children (NAEYC), CLC emphasizes learning through play both indoors and in their Outdoor Classrooms, using a curriculum that promotes social emotional development, literacy, critical thinking and problem solving skills.

Full and partial tuition scholarships (limited) available for qualifying families.

Call 307-276-5415 in Big Piney or 307-367-6306 in Pinedale for more information or visit www.childrenlearn.org.

---
Local Services:
Abortion Alternatives
Accounting & CPA
Apartments/Townhomes
Arts & Entertainment
Attorneys & Legal
Automotive
Aviation Services
Banks & Financial
Bars
Beauty Salons
Bed & Breakfasts
Boating
Bookkeeping
Builders & Contractors
Building Material
Business Services
Cabins
Cellular
Child Care
Churches
Cleaning Services
Clothing
Commercial Art
Computer Supplies
Condos
Consultants
Convenience Stores/Fuel
Convention/Meeting
Dentists
Dining
Dry Cleaning
Events
Fabric & Crafts
Fencing
Fishing
Flooring
Food & Drink
Funeral Homes
Furniture
Gifts/Western
Government
Graphic Design
Grocery & Market
Guest Ranches & Lodges
Handyman Services
Hardware & Feed
Heating
Health Care & Medical
Horseback Adventures
Insurance
Interior Design
Internet/Web/Advertising
Landscaping
Laundry
Liquor Stores
Lodging
Log Homes
Marketing
Massage Therapy
Modular Homes
Motels
Mountain Biking
Movie Theaters
Museums
Nails
Newspapers
Office Supplies
Oil Field Services
Optometrists
Organizations
Outdoor Equipment
Outfitters & Guides
Packaging & Shipping
Painters
Pet Stores
Pharmacies
Photography
Plumbing
Professional Services
Radio
Real Estate Agencies
Real Estate-FSBO
Remodeling
Retirement
Retreats
RV Camping
Schools
Scrapbooking
Septic Services
Skiing
Snowmobiling
Snow Plowing
Storage and Storage Units
Tanning
Tattoos & Body Art
Tax Preparation Services
Taxidermy
Transportation/Shuttle
Trash Services
Trucking
Veterinarians
Visitor Services