Student-directed documentary to premier May 29th in Pinedale (posted 5/28/15)
Pinedale Middle School
The documentary, "Stepping Stones: the Evolution of Education" will premier on Friday, May 29 at 2:00 pm at Rendezvous Pointe, the senior center. The 32-minute documentary was researched, written and directed by a select group of eighth graders at Pinedale Middle School. Professional Jackson Hole documentary-maker, Leigh Reagan, served as the production supervisor. She worked with students for the school year on researching, writing, shooting, and editing the actual documentary. The public is welcome to the premier.

Sherrill Hudson, the Language Arts teacher who worked with the students, commented that the project taught students how to make a documentary, but also opened their eyes to the complex history of education in this country. One student said of the project, "I was surprised at how opposite peoples' opinions were about curriculum." Another said, "I did not realize how many acts of government it took to create the education experience we have today."

Students selected areas of interest and created seven segments on the history of education, ranging from curriculum to discipline to school buildings and architecture. Additionally, students conducted over 15 interviews with current education professionals as well as retired experts. State Superintendent of Public Instruction, Jilian Ballow, spent nearly 30 minutes with the students via a Skype interview.

The project was conceived and developed by Hudson, and funded by University of Wyoming Learning Resource Networks (LeaRN) and School University Partnership (http://www.uwyo.edu/wsup/), Sublette BOCES, and Rendezvous Pointe.

As part of the grant funding requirements, students involved senior citizens in the interview portion of the documentary. Additionally, high school students served as mentors during the research phase along with Dr. John Anderson, a retired University of Nebraska professor.

Students appreciated the project because it allowed for creativity and collaboration. Students commented: "My favorite part about making the documentary was collaborating with the team to make our section. The interviews were also fun. I liked hearing peoples' opinions about how discipline is handled now," and "I liked getting the producer's opinions and using them to improve my documentary section."
---
Town of Pinedale Update – Emergency Services (posted 5/22/15)
Bob Jones, Pinedale Mayor
I would like to take a few minutes to let you know what goes on behind the scenes with the Town of Pinedale partners. We have top notch emergency services in our towns and county. The first-rate service we all receive does not happen on its own. We are fortunate to have Jim Mitchell, who heads up the Emergency Management group in our county. Jim is employed through the Sheriff's office and represents Wyoming Homeland Security. Every Wednesday morning, representatives from the Sheriff's Office, Wyoming State Patrol, Fire Department, EMS, Clinic, Public Health, Search and Rescue, and the Town meet to discuss our coordination and procedures to ensure that every time there is a response, our citizens get the best and most professional service we can provide. I have been going to these meetings for a year and I have to tell you, I'm impressed. This group is primarily funded by our county commissioners and they have put our safety in good hands. By the way, the towns pay Sublette County $10 a year for fire service and $10 a year for law enforcement. Every major and most minor events that take place in this county are reviewed weekly and discussed from different points of view as part of this groups ongoing effort to improve our service. As you know, when you have a lot of people and agencies involved, confusion and poor communications can easily become major problems. We spend a lot of time heading off these problems before they occur. By working together in forming standardized SOPs and practicing them in exercises, we have made great strides towards providing some of the best emergency responses in the state.

For those of you interested in preparing for an emergency, a course called The Road to Preparedness 72 hours and beyond, is being put on by the Wyoming Homeland Security Training Program. This course is designed to train people to go back to their organizations and teach what to do in an extended emergency. This course will be held on May 30th from 8:00 AM to 5 PM. For information contact Jim Mitchell at 307-367-2284.

Related Links:
www.townofpinedale.us Town of Pinedale

---
1st Annual fishing for Sobriety June 6th (posted 5/22/15)
Held at Willow Lake in conjunction with Wyoming's Free Fishing Day (No fishing license required on this day). From 7:00AM to ?? Bring your own chairs and lunch. Bring your favorite campfire food for the potluck dinner at 5:00pm. Hot dogs, buns & condiments to be provided. Come for the day or the weekend. Campsites and BBQ pits available. Some fishing poles and tackle will be available for use. $1.00 buys an entry into the "Biggest Fish" jackpot. Jackpot to be awarded at the potluck dinner. Clean and sober fun for all. For more information, contact: Troy at 307-231-1647 or Allison 307-360-6833. Sponsored by Southwest Counseling Center.

---
Pinedale Region WGFD Partner Appreciation June 13 (posted 5/22/15)
Wyoming Game & Fish will be hosting a Partner Appreciation Event (open house) at the American Legion Park on Saturday, June 13, 2015 from 11 am to 2 pm in Pinedale. The intent of the open house is for people to meet the Pinedale Wyoming Game and Fish Department personnel and give their thoughts on what they think about programs and discuss any issues. There will be wildlife biologists, fish biologists, habitat/access personnel, terrestrial and aquatic habitat biologists, I&E biologist, bear biologist, and office managers present. There will also be variety of interactive stations and some events for kids. Lunch will be provided. For more information contact: Hilda Sexauer, Lori Johnson or Layna Jones at 307-367-4352.

---
Fiber Art Festival at the Library May 30th (posted 5/22/15)
The Sublette County Library is displaying handmade fiber art created by local residents during the month of May and they invite you to an all-day Fiber Art Festival on Saturday, May 30th. The fun begins at 10 am with a live llama shearing demonstration. Mary Pendergast will shear her llama on the southwest lawn. Sandy Bousman will follow with a wool carding and spinning demonstration and talk about natural dyeing.

In the afternoon from 1-4 pm the public will have a chance to watch local artisans work on an assortment of fiber activities: bobbin lace making, tatting, weaving, knitting, crocheting, embroidery work and quilting. It's a great opportunity to ask questions, or try it for yourself!

Weather permitting, there will be a wine and cheese reception in the courtyard from 4-5 pm.

For more information visit our website: sublettecountylibrary.org or call the library at 307-367-4114.

---
Rebuttal: Microbreweries (posted 5/19/15)
Sean Watts, Owner, Wind River Brewing Co.
Editor's Note: On May 15th, we posted a Town of Pinedale Update by Mayor Bob Jones on the topic of microbreweries in Pinedale. The discussion is happening because a local microbrewery wishes to expand its operations in town. In order to have both sides of this debate be fairly presented, we are posting a response sent in by the owner of the microbrewery making the request.
_________________________________________________

I would like to clear up a few items that Mayor Bob Jones has been saying about Wind River Brewing Company and the pending expansion of our brewery operation.

1. He claims we want to expand our brewery into a "FACTORY". This is totally incorrect. We simply want to expand our brewing operations into a larger facility in order to accommodate the demand for our product.

2. He claims we requested the town allow microbreweries as a permitted use in C-1 and that this means we DO NOT NEED PERMISSION. We have requested microbreweries be added to C-1 as a permitted use. However, we still have to ask permission in the way of a building permit. This permit process is very well defined in the town ordinances. So, what this means is the town has already set requirements for parking, set-backs, building height, etc. If we don't meet those requirements, the town will not issue a building permit.

3. He rightfully points out that an ordinance drafted by the Town Attorney to include microbreweries as a permitted use in C-1 was presented to Planning and Zoning. Planning and Zoning voted unanimously to make a recommendation to the town council to include microbreweries as a permitted use in C-1. What the mayor fails to disclose is that he refused to have that P&Z recommendation included on the agenda of the town council meeting. So, the council never heard the recommendation or had the opportunity to vote on it.

4. He claims that he cannot support this project in C-1 unless it is permitted under a special use permit otherwise known as conditional use. This basically means that the mayor and town council have 100% total control over which property we purchase and what we can put on that property. Under this scenario, there are no clear cut rules. The mayor can make up the rules as we go and potentially bankrupt a growing business by imposing whatever restrictions he sees fit. This is an unacceptable way to promote growth in our town. The rules are already in place why are we suddenly trying to change them?

5. He says we want to build a "FACTORY"(please see above) that will be able to produce 50,000 BBLS a year, employ 30 employees and have a 90 seat tasting room. He also references this volume of 1,550,000 gallons of beer or 200 tanker trucks. In my mind, creating 30 plus sustainable jobs in Pinedale is a great thing. The tasting room is primarily for people who want to take tours of our brewery(creating tourism, also a good thing). The negative connotation of 200 tanker trucks has no relevance in this equation. I don't know of a single brewery in the entire world who uses tanker trucks to transport their product. This is simply thrown out there as a negative idea to promote his Light Industrial argument.

6. He claims allowing microbreweries in C-1 means that if you have a house next to or in C-1, we would have the right to put a "FACTORY"(please see above) right next to your house and you would have no recourse. As I understand the process, Planning and Zoning meetings have to publish their agenda the same as any other government entity. So, if this is an issue for anyone, they have the right to come to the P&Z meeting and voice any concerns they may have.

7. He feels conditional use is very fair and appropriate. Conditional use opens us up to any and every rule that he decides to hold us to, not to mention the amount of money this could potentially cost us.

8. In the mind of the mayor this is a "factory" and should be located in industrial zoned land that is located for this type of project. Currently in the town of Pinedale, there are eight light industrial zoned properties. Every single light industrial property in the town borders residential property so, his primary argument for keeping us out of C-1 doesn't really hold water.

9. He claims we have accused him of not wanting business in town because he won't roll over and give us what we want. This is absolutely false. I have never made that accusation, however I am beginning to warm up to that way of thinking.

10. He says he will not be bullied into doing something he knows is wrong. We have never bullied anyone in this process, we are only trying to do what we think is right and let the democratic process play out as it may. The only bullying going on in this situation is from the side of the mayor.

I encourage all citizens and business owners to start attending all Pinedale Town Council meetings so you can see for yourselves how our town is being run and participate in the democracy we all love.

Related Links:
Town of Pinedale update: Microbreweries May 15, 2015

---
Wyoming Free Fishing Day is June 6 (posted 5/19/15)
Wyoming Game & Fish
Both residents and nonresidents alike can fish for free with no license required all day in Wyoming on June 6. The free fishing day was authorized in 2003 by the Wyoming State Legislature.

Free Fishing Day applies to all waters in Wyoming with the exception that fishing licenses are required in Yellowstone National Park and the Wind River Indian Reservation. All fishing regulations such as creel and size limits, gear restrictions, fishing hours and stream closures still apply.

Free Fishing Day is held in conjunction with National Fishing and Boating Week and is designed to provide an opportunity for people to get reacquainted with fishing and enjoy Wyoming's outstanding fishing opportunities.

Free Fishing Day Activities:
June 6
Afton—Kids' Fishing Day, Golf Course Pond, 8 a.m. Casper—Kids' Fishing Derby, Yesness Pond, 9 a.m.
Cody—Optimists' Kids' Fishing Derby, Beck Lake, 8:30 a.m.
Cheyenne—Family Fishing Day, Granite Reservoir, Curt Gowdy State Park, 10 a.m.
Jackson—Kids' Fishing Day, Jackson National Fish Hatchery, 10:30 a.m. Lander—Kids' Fishing Day, Luckey Pond, 9a.m.
Powell— Annual Kids' Fishing Day, Homesteader Park Pond, 6 a.m.
Pinedale—Kids' Fishing, Day CCC Ponds, 10 a.m.
Riverton—Kids' Fishing Day, Big Bend Ponds, 8 a.m.
Saratoga—Kids' Fishing Day, Saratoga Resort Pond, 7:30 a.m.

Other Kids' Fishing Days throughout the summer:

June 13
Dubois—Kids' Fishing Day, Scout's Pond, 9 a.m.
Kemmerer—Youth Fishing Derby, Kemmerer City Pond, 8 a.m.

June 20
Rock Springs—Take a Kid Fishing Day, Wataha Park Pond, 9 a.m.

June 27
Evanston—Kids/Family Fishing Day' UP Ice Ponds, 8 a.m.
For more information about Free Fishing Day and upcoming events, contact the nearest Game and Fish regional office.
---
'New Invaders – Emerging Threats' talk June 11th (posted 5/18/15)
Sublette County Weed & Pest is offering a special program about weeds on Thursday, June 11th. Presenter Brian Mealor, UW Weed Specialist will discuss baby's breath and dames rocket. Everyone welcome, 6PM, Sublette County Weed & Pest Office, 12 South Bench Road south of Pinedale. Dinner will be provided.

---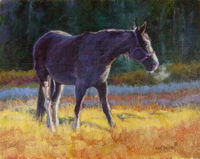 Charmian McLellan's oil painting, "Frosty Morning", placed first in Oils.

Mixed Media Artists shine at State Art Convention (posted 5/18/15)
Mixed Media Artists
The 60th anniversary of the Wyoming Artists' Association was celebrated the first weekend of May in Gillette. Artists from across the state participated in four workshops, the art exhibit, Quick Draw and art auction, luncheon business meeting, and costume banquet and returned home enthusiastic and inspired for yet another year.

Local Mixed Media artists attending were Debbie Despain and Sharon Schell, Big Piney; Laurie and Devan LaMere, Jackson; Kay Meeks, Daniel; and Charmian McLellan, Boulder. The artists reaped several awards. Laurie LaMere received "President's Choice" for "Grand Opening" and third place in Oils for "Misty Morning". Sharon Schell placed first in Sculpture with "Melony". Kay Meeks's oil painting, "Meadow Trysting", is on its way to Wyoming's Congressional offices in Washington, D. C. She also received second place in Oils for "Fall's Recompense". Charmian McLellan's oil painting, "Grande Dame", was selected "People's Choice" and her oil painting, "Frosty Morning", placed first in Oils.

The 2016 WAA convention will be held in Dubois at the Headwaters Conference Center. Well-known artist, Tom Lucas, is president. Sharon Schell was elected vice president/secretary and will host the convention in 2017.

Artists interested in joining WAA are encouraged to contact Kay Meeks, 307-859-8828 or Charmian McLellan, 307-537-5488.

---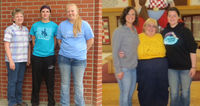 (L to R) Sherri Bohleen, Fallon Ramsay, Shayla Wright (Pinedale). Matazie Thoman, Jonita Sommers, Katie Haseltine (Big Piney)

Green River Valley Cattlewomen's scholarship recipients for 2015 (posted 5/17/15)
Green River Valley Cattlewomen
The Green River Valley Cattlewomen give a scholarship each year to a senior from Pinedale and Big Piney High Schools. This year Pinedale High School had 10 applicants with Shayla Wright receiving the scholarship and Fallon Ramsey as alternate. Shayla is the daughter of Justin and Sandy Wright. She will be attending Northwestern Wyoming Community College in Sheridan. Fallon is the daughter of Scott and Sherry Ramsey. She will be attending the University of Wyoming and majoring in veterinary medicine.
Big Piney High School had 4 applicants. Matazie Thoman will receive the scholarship for Big Piney High School and Katherine Heseltine is alternate. Matazie is the daughter of Clayton and Abrianne Thoman. She will be attending Northwestern Wyoming Community College in Sheridan. She will be majoring in agriculture business and science. Katie is the daughter of Liz Wardell and her stepfather is Eddie Wardell. Katie will be majoring in music performance and education.

---
Local Services:
Abortion Alternatives
Accounting & CPA
Arts & Entertainment
Attorneys & Legal
Automotive
Banks & Financial
Bars
Beauty Salons
Bed & Breakfasts
Boating
Bookkeeping
Builders & Contractors
Building Material
Business Services
Cabins
Cellular
Child Care
Churches
Cleaning Services
Clothing
Commercial Art
Computer Supplies
Consultants
Convenience Stores/Fuel
Convention/Meeting
Dentists
Dining
Dry Cleaning
Events
Fabric & Crafts
Fencing
Fishing
Flooring
Food & Drink
Funeral Homes
Furniture
Gifts/Western
Government
Graphic Design
Grocery & Market
Guest Ranches & Lodges
Handyman Services
Hardware & Feed
Heating
Health Care & Medical
Horseback Adventures
Insurance
Interior Design
Internet/Web/Advertising
Landscaping
Laundry
Liquor Stores
Lodging
Log Homes
Massage Therapy
Modular Homes
Motels
Mountain Biking
Movie Theaters
Museums
Nails
Newspapers
Office Supplies
Oil Field Services
Optometrists
Organizations
Outdoor Equipment
Outfitters & Guides
Packaging & Shipping
Painters
Pet Stores
Pharmacies
Photography
Plumbing
Professional Services
Radio
Real Estate Agencies
Real Estate-FSBO
Remodeling
Retirement
Retreats
RV Camping
Schools
Scrapbooking
Septic Services
Skiing
Snowmobiling
Snow Plowing
Storage and Storage Units
Tanning
Tattoos & Body Art
Tax Preparation Services
Taxidermy
Transportation/Shuttle
Trash Services
Trucking
Veterinarians
Visitor Services