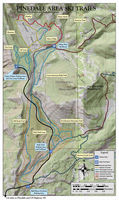 Trail map courtesy Sublette County Recreation Board

Nordic ski grooming report – March 7, 2014 (posted 3/7/14)
Report courtesy of Mike Looney, Groomer
Friday, March 7, 9:00AM report: All trails above groomed this morning except Heart Attack and the part of Lower Surveyor by White Pine ski area, which is closed because of the hillclimb this weekend. The CCC Pond trails were groomed first this morning so should be the firmest. About 3" of new snow in the last two days. 32 degrees. Soft skiing, but pretty nice day, slight breeze blowing. Don't recommend driving into the road by the Nordic building because of muddy conditions. Park in the Sweeney Creek parking area instead to access the trails. Watch out for trucks with big snowmobile trailers coming in and out on the road for the next couple of days due to the snowmobile hillclimb event at White Pine. Hope to get to the golf course by lunchtime. No more grooming for the rest of the weekend, will be back on Monday.

Related Links:
X-C Ski Trail Map - (356K PDF)
Road and Weather links
www.whitepineski.com White Pine Ski Area, 307-367-6606
www.visitpinedale.org Pinedale tourism website (lodging, dining, area information)

---
Pinedale Volunteer Fire Department Open House March 15 (posted 3/6/14)
Pinedale Volunteer Fire Department is having an open house on Saturday, March 15, from 11am – 2pm. They will be cooking hamburgers and hot dogs, and will have fire truck rides for the kids.

Related Links:
www.pinedalefire.com

---
Legislature update (posted 3/6/14)
HD20 Representative Albert Sommers
Thursday, March 6, 2014
Hello Sublette County, this is Albert Sommers reporting to you from Cheyenne on Thursday. The 2014 Budget Session came to end on Thursday afternoon. The 2015-16 budget exceeds $8.5 billion, when federal dollars are included. Our general fund appropriations for 2015-16 is around $3.5 billion compared to the last biennium budget of $3.4 billion, which means we have held the line on state spending. We put $220 million into various savings accounts, including $100 million into a newly created School Foundation Program Reserve Account, which continues the legislature's commitment to saving the people's money for uncertain times. With coal leasing becoming less certain our school funding is less certain, because coal lease bonuses account for a large percentage of the funding for school capital construction. Creating a savings account to address this shortage seems to be a prudent idea. We appropriated $175 million for local government funding, and Sublette County governments will see a $300,000 increase in funding over the previous budget. Sublette County received a total of $2.4 million for 2015-16. During 2015-16, Big Piney will receive $119,109, Marbleton $192,307, and Pinedale $352,751, which is an increase for all three communities over the last budget. The final budget included a $39.5 million increase in state employee compensation from the general fund, which included employees of the executive and judicial branches, University of Wyoming and community colleges. In addition, we have increased the K12 External Cost Adjustment and salaries by $38.15 million. State employees have not seen an increase in wages for some time, and this was a conservative approach. The University of Wyoming received over 460 million in general fund dollars. This appropriation included $8 million for the Tier 1 Engineering College, $2.5 million for literacy programs, and $2 million for athletic recruitment. We appropriated $327 million in general fund dollars to community colleges, including $14.3 million to compensate for increased enrollment. Our community colleges serve an important role in creating the workforce for Wyoming, and we need to maintain our commitment to these institutions. We put $10 million dollars to the Wyoming Wildlife Natural Resource Trust Fund and $4.2 million general fund dollars to the Tourism Board's national marketing effort. These are just a few highlights of the budget. My greatest concern with the budget process is that too much legislating is occurring within the budget bill, in the form of footnotes. Budget footnotes are a poor way to legislate, because they are not vetted in the same open, transparent manner as a bill. We should further restrict the number of bills that can be brought in a budget session by an individual legislator, because too many bills detract from our primary responsibility of understanding the budget. There were over 400 bills drafted for this session, with 300 bills being numbered and brought forth. In the end only 136 bills passed the session, including 55 individual bills. If you have questions about the session, please feel free to contact me, as I will be heading home tomorrow.

Wednesday, March 5, 2014
Hello Sublette County this is Albert Sommers reporting to you from the Capitol on Wednesday afternoon. We passed SF97 today in final reading, and it establishes a process for the state of Wyoming to initiate large scale economic development loans that create a substantial job base. The process that was created has layers of checks and balances from the Wyoming Business Council to the state Treasurer to the State Lands and Investment Board to the Governor. I voted for this bill which puts $25 million dollars into a special account for projects, and is designed to fit a project in Cody, involving the expansion of a drug manufacturing facility, but I do worry about past Wyoming failures in this arena. Diversifying Wyoming's economy is important, especially with Washington's war on coal, and this economic development vehicle should help with diversification. We have a few Conference Committees to complete, on issues where the House and Senate disagree, and then this budget Session will be over. Management Council handed the issue of the duties of the Superintendent of Public Instruction to the Joint Education Committee, which I am a member of, and asked us to provide solutions by the end of April. I feel the time frame is a bit ambitious. Once again, I believe we should do as the court asked, repeal SF104, and bring a constitutional amendment to the people which gives them a choice between a Superintendent with historic duties and one whose duties are only prescribed by law. This issue has a life of its own, and I have no idea where it will end up. Goodnight for now.
When folks go to bed Saturday night, they should set their clocks forward one hour.

---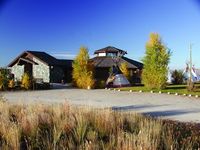 Museum of the Mountain Man Annual Meeting & Spring Thaw Party on March 13th.

Museum of the Mountain Man Annual Meeting and Spring Thaw Party March 13 (posted 3/6/14)
The Museum of the Mountain Man and Sublette County Historical Society will host their Annual Meeting and Spring Thaw Party on Thursday, March 13, 2014 from 6-9PM at the Museum. Chance for the public and Sublette County Historical Society members to get an update on what has been happening at the Museum and other Historical Society projects and future plans, including the unveiling of the new Historical Clothing Exhibit. There will be a short business meeting for the election of new officers. The feature program is a presentation by Jim Hardee, Editor of the Museum's Rocky Mountain Fur Trade Journal, on his latest book published by the Museum entitled, "Obstinate Hope - The Western Expeditions of Nathaniel Wyeth". This event is sponsored by Geoff & Jackie Sell and James Thomas. Catering by Sue Eversull.

Related Links:
www.mmmuseum.com

---
Wyoming Legislature update (posted 3/6/14)
HD20 Representative Albert Sommers
Tuesday, March 4, 2014
Hello Sublette County this is Albert Sommers reporting to you from Cheyenne on Tuesday evening. Today Pinedale Mayor Steve Smith was at the session with Pinedale High School Junior Council members Tanner Trujillo, Savannah Mitchell, Fallon Ramsey, and Shayla Wright. Governor Mead signed HB3 today, the Alternative Schools bill, and the Pinedale students got to participate in the bill signing. SF31 passed the House on final reading today, and this bill creates a 24/7 Sobriety Program. The program is designed to reduce the number of repeat crimes that are related to substance abuse by monitoring an offender's sobriety through intensive alcohol and drug testing and immediate and appropriate enforcement. This is codifying a program that was already being utilized in some counties of the state. Also passing on final reading today was SF115, Warrantless searches – repealed, which repealed the Wyoming Game and Fish Department's authority to search a camp, pack, or backpack without probable cause. I supported this bill, because I believe all searches of private property should occur through due process, but I also worry that it will harm a game warden's ability to perform his duties out in the sticks. Time will tell if this was a mistake, but the bill cleared by a large vote. We have one more day of hearing Senate Files, and then a few Conference Committee reports and concurrences with the Senate. Goodnight for now.

Monday, March 3, 2014
Hello Sublette County, this is Albert Sommers reporting to you from the Capitol on Monday evening. The biggest news out of the legislature today was not what passed or failed, but what was laid back and not heard in Committee of the Whole. SF106 the bill that would have set the stage for a special session to deal with the Wyoming Supreme Court decision on the Superintendent of Public Instruction died without being heard. The discussion around this issue and a special session would have been a bloody battle on the floor, and was not worth the bad feelings it could have generated. Until the district court renders a final decision, based upon the Supreme Court's decision, the legislature will not know what hoops to jump through anyway. Some are hoping the district court will sever the issue, and provide direction to the legislature on how to bring SF104 into constitutional compliance. I provided my solution in the last update, but this issue will linger for some time to come. HB86, the fix for the Sublette County Rural Health Care District passed the Senate today, and will be headed for the governor's desk. The governor will sign into law the Alternative School bill tomorrow, and I will try to attend the signing. We also passed SF97 today in Committee of the Whole, which is a process by which the state can provide large scale economic development loans to businesses in the state which provide a significant job base. This process has many checks and balances to protect the state's money. Economic diversification is important to the state of Wyoming, and we need to support efforts that are well vetted and benefit the state. Good night for now.

Sunday, March 2, 2014
Hello Sublette County, this is Albert Sommers reporting to you from Cheyenne on Sunday. On Friday, as I reported, the Wyoming Supreme Court refused to rehear its decision on the constitutionality of SF104, and reaffirmed that the legislation from last year to strip the duties of the Superintendent of Public Instruction was unconstitutional. In its ruling the Court clearly stated: "Efforts should be made to achieve constitutional compliance as quickly as possible." This seems like clear direction from Wyoming's highest court that the legislature most move "as quickly as possible" to rectify the problems we created, and return the duties back to the office of the Superintendent of Public Instruction. Yet I continue to hear around the Capitol, that we just need to tweak SF104 and bring the legislation into constitutional compliance. I believe this is the wrong approach, and that we need to restore the duties of the Superintendent of Public Instruction, as they were defined prior to SF104. If the legislature believes that the duties of Superintendent should be vastly reduced and a director appointed to assume those duties, then we need to bring a constitutional amendment to the voters of the state of Wyoming, which will allow the citizens to make this decision. We need to restore the duties of Superintendent, sothe candidates for this office know what they are running for. We need to have a constitutional amendment on the ballot, this next election, which will give the voters a clear choice between a Superintendent with historic powers and a Superintendent whose powers are prescribed only by law. The legislature needs to let the voters of Wyoming settle this constitutional debate, and move on with educating the children of Wyoming. To get this accomplished, we should stay in session until we resolve these issues, not call another special session.

Related Links
Albert Sommers, State of Wyoming webpage
www.albertsommers.com

---
Cattlemen's Annual Meetings & Banquet March 7 & 8 (posted 3/5/14)
The Green River Valley Cattlemen's will hold their Annual Meetings on Friday & Saturday March 7th & 8th. The meetings are on both Friday and Saturday starting at 1PM at the Marbleton Town Hall. The Annual Banquet is on Saturday at the Southwest Sublette County Pioneers Senior Center.

Special guest speakers on Friday will discuss topics on grazing, permit renewal, wildlife and other issues from BLM, US Forest Service, Game & Fish, NRCS, Conservation District and more. Meetings resume on Saturday at 1PM with special guest speakers including local and state political representatives, Jim Magagna from Wyoming Stockgrowers, presentation on passing on estates, business meeting and resolutions.

The Annual Banquet is this evening in the Marbleton Senior Senior with the Cash Bar starting at 5:30PM and the banquet at 6PM. Keynote entertainment at the banquet is by Chuck Larson, Cowboy Poet. There will be live music by The Sundowners. The public is invited – membership not required. Enjoy dinner, live music, dancing and great entertainment. The Banquet costs $30 in advance or $35 at the door. Tickets are available at the Cowboy Shop in Pinedale and both Office Outlets (Pinedale and Big Piney). Contact Kim Bright for more information, 307-231-3975.

---
Memorial Service for Marian Gants March 8 (posted 3/3/14)
There will be a memorial service for Marian Gants on Saturday, March 8th, at 11 am, at the Boulder Community Center. Please join us as we celebrate and remember her life. Please bring a dish to share.

---
Pinedale Pummelers 2014 Wrestling Tournament March 8 (posted 3/3/14)
The Pinedale Pummelers will host the 2014 Wrestling Tournament on Saturday, March 8th. Around 200 kids ages 5 to 18-years old from all over Wyoming will be traveling to Pinedale to compete.

The tourney will be held at the Pinedale Wrangler Gym, 655 North Tyler St. Doors open at 6:30 AM. All wrestlers must be checked in by 7:30 AM. There will be a Coaches Meeting at 8:00am.

All wrestlers must pre-register and pay through trackwrestling.com by Thursday March 6, 2014 at 10pm. There will be no on-site registration. Registration will be limited to 200 wrestlers. Cost is $25.00, includes both styles. A USA certified coach and licensed official from each team must conduct club weigh-in and skin check.

Please e-mail the wrestlers name, weight and USA numbers to haley.elisha@gmail.com by Thursday March 6, 2014 at 10pm.

The tourney will follow the Madison Block 4-man round robin format. This is a USA Sanctioned Tournament, headgear and red/blue singlets are required for freestyle.

The local Host Hotel is Baymont Inn & Suites, 1424 W Pine St, Pinedale • (307) 367-8300. A block of rooms has been reserved with a group rate of $69.00 per room (ask for the Pinedale Wrestling rate). Complimentary rooms will be available for Referees - please contact Elisha 307-231-2230.

For more information contact Bubba Haley 307-231-2230, or email herbhaley@gmail.com. Concessions will be served.

Click here for a printable flyer with more details (PDF)

---
Book Bingo at the Library in March (posted 3/3/14)
Adult Winter Reading program
Sublette County Library
Why let the kids have all the fun? They have their Summer Reading Programs, so we are now offering Adult Winter Reading for both Pinedale and Big Piney library users. Read four books of your choice and get a small prize. Read eight and get a slightly bigger prize! Fill your reader's bingo card as many times as you want, and get tickets to enter a drawing for yet another prize. Adult Winter Reading will run March 1st — May 31st. For more information visit the library website: sublettecountylibrary.org or call 307-367-4114.

---
Sublette Chamber Community Conversation Luncheon March 18 (posted 3/3/14)
The Sublette County Chamber of Commerce will host its March Community Conversation Luncheon on Tuesday, March 18 at noon in the Lovatt Room of the Pinedale Library. Special presentation by the Wyoming Community Foundation and their granting process and funding for non-profit organizations. Please RSVP to Rachel at the Chamber, 307-367-2242 or email membership@sublettechamber.com. Lunch is included. Cost is free to Chamber members. Non-members $15.

---
Library celebrates Women's History Month (posted 3/2/14)
Sublette County Library
March is Women's History Month. Pack a bag lunch and head to the library's board room at noon on Thursdays to watch MAKERS: Women Who Make America, a three part PBS documentary that tells the extraordinary story of the most sweeping social revolution in American history.

This revolution unfolded in public and private, in courts and Congress, in the boardroom and the bedroom, changing not only what the world expects from women, but what women expect from themselves. This series highlights trailblazing women like Hillary Rodham Clinton, Ellen DeGeneres and Gloria Steinem, as well as countless women who challenged the status quo in industries from coal-mining to medicine to Madison Avenue.

Thursday, March 6th – The Awakening
The story of the birth of the women's movement
Thursday, March 13th – Changing the world
In the 70's feminism reshaped relationships between men and women
Thursday, March 20th – Charting a new course
A focused look at the workplace where women crashed through the glass ceiling

Each hour long episode is guaranteed to spark lively dialogue. Linger longer and join the conversation.

For more information visit our website: sublettecountylibrary.org or call 307-367-4114.

---
Death Notice: Marian Gants (posted 3/1/14)
Sublette County Sheriff's Office media release
At approximately 7:00 a.m. on Saturday March 1st the Sublette County Sheriff's Office received a call regarding a welfare check in the area of Boulder Lake Estates. The reporting party stated he was working out of town and had not heard from his wife, 61-year old Marian Gants, since noon on Friday. He stated that she had planned to snowmachine Friday morning from their home to the Boulder highway (WY Hwy 353) and then take their truck into Pinedale. She planned to return home later in the afternoon.

Deputies, Sand Draw EMS and Tip Top Search and Rescue were notified. Sublette County's Everbridge notification system was also activated and notified residents within a ten mile radius of the home. A local resident and neighbor was contacted and confirmed neither Mrs. Gants nor the described snow machine were at the house.Deputies located the truck at the highway parking area.

The snow machine and the body of Mrs. Gants were found on the Boulder Lake road. The cause of death is under investigation, no foul play is suspected.

The Sublette County Sheriff's Office extends its condolences to the family of Mrs. Gants.

Stephen Smith, Public Information Officer
Authority: Sheriff Dave Lankford
---
Spaghetti Dinner fundraiser March 7th (posted 2/28/14)
Emmanuel Baptist Church is having a fundraiser spaghetti dinner/silent auction to raise funds to help send Sarah Pitchford and Bethany Essington to Ukraine this summer. They will be at a camp in Crimea helping to teach young people English, which opens doors of opportunity to them that are not available otherwise. The dinner is by donation on Friday, March 7th, at 5:30PM. Donations are also being accepted for the silent auction, and they can be picked up if you contact Cassie at 307-537-3322.
---
McKenzie Meningitis Volleyball Tournament April 26 (posted 2/28/14)
(3/4/14 Editor's note: This story has been updated with an update on the registration cost and a correction to the start time, 8AM not PM.)
_______________________________

The McKenzie Meningitis Volleyball Tournament will be held on Saturday, April 26th at the Wrangler Gym starting at 8AM (note time correction). Cost is $200/team (update cost, not $180), limited to 20 teams. Proceeds benefit the McKenzie Meningitis Foundation. For more information contact Paige Harrell 307-231-2526 or email pharrell@centurylink.net.

Related Links:
www.themckenziefoundation.org The McKenzie Meningitis Foundation

---
Sublette County Democratic Party 2014 County Convention March 9th (posted 2/25/14)
The Sublette County Democratic Party announced today that it will hold its 2014 County Convention on March 9th at Sublette County Public Health Department meeting room in Pinedale. The convention will begin promptly at 3:00 PM. An appetizers potluck will be held after the meeting. While all members of the public are welcome to attend, only registered Democrats may vote on convention business. The convention will elect delegates to represent Sublette County at the Wyoming Democratic Party State Convention in Rock Springs on May 16 and 17.

At the state convention, delegates will adopt a state platform, amend the state party bylaws and hear from state and regional Democratic leaders. More information about the state convention is available by calling the Wyoming Democratic Party Executive Director, Robin Van Ausdall at (307) 514-5282.

For more information, please contact Betsy Harmon at 307-851-4891.
---
Rendezvous Pointe's Annual Pie Sale March 14 (posted 2/25/14)
Preorder pies by March 7th
Rendezvous Pointe Senior Center in Pinedale is holding their annual Pie Sale on Friday, March 14, 2014 from 1:00 - 4:00 pm. These homemade pies are made by Sue Eversull and the Rendezvous Pointe kitchen staff. Flavors available are peach, cherry, apple, rhubarb, chocolate and coconut cream. Pre-order your whole pies at $13 each by calling 307-367-2881. All orders must be in by Friday, March 7th. Pick up pies on Friday, March 14th at the Pie Sale. If you don't want to preorder a whole pie, come in for a piece of pie with ice cream for $2.50. They will also have a silent auction for "Dream Pies."

---
Local Services:
Abortion Alternatives
Accounting & CPA
Arts & Entertainment
Attorneys & Legal
Automotive
Banks & Financial
Bars
Beauty Salons
Bed & Breakfasts
Boating
Bookkeeping
Builders & Contractors
Building Material
Business Services
Cabins
Cellular
Child Care
Churches
Cleaning Services
Clothing
Commercial Art
Computer Supplies
Consultants
Convenience Stores/Fuel
Convention/Meeting
Dentists
Dining
Dry Cleaning
Events
Fabric & Crafts
Fencing
Fishing
Flooring
Food & Drink
Funeral Homes
Furniture
Gifts/Western
Government
Graphic Design
Grocery & Market
Guest Ranches & Lodges
Handyman Services
Hardware & Feed
Heating
Health Care & Medical
Horseback Adventures
Insurance
Interior Design
Internet/Web/Advertising
Landscaping
Laundry
Liquor Stores
Lodging
Log Homes
Massage Therapy
Modular Homes
Motels
Mountain Biking
Movie Theaters
Museums
Nails
Newspapers
Office Supplies
Oil Field Services
Optometrists
Organizations
Outdoor Equipment
Outfitters & Guides
Packaging & Shipping
Painters
Pet Stores
Pharmacies
Photography
Plumbing
Professional Services
Radio
Real Estate Agencies
Real Estate-FSBO
Remodeling
Retirement
Retreats
RV Camping
Schools
Septic Services
Skiing
Snowmobiling
Snow Plowing
Storage and Storage Units
Tanning
Tattoos & Body Art
Tax Preparation Services
Taxidermy
Transportation/Shuttle
Trash Services
Trucking
Veterinarians
Visitor Services