Pinedale Community Blood Drive Aug. 25th (posted 8/19/14)
Sublette County Rural Health Care EMS is sponsoring a Blood Drive in Pinedale on Monday, August 25th from 2:00-6:30PM in the Pinedale EMS Building Training Room, 635 E. Hennick St.

To make appointments, go online to www.bloodhero.com and use sponsor code: Pinedale. Or contact Jerry Kirchhoff at 307-367-2315.

Save time by going online to www.unitedbloodservices.org and complete the Health History questionnaire on the day of your donation, print the ticket and bring it to the blood drive.

Please bring your photo ID and donor card. Free cholesterol teting with every donation!

---
Volunteers sought for work day at New Fork River recreation site Sept. 6 (posted 8/18/14)
BLM early celebration of National Public Lands Day
Bureau of Land Management
The Bureau of Land Management (BLM) Pinedale Field Office invites families, individuals, clubs and organizations to help remove old fencing, construct new wildlife friendly fencing and install bird nesting boxes at a day-use recreation site on the New Fork River on Sept. 6 in an early celebration of National Public Lands Day (NPLD).

Volunteer check-in will begin at 8 a.m. with activities ending at noon. Children and youths ages 9 to 17 must be part of an organized group or family and have written parental consent. Activities will be provided for children eight and under. Proper work attire such as gloves, hat, long pants, sturdy shoes and safety glasses should be worn. Gloves and safety glasses will also be available. Sunscreen and insect repellant are highly recommended. Water, snacks and lunch will be provided as well as NPLD t-shirts, participation certificates and national park access passes.

To get to this NPLD event, turn right off Highway 191 onto Sublette County Road 144 (Ehman Lane) and travel 3.75 miles. When the road turns left, do not turn; instead, continue straight to the small, grassy parking area across a small cattle guard.

NPLD began in 1994 with 700 volunteers and three sites. In 2013, more than 175,000 volunteers worked at 2,237 sites in every state, the District of Columbia, Guam and Puerto Rico. Volunteers collected an estimated 23,000 pounds of invasive plants, built and maintained an estimated 1,500 miles of trails, planted an estimated 100,000 trees, shrubs and other native plants, removed an estimated 500 tons of trash from trails and other places and contributed an estimated $18 million through volunteer services to improve public lands across the country. Seven federal agencies as well as nonprofit organizations and state, regional and local governments participate in the annual day of learning about, serving, playing and working in our public lands.

For more information, please visit www.publiclandsday.org or www.facebook.com/nationalpubliclandsday or contact Martin Hudson at 307-367-5315.

Tweet about your NPLD experience on Twitter with the hashtag #NPLD or @PublicLandsDay.

---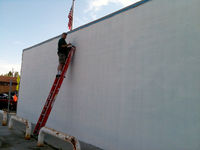 David Klaren gets the wall prepared for the new mural.

Starting anew (posted 8/17/14)
Pinedale Online!
Artist David Klaren has begun work on a new mural for the east wall of the Pinedale Post Office. Klaren painted the original mural, "The Winds," while he was still in college in 1986. Although he has a tang of regret to be removing the mural that has graced the building for 28 years, he is also excited about the opportunity to put up a new piece of artwork. "I do have to admit that it is a little bitter sweet to see this mural's life come to an end. It essentially represents the span of my professional art career up this point in my life," Klaren said. The new design, "Point of Compromise," is commissioned by the Rodger's Family Trust, in partnership with the Pinedale Fine Arts Council's In|Site:Ex|Site Public Art Program. (Spoiler alert) For more details see David's Facebook page.
---
Funeral service for Tomiko 'Bonnie' Shields Aug. 20 (posted 8/17/14)
Covill Funeral Home
Tomiko "Bonnie" Shields, 82, of Boulder, WY passed away Friday, August 15 at the Idaho Falls Hospital. A funeral service will be held Wednesday, August 20 at 11:00 AM at Emmanuel Baptist Church in Pinedale. A viewing will take place one hour prior to the service at the church. She will be laid to rest in California later in the week.

---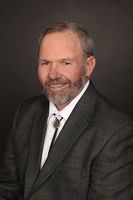 Representative Albert Sommers, House District #20

Wyoming Legislature update (posted 8/16/14)
Representative Albert Sommers, House District 20
Friday, August 15, 2014:
Hello Sublette County,

On July 31 and August 1st I attended a meeting of the Task Force on Digital Information Privacy in Lander. This consists of members of the public who are engaged in technology fields, the Director of Enterprise Technology Services, and four legislators, including myself. Our mission is to investigate whether citizens' personal identifiable information is properly secured in state agencies, and to look at all the issues surrounding data privacy and security.

The first day we heard from Flint Waters, Director of Enterprise Technology Services, the agency charged with providing computer purchasing and support for Wyoming state government. He talked about the state's obligation to protect data, but there is very little in Wyoming law that currently requires agencies to utilize best practices when handling citizen information. Two federal laws do govern privacy of health and student information. In today's society, with everyone accessing the internet for work and play, it is essential that our state maintain its citizens' data in a secure fashion.That should begin by making sure we collect no more data than is necessary and keep it no longer than necessary.

We heard from various state agencies on their data security practices, and how the Public Records Act interfaces with the concept of privacy. How do we ensure open government and individual privacy? Rob Aylward (CIO for the University of Wyoming), Andy Corbin (IT Supervisor for Wyoming Community College Commission), Jenny McCalla (Wyoming Department of Workforce Services), and Michael Strom (Wyoming State Archives) all presented on the topic of privacy and data security. Rob Aylward explained that national corporations were asking the University for their Student Directory Information, which includes student e-mail addresses, phone numbers, home address, university address, and major. This allows companies to direct-market students based upon this information, and the University felt obligated to provide this data based upon its interpretation of the Public Records Act. We had a primer on the Public Records Act of Wyoming by Ryan Schelhaas, Senior Assistant Attorney General.

On the second day, we heard from Jim Angell and Bob Bonnar of the Wyoming Press Association on the importance of the Public Records Act, and on the intricacies of how to interpret and apply it. The important message during this discussion was that material subject to the Act has to be made available to the public, but the governmental entity is not obligated to deliver it to the public. The law states, "All public records shall be open for inspection by any person at reasonable times, during the business hours of the state entity or political subdivision, except as provided in this act…"

We also heard from Byron Oedekoven, Wyoming Association of Sheriffs and Chiefs of Police, on how Fourth Amendment applies to search and seizure of personal digital information. This included discussion of the recent US Supreme Court ruling, which in a unanimous decision declared the vast amount of data contained on modern cell phones must be protected from routine search and seizure without a warrant.

We reviewed two bills the Task Force may bring forward. One bill would prohibit an employer from requesting or requiring access to a social media account of an employee or prospective employee. Under what conditions should an employer be able to look at an employee's social media devices, such as smart phones and tablets? The other bill would provide authority for personal representatives to take control of decedents' online social accounts. When someone dies, who has the right to access or close that person's Facebook or Google Cloud accounts? We are continuing to examine and refine these bills.

The most interesting piece of legislation we discussed was a Montana constitutional amendment dealing with privacy. This constitutional amendment states, "The right of individual privacy is essential to the well-being of a free society and shall not be infringed without the showing of a compelling state interest." This constitutional amendment sums up my belief on privacy, and I hope Wyoming moves to adopt it. US Supreme Court Justice John Roberts stated, in their ruling on cell phones, "The fact that technology now allows an individual to carry such information in his hand does not make the information any less worthy of the protection for which the founders fought."

If you have any comment or concerns about privacy and data security please let me know. I can be reached at albert@albertsommers.com.

---
Sublette County Rural Health Clinic Open Houses Aug. 28 (posted 8/15/14)
The Sublette County Rural Health Care District will be hosting an Open House at their two clinics on Thursday, August 28th. Learn more about the new affiliation between Sublette County Rural Health and the University of Utah. Come join in the conversation and learn what this new affiliation means for you, your family and the community. A panel of speakers from the University of Utah and SCRHCD medical staff and Board of Trustees will be present to answer questions.

There will be Open Houses in both the Pinedale and Marbleton/Big Piney Clinics that day. The Pinedale Open House is from 8:30AM to 10AM with the Informational Presentations and Q&A at 9AM. The Marbleton Clinic Open House is from 11:30AM to 1PM with Informational Presentations/Q&A starting at Noon.

More info at www.sublettehealthcare.com.

---
Predator Board meeting Aug. 25 (posted 8/13/14)
Sublette County Predator Board
The Sublette County Predator Management District Board will hold a special meeting on Monday, August 25 at 9 a.m. in the commissioner's room of the Sublette County Courthouse in Pinedale. The purpose of the meeting is to discuss the budget and annual plan of work.

---
Book Signing for Pam Houston August 25 (posted 8/13/14)
The Sublette County Library invites you to welcome award-winning short story and novel writer Pam Houston on Monday, August 25th. There will a reception at 6 pm with a reading and book signing to follow at 6:30 pm. Books will be available for purchase the evening of the event.

She is best known for her collection of short stories, "Cowboys Are My Weakness." Her most recent book is "Contents May Have Shifted." She is also the author of "Waltzing the Cat" short stories, the novel "Sight Hound", and a collection of essays, "A Little More About Me."

Her stories have been selected for Best American Short Stories, The O. Henry Awards, The 2013 Pushcart Prize, and Best American Short Stories of the Century. She is the winner of the Western States Book Award, the WILLA award for contemporary fiction, The Evil Companions Literary Award and multiple teaching awards.

The library is located at 155 S Tyler Ave in Pinedale. For more information visit the library's website: www.sublettecountylibrary.org or call 307-367-4114.

---
Late Summer Fishing Report for Pinedale area (2014) (posted 8/12/14)
Mike Kaul, Two Rivers Emporium
Due to our heavy snow pack and late run-off, most of our rivers and streams are now in prime condition and will remain so late into the fall. August is our monsoon month, so we are receiving some good surface moisture which adds to the above-average flows in our streams.
All the water in our area is clear and very fishable. Both the Green and New Fork Rivers present good drift boat fishing opportunities. The water temperatures are stable and the fish are actively feeding.

We are getting good surface action on all or streams to include the New Fork and Green Rivers when the temperature, cloud cover and wind conditions are right. The trout are still very interested in large terrestrial patterns like hoppers, bugmeisters and PMX's. It is always a good idea to trail these surface flies with a nymph pattern, sizes 14-16. If the fish are not feeding in the upper part of the water column, work the deeper water with various colored woolly buggers and other large streamer patterns. On warm afternoons we experience a BWO and Caddis hatch. This brings feeding trout up in the water column and presents good surface action.

All indications point to the fact that this could be one of the best late summer/early fall fly fishing seasons we have experienced in a long time.

Please feel free to contact us for current fishing conditions. (307-367-4131 or 1-800-329-4353) or visit our web site www.2rivers.net.

Related Links"
Fishing Report archive 2001-2014

---
Ducks Unlimited Annual Banquet and Auction August 23rd (posted 8/12/14)
The Sublette County Frozen Mallard Chapter of Ducks Unlimited will hold this year's Annual Banquet and Auction on Saturday, August 23rd at Rendezvous Pointe, 425 E. Magnolia Street in Pinedale. Doors open at 4:30PM with cocktails, appetizers, and games. The Dinner starts at 6:00PM. There will be a Live Auction immediately following the Dinner.

Ticket prices:
Single $45
Couple $80
Youth $25
Corporate Gun Table is $800 which includes 8 memberships, 8 meals, a gun, and more.
Sponsor $295
Sponsor Couple $330

Space is limited so reserve your ticket(s) today. Contact Bryan and Katie Lane for tickets and information at 307-537-5841 or go to www.WY.ducks.org and click on Local Events for information on the local Frozen Mallard Dinner.

---
MESA Horseback Poker Ride & BBQ September 6th (posted 8/12/14)
MESA will host a Horseback Poker Ride & Community BBQ on Saturday, Sept. 6th. The fun starts with a horseback poker ride at 11AM, followed by a community barbecue at 2PM.

The event will be held at Mountain Springs Ranch in Boulder, Wyoming at Camp GROW, up the Scab Creek Road. The poker ride starts at 11AM and the BBQ starts at 2PM. Jared Rogerson will be live entertainment during the barbecue.

This is a public awareness and fundraising event for MESA to help provide funding for the lesson programs and activities for riders. Cost for Adults is $25 each for poker hand and $25 for dinner. Children 10-17 cost $15 for prize ride and $15 for dinner. Children 9 & under eat free. Children under 10 are asked to not ride on the prize ride.

For more information contact Carla Sullivan, 307-749-3979, subletterides@gmail.com, www.mesarides.org.

M.E.S.A. Therapeutic Horsemanship, Inc. is a non-profit program aimed at providing equine-related therapy activities to individuals with disabilities within Sublette County, Wyoming. The mission of M.E.S.A. is to promote self-esteem, self-confidence, physical independence, and social interaction through equine-related activities. The philosophy of M.E.S.A. is to establish an atmosphere of support, cooperation and respect in an equestrian environment in order to improve self-esteem, confidence, and an appreciation for individuals with disabling challenges within the community. Our equestrian services will strengthen the Mind, Energy, Spirit, and Attitude of each participant, their families, and our community. This will be accomplished through certified riding instructors, allied health care providers, educators, and community volunteers. We adhere to the values of teamwork, integrity, respect, empathy, and joyfulness in all that we do.

---
Cycle Greater Yellowstone rides through Pinedale August 19th (posted 7/31/14)
On August 19th, Cycle Greater Yellowstone (CGY) riders and support teams will be arriving in Pinedale. The event will include over 700 riders and about 100 support staff. A number of family members and friends will also be arriving that day.

The community was chosen as a stopover for the event because of its proximity to the Greater Yellowstone region as well as the overall beauty of the region. Another reason the community was chosen is its strong group of volunteers who will be helping with the event.

Event volunteers range from individuals to non-profit organizations to local governments. Pinedale Travel & Tourism, the Town of Pinedale and Sublette County have been working to host the riders, but most of the support has come from a wide range of non-profits. The organizations working to host the riders include, the Lion's Club, the PAC, the Sublette Chamber of Commerce, a variety of High School groups, the Rural Health Care Foundation, the Daniel Community Center, Main Street Pinedale and the Bondurant Community Club.

When the 19th of August rolls around, residents will notice riders arriving as early as 11 a.m. and the bulk will get to town between 1 and 3 p.m. There will be a large welcoming event when the riders reach the Dudley Key Fields where the finish line is set for the day's ride.

Following the ride, the cyclists will either spend the night at the campsite at the Dudley Key Fields or they will rent rooms from local motels. With almost 1,000 people coming to town, it should be busy and interesting for everyone.

Cycle Greater Yellowstone is sponsored by the Greater Yellowstone Coalition to introduce people to the region. In addition, the group wants to take advantage of being in communities to introduce themselves to each community.

One part of that introduction is a free concert sponsored by Cycle Greater Yellowstone. On August 19th, Jared Rogerson and his band will perform at the soccer field from 6:30 to 9:30 p.m. and admission is free.
---
Local Services:
Abortion Alternatives
Accounting & CPA
Arts & Entertainment
Attorneys & Legal
Automotive
Banks & Financial
Bars
Beauty Salons
Bed & Breakfasts
Boating
Bookkeeping
Builders & Contractors
Building Material
Business Services
Cabins
Cellular
Child Care
Churches
Cleaning Services
Clothing
Commercial Art
Computer Supplies
Consultants
Convenience Stores/Fuel
Convention/Meeting
Dentists
Dining
Dry Cleaning
Events
Fabric & Crafts
Fencing
Fishing
Flooring
Food & Drink
Funeral Homes
Furniture
Gifts/Western
Government
Graphic Design
Grocery & Market
Guest Ranches & Lodges
Handyman Services
Hardware & Feed
Heating
Health Care & Medical
Horseback Adventures
Insurance
Interior Design
Internet/Web/Advertising
Landscaping
Laundry
Liquor Stores
Lodging
Log Homes
Massage Therapy
Modular Homes
Motels
Mountain Biking
Movie Theaters
Museums
Nails
Newspapers
Office Supplies
Oil Field Services
Optometrists
Organizations
Outdoor Equipment
Outfitters & Guides
Packaging & Shipping
Painters
Pet Stores
Pharmacies
Photography
Plumbing
Professional Services
Radio
Real Estate Agencies
Real Estate-FSBO
Remodeling
Retirement
Retreats
RV Camping
Schools
Scrapbooking
Septic Services
Skiing
Snowmobiling
Snow Plowing
Storage and Storage Units
Tanning
Tattoos & Body Art
Tax Preparation Services
Taxidermy
Transportation/Shuttle
Trash Services
Trucking
Veterinarians
Visitor Services