Funeral Service for Jean Rahm Sept. 29 in Pinedale (posted 9/24/16)
Covill Funeral Home
Jean Rahm, 85, passed away Wednesday, September 21, 2016 in Idaho Falls, Idaho. A funeral service will be held Thursday, September 29th at 10:00 A.M. at the St. Andrew's in the Pines Episcopal Church. Interment will follow in the Cora Cemetery and family and friends will gather at the Pinedale V.F.W. following the services.

---
Memorial Funeral Service for Josh Boman Sept. 29 in Pinedale (posted 9/24/16)
Covill Funeral Home
A memorial funeral service for former Pinedale resident Josh Boman will be held Thursday September 29th at 2:00 P.M. at the Pinedale Community Church. Family & friends will gather at Rendezvous Pointe following the service.

---
Kittens available for adoption (posted 9/24/16)
Town of Pinedale
The Town of Pinedale Animal Control has some wonderful kittens and a young dog available for adoption.

There are three male kittens, two are orange, one of which is a manx or has a short tail, and the third male is a seal point with blue eyes.

There is a younger female cat, who has a loving disposition, is a grey tabby and is on the small side with a little bit of growing left to do.

The young dog is a male, brindle and white, boxer mix. He has a lot of energy and would love a home. He came to Animal Control as a stray.

All animals available for adoption from the Town of Pinedale are up-to-date on all shots and have been spayed or neutered.

In addition to the Town animals, Happy Endings Animal Rescue (H.E.A.R.) has dogs and cats of various ages available for adoption, many of which are being housed at the Town of Pinedale Animal Control Facility. H.E.A.R. animals are spayed, neutered, up-to-date on shots, and are microchipped. H.E.A.R. currently has a reduced adoption fee for cats. Please consider opening your home to a new family pet whether it is for adoption purposes or if you cannot make a long-term commitment, fosters are always needed. The animals are safe in the Town of Pinedale Animal Control Facility, but will always benefit from a home, even if it isn't permanent.

If you are interested in adopting or fostering an animal, please come by the Town of Pinedale Animal Control Facility located at 69 Pinedale South Road which Tyler Ave turns into and is one mile south of Pine Street.

---
Zedi Pinedale Laboratory moves to new location in Pinedale (posted 9/24/16)
Formerly Precision Analysis
Zedi Pinedale Laboratory, formerly Precision Analysis, is moving to a new location in Pinedale, Wyoming in order to their laboratory capabilities. They will begin the move Monday, September 26, 2016. The will be open during normal operating hours beginning Tuesday, September 27, 2016 at their new location, 1100 Wilson, Suite 6, in Pinedale. The staff, phone number and mailing address will remain the same.

Contact Information:
Zedi Pinedale Laboratory (formerly Precision Analysis)
Physical address: 1100 Wilson, Suite 6, Pinedale, Wyoming
Mailing address: PO Box 2540, Pinedale, WY 82941
Phone: 307-851-3039
Lab Technician: Wendy Anderson

---
Town of Pinedale update – Water testing (posted 9/24/16)
Town of Pinedale
Town of Pinedale Water Department continues to conduct annual water testing required by the E.P.A. for lead and copper. There have been two samples with elevated results. These results are limited to the buildings from which the samples were taken. The Town will be working closely with EPA determine the source of the contamination within the buildings. The contamination is most likely due to lead solder being used in the past. There has never been any detection of lead in Fremont Lake, which is the source of water for the Town of Pinedale. The lead contamination is not in the Town's distribution system, and is isolated within the buildings that were tested. Please be aware that the Town of Pinedale Water Department is continually testing water to ensure its quality, which is compiled, yearly, in the Town's Annual Quality Report.

---
Pinedale High School water tests reveal elevated lead levels (posted 9/24/16)
Bob Rule, KPIN 101.1FM Radio
Sublette County School District 1 has received a report that elevated lead levels were found in water from a faucet in Pinedale High School.

As a result, all drinking fountains have been turned off, and students are asked to bring a bottle of water with them when they go to school. Additional testing is taking place at the Pinedale Middle School, and also the administration building.

No lead was found at the Pinedale Elementary School, which is a fairly new building, and thus, all operations at the elementary school will be as normal.

The lead problem is not coming from the Pinedale water supply. Mayor Bob Jones received the results from testing, and lead was not found in the Pinedale water system. It appears that the lead is being introduced within the plumbing system at Pinedale High School.

Mayor Jones stated that even though no lead has been found in the Pinedale water system, testing for lead will be elevated in an effort to make sure the Town's water system is safe.

---
SCSD 1 Schools testing water for lead (posted 9/24/16)
Sublette County School District 1
Update Friday, Sept. 23, 2016: After consultation with the Town of Pinedale, Pinedale Elementary School (PES) will not be included in the shut down of drinking water sources. The source of lead is believed to be within PHS, a building built before 1986. The district will test PMS, Bondurant, Wrangler Gym, and the administration building as a precaution. As much newer construction, PES will continue with normal operations.
_____________________
Original Release:
Today (Friday, Sept. 23, 2016), Sublette County School District 1 received a report from the Town of Pinedale that elevated lead levels were found in water from a faucet in Pinedale High School. The report was the result of the district's participation in a lead tap monitoring program. Lead was detected at 0.028 mg/L. This is above the lead action level of 0.015 mg/L.

As this is a potential health risk, action is being taken immediately. The water source and all drinking fountains have been shut down, and the district will immediately begin the process of testing all water sources within district buildings, beginning with water fountains.

Water sources used for drinking will remain shut down until they can be tested. Staff and students are advised not to drink the water from any water fountain or tap at a SCSD 1 school until the district can test these sources. The district will be providing drinking water for students and staff, however they are encouraged to bring water from home as well as water bottles to access the drinking water provided by the district.

Although the SCSD 1 maintenance department is currently working to test all water taps in all SCSD 1 buildings, this is likely to take some time. The EPA has provided guidance that hand washing and showering are not considered risks as human skin does not absorb lead in water. As such bathroom faucet and shower use will continue, although staff and students are once again reminded not to use these sources for drinking.

Once the district has isolated the source of the lead contamination, it will immediately begin the process remediating the problem.

Parents who have questions or concerns regarding a child's exposure to lead should contact their primary doctor to set up an appointment for a lead screening.

As test results are collected, we will post any findings that show levels above the EPA 15ppb guideline on at the district website at www.sub1.org >Departments > Maintenance. The direct link is https://goo.gl/f1t0nj

The district will provide regular updates to this issue as more information becomes available.

---
Stacy Illoway announces write-in campaign for SCSD#1 'At Large' School Board Seat (posted 9/21/16)
Stacy Illoway media release
Public Notice:
"After careful consideration, I have decided to run a write-in campaign for the At-Large open seat on the SCSD#1 school board. I currently have two children in the school system and have lived in Pinedale for 37 years. I value our children's education and want to ensure that they have the best possible chances to succeed. I am an open-minded person and would like to be involved in resolving critical issues that SCSD#1 will face in the years to come. I would appreciate your support on November 8th. Please fill in the oval and write in "Stacy Illoway" for the At-Large District Seat. Thank you!"


---
Sublette County fire restrictions lifted (posted 9/21/16)
Sublette County Commissioners media release
Mary Lankford, Sublette County Clerk
Media Release: Wednesday, Sept. 21, 2016:

BOARD OF COUNTY COMMISSIONERS
Sublette County, Wyoming
P.O. Box 250
PINEDALE, WY 82941
www.sublettewyo.com

September 21, 2016
PRESS RELEASE
The Sublette County Commissioners met in Special Session this morning at 8 a.m., by conference call, to rescind the Fire Restrictions enacted on August 2, 2016. By unanimous motion, the Fire Restrictions are terminated. This action is effective immediately.

Andrew G. Nelson
Chairman
Sublette County Commissioners
---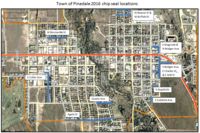 Chip sealing map in Pinedale

Town of Pinedale update – Chip sealing road work (posted 9/20/16)
Town of Pinedale
Another project to keep Pinedale well maintained and beautiful for current and future generations is hitting full swing. For the months, our own Public Works staff has been filling potholes and building up road edges with a combination of pea gravel and tar based emulsion. This is to give the chip seal that will be applied a good base. Starting the 16th of September (weather permitting), and continuing for approximately 2 weeks, a contractor will be applying chip seal to certain roads and streets.

Chip seal is a process where a tar is placed over the existing road way and then gravel is applied to it, embedded in the tar. Its purpose is to seal cracks, provide additional wear surface, and to give added protection against UV light that causes the breakdown of the road surface.

So, when you see the chip seal contractor, slow down, allow for ample space between you and the work zone.Please be happy your Public Works Department is more dedicated than ever to efficient and effective maintenance of your Town. Infrastructure maintenance may not be glamorous, but it is essential to the health of the Town.

Residents and businesses that will be affected by road closures will be notified. A complete map of 2016 work is available on our website.

Additionally,the Town of Pinedale is applying for a conditional use permit to construct a communications tower at a maximum height of 60 feet at the Department of Public Works (61 Pinedale South Road, Pinedale, WY 82941). The property is located within the Utility Zone District and includes 25.73 acres. A public hearing about the project will be held Monday, October 3rd at 6:00 PM at the Sublette County Library in the Lovatt Room.

As always, we will keep you posted with up to date information on these and other projects. Information may be found at www.townofpinedale.us.

Don't forget to sign up for newsflashes to keep you abreast of important topics.

The Town of Pinedale will be chip sealing selected streets within the Town starting this Friday through next Wednesday (Sept 16-21) . The map below shows where the chip sealing will be taking place. All residents on this effected streets will be notified. If you have questions please contact Hayley at the Town Hall, 307-367-4136.

---
Main Street Pinedale launches crowd funding site (posted 9/19/20)
To raise funds for the Pinedale Bike Share Program GO SPOKES
Main Street Pinedale
What is a bike share program? It's like Redbox for Bikes! Main Street Pinedale proposes one docking station with 10 bikes to be located at the Visitor Center. You can pull up to the docking station, pay with a credit card and rent a bike for up to 24 hours.

Main Street is launching the program to provide a new recreation, transportation, and tourism option in Pinedale. The bikes would provide another great reason for people to come to Pinedale's business center. Pinedale's bike paths are a great asset to the community with most of them originating right in Pinedale. There are currently over 15 miles of paved pathways people can ride right from town. "We really anticipate bikes will be popular with residents and visitors alike. It is a great option if you have friends and family visiting, want to run errands, or do something active during your lunch break" said Program Manager Kate Dahl. "Furthermore bike share programs have been a great asset to attracting customers to business districts" she added. Pinedale would be the first paid bike share program permanently installed in the Wyoming.

The bikes are specifically designed by a commercial bike share vendor for paved roads, high use, and low maintenance. They are one size fits all with 7 gears, comfortable seat, and basket. Dahl said "Main Street plans to offer monthly and annual passes for the program, and you will be able to rent by the hour." She added "Pricing will be similar to other bike share programs but we are anticipating something like $7/hour in half hour increments."

The total project budget for the GO SPOKES is about $26,000 which includes purchase and installation of 10 bikes, the docking station, rental software, as well as funds to cover the first year of bike maintenance, winter storage for the bikes, and administrative costs to run the program. So far, Main Street Pinedale has received a generous $7500 grant from Wyoming Main Street Program for this project. We have also applied for other grants but will not hear if we have received funding until Winter 2017.

"Everbody we tell our about the bike share program really likes the idea, so we thought we would launch a crowd funding site and try to raise $10,000 locally. We thought it would be an exciting way to let people know about this cool project and gather some local buy-in for the program. Currently Main Street Pinedale has over 800 facebook fans. If half of those fans donated $15 to the project, we will hit our fundraising goal." Dahl stated.

Equipment would be purchased in the Winter of 2017, and bikes and racks installed the Summer of 2017. Main Street Pinedale would own, maintain, and manage the rentals of the bike share program.

Dahl added "As part of the fundraising process Main Street has giveaways planned to help entice donations. We are providing an annual pass to the first 10 donors that give $100! There will be more to come, so stay tuned!"

DONATE NOW at \Pinedale bike Share

For more info visit the website www.mainstreetpinedale.com or on Facebook!

---
Local Services:
Abortion Alternatives
Accounting & CPA
Arts & Entertainment
Attorneys & Legal
Automotive
Banks & Financial
Bars
Beauty Salons
Bed & Breakfasts
Boating
Bookkeeping
Builders & Contractors
Building Material
Business Services
Cabins
Cellular
Child Care
Churches
Cleaning Services
Clothing
Commercial Art
Computer Supplies
Condos
Consultants
Convenience Stores/Fuel
Convention/Meeting
Dentists
Dining
Dry Cleaning
Events
Fabric & Crafts
Fencing
Fishing
Flooring
Food & Drink
Funeral Homes
Furniture
Gifts/Western
Government
Graphic Design
Grocery & Market
Guest Ranches & Lodges
Handyman Services
Hardware & Feed
Heating
Health Care & Medical
Horseback Adventures
Insurance
Interior Design
Internet/Web/Advertising
Landscaping
Laundry
Liquor Stores
Lodging
Log Homes
Massage Therapy
Modular Homes
Motels
Mountain Biking
Movie Theaters
Museums
Nails
Newspapers
Office Supplies
Oil Field Services
Optometrists
Organizations
Outdoor Equipment
Outfitters & Guides
Packaging & Shipping
Painters
Pet Stores
Pharmacies
Photography
Plumbing
Professional Services
Radio
Real Estate Agencies
Real Estate-FSBO
Remodeling
Retirement
Retreats
RV Camping
Schools
Scrapbooking
Septic Services
Skiing
Snowmobiling
Snow Plowing
Storage and Storage Units
Tanning
Tattoos & Body Art
Tax Preparation Services
Taxidermy
Transportation/Shuttle
Trash Services
Trucking
Veterinarians
Visitor Services