National Park Service seeks public comment on proposed rule about deaccessioning federal archaeological artifacts (posted 11/27/14)
Comments must be received by Feb, 17, 2015
Pinedale Online!
The National Park Service (NPS) is seeking public comment on a proposal to amend the regulations for the curation of federally-owned and administered archeological collections to establish definitions, standards, and procedures to dispose of particular material remains that it has determined to be of insufficient archaeological interest.

Federal agencies are responsible for the curation of millions of archeological objects around the nation Federal agencies are legally required to preserve collections of prehistoric and historic material remains and associated records that generally include those resulting from a prehistoric or historic resource survey, excavation, or other study conducted in connection with a Federal action, assistance, license, or permit. Currently, there are no regulations for a process for Federal agencies to dispose of particular material remains from archeological collections that, after rigorous evaluation, are determined to have insufficient archaeological interest. The proposed rule is intended to promote more efficient and effective curation of archeological collections for space and cost management.

Objects for possible disposition under the proposed rule must be archeological "material remains." Examples of items being considered for disposal include large volumes of red brick that were retained during an excavation and soil samples that have become contaminated. Native American "cultural items," material remain excavated and removed from Indian lands, and human remains, are not included in the item that would be allowed to be disposed.

At least one of the following three requirements must be met: lack of provenience information; lack of physical integrity; or overly redundant and not useful for research.

For items that were not excavated or removed from Indian lands, it is proposed that material remains may be
- transferred within the Federal agency
- transferred to another Federal agency
- conveyed to a suitable repository
- conveyed to a federally recognized Indian tribe
- conveyed to another institution, such as a school or historical society
- If the Federal Agency official considers each of these above methods carefully and is still unable to find an acceptable method of disposition, then destruction may be considered.

The new rule would require the establishment of a collections advisory committee to review proposed dispositions of material remains. A representative sample of those material remains to be disposed of would be retained and must be large enough to permit future analysis for research purposes. All associated records in the archeological collection would be retained. Deaccessioned objects are not to be sold or traded as commercial goods. The public would be notified of any decision to dispose of remains through a Notice of Determination of Disposition in the Federal Register.

A 90-day comment period is open until February 17, 2015 for public comments, which will be reviewed and considered before a final rule is drafted.

To read the proposed rule go to: https://federalregister.gov/a/2014-26839

---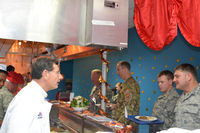 U.S. Senator John Barrasso (R-Wyo.) shared Thanksgiving dinner with Wyoming National Guard airmen serving in Qatar.

Wyoming Senator Barrasso spends Thanksgiving with Wyoming troops in Qatar (posted 11/27/14)
Senator Barrasso media release
QATAR – U.S. Senator John Barrasso (R-Wyo.) shared Thanksgiving dinner with Wyoming National Guard airmen serving in Qatar. Barrasso visited with members of the 187th Airlift Squadron, who support airlift operations out of Al Udeid Air Base.

"Wyoming has about 100 Air National Guard airmen deployed in Qatar and they are doing an outstanding job," said Barrasso. "I was honored to share Thanksgiving with them and have the opportunity to speak with them about home. We talked about Cowboy football, their families and the weather back home. I made sure they knew how much folks back in Wyoming miss them and how proud we are of their service."

Barrasso served Thanksgiving dinner to the service members, toured the 187th facilities, and was briefed by military officials about the operations in the Middle East.

Click on this link for more photos: Wyoming Senator Barrasso spends Thanksgiving with Wyoming troops in Qatar (4 pictures)
__________________________________________

Editor's note: Pinedale sends our thanks to our servicemen and women who are serving our country so far from home this Thanksgiving Day. Thank you also Senator Barrasso for being there today on behalf of all of us who wish we could stand beside you to also give our thanks to all our brave soldiers. - Dawn Ballou, Editor, Pinedale Online!

---
Grizzly Bear Research Roundup (posted 11/26/14)
Cat Urbigkit, Pinedale Online!
Tracking Human-Grizzly Interactions
Researchers in Grand Teton National Park have been tracking the movement of GPS-collared grizzly bears, seeking to learn how grizzly bears respond to humans. Hunters have long suggested the grizzlies respond to a rifle shot like a ranch crew coming to a dinner bell, with bears approaching hunter-killed elk in anticipation of the gut pile feast left remaining in the field.

According to an article by Brett French of the Billings Gazette, in the first year of research, at least one grizzly bear was found to have followed elk hunters seeking out their game – without the hunters aware that the grizzly was following their movements. The hunters had volunteered to carry GPS units during their day in for elk in Grand Teton's elk reduction program.

French reported, "At one point, the bear is within 100 yards of the hunters, who never knew it was there."

For more details, read French's article linked below.

Wyoming Grizzly Bears
The Large Carnivore Section of the Wyoming Game and Fish Department publishes a Job Completion Report for each of its game species annually, and the 2013 Wyoming Grizzly Bear JCR summarizes the agency's work with the species.

The 2013 report cover includes a mosaic of grizzly bear photos from the year, including an image of the tracks of a grizzly bear as it balanced atop a piece of plastic irrigation pipe to walk across an irrigated field.

Of local interest in the 2013 report is the agency's summary of research trapping efforts in the Upper Green River/Union Pass area. WG&F began trapping on June 21 and ended July 26, 2013. Three grizzlies were captured in a total of 11 captures, according to the report – one bear was captured nine times.

Here's the summary of Conflict Management sectiont: "During 2013, the Wyoming Game and Fish Department captured 26 grizzly bears in 27 capture events in an attempt to prevent or resolve conflicts (See Map). Most individuals were lone grizzly bears, but 1 family group (1 female with 2 yearlings) was also captured.

"Of the 27 capture events:
• 15 (56%) occurred in Park County,
• 6 (22%) in Sublette County,
• 3 (11%) in Hot Springs County,
• two (7%) in Fremont County,
• one (4%) in Grand Teton National Park (GTNP), and
• zero in Teton County.
A lone subadult male (#760) was captured by GTNP personnel and was moved to the Boone Creek drainage in Teton County after being caught for frequenting a campground.

"Of the 27 capture events, 18 involved grizzly bears that were relocated from areas preemptively to avoid conflicts or where they were causing property damage, obtained garbage or some non-natural food such as pet food or livestock grain, or a combination of these factors. Thirteen captures were a result of grizzly bears killing livestock, primarily cattle. One management capture was a non-target yearling grizzly bear released on site in Sublette County.

"Eight of the 27 capture events resulted in the removal of grizzly bears from the population by agency personnel due to a history of previous conflicts, a known history of close association with humans, or they were deemed unsuitable for release into the wild (i.e., orphaned cubs, poor physical condition, or human safety concern). All relocated grizzly bears were released on U.S. Forest Service lands in or adjacent to the Grizzly Bear Recovery Zone (RZ).

"Of the 18 relocation events:
• 8 (44%) bears were released in Park County,
• 5 (28%) were released in Teton County, and
• 5 (28%) were released in Fremont County.

The report noted: "Most grizzly bear-human conflicts in Wyoming were a result of domestic livestock depredations and food rewards from humans in the form of garbage or pet and livestock feed. Conflicts, and the resulting capture, relocation, and removal of grizzly bears in WY are generally increasing; however during 2013 the Department did have reduced captures and relocations in comparison to 2011-2012.

"As mentioned earlier, this overall trend is a result of grizzly bears increasing in numbers and distribution into areas used by humans, both on public and private lands. As this GYE grizzly bear population grows and expansion of distribution continues, bears are likely to encounter food sources such as livestock and livestock feed, garbage, and pet food resulting in increased property damage and threats to human safety. Conflict prevention measures such as attractant storage, deterrence, and education are the highest priority for the WGFD. In general, there is an inverse relationship between social tolerance and biological suitability for bear occupancy in areas further from the Recovery Zone due to development, land use patterns, and various forms of recreation. Although prevention is the preferred option to reduce conflicts, each situation is managed on a case-by-case basis using education, securing of attractants, relocation or removal of individual bears, and/or a combination of methods."

The entire WG&F report is linked below.

For readers interested in grizzly bear research and management efforts throughout the Greater Yellowstone Ecosystem, the 2013 report of the Interagency Grizzly Bear Study Team is linked as well.

Click on this link for related maps

Related Links:
Researchers Tracking Man-Bear Interactions - By Brett French of the Billings Gazette
2013 Wyoming Grizzly Bear Job Completion Report - Wyoming Game & Fish Department
Yellowstone Grizzly Bear Investigations 2013 - Interagency Grizzly Bear Study Team

---
Wolf News Roundup (posted 11/26/14)
Cat Urbigkit, Pinedale Online!
Grand Canyon Wolf
The U.S. Fish & Wildlife Service has issued a press release confirming that the wolf spotted on the North Rim of the Grand Canyon is a female wolf originating in the Northern Rockies wolf population – not a Mexican wolf.

The release states: "Genetic tests of scat (feces) collected from a free-roaming canid north of Grand Canyon National Park on the North Kaibab National Forest have confirmed that the animal, first detected in early October, is a female Rocky Mountain gray wolf. The confirmation clarifies that this gray wolf is fully protected under the Endangered Species Act.

"Since early October, a collared, wolf-like canid was repeatedly observed and photographed on the Kaibab Plateau just north of Grand Canyon National Park. U.S. Fish and Wildlife Service, Arizona Game and Fish Department, and National Park Service wildlife officials were unsuccessful in detecting a radio signal from an apparently inoperable radio telemetry collar.

"On November 2, Fish and Wildlife Service biologists collected scat to obtain genetic information. Service biologists' attempted to capture the animal to collect blood and replace the radio collar. Those efforts were unsuccessful and have been suspended due to cold weather, as our primary concern is the welfare of this animal. Any future capture efforts will be for collar and transmitter replacement, and the wolf will be released on site.

"The DNA analysis was conducted by University of Idaho's Laboratory for Ecological, Evolutionary and Conservation Genetics. The DNA analysis confirmed that the animal is a gray wolf from the northern Rocky Mountain population. The lab may be able to determine the wolf's individual identification by comparing its DNA profile with that of previously captured and sampled northern Rocky Mountain gray wolf females. This analysis will take several weeks to several months. We will provide any additional information when it becomes available.

"The DNA results indicate this wolf traveled at least 450 miles from an area in the northern Rocky Mountains to northern Arizona," said Benjamin Tuggle, Southwest Regional Director. "Wolves, particularly young wolves, can be quite nomadic dispersing great distances across the landscape. Such behavior is not unusual for juveniles as they travel to find food or another mate."

"Gray wolves have not been observed in the area for over 70 years when the last of the animals were removed through a decades-long predator eradication campaign. This female gray wolf is not associated with the Mexican wolf population, a subspecies of gray wolves that occurs in Arizona and New Mexico south of Interstate 40."

To see a few photos and a video of the wolf, click on the Tucson Sentinel article linked below.

The Science Times reports that news of the wolf's presence had been shared with environmentalists, but was "leaked" to the public – must to the displeasure of the U.S. Fish & Wildlife Service.

FWS Triples Mex Wolf Population Goal
The U.S. Fish & Wildlife Service has proposed to triple the population goal for Mexican wolves roaming Arizona and New Mexico, but that's not good enough for wolf advocates.

The FWS proposal includes:
• expanding the areas within which Mexican wolves can be released, translocated, disperse and occupy. In Arizona, management activities would be methodically phased west of Highway 87 over a period of up to 12 years, • extending the Mexican Wolf Experimental Population Area's (MWEPA) southern boundary from I-40 to the U.S.-Mexico border in Arizona and New Mexico to provide for a larger area where management flexibility applies, • clarifying definitions in the rule, including provisions for take of Mexican wolves when attacking livestock and non-feral dogs, or as needed to manage wild ungulate populations (particularly elk and deer), and • providing for a population objective of 300-325 Mexican wolves in the MWEPA.

Defenders of Wildlife, Wild Earth Guardians and other environmental groups aren't happy about the proposal, and have already filed a lawsuit seeking an update to the Mexican Wolf Recovery Plan.

Idaho Wolf Depredations
The Capital Press in Idaho reports that livestock losses to wolves have decreased for a second consecutive year – a trend that an animal damage control manager attributes to the success of Idaho's wolf hunting seasons. Cattle depredations were down 44 percent from last year, and sheep depredations decreased 67 percent. In 2009 (prior to Idaho's annual wolf hunting season) wildlife damage control officials removed 107 wolves for livestock depredations. That number dropped to 30 wolves this year.

Red Wolf Woes
The U.S. Fish and Wildlife Service released a 171-page, peer-reviewed valuation of its Red Wolf Recovery Program's non-essential, experimental population in five Eastern North Carolina counties. The report found numerous flaws with the current recovery program.

The evaluation is one action among several that are part of a broad agreement between the FWS and the North Carolina Wildlife Resources Commission put in place in late 2013. Both agencies recognized that some steps were needed to improve management of the non-essential, experimental population in Eastern North Carolina, which was established under Section 10(j) of the Endangered Species Act and is a component of the overall recovery effort for the red wolf. As FWS indicated in August when it announced a review would be conducted this fall, the evaluation will be used with other information to help the agency address deficiencies and determine the program's future in Eastern North Carolina. A broader announcement on that overall decision is expected in early 2015.

Related Links:
Mexican Wolf Recovery Program - Official U.S. Fish & Wildlife Service page
Tucson Sentinel - See photos and video of Grand Canyon wolf here.
The Science Times - More about the Grand Canyon wolf here.
E&E News - Read about the Mexican Wolf proposal here.
Capital Press - Read about Idaho wolf depredation here.
Red Wolf Recovery Program - Read the Red Wolf program evaluation here.
Wolf Watch - by Cat Urbigkit

---
90-day comment period opening on EPA proposal to strengthen ozone standard regulations (posted 11/26/14)
Includes 'secondary' standard for ground-level ozone to protect plants, trees and ecosystem
The Environmental Protection Agency (EPA) issued a media release today (Wednesday, Nov. 26th) stating they are opening a 90-day comment period on the proposal to tighten air quality (ozone) standards to within a range of 65-70 parts per billion or even as low as 60ppb across the United States. Current standards is 75ppb.

The agency is also proposing to strengthen the "secondary" ozone standard to a level within 65 to 70 ppb to protect plants, trees and ecosystems from damaging levels of ground-level ozone. EPA will seek public comment on the proposal for 90 days following publication in the Federal Register. The agency also plans to hold three public hearings. Click here to view the proposal: http://www.epa.gov/glo/

EPA estimates that the benefits of meeting the proposed standards will significantly outweigh the costs. They will issue final ozone standards by October 1, 2015.

The complete media release is below:
_________________________________________

EPA Proposes Smog Standards to Safeguard Americans from Air Pollution
Environmental Protection Agency
WASHINGTON-- Based on extensive recent scientific evidence about the harmful effects of ground-level ozone, or smog, EPA is proposing to strengthen air quality standards to within a range of 65 to 70 parts per billion (ppb) to better protect Americans' health and the environment, while taking comment on a level as low as 60 ppb. The Clean Air Act requires EPA to review the standards every five years by following a set of open, transparent steps and considering the advice of a panel of independent experts. EPA last updated these standards in 2008, setting them at 75 ppb.

"Bringing ozone pollution standards in line with the latest science will clean up our air, improve access to crucial air quality information, and protect those most at-risk. It empowers the American people with updated air quality information to protect our loved ones - because whether we work or play outdoors – we deserve to know the air we breathe is safe," said EPA Administrator Gina McCarthy. "Fulfilling the promise of the Clean Air Act has always been EPA's responsibility. Our health protections have endured because they're engineered to evolve, so that's why we're using the latest science to update air quality standards – to fulfill the law's promise, and defend each and every person's right to clean air."

EPA scientists examined numerous scientific studies in its most recent review of the ozone standards, including more than 1,000 new studies published since the last update. Studies indicate that exposure to ozone at levels below 75 ppb -- the level of the current standard -- can pose serious threats to public health, harm the respiratory system, cause or aggravate asthma and other lung diseases, and is linked to premature death from respiratory and cardiovascular causes. Ground-level ozone forms in the atmosphere when emissions of nitrogen oxides and volatile organic compounds "cook" in the sun from sources like cars, trucks, buses, industries, power plants and certain fumes from fuels, solvents and paints. People most at risk from breathing air containing ozone include people with asthma, children, older adults, and those who are active or work outside. Stronger ozone standards will also provide an added measure of protection for low income and minority families who are more likely to suffer from asthma or to live in communities that are overburdened by pollution. Nationally, 1 in 10 children has been diagnosed with asthma.

According to EPA's analysis, strengthening the standard to a range of 65 to 70 ppb will provide significantly better protection for children, preventing from 320,000 to 960,000 asthma attacks and from 330,000 to 1 million missed school days. Strengthening the standard to a range of 70 to 65 ppb would better protect both children and adults by preventing more than 750 to 4,300 premature deaths; 1,400 to 4,300 asthma-related emergency room visits; and 65,000 to 180,000 missed workdays.

EPA estimates that the benefits of meeting the proposed standards will significantly outweigh the costs. If the standards are finalized, every dollar we invest to meet them will return up to three dollars in health benefits. These large health benefits will be gained from avoiding asthma attacks, heart attacks, missed school days and premature deaths, among other health effects valued at $6.4 to $13 billion annually in 2025 for a standard of 70 ppb, and $19 to $38 billion annually in 2025 for a standard of 65 ppb. Annual costs are estimated at $3.9 billion in 2025 for a standard of 70 ppb, and $15 billion for a standard at 65 ppb.

A combination of recently finalized or proposed air pollution rules – including "Tier 3" clean vehicle and fuels standards – will significantly cut smog-forming emissions from industry and transportation, helping states meet the proposed standards. EPA's analysis of federal programs that reduce air pollution from fuels, vehicles and engines of all sizes, power plants and other industries shows that the vast majority of U.S. counties with monitors would meet the more protective standards by 2025 just with the rules and programs now in place or underway. Local communities, states, and the federal government have made substantial progress in reducing ground-level ozone. Nationally, from 1980 to 2013, average ozone levels have fallen 33 percent. EPA projects that this progress will continue.

The Clean Air Act provides states with time to meet the standards. Depending on the severity of their ozone problem, areas would have between 2020 and 2037 to meet the standards. To ensure that people are alerted when ozone reaches unhealthy levels, EPA is proposing to extend the ozone monitoring season for 33 states. This is particularly important for at-risk groups, including children and people with asthma because it will provide information so families can take steps to protect their health on smoggy days.

The agency is also proposing to strengthen the "secondary" ozone standard to a level within 65 to 70 ppb to protect plants, trees and ecosystems from damaging levels of ground-level ozone. New studies add to the evidence showing that repeated exposure to ozone stunts the growth of trees, damages plants, and reduces crop yield. The proposed level corresponds to levels of seasonal ozone exposure scientists have determined would be more protective.

EPA will seek public comment on the proposal for 90 days following publication in the Federal Register, and the agency plans to hold three public hearings. EPA will issue final ozone standards by October 1, 2015.

To view the proposal: http://www.epa.gov/glo/

Related Links:
Obama to Introduce Sweeping New Controls on Ozone Emissions By Coral Davenport, New York Times, Nov. 25, 2014

---
Obama administration proposes 'most expensive regulation ever' (posted 11/26/14)
Wyoming Senator John Barrasso's statement on EPA's proposed Ozone rule
Senator Barrasso media release
WASHINGTON, D.C. – Today (Wednesday, Nov. 26, 2014), U.S. Senator John Barrasso (R-Wyo.) released the following statement regarding the Environmental Protection Agency's (EPA) proposed ozone regulation:

"The rule is more proof the Obama Administration is turning a deaf ear to Americans who want Washington to focus on job creation. The 'most expensive regulation ever' is going to put more Americans out of work and make it even harder for our economy to grow. And once again, the EPA is completely ignoring the very serious health impacts of unemployment that will result because of its rule.

"As I've said before, the two months after the election will set the tone of the next two years. The Obama Administration continues to push policies that are not supported by the American people. In January, Republicans in Congress will listen to Americans and focus on their priorities. We'll do everything possible to stop this regulation and help Americans have better job opportunities."

Related Links:
90-day comment period opening on EPA proposal to strengthen ozone standard regulations
Obama to Introduce Sweeping New Controls on Ozone Emissions By Coral Davenport, New York Times, Nov. 25, 2014

---
Help and support available for family caregivers (posted 11/25/14)
Wyoming Department of Health
Wyoming residents caring for family members or friends on an ongoing basis who find they could use a little help in meeting their challenges are asked to consider a program offered through the Wyoming Department of Health (WDH).

"Family members are often the major providers of long-term care," said Jeanne Scheneman, National Family Caregiver Support Program manager with WDH. "These caregivers are generally acting out of love as well as need, but it's not easy for them."

"We know ongoing caregiving can lead to emotional, physical and financial burdens. For example, many caregivers also work outside the home and must juggle their caregiving responsibilities such as meal preparation or help with bathing and other personal chores with their work obligations," Scheneman continued.

The National Family Caregiver Support Program helps adults who are caregivers for loved ones or friends 60 or older or for someone who has Alzheimer's disease or a related dementia condition of any age. Support is also available for grandparents or other family member caregivers 55 or older who find themselves raising their grandchildren 17 years of age or younger or helping an adult with a disability.

Support available through the program include:
• Respite care, which involves a temporary break for the caregiver from taking care of their loved one
• Information to caregivers about available services and help accessing them
• Individual counseling, organization of support groups and caregiver training

Supplemental services can also be provided on limited basis to complement the care provided by the caregiver. Potential services include:
• Chore/handyperson
• Personal care
• Personal emergency response systems
• Minor home modification
• Homemaking

Scheneman said programs for caregivers can play an important role in avoiding or delaying out of home placements. "We want to help people care for their loved ones at home as long as possible."

Program services are available in most Wyoming counties, except for Albany, Crook, Platte, Sublette or Weston. For more information about the National Family Caregiver Support Program, please contact the WDH Aging Division's Community Living Section by calling 1-800-442-2766 or sending an email to wyaging@wyo.gov.
---
Wyoming Sage Grouse populations trending upward (posted 11/25/14)
Wyoming Game & Fish
When the federal government called for information on sage grouse conservation efforts nationwide Wyoming responded with thousands of documents. The data from Wyoming show that at this time population declines and habitat loss have largely stopped in this state, and that populations are trending upward. In addition, data show that habitat improvements and long-term conservation measures, such as conservation easements, have dramatically increased.

Wyoming implemented the first comprehensive sage grouse conservation strategy in the nation and has worked with private partners, other states, non-governmental organizations and federal entities to build cooperative conservation efforts across the West. Wyoming's efforts started in 2007 and have accelerated with the leadership of Governor Matt Mead. The Wyoming approach has been endorsed by the U.S. Fish and Wildlife Service. The approach involves targeting protection of core sage grouse habitat.

"We built a strategy through a public process involving landowners, conservation groups, energy companies and many others. This is the result of an incredibly diverse cadre of people who are focused on conservation using objective data to show that our efforts have positive effects," Sage Grouse Implementation Team chair, Bob Budd, said.

Wyoming, through the efforts of the Wyoming Game and Fish Department, responded to a call for data from the US Fish and Wildlife Service. The information provided shows Wyoming has:

• Focused on habitat restoration inside core areas to try and have the most benefit for sage grouse conservation.
• Developed, implemented and monitored conservation strategies and incentive-based conservation actions and regulatory mechanisms.
• Developed and implemented monitoring plans to track the success of state and federal conservation strategies and voluntary conservation actions.
• Prioritized and funded research to try and answer important questions related to future conservation efforts. The 2014 Wyoming Legislature provided $1,2000,000 specific to this research as well funding through the Governor's Federal Natural Resource Policy Account account.
• And industries in Wyoming have stepped up with stronger and quicker reclamation techniques.

"We are at a critical point in history for wildlife management in this country. When states step forward with innovative and effective ways to prevent species from needing federal protection those efforts should be recognized. There is no question that the people closest to the issues on the ground, when fully committed to the end result of conservation, are the most effective in making things happen. As the US Fish and Wildlife Service considers whether sage grouse need to be listed as threatened or endangered, we will continue to provide sound information showing that our management is thoughtful, based on the best available science, and effective. It is pretty clear that if you are a sage grouse, you would want management of your future to stay with the state," Budd said.
---
UW seeks better Brucellosis vaccine (posted 11/25/14)
University of Wyoming Extension
College of Agriculture and Natural Resources scientists at the University of Wyoming are hopeful their brucellosis studies may produce a better vaccine for livestock and are studying whether a change in vaccination procedures could offer better control.

Brucellosis can cause elk, bison and cattle to abort fetuses. The highest risk of brucellosis transmission to other animals occurs after an animal has an abortion. The organism can also be transmitted to humans, often through consumption of unpasteurized milk or dairy products such as soft cheese, which may result in a severe disease called undulant fever.

Brucellosis is an exotic disease that came from Europe and European cattle and was then transmitted to wildlife in the U.S., establishing the reservoir in elk and bison seen in the Greater Yellowstone Area.

"We have eradicated the disease from livestock but occasionally get a disease spillover from elk transmitting the organism to livestock," said Bruce Hoar, University of Wyoming brucellosis research coordinator. "One of the ways we try to control brucellosis is through the use of vaccinations."

Scientists are interested in pursuing vaccines for wildlife, particularly elk; existing vaccines for cattle are not very effective at preventing disease in elk. The emphasis, though, is on livestock vaccines, said Hoar.

Cattle in the U.S. have been vaccinated since the 1930s with a vaccine called Strain 19. That vaccine was moderately effective preventing 60-70 percent of cattle from aborting after becoming infected, said Hoar. Strain 19 was replaced by a vaccine called RB51 in the 1990s and is the currently licensed vaccine for cattle.

"It, too, only protects 60-70 percent of animals in the herd, so that leaves 30-40 percent of the herd vulnerable, and, because of that, we are looking for better vaccines, and that is what a team of researchers here at the University of Wyoming have been involved in for a number of years," said Hoar.

Several investigators at UW are looking at different vaccines. Gerry Andrews, associate professor in the Department of Veterinary Sciences and a medical microbiologist, has developed unique vaccines.

"These vaccines have been tested in the mouse model of brucellosis," said Hoar. "They are in the early stages of development, but we are very excited and hopeful this will lead to a better vaccine for cattle."

Another, more recent, effort is to simply vaccinate with more doses of RB51 vaccine, said assistant professor Jeff Adamovicz in the department.

"We recently completed a vaccine study in Black Angus cattle and have promising results that show multiple doses of RB51 vaccine reduced abortions in cattle and may also reduce the risk of transmission," said Adamovicz. "We hope to pursue a recommendation to change the vaccination practices in Wyoming based on our findings."

Other efforts to model the risk of brucellosis transmission and development of economically feasible ranching practices are also of interest.

These efforts parallel vaccine development efforts but are an important part of the overall goal of reducing transmission and economic impacts to Wyoming ranchers, according to Brant Schumaker, an assistant professor in the Department of Veterinary Sciences, and Dannele Peck, associate professor in the Department Agricultural and Applied Economics, at UW.

Other on-going efforts to break disease transmission are also important, said Hoar. These include the work of the Wyoming Game and Fish Department, a crucial partner in the effort to control the disease, he said. Elk calves on the feeding grounds are still vaccinated with Strain 19.

Game and fish department personnel are able to vaccinate the elk with a "bio bullet," which contains a freeze-dried vaccine pellet. The bullet is shot into a rear muscle of the animal and then breaks down, slowly releasing the vaccine into the animal. That technique works well but in a non-feeding ground elk population, the process becomes more challenging, said Hoar.

In northwestern Wyoming, 20-40 percent of elk will test positive on a blood test, which means they were at some point exposed to the bacterium. That doesn't necessarily mean they are actively spreading the organism, said Hoar.

As one goes east of Yellowstone National Park into Park County, 5-15 percent of elk can be seropositive, which shows they have been exposed to the disease and that brucellosis has spread farther east. Most recently, seropositive elk have been found in Big Horn County raising concerns about the spread to local cattle, although no seropositive cattle have been found in this area, said Hoar.

"It is still a concern, because we are seeing it where we historically haven't been seeing it in our elk," said Hoar.

The most recent farm bill approved use of funds for brucellosis vaccine research.

"There could be significant funding for brucellosis vaccine research, and that would be a really good thing," said Hoar. "The University of Wyoming would be a great competitor for these grant funds, as we already have a well-qualified team in place that can perform the research. Our long-term goal is to develop vaccines, vaccine strategies and diagnostic tests that will enhance our ability to control the potentially devastating effects that this disease could cause to Wyoming cattle and wildlife."
---
BLM offers Christmas tree permits for sale (posted 11/24/14)
Bureau of Land Management
The Bureau of Land Management (BLM) is now offering Christmas tree permits for sale.

Permits may be purchased between 7:45 a.m. and 4:30 p.m., Mon.-Fri. from any BLM Wyoming field office. The cost for a permit ranges from $5 to $10 per tree depending on the location and the size of tree. Up to a maximum of five Christmas trees can be purchased by an individual for personal use on BLM-administered lands.

A BLM permit is valid for trees located on BLM lands only. Permits for trees on U.S. Forest Service-administered land can be obtained at your local Forest Service office and at some BLM offices.

Tree cutters must have a valid permit with them while cutting a tree. Trees may not be cut within a wilderness area, wilderness study area, timber sale area, or administrative sites such as developed campgrounds.

Although the Christmas tree permits are for any tree species, the BLM recommends Engelmann spruce, sub-alpine fir, Douglas fir and lodgepole pine as the best species to cut for your Christmas tree.

It is the purchaser's responsibility to not trespass on private land and to make sure you're cutting the tree in the correct area. Be prepared for winter weather and high country conditions.

For more information call your local BLM office:
Buffalo Field Office (307) 684-1100
Casper Field Office (307) 261-7600
Kemmerer Field Office (307) 828-4500
Lander Field Office (307) 332-8400
Newcastle Field Office (307) 746-6600
Pinedale Field Office (307) 367-5300
Rawlins Field Office (307) 328-4200
Rock Springs Field Office (307) 352-5100
Wyoming State Office (307) 775-6314

Related Links:
Bridger-Teton National Forest selling Christmas tree permits Nov. 13, 2014

---
Bridger-Teton National Forest selling Christmas tree permits (posted 11/22/14)
The Bureau of Land Management (BLM) is now offering Christmas tree permits for sale.

Permits may be purchased between 7:45 a.m. and 4:30 p.m., Mon.-Fri. from any BLM Wyoming field office. The cost for a permit ranges from $5 to $10 per tree depending on the location and the size of tree. Up to a maximum of five Christmas trees can be purchased by an individual for personal use on BLM-administered lands.

A BLM permit is valid for trees located on BLM lands only. Permits for trees on U.S. Forest Service-administered land can be obtained at your local Forest Service office and at some BLM offices.

Tree cutters must have a valid permit with them while cutting a tree. Trees may not be cut within a wilderness area, wilderness study area, timber sale area, or administrative sites such as developed campgrounds.

Although the Christmas tree permits are for any tree species, the BLM recommends Engelmann spruce, sub-alpine fir, Douglas fir and lodgepole pine as the best species to cut for your Christmas tree.

It is the purchaser's responsibility to not trespass on private land and to make sure you're cutting the tree in the correct area. Be prepared for winter weather and high country conditions.

For more information call your local BLM office:
Buffalo Field Office (307) 684-1100
Casper Field Office (307) 261-7600
Kemmerer Field Office (307) 828-4500
Lander Field Office (307) 332-8400
Newcastle Field Office (307) 746-6600
Pinedale Field Office (307) 367-5300
Rawlins Field Office (307) 328-4200
Rock Springs Field Office (307) 352-5100
Wyoming State Office (307) 775-6314

Related Links:
Bridger-Teton National Forest selling Christmas tree permits Nov. 13, 2014

---
Business Directory
Click here for
Advertising Information