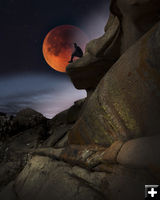 Total Lunar Eclipse

For those who missed the lunar eclipse in Pinedale due to clouds, here is what it looked like to the east of Laramie. Photo by David Rule.

Blue Blood Super Moon
Along with a total lunar eclipse
February 1, 2018
Wednesday morning (January 31, 2018) was an opportunity to see four rare phenomenon of the moon. It was a "blue moon," a "supermoon," a "blood moon" and a total lunar eclipse. That made it a rare, Super Blue Blood Moon, a mixture that hasnít been seen for 35 years.

A full moon is common, seen approximately every month. Every three years or so it happens twice in a month, which is called a Blue Moon. The last Blue Moon happened in July 2015. This year, in 2018, there will be two Blue Moons: January 31st and another in late March. Astronomers say it wonít happen again for another 19 years.

A Blood Moon occurs when the Earth passes between the Moon and the Sun creating a lunar eclipse. This gives the Moon a reddish tint which is caused by light bending around the Earth because of gravity passing around a portion of the atmosphere.

A Supermoon is when the Moon is at its closest point to Earth and appears to be 14 percent bigger and 30 percent brighter than normal. Supermoons generally only occur once every 14 months and will not happen again until January 2019.

The last time all of these events occurred simultaneously in the North America was 1866.