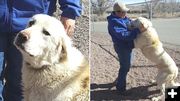 Sheep Dog

Working sheep dogs are out in remote areas protecting sheep herds, please do not take them. Photo courtesy Sweetwater County Sheriff's Office.


Sheriff's Office issues advisory about working sheep dogs
Large dogs encountered in remote areas are protecting sheep herds, do not take them
by Sweetwater County Sheriff's Office
January 16, 2018

The Sweetwater County Sheriff's Office issued an updated advisory Tuesday (Jan. 16) concerning working sheep dogs.

Sheriff Mike Lowell said one male Great Pyrenees, a large breed favored by sheepherders, was recently picked up in the Jamestown area west of Green River and another north of Rock Springs in the vicinity of the Stassinos Ranch Road and brought to city animal shelters by well-meaning people who believed they had been abandoned.

As is often the case, these particular dogs were not abandoned or dumped, however; but were working sheep dogs.

County Animal Control Officer Chris Thomas explained the situation: "People pick these dogs up and bring them in with the best of intentions, but once these dogs are removed from their working environment and brought into town, they quickly lose their herding skills and their owners usually don't want them back. It creates a serious problem."

Officials ask that people encountering large dogs in remote areas not pick them up or feed them, but note their location and notify the Sheriff's Office. A County animal control officer can then go to the scene, assess the situation, and take appropriate action.

ACO Thomas is shown here with "Lou," a Great Pyrenees mistakenly thought to be abandoned last year and brought to the City Animal Shelter in Rock Springs. Sheriff Mike Lowell warned that such large breeds are often used as working sheep dogs; once they are brought into town, they lose their herding instincts and their sheepherder owners do not want them back. Lou was lucky; Rock Springs City Animal Shelter staff saw to it that he was neutered and received his shots and he was adopted out to a ranch family.