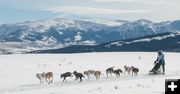 Alix Crittenden

Alix Crittenden of Bondurant raced in both the 2018 International Pedigree Sled Dog Race and the Pinedale Sled Dog Classic in February. Photo courtesy Kendall Valley Lodge.

Pinedale Sled Dog Classic Feb. 10 & 11
January 30, 2018
The 2nd annual Pinedale Sled Dog Classic race will be held on Saturday & Sunday, February 10th & 11th. There will be a 12-mile race for 6-dog teams and a 22 mile-course for 12-dog teams. There will also be a 4-mile Skijour and Jr race. They also hope to have a Junior Musher program if they get interested youth participants. The race starts at 9AM both days.

The event is being organized by Lucky Shot Kennel in Pinedale. Originally the plan was to have the race go across the frozen surface of Fremont Lake, but Mother Nature didnít cooperate and this is one of the rare years with a relatively warm winter and Fremont Lake hasnít frozen over. So the location has been changed to have the race take place in the Upper Green, taking off from the parking lot at the forest boundary.

They have a limited number of slots for teams, so interested mushers should contact race organizers asap if they would like to sign up to be in the race. Sponsors to help with costs and volunteers to help with the event are all welcome and appreciated.

After racers return they will be having a few events for the community such as a 100 yard dash to try Your Dog out as a Sleddog.

Sponsors so far for the race include:
Valley Wide Propane
Jay Fear Real Estate
Pinedale Super Center
Pinedale Subway
Pinedale Yetti
Buckyís
NAPA
Rider Real Estate
The Place
The Den
Daniel Junction
Jensen Trucking
Kendall Valley Lodge
Ridleyís
Boulder Bar and Grill

For more information contact Rusty Wilsey, 307-231-0039, luckyshotkennel@gmail.com, or find the Pinedale Sled Dog Classic race on Facebook at https://www.facebook.com/pinedalesleddogclassic/.