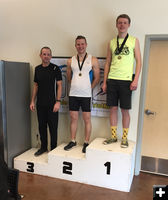 2018 winners

1st Place: David Rule. 2nd Place: Michael Lutz from Jackson. 3rd Place: Proud. Photo by Karen Rule.

Pinedale Indoor Triathlon
January 22, 2018
David Rule placed 1st in the Pinedale Indoor Triathlon held on Saturday, January 20th. This is the 3rd year in a row David has placed 1st in this event held by the Pinedale Aquatic Center. Athletes could participate as individuals, pairs, or 3-person relay teams. Participants did a 15 minute swim, 20 minutes of biking, and 15 minute run for the event. David was first place overall and in his age division. Michael Lutz from Jackson came in 2nd place overall and Larry Proud got 3rd place.