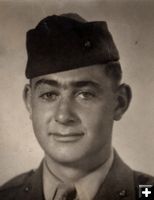 Alfred

In the Marines. Brazell family photo.


Obituary: Alfred 'Ray' Brazell
by Vase Funeral Home
January 4, 2018

Alfred "Ray" Brazell, 89, passed away December 25, 2017 in Rock Springs, Wyoming. He was a resident of Pinedale, Wyoming for 50 years and a former resident of Cheyenne, Wyoming.

Ray was born on June 5, 1928 in Baggs, Wyoming, the son of Alfred W. Brazell and Ethel Hutchinson.

He attended schools in Baggs, Rawlins, and Saratoga Wyoming.

Ray married Frankie Nixon in Saratoga, Wyoming on June 4, 1950 and divorced in 1976. He married Caroline Boroff on August 15, 1980 in Daniel, Wyoming.

He was a Marine in World War II and worked as a Highway Patrolman for Wyoming Highway Patrol for 35 years. After retiring, Ray worked for the Pinedale School District as a bus mechanic, then as a reverse flow tester in the Jonah Oil and Gas Field. He was a member of the Masonic lodge and a founding member of Project: Return to Work Inc. (R2W) in 1998.
Ray enjoyed timbering, fishing, hunting, camping, ranching, horses, and woodworking.
Survivors include his former wife Frankie Nixon Brazell of Port Charlotte, Florida, wife Caroline Brazell of Pinedale, Wyoming; four sons, Rob Ray Brazell of Boulder, Colorado, Chuck McDermott and wife Katie of Dillon, Colorado, Brian McDermott and wife Dolor of Pinedale, Wyoming, Kevin McDermott and wife Tina of Farmington, New Mexico; two brothers, Dale Brazell of Rock Springs, Wyoming, and Vern Brazell and wife Luana of Salt Lake City, Utah; two grandchildren, Melina and Tanon McDermott, as well as several nieces and nephews.

He was preceded in death by his parents; one daughter, DeLisle Ruth Brazell Webb Lovenlight; one brother Floyd Brazell; five sisters; Alice Whisler, Helen Moore, Eileen Wentworth, Doris Rodgers, and Jane Moore.

Following cremation a funeral service will be conducted in Spring, 2018. Contact Rob Ray Brazell at rob.brazell@return2work.org or 720-359-1541.