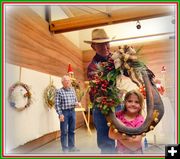 Daisy, PhotoBombing the Auction

...Jon Boroff holds a wreath donated by Sherry Snyder as Museum of the Mountain Man Executive Director Clint Gilchrist looks on.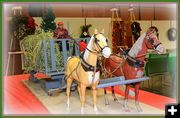 The Marlboro Man

Hand-made hay sled bringing in a Christmas tree, 1950s vintage antique horses, made and donated by Toni David.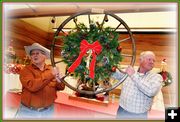 Old Wheel Wreath

The Gayle McMurry Kinnison Memorial Wreath is being retired this year. After 10 years, it has raised over $15,000 for the Museum. Held by Sublette County Historical Society board members Jim Gehlhausen (L) and Ken Marincic (R).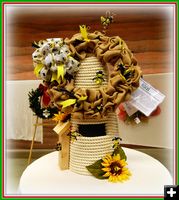 Industrious K- 5 Kids

Rope Lighthouse and wreath made and donated by Sublette BOCES #1 After School program youth.


Museum of the Mountain Man 24th Annual Wreath & Chocolate Auction
by Terry Allen, with Daisy
December 3, 2017

Well, take your sleeve and rub some frost off the windows and take a look inside the Pinedale Library's Lovatt Room at the fun time everyone is having at the fundraiser for the Museum of the Mountain Man's 24th Annual Wreath & Chocolate Auction held on Friday, December 1st. The annual event raises money to help support the Museum's 2018 programs and events.

Folks are lined up and loading up their plates with chicken on a stick, huge meatballs in gravy, a selection of colorful rabbit food and then balancing their wine and beer all the way to their tables. I didn't hear a single failure.

Over at the refreshment table the bartender asked me if I was a Federalist or a Fat Bastard…it sounded so political I had to think about it. I didn't want to mess it up, because both bartenders were bigger than me and looked meaner, too. I took too much time straddling the fence so they poured both red and white into my glass and I ended up with Rose'. I'm not sure I want to know what that makes me.

I walked my plate by where Daisy and her folks were sitting, just in time to see her take one bite of the chicken on a stick, push it away, get up and go back to the food table and come back with a plate full of candy canes and chocolate kisses.

I guess something about that made me think she'd be a good Vanna White photo assistant. After the invitation and after a moment of stunned silence…like she'd just won the lottery, she jumped up from the table and took charge…and we just photobombed the whole event. Hope you enjoy it!

Thank you all for letting me and Vanna be part of your evening. Thank you to Dawn Ballou of Pinedale Online for sponsoring this photo story.

You may all use the photos in this story for personal use, with my compliments. I sell full-rez photos of people...only to family members for $35. Nature photos I sell to anyone who asks. I use Paypal at the email below.

Terry Allen: txpartisan@gmail.com