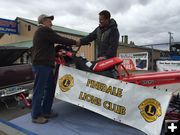 Raffle snowmobile

Lions Club member Jon Gibson accepts the 2018 Polaris 800 Pro RMK snowmobile from Sandy Sletten, owner of Bucky's Outdoors. Photo courtesy Pinedale Lions Club.


Pinedale Lions Club re-invests over $12,500 into the local community
by Robyn Blackburn
October 2, 2017

During the last financial year, the Pinedale Lions Club invested more than 75% of the money raised through the fund raising programs back into the local community. Biggest recipients included early childhood development programs, scholarships for college education, Wyoming Special Olympics, vision care, diabetes testing supplies and the infant car seat program both coordinated through Sublette County Public Health.

The balance of the funds raised was donated to regional, national and international Lions Club programs identified as meeting the core mission including early childhood vision screening, the Rocky Mountain Lions Eye Bank, Leader Dogs for the Blind as well as a $1,000 donation to aid victims of flooding in Louisiana.

The major source of funding comes from ticket sales in the annual snowmobile raffle, now in its 28th consecutive year! This year's winner will drive home with a Snowcheck Select 2018 Polaris 800 Pro RMK snowmobile. Carefully designed with assistance from Bucky's, the machine features an Indy red tunnel, red rails with monotube shocks, mid black windshield, mid pro-taper handlebars with a 155" track and 3" lugs. "We are so grateful to the continuing support we receive every year from locals, always willing to purchase a ticket" said Lions Club President Randy Belton, "Our mission is to serve, but we are mindful of those who serve by supporting the Lions Club."

As well as financial assistance, the Pinedale Lions Club welcomes requests for help with service projects and have helped out recently with staining Harmony Bridge in the Town Park, erecting the new hoop house at the Children's Discovery Center as well as cooking over 500 pancakes, feeding 300, at the Pinedale Airport Fly In. "We are already scheduling projects for next summer" commented Belton, owner of Rebel Auto Parts, "doing what we do best, Serving Others". The President extends an invitation to the community to contact the Lions if there is a local project where the Lions could help out "often we are involved in humanitarian needs as winter approaches."

The winner's snowmobile will be on display at one of the participating ticket outlets, Rebel Auto Parts, 1st Bank and Bucky's Outdoors. This year's raffle is limited to 500 tickets at $50 each. Tickets can also be purchased from any member of the Lions Club. The reverse drawing will be held on Saturday, December 2nd starting at noon.