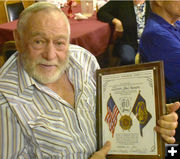 Ben Pearson

Army Veteran. Photo courtesy American Legion Phillips-Edwards Post 47.


The American Legion honors local Veterans
by Sue Shriver
September 18, 2017

More than 60 people gather for food, fellowship, and fun during the annual banquet of American Legion Phillips-Edwards Post 47 in Pinedale. After reciting the Pledge of Allegiance and the Preamble to the American Legion Constitution, Post Chaplain, Rev. Randy Belton, lead the group in a moving tribute to all POWs and MIAs, with the Missing Man table. Randy reminds us to remember and never forget the sacrifices of these Americans.

After a delicious dinner prepared by Pitchfork Fondue, the awards program began. Commander Brandon Shriver presented the first award for 63 continuous years of membership to Daniel resident, Ben Pearson. Ben, an Army veteran, chuckles as he recalls being shot at in the Korean War. Next, having 62 years of membership, Cora resident, Jim Noble, is recognized. Jim is a very active and productive member of the post. Both Ben and Jim are true Patriots and the backbone of our post. Other longevity awards went to John Radosevich 15 years, Raymond Stelting 10 years, Art Hamilton 10 years, Shawn Hamby 5 years, not present Mark Vandervelde 10 years and JD Goulette 5 years. Auxiliary President, Nancy Shaffer, received honors for her dedication and selfless service to veterans. Lenore Percy was recognized for her many years of service as secretary for the Auxiliary. District 1 Vice Commander / Post Adjutant, Sue Shriver, received commendation for outstanding service.

The group reviews the year fondly, remembering the picnic with the National Commander, the community celebration of Flag Day, helping individual veterans with various needs, working with the Boy Scouts of America, speaking at schools, distributing president rulers, teaching flag folding, choosing two young men for Boys State, choosing four girls for Girls State, awarding three high school scholarships, conducting the Oratorical Scholarship Contest (a Constitutional Speech), Veterans Day assembly, participation in Memorial Day and more.

Dignitaries, Department of Wyoming Commander Ken Persson Sr., his wife, Auxiliary District 3 Vice President Pat Persson, and Department 2nd Vice Commander Mike Cooke joined the special night. They praised the Pinedale post for their accomplishments and dedication to the service of veterans, military families, youth, and the community.