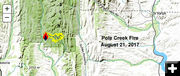 Pole Creek Fire

Burning northwest of Kemmerer and southwest of LaBarge, Wyoming.

Pole Creek Fire update – Monday, August 21, 2017
2,812 acres in size, 40% contained.
August 21, 2017
The Pole Creek Fire is burning on the Kemmerer Ranger District of the Bridger-Teton National Forest approximately 25 miles northwest of Kemmerer, Wyoming in the Hams Fork drainage. This fire is human-caused. It was originally a prescribed burn started by the Forest Service in early June. Prescribed fires rarely escape, but warmer temperatures and high wind subsequently caused this prescribed fire to escape control as the season progressed. This fire is being managed as a full suppression fire and an Incident Management Team has been assisting the Forest. An Emergency Area Closure is in effect at this time to provide for public and firefighter safety

As of Monday, August 21, the fire was at 2,812 acres in size and is 40% contained.