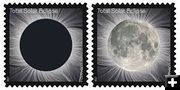 Eclipse Forever Stamp

This stamp is heat sensitive. The image changes the photo when touched by a finger.

Bondurant Post Office offers special eclipse postmark
August 17, 2017
Between now and Monday, August 21st, the U.S. Postal Service is offering special postmarks at post offices along the path of the solar eclipse totality.

The Bondurant post office gets to be one of the few offering the special postmark. They are located at 13884 US Hwy 191 (south of Bondurant near the Branding Iron Cafe). Any item bearing current first-class postage stamps will be postmarked at no charge. Sheets of the special forever stamps will also be available.

The Total Eclipse of the Sun stamp was issued on June 20, 2017 and is a special one-of-a-kind forever stamp. It is heat sensitive and transforms the solar eclipse image into the moon from the heat of a finger. Once cooled, the image reverts back to the eclipse. The stamps are sold in panes of 16 forever stamps and are available at post offices nationwide and online at usps.com/shop.