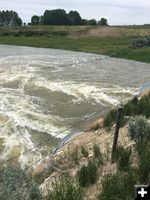 Water levels on the Little and Big Sandy Rivers are rising. County Officials recommend caution for those driving the road network in the Farson area. Photo courtesy Sweetwater County Sheriff's office.


Sweetwater County officials issue road advisory for the Farson area
by Sweetwater County Sheriff's Office
June 8, 2017

Sweetwater County Sheriff Mike Lowell and the County Department of Public Works / Road and Bridge issued an advisory Thursday afternoon on the road network in the Farson area.

Water levels are rising, particularly along the course of the Big and Little Sandy Rivers, and Farson 2nd North may become compromised and impassable. (Farson 1st North continues to be completely washed out and remains closed.)

Drivers are advised to exercise caution and extra care, especially if water is encountered on a roadway. "It's best not to risk driving through it," said Lowell. "There's no way to be certain about the water's depth or the condition of the road surface beneath it."

Water levels will be monitored throughout the night/morning of June 8/9, and notifications will be made if there are any new closures.