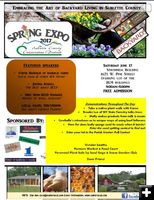 2017 Spring Expo

Saturday, June 17 in Pinedale at the Stromness Building (BLM building)

Spring Expo June 17 in Pinedale
Embracing the Art of Backyard Living in Sublette County
June 16, 2017
Here is the schedule for the Sublette County Conservation District Spring Expo for Saturday, June 17th in Pinedale. There will be vendors, presentations and demonstrations to meet educational needs of small acreage landowners. At the Stromness Building, 1625 W Pine Street (Saturday in the parking lot of the BLM building) from 9AM to 4PM.

9:00 AM Vendor booths open

9:45 AM (& again at 12:30 PM) Molly Landers and her experienced talents will introduce us to products that can be made using fresh milk & cream

10:00 AM the Kids Activity booth opens and Robin Reints has a day packed full of crafts & activities for the kids

10:15 AM Justina Russell from UW will do a presentation about Beekeeping Basics & Attracting Pollinators

10:30 AM (& again at 3:00 PM) Brook Lee of WY State Forestry will show us the proper way to plant a Balled & Burlap tree

11:15 AM (& again at 2:15 PM) Karen Clause of USDA/NRCS will take us for a tour around the landscaped areas of the parking lot, and show us how to identify some of the flowers, grasses & shrubbery

12:15 Jennifer Hayward of USDA/NRCS has assembled a panel of local experienced chicken farming ladies for a roundtable discussion about chickens….. its all about the meat and the eggs, bring your questions!

1:15 PM Julie Kraft from the Weed & Pest will host a seed spitting contest, there is an educational twist …… just how far can the Leafy Spurge shoot its seeds?

1:30 PM Bring your kids to the "pedal (tractor) pull, Shari Meeks has arranged a fun contest just for the wee ones!

2:15 PM Curtis Haderlie of Haderlie Farms presents Wyoming Myths about Gardening

3:45 PM (our own) Mike Henn has put together an informative presentation about keeping horses on small acreages

We will be drawing door prizes throughout the day with the final grand prize drawing at days end. Zane & Shari Meeks have graciously donated a 2 hour horseback ride for 2 people at Togwotee Mtn Resort.