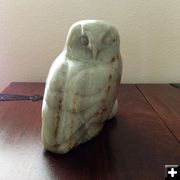 Owl

By Richard Burke


Rendezvous Art Show in Pinedale
Reception June 8 at Mystery Print Gallery from 5-8pm
by Mystery Print Gallery
June 8, 2017

Mystery Print Gallery in Pinedale, WY and Clay Paper Scissors Gallery in Cheyenne, WY are partnering to bring Rendezvous: A Juried Exhibit of Wyoming Artists to the State of Wyoming.

Gallery owners David K. Klarén (Mystery Print Gallery), and Camellia ElAntably and Mark Vinich (Clay Paper Scissors Gallery) are interested in showcasing a broad spectrum of 2 and 3 dimensional styles and mediums from a diverse group of Wyoming visual artists with a more contemporary approach to their art making practice.

Living in Wyoming, we are aware of the importance the fur trade played in opening up the west to exploration and eventually settlement. The rendezvous played an important role in the trade of beaver pelts and supplies, and allowed those who spent much of the year alone or in small groups trapping for furs, the opportunity to reconnect, exchange information, and tell tall tales. Within this context, the Rendezvous exhibit aims to bring together the artworks of Wyoming artists through a juried format, allowing the artwork, artists, and art enthusiasts to rendezvous at in Pinedale and Cheyenne during the summer of 2017.

For this exhibit, the gallerists are interested in providing a platform and showcase for often overlooked and under represented artists working outside of the more traditional expressions widely seen and accepted throughout Wyoming. This exhibit was chosen from a pool of nearly 100 entries. The 65 works included in this exhibit are representative of 31 artists from all across the great State of Wyoming. The works are exhibited simultaneously in two groupings, one each at Mystery Print Gallery in Pinedale, and Clay Paper Scissors Gallery in Cheyenne. The first showing will open with an artist reception on June 3rd from 5-8 pm, and will be on view through the middle of July at both galleries. In mid-July, the galleries will trade exhibits and re-open with a second artist reception on July 20.

This is a unique exhibition opportunity for the accepted artists, as their work is exhibited to the audiences of two dynamic communities at opposite sides of our State. The gallerists deeply appreciate all of the artists who applied for the Rendezvous exhibit. They are extremely pleased to see such diversity and quality represented in the art works submitted.

Klarén, El-Antably, and Vinich would like to congratulate the following artists for their inclusion in Rendezvous: A Juried Exhibit of Wyoming Artists. Mystery Print Gallery Exhibit Delsa Allen - Pinedale Luke Anderson - Laramie Jodie Atherton - Laramie Richard Burke - Pinedale Alissa Davies - Jackson Dona Fleming - Laramie Connie Johns - Cheyenne Joy Jones - Riverton Nita Kehoe - Riverton Ginnie Madsen – Laramie Win Ratz – Cheyenne Mark Richie – Laramie Shane Steiss - Green River Jocelyn Wasson – Jackson Bill Yankee - Lander Clay Paper Scissors Exhibit Christopher Amend – Gillette Barbara Bogart - Laramie Jenny Dowd - Alpine Cal Fulfer – Worland Barbara C. Kuxhausen - Casper Phillippa K. Lack - Cheyenne RoseMarie London - Laramie Jon Madsen - Laramie Mona Monroe - Alta Aude Nevius - Jackson Lynn Newman - Cheyenne Abigayle Paytoe Gbayee - Cheyenne Allison Pluda - Laramie Kevin Dean Ramler - Cheyenne Sheila Tintera - Kelly Legrand Wolf - Laramie

About Mystery Print Gallery: Mystery Print Gallery is owned and operated by Pinedale, Wyoming artist David K. Klarén. The gallery opened its first exhibit in February 2016 and exhibits a wide range of work by Wyoming (and occasionally regional and national) artists. The gallery also includes a professional picture framing service. Klarén previously co-owned and operated Works In Progress Gallery in Delray Beach, FL from 1992-1994. He continues to maintain a professional studio practice in Pinedale where he produces drawings, paintings, and sculptures in a variety of mediums exploring a diverse range of contemporary social, political, and environmental issues. Mystery Print Gallery is located at 221 South Sublette in Pinedale. For further information contact David at 307-749-3473.

About Clay Paper Scissors Gallery: Clay Paper Scissors Gallery & Studio was founded in 2009. The gallery shows a wide variety of artwork, primarily but not exclusively by Wyoming artists. We also have studio spaces for three artists, currently Eric Lee, Camellia El-Antably and Mark Vinich. In 2014, we moved into a newly renovated building at 1513 Carey Ave. in Cheyenne WY. Camellia may be reached at 307-631-6039.