The Ranch

A Centennial Ranch is one that has been in operation by the same family for over 100 years.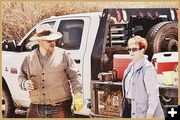 Ranch Owner Gets a Branding Update

She used to be a school teacher. A local ranch kid that has now become a therapist credits her with his love for reading. She used to read the kids, The Wind in the Willows.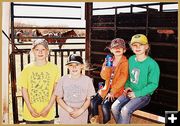 Wrestlers

These girls are taking a break from holding down calves as they are branded. They also took time to look for frogs in the swampy willows.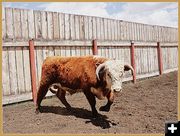 The Big Daddy

Many a calf in the branding comes from these genes. Here, he paws the ground at the photographer in a threatening manner.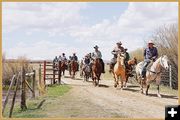 Riding Into the Barnyard

From about a mile away where the branding was held, over the river and into the ranch headquarters where lunch will be served.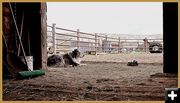 Where Old Dogs Retire

This old boy could barely get around, but still kept watch from the shade...on a few head in the corral.


Branding Time in Wyoming 2017
by Terry Allen
May 19, 2017

I can't remember if I asked or got invited, but either way I was welcomed to the branding at the historic Centennial Ranch to give my impressions in both words and photographs.

A Centennial Ranch is one owned by the same founding family for a hundred years or more. Rustlers, lawlessness, Indians. It was back in those days the pioneering ranching families settled the area. Even though the ranch owner's husband passed on a few years ago, she keeps it running in much the same way with the help of a young married couple, who she spoke of ever so gratefully.

The young woman was putting a double chocolate brownie pan into the oven of the cookhouse when I arrived; which was lucky for me because I couldn't read the tracks in the barnyard for a clue to which direction I should head off into. Remembering about half the directions, I went thru the barnyard, opened a gate, drove across a bridge and headed north on green grass. I could see a dot on the horizon and figured that was my destination, but I had to backtrack once because...big, deep ditches that my 4WD truck could not get over.

As soon as I got there the ranch manager told me not to be offended if people yelled at me...and to stay away from the grey horse and rider because he was green...which means unpredictable and dangerous and it would be a huge inconvenience to have to stop the branding if I got kicked in the head. The last bit is just logical thinking on my part.

Someone clicked a striker and the propane branding furnace whoooshed to life. A bunch of riders swung into their saddles and loosened their ropes; and a cowboy at the far end of the enclosure opened the gate and cowboys at the back of the herd pushed them thru the hole toward ropers.

Ropers each have their own style of the same skill. Some swing loops big enough to rope several calves at once and some are more economical and you wonder if they shouldn't open up the loop a bit more. Didn't seem to matter though as there were far more roping's than misses. Once the loop settled in over a head or around rear feet, the roper would give a high jerk to take up slack and tighten the rope around what they'd aimed at. The calf would commence to buck or run and sometimes just sit down on their butt and make the horse and rider drag them to the branding zone. I didn't know which gender to attribute their stubbornness to.

Once there, a couple wrestlers would each grab a calf end and take its feet out from under it, drop it to the ground and sit on the head end and grab the legs on the back end. Like a finely choreographed dance team a brander would swoop in and start making a mark. A guy with a syringe would inject the medicine. An ear clipper might take a little diamond shaped bit of ear. If the calf had horns, a guy with a de- horning tool would disable the little bump. A person with a big fat bright colored marker made a mark so no one roped that calf again. Then it was turned loose and the ropers brought another one in. I think the number to be branded was between 300 and 400.

I didn't talk to him about it to be sure, but one roper must have been a photographer because he kept roping where I was and positioned himself and the calf to my camera with an eye to where the sun shone on them best and the best scenery was in the background. See if you can figure out who I'm talking about.

I kept my eyes on the grey horse and no one yelled at me and pretty soon it was break time and people broke out beer, coke and cookies. I took some pictures of that and noticed the kids were out by where the horses were tied up...and they were diving thru the fence. It was all girls trying to catch frogs and not having any luck, but having great luck catching snails. There's a lesson in life right there. You've got to be fast if you don't want to be eaten. But there is another lesson of life I learned from one of the snail catchers. If you are slow, make sure you taste nasty. Turns out her mother had tried to make a snail meal once. Didn't work out, but the girls were still doing the catching part anyway. Since we all decided not to try to cook them with a better recipe idea this time, the girls took them all back to the swamp and let them go.

One cowboy told me he started out as a cowboy at age four. His first job was as a dauber. The little horn nub would be removed and he'd daub some tar on the spot to keep the flies from laying eggs in it.

I noticed the mother cows and calves kept congregating around me and one of the cowboys told me it was because I didn't have a rope or a branding iron in my hand.

It may seem odd to city folks that young girls were involved in the branding but the ranch manager told me that he liked to teach by letting them work at it if they wanted to. So, I asked some of them about it and the girls liked it because they liked to wrestle down a calf, it makes them feel strong and as soon as they get strong enough and skilled enough they plan on roping.

The ranch owner told me as soon as the calves get branded they will go to The Mesa before going on The Drift to the upper Green (I'll include a link to The Drift story I wrote last year). She said there used to be around 21 active operators that drifted their cattle north into the summer pastures, but now they are down to 9. She said it is a marginal business in this area due to severe climate and thin topsoil. I'm sure you've all heard by now that wolves and bears take their toll, too...which adds to the difficulty.

Cowboys (and that includes Cowgirls and Cowkids) have got to be tough in this country. A lot of brandings are crammed into a 4 to 6 week period and that can work out to around 27 brandings.

I asked about the mother cow licking their calves and was told it is a bonding ritual. It is how a mother reclaims her calf after a branding because they can get separated.

Once the branding was done everyone rode back to the ranch for a hearty lunch that had been prepared by some really great cooks. Even though I just ran around exercising my camera trigger finger, it sure was nice to just hold out my plate and have it filled and then go sit down and relax.

We sat at several picnic tables in the far corner of a great green lawn where it met the willows. There, kids jumped on a trampoline; chased geese out of a watering trough and jumped in. We talked about our childhoods, milking cows, making butter, the new sets of trailer mounted solar panels that power the pumps for remote stock ponds; and are also used to grow green spots for Sage Chickens. Just before dessert we listened to another Centennial rancher tell a story of how two boys met two girls at a barn dance in the big barn behind us a hundred years ago and one of them asked the tall one to dance and one took the short one to the dance floor and how things worked out for them...and here we were sitting at a table having lunch with their grandkids.

I hope you liked this true slice of life about our beautiful part of the world. Thank you to everyone at the branding who treated me like a friend and even like a member of the family, by trusting me to tell your story as it was impressed upon me.

I'd like to thank Jay Fear Real Estate for recognizing the value to our community of telling this story about one of our historic Centennial Ranches and agreeing to sponsor it. Jay has deep roots in the community and always enjoys sharing some entertaining stories. There is an elk mount and a bear rug on the walls of his office and I hear there are some mighty good stories attached to them. I sure do love the cozy environment of the office as I sit in the heavy, ornately carved chairs that sit on huge vintage Navajo rugs.

Jay's daughter Lisanne just graduated from college and also works at the office. She's a fine portrait artist and mustang trainer and teaches horsemanship. She hangs some of her work on the walls and I particularly like the one with a cat sitting in a saddle. She's got an art exhibit coming up at our library in Pinedale, so you don't want to miss that.

Jay and his staff are dedicated to developing lifetime clients, not just one-time customers, and to providing quality real estate services. In today's fast-changing Sublette County real estate market you need an experienced, well-trained, knowledgeable real estate professional to guide you through the complexities of a real estate transaction - whether buying or selling.
jayfearrealestate.com

A big thanks to Dawn Ballou at Pinedale Online for supporting my efforts in documenting the lives of our community.

I encourage everyone to read the captions on the photos. They tell more of the story.

The photos on this story may be shared among you personally. I do sell hi-rez photos for a reasonable price. I also shoot any event, animal, vegetable or mineral that I think would make a nice photograph and I'm happy to shoot yours if you'd ever like to hire me to do it. txpartisan@gmail.com