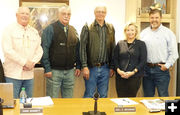 Sublette Commissioners and Liz Cheney

(L to R): Sublette County Commissioners Mac Rawhouser, Dr. David Burnett, Joel Bousman, Congresswoman Liz Cheney, Sublette County Commissioner and Chairman Andy Nelson. Photo by Pinedale Online!


Congresswoman Liz Cheney stops by Pinedale
by Pinedale Online!
April 18, 2017

Congresswoman Liz Cheney attended the Sublette County Commissioners meeting on Tuesday, April 18th in Pinedale to give an update on where she saw things from Washington DC with the new Congress and administration. She said there is a move to take steps to move authority down to the local level with a shift to a different kind of understanding of multiple use while still protecting resources. After giving the update to the Commissioners, Cheney stopped by KPIN 101.1 FM Radio in Pinedale for an interview.

Highlight comments:
- The President is focused on what to do to help the coal and energy industries. She has encouraged the President to walk away from the Paris Climate Accords. "If we want to have true change we have to stop viewing CO2 as a pollutant." There are companies in Sublette County that are able to recover CO2 and use it to help with oil and gas extraction and also helium which has a use in national defense.
- Health care is a big issue and they are trying to get a piece of legislation that has support across the spectrum. The system is collapsing and costs are skyrocketing. They need to get something done quickly before the Continuing Resolution runs out in April.
- SRS and PILT: The next appropriation will make folks whole again with retroactive funding. Sublette County uses SRS funding for the Search & Rescue helicopter.
- Defense Department: Military has been hobbled by defense budget cuts while our adversaries are making advances in technology. We need to give our military the funding they need to invest in new projects and programs for our national defense.
- The BLM and Forest Service need to get key personnel in place to implement new policy changes towards active management of forest and range resources. This impacts energy industry (oil, natural gas, coal), timber, rangeland, land management, wildlife, sustainability of resources. Private industry needs reliability and long-term consistency in land management in order to plan and make investments in infrastructure.
- "We in the West have been a target. There has been a war on us. Now we have a chance to stop that."
- "We want to make sure folks never lose their input into the process."