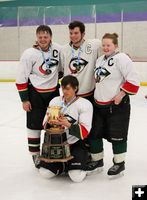 Graduating Seniors

Jacob Mitchell, Cole Andersen, Abby Ennis, and Kyle Brewer. All State players; John Mitchell- goalie, Jacob Mitchell, and Kyle Brewer.


State Champs!
Pinedale Glacier Midgets take 1st Place in WAHL Division B State Championship Tournament
by Pinedale Hockey Association
March 7, 2017

PINEDALE, WYOMING - Just days after the anniversary of the historic 1980 USA Olympic Hockey victory, small town Pinedale Glacier Midgets took first place in the Wyoming Amateur Hockey League (WAHL) Division B State Championship Tournament which was held in Cody Feb. 24-26, 2017.

Kicking the weekend off Pinedale, second in standings, won a shutout against the Douglas Ice Cats 13-0 on Friday night. Though it was no miracle, with a lot of hard work and training goalie John Mitchell blocked 12 shots on goal while Douglas goalie Brayden Winn was kept busy blocking 44 shots by the Glacier offense. Pinedale senior Kyle Brewer scored a hat trick with his three goals during the game.

Saturday the Glaciers went up against the Park County Ice Cats on their home ice to battle for a slot in the Championship game. The Ice Cats, fifth in standing, had beat out the number three team Riverton in order to play Pinedale. The Glaciers came out on top with a final score of 6-3.

Number one seed Sheridan Hawks battled the Glaciers for first place in the State Championship game on Sunday at the Riley Arena in Cody. Words can't describe the tension and excitement that filled the ice rink on that day. The teams were so evenly matched with tie after tie. The shots on goal, one for one. The final score was 7-5 in this powder keg match. Pinedale's Cody Crumb scored the first goal on a power play assisted by Jacob Mitchell. Sheridan followed with a goal to tie up the first period.

Second period, Damion Williams brought two goals both assisted by Kyle Brewer. Every player was giving his all. Sheridan also netted two pucks to tie up the game going into the third period.

Towards the end of the second period Pinedale defenseman Jacob Mitchell, number one scorer in Wyoming, earned himself ten minutes in the penalty box. The Glaciers suffered two goals in that period and one more in the third before Crumb rejuvenated the team with a Pinedale goal. Left wing Carson Stinson said "I felt disappointed at one point after they scored on us twice. I was like, here we go, we're gonna lose. But then I realized if I feel this way, if we all feel this way, this will be the reason we lose and I kicked into another level."

And Pinedale did kick into another level with three more Pinedale goals by Williams, Jake Sundgren, and Crumb, Stinson assisting on one of those, to win the game. Cody Crumb and Damion Williams also earned hat tricks in their final game of the season.

"Do you believe in miracles?"