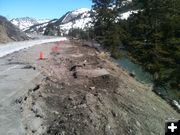 Road damage

Road failure on US 26-89 in the Snake River Canyon approximately two miles southwest of Hoback Junction. Photo taken Friday, March 24, 2017. Photo by Bob Rule, KPIN 101.1FM Radio.


Snake River Canyon road damage
by Pinedale Online!
March 24, 2017

The Wyoming Department of Transportation has been monitoring road damage to US 26-89 in the Snake River Canyon due to saturated soil conditions. The highway is open, but a detour had to be put in after part of the road failed in mid-March. The slide area is about two miles south of Hoback Junction. Maintenance crews noticed fissures that were as wide as four inches and as deep as two feet in the Deer Creek Landslide Mitigation area near milepost 139. Two-way traffic is still operating through the detour area. WYDOT is advising travelers to use extreme caution when traveling through this area and to be prepared for potential delays. For the latest information on road closures and other travel information, motorists can visit WYDOT's 511 Travel Information web page at www.wyoroad.info.