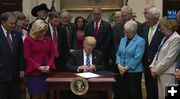 Signing ceremony

Rep. Liz Cheney is on the left in the pink top. Behind her with the black cowboy hat is Sublette County Commissioner Joel Bousman. To the right of them is Wyoming Senator John Barrasso. White House photo.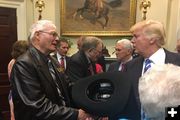 The President gets a cowboy hat

Sublette County Commissioner chair Joel Bousman (left), a fourth generation rancher out of Boulder, Wyoming, gives his cowboy hat to the President (right). Photo by Senator John Barrasso.


Sen. Barrasso, Rep. Cheney and Sublette County Commissioner Joel Bousman attend White House signing ceremony
by Senator John Barrasso media release
March 27, 2017

WASHINGTON, D.C. — Today (Monday, March 27, 2017), U.S. Senator John Barrasso (R-Wyo.), released the following statement after he attended the signing ceremony for H.J. Res. 44, which overturns the Bureau of Land Management's (BLM) Planning 2.0 rule. If allowed to stand, this rule would have implemented sweeping changes to how BLM develops resource management plans.

"Today, President Trump signed a resolution to roll back another harmful Obama administration midnight rule. The misguided BLM Planning 2.0 rule would have taken authority away from local land managers who have the most knowledge and experience overseeing resources in their own districts. Local management plans must include key input from county commissioners, sportsmen, local businesses and those who interact daily with these landscapes.

"I want to thank Representative Liz Cheney and Senator Lisa Murkowski for taking the lead on this resolution in the House and Senate. Now that this rule is overturned, we can work together on a new policy that makes the planning process more efficient and improves input at the local level."

Click here to download footage from today's signing ceremony: https://www.youtube.com/watch?v=nnnEGeUDwCU

Background Information

On June 21, 2016, Barrasso, then chairman of the Senate Energy and Natural Resources Subcommittee on Public Lands, Forests, and Mining, chaired a subcommittee oversight hearing on the BLM's Planning 2.0 initiative.

On Dec. 1, 2016, the Obama administration finalized the BLM Planning 2.0 rule.

In March 2017, the House and Senate passed H.J. Res. 44. The resolution of disapproval was introduced by Senator Lisa Murkowski (R-AK) and Representative Liz Cheney (R-WY) under the Congressional Review Act. Barrasso and Senator Mike Enzi (R-WY) cosponsored the Senate version of the bill.