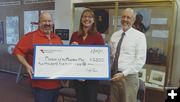 Generous donation

Pictured left to right are Ron Wild, Rocky Mountain Power Regional Business Manager, Angie Thomas, Director of the Museum of the Mountain Man, and John Anderson, President of the Sublette County Historical Society.

Rocky Mountain Power Foundation donates towards Museumís Living History programs
March 1, 2017
The Sublette County Historical Society was pleased to receive a generous donation of $2,500 from Rocky Mountain Power Foundation to go towards the Museum of the Mountain Manís living history programs. The Museum interprets the Rocky Mountain Fur Trade era of the early 1800s. They hold Living History Days each year in May with members of the American Mountain Men, as well as living history programs during Green River Rendezvous Days in July.