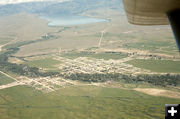 Pinedale in 1965

Aerial view of Pinedale taken on July 14, 1965. Photo by William Emmett.




Fremont Lake Panorama 1966

Photo of Fremont Lake taken from William Emmett's Sylvan Bay cabin in August 1966. Photo by William Emmett.


Pinedale in 1965
by Pinedale Online!
March 31, 2017

William Emmett took this aerial shot of Pinedale from his plane on July 14, 1965. A lot has changed in Pinedale in 52 years. Bill had a cabin up at Sylvan Bay on Fremont Lake and he worked as a hydrologist with Dr. Luna Leopold for 45 years doing ground-breaking hydrologic studies of streams and lakes in the Wind River Mountain Range. He built his cabin in 1965 and helped Luna build his rustic log cabin on Fremont Lake in 1966. Bill sold his cabin in 2005 and now lives in Colorado, but keeps tabs on Pinedale. He sent in this photo to give us a break from the snow, black ice and flooding banners that have dominated our news of late. He sends greetings to all his friends up Pinedale way.