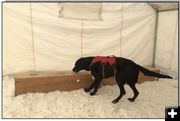 Sniffer Dog

Ripley, a six-year old black lab, works on fecal samples taken from cow elk at Wyoming's feed grounds to identify brucellosis. Photo by Jared Rogerson.


Can dogs smell brucellosis?
by Wyoming Game & Fish Department
March 24, 2017

Wyoming Game and Fish Brucellosis-Feedground-Habitat personnel are partnering with researchers from Utah State University who are testing the feasibility of using sniffer dogs to identify cow elk that are infected or seropositive for brucellosis. Fecal samples and vaginal swabs were collected at a number of elk feedgrounds. The animals from which samples were collected also had blood drawn and researchers determined which samples to use as the training 'target' based on the results of their bloodwork.

Two dogs, a black lab and an Australian cattle dog mix, were then trained using a ball reward to discriminate between samples taken from seropositive and seronegative elk.

This project has several goals. Currently, there are few tests for brucellosis in elk that can be conducted quickly in the field. If sniffer dogs can accurately identify infected or seropositive elk, they could provide wildlife managers with another research tool.

The broader implications of this work are that disease detection in wildlife could be conducted without the need to capture and handle animals. For instance, if the question is, "Are any of the animals in this herd sick?" scat samples could be collected by people (with or without dogs) where the animals have recently been. These samples could be taken to another location where trained sniffer dogs run past them, and if they alert to any of the samples, you would have reason to suspect there are infected animals present on that landscape.

Dogs have been used to detect cancer and other diseases. The science underlying much of this sniffer dog work is that when an animal has a particular illness, there are volatile organic compounds present in their breath, feces, or urine, that are unique to that illness, and that dogs can smell and remember. Results are expected later this year. In the meantime the dogs are training every day!