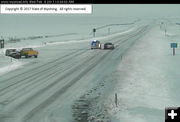 US 189--191 Closed north of Marbleton

A Sublette County Sheriff's Office deputy stops traffic going north on US 189/191 just north of Marbleton. The highway is closed due to winter conditions all the way up to Daniel to Bondurant. An avalanche in Hoback Canyon has closed the road further to Jackson. Wednesday, Feb. 8, 2017. Photo by the WYDOT US 189 webcam at the junction of US 189 and WY 351.


Weather update, Wednesday, Feb. 8, 4:30AM
by Pinedale Online!
February 8, 2017

NO SCHOOL today for Pinedale students (SCSD#1) due to bad roads and winter conditions. US 191 CLOSED at Daniel Jct north to Bondurant to Jackson, Moose to Moran Jct, due to winter conditions. Hoback Canyon CLOSED due to an avalanche slide. South Pass CLOSED. Teton Pass CLOSED. No Unnecessary Travel warnings out for roads from Big Piney and Sand Draw north for US 191, US 189, WY 351/352/353 in Upper Green River Valley (Pinedale, Daniel, Boulder, Cora, Bondurant). Power was out in Pinedale for several hours Tuesday night due to strong winds. Strong winds at low elevations yesterday evening brought down power lines near Teton Village and the Jackson Hole Mountain Resort is closed today. Dangerous avalanche conditions exist – backcountry snowmobilers and skiers should make careful snowpack evaluation and conservative decision making on route choices if outside recreating today. Winter Storm Watch through Thursday, then things get even more exciting as weather warms up and it turns to a Flood Watch as snow turns to rain Thursday in NW Wyoming. Travelers should carefully monitor road and weather updates. For the latest road condition reports call 511 in Wyoming or 1-888- 996-7623 or go online to www.wyoroad.info (note their new maps). Click on this link for more road and weather links and Pinedale area webcam views. More area info at www.visitpinedale.org.