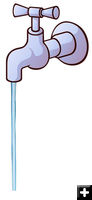 Bleeder

Residents on the Town water system are encouraged to keep a bleeder on during the winter to avoid frozen water pipes.


Town of Pinedale update Ė Avoid frozen water pipes
by Town of Pinedale
February 27, 2017

Hi, this is Bob Jones with the Town of Pinedale. Iíd like to take a minute to remind you about a few things that may be unique to cold weather operations in Pinedale.

As most of you know, we have several water lines freeze every year. Our prolonged cold temperatures cause the ground to freeze down below most of the water lines in town. If a water line is in frozen ground, it will freeze, and it is very difficult and expensive to thaw the line. To avoid freezing, the water in the lines must be moving. Over the past several years the Town of Pinedale has redesigned and replaced almost all of the water lines with a new looped system that keeps the water in constant motion so the mains wonít freeze.

The water line from the town main to your building is your responsibility and it is not looped. This means it will freeze if you donít keep water moving through it at all times when the ground is frozen. The best way to do this is to have a small valve installed at the end of your water system that can be turned on in the fall before the ground freezes and turned off in late spring when the ground thaws. If you donít have such a valve you can open a faucet and let water run. Just make sure someone doesnít accidentally turn it off. Thatís why we recommend an isolated dedicated valve that wonít be accidentally turned off.

The town has given everyone a 40,000 gallon monthly water allowance in your water bill. So you can afford to bleed or run the required water so you donít freeze up.

One last thing regarding bleeding. Donít be fooled by a few days or weeks of warm weather. The ground down deep is still frozen and will freeze your water service in short order.

I know I donít need to tell you, but we have had a lot of snow this year and the guys in public works have been working hard to keep our roads passable under difficult conditions. We have limited places to put the snow and it takes a lot of maneuvering to accomplish our job. So, please be careful as you approach a piece of equipment on the road or in a parking lot. We try, but it is hard to see to the sides and behind us. I would hate to see someone get hurt over trying to save a minute or two. By the way, I tell the guys theyíre number one often. You probably donít need to give them the number one sign when there is a small delay. We are doing our best.

Thanks and Have a great day.