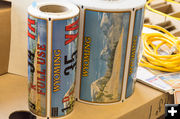 New Wyoming license plate

The new Wyoming license plate features Square Top Mountain in the northern part of the Wind River Range.


Improvements made to Wyoming license plates
by Wyoming Department of Transportation
February 27, 2017

Wyoming residents renewing their registration this year will get new plates with their tags, bearing improvements to ensure vehicles are not misidentified outside of Wyoming.

The new plate features Square Top Mountain, part of the Wind River Range near Dubois, Wyoming. More importantly, Wyoming Department of Transportation Manager of Motor Vehicle Services Debbie Lopez said the new plate design includes a change in how passenger vehicles, trucks, commercial carriers and other designations are identified, which required a change to state law.

Previously, Lopez said state law dictated plate designs must include the county number, the Steamboat logo and the assigned vehicle number in that order. Because trucks, passenger and commercial vehicles could then have essentially the same numbers, it led to issues with how out-of-state law enforcement and toll-road companies handled ticketing and tolls.

Lopez said it was not uncommon for a Wyoming resident who owned a passenger vehicle to be sent a ticket or toll that should not have been on their record because all fees would register to passenger vehicles by default.

"It was only an out-of-state issue," Lopez said. " In-state law enforcement knew what to look for."

In fact, she said the E-470 tolling authority went through a period during which it was not charging Wyoming drivers fees until it worked out how to properly process information with WYDOT.

However, Lopez said it wasn't practical for the department to contact every law enforcement agency or toll company where Wyoming drivers traveled.

The new plates will include additional markings within the license plate numbers to indicate what type of vehicle the plate has been issued to, which should ensure tickets and tolls are attributed to the correct vehicle. For instance, truck plates will now bear a "T" between the county number and the Steamboat logo.

Lopez said there was some concern that those who order prestige plates would not like the new markings but said, "We must do what's best for the general public."
The only exception to this is on the optional embossed plates – available for an additional cost of $50 – for which the letter designations would not fit.

Additionally, the new prestige license plates will now bear five characters instead of four to allow for more possible combinations. The font had to be changed to accommodate the additional characters.

The plate also includes new security features that make it more difficult for the plates to be produced by anyone but WYDOT, including a textured watermark of Steamboat.

The state rolled out the new license plate design for the first time in February of 2016 – making it available to those who chose to pay two years' worth of registration in advance – but now all plates issued will bear the new design. This is because all plates with the older designs will expire at the end of 2017. All license plates in the state by 2018 should bear the new design.

Additionally, the state has resumed filling orders for specialty plates. The state had to stop filling the orders temporarily because anyone who ordered specialty plates would have to pay for new plates as soon as the new design came out. Lopez said the department didn't want owners to get plates that would only be valid for a few months.

Wyoming's license plate design is changed every eight years, in accordance with state law. However, Lopez said the department must work ahead to ensure the needed plates can be produced in time to be distributed.

Manufacturing of the new plate design had actually begun in October of 2013. It took the department two years to produce what would be needed for the initial roll-out of the new design – 1.2 million plates.

In fact, the department will start working on the next round of plates, which will be needed in 2025, in 2021.