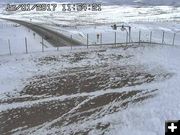 Floating in mid air

Repairmen using two lifts appear to float in mid air as they work on a powerling that crosses US 191 just west of the Trappers Point Wildlife Overpass bridge.



One last connection

He seemed to be an expert at using that very long pole to manipulate equipment at the top of the power pole to finish the job.


Fixing the lines
Getting the power back on
by Pinedale Online!
January 2, 2017

On Sunday, New Year's Day, while most of us were lounging around watching football or relaxing at the start of the new year, some workers from Rocky Mountain Power had to be out in the bitter cold and wind to fix a malfunction in a powerline that caused around 910 customers in Cora, Daniel and Pinedale to lose their electricity for a short time. The repair men did work on a line that crossed US 191 just on the west side of the Trappers Point wildlife overpass, and the wildlife webcam had a great view of them doing the repairs.

We want to say a heartfelt thanks to the guys for going out in the cold on what should have been a day off and getting things back working so quickly. Thanks also to the Wyoming Highway Patrol officers who staged their patrol cars on either side of the workers with their flashing lights to let oncoming traffic know of the hazard in the area with short sight distance.