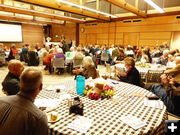 Volunteer Appreciation Dinner

21 local non-profit organizations recognized outstanding volunteers or projects for this year's appreciation dinner. Photo by Pinedale Online.

2017 Cally's Helping Hands Volunteer Appreciation Dinner
January 30, 2017
The 2017 Cally's Helping Hands Volunteer Appreciation Dinner was held in the Pinedale Library on Friday, January 27th. This year's event was hosted by SAFV and sponsored by Ultra Petroleum. The dinner is an opportunity for local non-profit organizations in Sublette County to nominate a volunteer or project that was instrumental to the success of their organization in the past year.

This year's honorees were Judy Babcock with the Big Piney Booster Club, Melissa Lish with the Children's Learning Center, Mariza Salguero with the Pinedale Children's Learning Center, Robena Downie with the Children's Discovery Center, the Tyler Place Conservation Easement with the Green River Valley Program of the Jackson Hole Land Trust, Fran Korfanta with Happy Endings Animal Rescue, David Hohl with In|Site:Ex|Site Public Art Program, Sandy McGinnis and Des Brunette with M.E.S.A. Therapeutic Horsemanship Inc, Jeremy Horn with Main Street Pinedale, Doug Hudlow with Pinedale Community Theatre, Joan Crossley with Pinedale Fine Arts Council, Mindi Crabb with Pinedale Half Marathon, Sue Eversull with Pinedale Lion's Club, Maxine Leckie with the Rural Health Foundation of Sublette County, Jack Hunter with Sage Snow Garden Club, Sandy McCann with SW Sublette County Pioneers Senior Center, George Ditton with the Sublette Center, Mark Kroeger with Sublette County 4-H, Dawn Ballou with the Sublette County Historical Society, Rochelle Stevie with the Sublette County Library, Sarah Hixson with the Sublette County Sexual Assault Family Violence Task Force (SAFV), John B. Kochever with Tip Top Search and Rescue.

Sublette County volunteers donate over 43,551 hours per year which equals 1,815 days or 5 years. At Sublette County's minimum wage of $12/hour* they are worth $522,612. At the estimated value of volunteer expertise of $23/hour, they are worth over a million dollars. These figures are a minimum and do not include organizations that did not provide data to this year's calculations.

This event is named after Cally McKee, who passed away suddenly in 2014. Cally was a mother, sister, colleague and friend who inspired everyone around her. She was an active volunteer who encouraged others to dream bigger, plan better and do more. Her legacy will continue to inspire us to give back, pay it forward and lend our helping hands wherever they are needed.
______________________________

*Sublette County does not have an official minimum wage. The minimum wage in Wyoming is $5.15 per hour. It was explained to Pinedale Online that the $12/hour number used in the Cally's Helping Hands program calculation, repeated in this article, is an estimate of what a non-profit organization in Sublette County might reasonably pay as a minimum to have a paid person perform the same kind of work the organization's volunteers have done. Organizations that make calculations of the value of volunteer hourly time across the nation put the value as a little over $23/hour. Anyone who is interested in learning more about minimum wage in Sublette County is encouraged to call Robin Clover at SAFV, 307-367-6305. Additional information about calculating the value of volunteer time can be found at www.independentsector.org and www.thenonprofittimes.com.