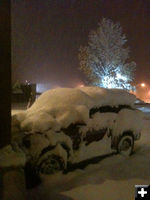 3AM Oct 17 in Pinedale

Lots of snow already fallen by 3AM Monday morning. Bob had to put it in 4-wheel drive to get home. Photo by Bob Rule, KPIN 101.1 FM Radio.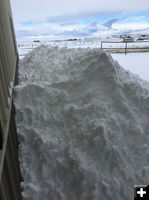 Sand Draw

October 17, 2016. Photo by Renee' Smythe.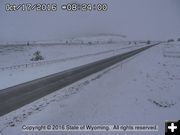 Bondurant

US 191, Monday morning Oct. 17, 2016. WYDOT Bondurant webcam view.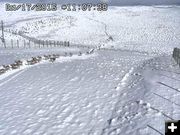 Huge Pronghorn herd

A long stream of antelope file through the snow across the Trappers Point wildlife overpass over US 191 Monday morning, October 17th.


14 inches of snow in Pinedale
by Pinedale Online!
October 17, 2016

Update, 10:30AM: Town of Pinedale is reporting that after a discussion with public works they have decided it would be best to keep the plowing to a minimum. Because of the wetness of the snow and the warm weather for today they are afraid that if they plow slushee snow in front of driveways and alongside parked cars and it freezes to ice tonight it would be bad. The roads are very passable now and it will get better as the day goes on. If they leave it alone it will go away much quicker than if they form frozen piles of ice around town.

Update, 8:30AM: Sand Draw webcam is stuck on a September view – they also report significant snow. Marbleton reporting also getting 14 inches snow

Weather update, Monday, October 17, 7:45AM: Pinedale woke up to 14 inches snow on the ground this morning. Big Piney/Marbleton have snow, but not as much as Pinedale. Webcam views show no snow at Sand Draw and Farson. Winter Storm Warning for heavy snow now in effect until 6PM this evening. Snow should taper off by afternoon. Windy conditions causing reduced visibility in places with blowing snow. Those outside should be prepared for wet snow and cold temperatures. Let others know your itinerary. Roads are snow packed and hazardous, making travel difficult. Allow extra time to reach your destination. Keep warm clothes, food, water, and a flashlight in your vehicle if traveling. Daytime highs around Pinedale in the 40s. Nighttime lows in the 20s. Call 511 in Wyoming for road reports. Click on this link for more weather and road condition links, and area webcam views.

Public Information Statement
National Weather Service Riverton, Wyoming
0759 AM MDT MON OCT 17 2016

SNOWFALL TOTALS FOR SUNDAY AND SUNDAY NIGHT
October 16 and 17, 2016

A strong Pacific storm system brought heavy snow to parts of western Wyoming especially Sunday night. The heaviest snowfall occurred in the Pinedale area where 12 to 15 inches of snow accumulated.

Note: SNOTELS (Snow Telemetry) are remote sensing sites in high mountain watersheds. Snowfall data from SNOTELS are estimated based on snow water equivalent.

Location Snowfall

Fremont County
Hobbs Park SNOTEL, 9 inches
Townsend Creek SNOTEL, 7 inches
Deer Park SNOTEL, 7 inches
Cold Springs SNOTEL, 6 inches
St. Lawrence Alt SNOTEL, 6 inches
South Pass SNOTEL, 4 inches
Little Warm SNOTEL, 3 inches
Brooks Lake, 2 inches

Lincoln County
Spring Creek Divide SNOTEL, 16 inches
Commissary Ridge, 15 inches
Blind Bull Summit, 15 inches
Indian Creek SNOTEL, 13 inches
Cottonwood Creek SNOTEL, 13 inches
Salt River Summit SNOTEL, 12 inches
Kelley Ranger Station SNOTEL, 11 inches
Willow Creek SNOTEL, 10 inches
Blind Bull Summit SNOTEL, 8 inches
Hams Fork SNOTEL, 7 inches
5 NNE Thayne, 7 inches
Box Y Ranch, 7 inches
2 SE Thayne, 3.5 inches

Sublette County
15 WNW Daniel, 15 inches
Pinedale, 14.3 inches
14 NW Pinedale, 14 inches
Snider Basin SNOTEL, 13 inches
Pocket Creek. SNOTEL, 13 inches
Pinedale, 12 inches
Elkhart Park G.S. SNOTEL, 10 inches
Triple Peak SNOTEL, 10 inches
Big Sandy Opening SNOTEL, 10 inches
New Fork Lake SNOTEL, 8 inches
East Rim Divide SNOTEL, 8 inches
Larsen Creek SNOTEL, 7 inches
Loomis Park SNOTEL, 7 inches
Gunsite Pass SNOTEL, 6 inches
Kendall Ranger Station SNOTEL, 6 inches

Teton County
Phillips Bench SNOTEL, 7 inches
Jackson Hole - Rendezvous Bowl, 7 inches
Granite Creek SNOTEL, 6 inches
Grand Targhee - Chief Joseph, 6 inches
Jackson Hole - Mid Mountain, 5 inches
Snow King, 5 inches
Jackson Hole - Raymer, 5 inches
Gros Ventre Summit SNOTEL, 4 inches
Jackson Hole - Base, 4 inches
Base Camp SNOTEL, 3 inches
Togwotee Pass SNOTEL, 3 inches
5 NW Jackson, 2.5 inches
Togwotee Mountain Lodge, 2 inches
Grassy Lake Snotel, 2 inches
Snake River Stn SNOTEL, 1 inch






Related Links