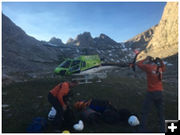 Rigging

Lesta Winer and Andrew Masters rigging the ship and themselves for Short-Haul. Photo courtesy TTSAR.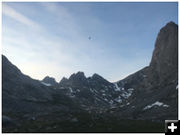 Short Haul

Patient being short-hauled from the Buttress to the basin floor. Photo courtesy TTSAR.


Tip Top Search & Rescue helps with more rescues
by TTSAR
August 1, 2016

Silver Lake horse wreck and Mirror Lake Assistance - 7/31/16
Sublette County Sheriffís Office (SCSO) Dispatch was notified of a horse wreck by Silver Lake at 5:30pm on Sunday, July 31st. Tip Top SAR was notified and initiated a medical helicopter to head towards Sublette County and Pinedale Airport for staging. A SAR medical team was taken to the scene via the county-leased helicopter to stabilize the patient and prepare for the medical ship to arrive. Coordinates were passed along to Air Idaho and they were able to land close to the patient who suffered a pelvis/rib injury. The patient was loaded and taken to Idaho Falls for further care.

Twenty minutes after the first call came in, Tip Top SAR was notified of a female complaining of vomiting and diarrhea who couldnít keep any water down. Communication was made via satellite phone and a horse team was sent in during the night to meet up with the female and her hiking companion. Due to dehydration, the horse team was able to give the female a ride to the parking lot where her companion was able to drive her to the Pinedale Medical Clinic for further care.

Meadow Lake Trail horse wreck - 7/29/16
SCSO was notified of a horse wreck up Meadow Lake Trail, near the wilderness boundary on Friday, July 29th. Via cell, the party was able to relay the coordinates and present condition of the injured rider who had been stepped on. Due to steep terrain with loose rock, Tip Top decided against taking ATVís to the scene and instead flew two WFA members of Tip Top SAR along with a SCEMS Paramedic via the county-leased helicopter. The man suffered a groin injury and was taken to the Pinedale Medical Clinic for further evaluation.

2 medical rescues Ė 7/26/16
Shortly after 1am on Tuesday, July 26th, Sublette County Dispatch was notified of a hiker who was in distress near Marmís Lake in the Wind River Mountains. Once Tip Top SAR was called, search managers were able to made contact with the subject who was stating he was having signs of a cardiac event. With a thorough assessment over the phone and good quick planning on SARís end, a medical helicopter was able to be deployed and land right near the subject. Thanks to quick responses, the subject was safely delivered to a Cardiac unit for further evaluation.

Late the evening of July 26, Dispatch was notified via satellite emergency beacon of a 16-year old male complaining of abdominal pain and difficulty breathing. The teen was part of a hiking group that had run into a fellow hiker who happened to be a Doctor. The Doctor was brought into camp during the night to further evaluate the declining condition of the patient. Through the texting ability of his emergency beacon, the Doctor was able to relay to SCSO and Tip Top SAR that it was advised a medical helicopter be brought to the scene in lieu of waiting until daylight. The male was suffering from high altitude pulmonary edema and needed immediate assistance. An Air Methods helicopter was able to reach the hiker and take him to St. Johnís Medical Center in Jackson for further evaluation at 3am. A big thank you to all services involved that helped bring this young man to lower elevation and to definitive care.

Buttress Rescue - 7/24/16
Dispatch notified Tip Top SAR Sunday evening, July 24th, 6pm, of a hiker that was injured on the Buttress near Titcomb Lake Basin in the Wind River Mountains and was requesting assistance. Decision was made due to the time of day, our Short Haul team would be flown to the coordinates via the County-leased helicopter for further assessment. Upon arriving and finding the hiker on a ledge, unable to move with an open fracture to his lower leg, the decision was made to Short Haul this individual off the ledge and to a nearby meadow. Classic medical helicopter had been called to rendezvous in the Titcomb Basin and take the injured man to medical care. Our medically trained team of Tony Chambers and Lesta Winer were inserted by pilot Matt Tanzer with the help of Andrew Master filling the roll as a Spotter (a second set of eyes for the pilot). Together they carefully packaged the hiker on the ledge that was at approximately 12,000 feet elevation and extracted him to the awaiting medical helicopter. The injured man was taken to St. Johnís Medical Center in Jackson where he had a successful surgery and is now recovering at home in Colorado.

Short Haul is a rescue operation consisting of a person suspended below the helicopter on a rope that allows insertion and extraction to location where the helicopter may not be able to safely land. The typical length of rope used by Tip Top SAR is 150 foot, but can be as long as 250 feet depending on the surrounding terrain.




Related Links