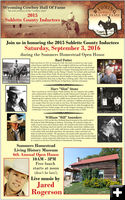 Open House

Sommers Homestead Living History Museum

Sommers Homestead 6th Annual Open House Sept. 3
Featuring the 2015 Sublette County Inductees into the Wyoming Cowboy Hall of Fame
August 26, 2016
The 6th Annual Sommers Homestead Living History Museum Open House will be held on Saturday, Sept. 3, 2016 from 10AM to 3PM.

Special event for the occasion will be the Induction Ceremony for the Sublette County 2015 entrants into the Wyoming Cowboy Hall of Fame for Burl Potter, Bill Saunders, Harv "Slim" Stone.

There will be live music by Jared Rogerson.

Free lunch starts at noon featuring beef, potatoes, beans, homemade breads, salads, homemade desserts, more - don't be late! Visit the restored historic buildings on the Homestead site and enjoy socializing with friends and neighbors. Bring the kids too, there will be lots for them to do: milking the cow, digging for ice in the ice house, playing on the Homestead playground, roping, pumping water, washing laundry, exploring, and more.

The Homestead historic site is located 7.3 miles south on the East Green River Road. Turn south at the Cora junction on US 191 and stay on the high road. Watch for signs.

The Sommers Homestead Living History Museum is a cooperative project between the Sublette County Historical Society, the Green River Valley Museum, and siblings Jonita and Albert Sommers. The historic site interprets homestead era and ranching history of the Upper Green River Valley from the late 1800s to mid-1900s. The Homestead is entirely staffed by volunteers and admission is by donation.