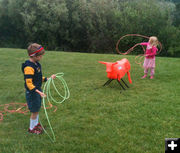 Roping

Little cowboys and cowgirls tried their hand at roping.


Town of Pinedale 4th of July celebration
by Pinedale Online!
July 4, 2016

The Town of Pinedale hosted their annual community 4th of July celebration and potluck at the American Legion Park on Monday, July 4th. They had kidís games of bean bag toss and gunny sack races, roping dummies, cotton candy, and a spread of great food. Mother Nature got into the act with a fast-moving rainstorm that had everyone ducking for cover and all hands grabbing the tent poles for the three tents covering the food serving tables. The Town of Pinedale Maintenance crew quickly came to the rescue with sand bags to add more weight to the canopy tie downs.

The Pinedale Fine Arts Council (PFAC) joined in the Independence Day celebration to kick off the 9th annual Soundcheck Summer Music Series with live music. Opening the show having to dodge the rainstorm was Olympia, Washington-based banjo duo The Lowest Pair. Headlining the July 4th show was Ten Sleepís JalanCrossland Band performing as a 3-piece. The dayís festivities were capped off with a wonderful fireworks display after the sun went down.