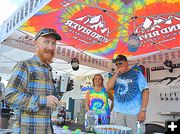 Josh Hattan

This photo captured just after Josh climbed a ladder and jumped into a tree and rescued a Blond Ale.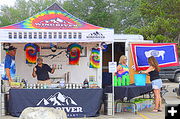 WRBC Booth

Greg gives the "all thumbs up" sign and opens the booth for business.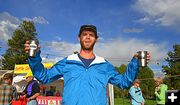 David Grasmann

David was last seen headed over to the Monster Brat Booth.


Celebrating Wind River Beer in Pinedale and Evanston
by Terry Allen
July 27, 2016

It was a heck of a weekend for the Wind River Brewing Company.

First, there was the four day Wind River Mountain Festival in Pinedale, Wyoming. Josh and Laura Hattan of the Great Outdoor Shop, along with dozens of volunteers and sponsors had managed to put together the 1st Annual Wind River Mountain Festival, and Wind River Brewing Company was among first in line to sign up.

They tap poured six of their craft beers, three of which Sean Watts brewed using his own recipe. There was Bonneville Brown, named after a peak in the Wind River Range of mountains that we could see from the park. He also brewed up a Rendezvous Wit, named after our historic Green River Rendezvous heritage. Finally, he brewed up a very hoppy but very refreshing and smooth Wynot White. Filling out the offerings were, Buckin' ESB, Wyoming Pale Ale, and a Blonde Ale.

Tamra and Greg stayed for the festival in Pinedale Saturday while Sean flew 150 miles south to Evanston, Wyoming to their new brewing facility and restaurant for the 8th Annual Evanston Brewfest.

Their new facility in the newly re-modeled historic Railroad Roundhouse is expected to employ quadruple the staff in Pinedale, adding over 100 exciting new jobs to Evanston.

The Wind River Brewing Company owners, Sean and Tamra Watts and Greg Mottashed had hoped to expand their 5,000 barrel a year brewing operations for their popular beers in the tiny, natural gas dependent town of Pinedale, but the local politics proved too difficult to work with and the owners finally gave up and took their expansion and jobs with them to Evanston.

Evanston welcomed them with wide open Wyoming arms and wooed them with residence in the historic Roundhouse and a $3 million dollar grant to restore the early 1900's red brick building.

Wind River Brewing is building a larger brewery, a restaurant, tasting room and gift shop in their space.
The new brewery is expected to produce 50,000 barrels a year.

Back in Pinedale, American Legion Park was filled with outdoor activities, outdoor gear demonstrations, games, tubing in the creek, food and of course long time fans of Wind River Beer.

Greg Mottashed said he gets tons of email requests from around the world, especially the Czech Republic for Wind River Brewing stickers, as there are thriving collectors clubs around the world for craft brewer memorabilia.

Famous trekker, author, and past owner of the Pinedale Roundup newspaper, Ric Samulski says WRBC makes the best beer in Wyoming. "I especially like the hand zesting Tamra does to make the Buckin' ESB."

Chris from Oklahoma pronounced the Blond Ale as "the best one." Chris looked at our Wyoming state flag and said, "our cowboy is named Pistol Pete."

Jenny Bubbles from Aruba pursed her deep red lips and said in a sultry voice, "the Blond Ale is very smooth."

Jennifer Bubbles, also from Aruba said, "Rendezvous Wit makes me witty."

Stacey Goodrick came up from Rock Springs and chose the Wyoming Pale Ale. "I like that it is a local beer and they take their time; and it's delicious."

Marilyn Mackey had two beers in her hands and a bag of pretzels under her arm. "I'm taking these over to Matt David's booth to go with a buffalo burger," she said.

Dave Lankford leaned against a wagon and took in the crowd weaving through the booths and finding a place in the beer line. "It's a good event," he said. "The kids did real good."