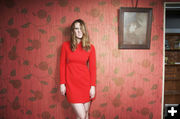 Laney Jones

Recently named a 2016 Rolling Stone Magazine artist to watch, Laney Jones highlights the 9th annual Soundcheck Summer Music Series presented by the Pinedale Fine Arts Council.


PFAC announces 2016 SOUNDCHECK lineup
by Pinedale Fine Arts Council
June 2, 2016

The Pinedale Fine Arts Council (PFAC) is excited to announce the lineup of the 9thAnnual Soundcheck Summer Series in Pinedale, Wyoming. All shows are held at American Legion Park and are free to the public. Opening bands kick off at 5:30 p.m. followed by headliners at 7 p.m.

July 4: JalanCrossland Band (with special guests The Lowest Pair)
For the third year in a row, PFAC will be teaming up with the Town of Pinedale to provide entertainment for the annual 4th of July Celebration. Headlining the event this year will be The JalanCrossland Band. No stranger to Pinedale, Ten Sleepís JalanCrossland will bring his dazzling guitar and banjo fingerpicking complete with tales of hobos, mobile homes, motorcycles and more. Opening the July 4 show will be Olympia Washington duo The Lowest Pair featuring the duel banjo picking of Kendl Winter and Palmer T. Lee.

July 15: The Barefoot Movement (with special guests Screen Door Porch)
Heartfelt, energetic, and down home! Heralded by CMT Edge as "one of the most promising bands on the bluegrass scene," the music of the Nashville-based group The Barefoot Movement is as down to earth as their intention for members of their audience: sit back, relax, take your shoes off, and stay a while. Crowding around a single microphone, their show is as fun to watch as it is to hear.
SCREEN DOOR PORCH returns to the series with their Wyoming-grown fusion of Roots-Rock, Country-Blues and soul.

July 23: Laney Jones & the Spirits (with special guests Jason Tyler Burton Band)
Raised on an exotic animal farm in rural Mount Dora, Florida, Laney Jones sings tales of love and adventure with a voice that has been described as "a mix of lemon, molasses, gin and gunpowder." Her live performance highlights her multi-instrumental prowess on banjo, ukulele, tenor guitar and harmonica backed by her band, the Spirits.
Pinedaleís Jason Tyler Burton's brings the folk with his full 4-piece band.

August 6: The Appleseed Collective (with special guests The Boom & the Bust)
Progressive String-Swing from Ann Arbor, Michigan! The Appleseed Collective represents Americana music rooted in traditions from all over the world and from every decade, creating a live experience that welcomes every soul and is impossible to replicate.
Pinedale-based alt-country super-group The Boom & the Bust featuring Michelle Humber and Nathan Curry will open the show with a full band lineup.

The Soundcheck Summer Music Series is presented by the Pinedale Fine Arts Council with support from the Town of Pinedale. For more information visit pinedalefinearts.com.