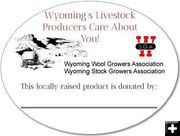 We Care

Wyoming Livestock producers


Wyoming livestock producers urged to donate to those in need
Wyoming Stock Growers Association and the Wyoming Wool Growers Association join in effort to help local communities
by Wyoming Stock Growers Association
May 3, 2016

The Wyoming Stock Growers Association and Wyoming Wool Growers Association have joined together to start a grass-roots effort through their membership to help those in need throughout the state and in their local communities by donating locally raised and packaged meat. The recent job losses in the energy industry and related local businesses have many families concerned and some even looking to local food banks for help. This effort would supply WSGA and WWGA Producer members with oval stickers that state, "Wyoming's Livestock Producers Care about You!" with WSGA and WWGA logos and a line where donors can sign their name. The donor can choose several cuts of beef and/or lamb to donate and give the packaged meat to neighbors, acquaintances or other unemployed members of their community.

"We saw an opportunity and need to help those who have come on hard times recently," WSGA Communications Director Haley Lockwood stated. "This joint effort will supply families with nutritious Wyoming raised beef and lamb and give them an opportunity to meet local livestock producers who care deeply for their local communities."

With a cut in salaries and job losses, more consumers will be looking to buy lower priced meat cuts to feed their families and will move away from the higher priced cuts. This effort will allow community members to have cuts of meat they may not be able to afford currently or haven't tried before, like American lamb.

"Wyoming's sheep producers are pleased to participate in this effort and want to help where we can," stated Amy W. Hendrickson, Executive Director for the Wyoming Wool Growers Association. "We all have neighbors, friends and family that have been touched by the state's economic downturn."

As the energy sector goes through a cycle of boom and bust, Wyoming can look to farmers and ranchers to keep the local economy and community strong. Wyoming's livestock production was valued at $833 million and crop production totaled at a value of $520 million in the state according to the 2014 Wyoming Agricultural Statistics report put out by the USDA-National Ag Statistic Service looking at 2013. Wyoming is also ranked number one in average size of farms and ranches with an average of 2,626 acres per operation.

Any interested individuals who would like to learn more about this effort please contact WSGA Communications Director Haley Lockwood at 307-638-3942 or haley@wysga.org.

About the Wyoming Stock Growers Association
Since 1872, the Wyoming Stock Growers Association has served the livestock business and families of Wyoming by protecting their economic, legislative, regulatory, judicial, environmental, custom and cultural interests. We promote the role of the cattle industry in resource stewardship, animal care and the production of high-quality, safe and nutritious beef. Learn more at www.wysga.org or call 307-638-3942.

About the Wyoming Wool Growers Association
The Wyoming Wool Growers Association has represented Wyoming's lamb and wool industries since 1905. We serve as an advocate for sheep and livestock producers throughout the state and the businesses, communities, and families that constitute the agricultural industry in Wyoming. Learn more at www.wyowool.com or 307-265-5250.