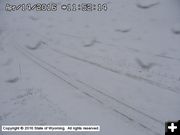 Hoback Rim

View from the WYDOT Hoback Rim webcam around noon on Thursday, April 14, 2016.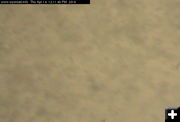 Cora Junction webcam

Snowstorm view from the WYDOT US 191 webcam at the Cora Junction, looking at the Trappers Point Wildlife Overpass around 12:15 on Thursday, April 14, 2016.


Winter returns
by Pinedale Online!
April 14, 2016

Weather update, Thursday, April 14, 11:30AM: Showers continue to spread across portions of northern Sublette County in western Wyoming this morning. Thunderstorms have been noted, with the potential for some gusty wind to 40 mph. Periods of heavy rain showers will be possible, with the added potential for snow pellets. Be prepared for changing weather conditions through the afternoon hours today. As the spring storm moves across the state, eastern Wyoming could get very strong winds and possibly even a funnel cloud or two today. More rain/snow on Friday may produce slick road conditions and limited visibility, especially impacting the I-80 corridor from Rock Springs eastward across Wyoming. For road condition updates call 511 in Wyoming or toll-free 1-888-996-7623 or go to www.wyoroad.info to see a map showing road conditions across Wyoming. Click on this link for more road, weather and travel condition links, and webcam views.