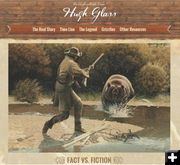 Grizzly bear attack

This painting by David Wright shows a fur trapper about to be attacked by a grizzly bear, similar to what happened to Hugh Glass in 1823. The Museum will have a new diorama display depicting the attack as their feature exhibit when they open May 1, 2016. The new WCF grant will go towards this exhibit.


Sublette County Historical Society receives WCF grant
Will help fund Hugh Glass grizzly bear attack diorama
by Museum of the Mountain Man
April 17, 2016

The Sublette County Historical Society/Museum of the Mountain Man is pleased to announce it has been awarded a $7,500 grant from the Upper Green Sustainable Communities Endowment Fund of the Wyoming Community Foundation. The SCHS/ MMM was one of several local organizations and nonprofits that were recently notified by the WCF that funding was approved.

According to Angie Thomas, director of the Museum, and John Anderson, president of the Historical Society, the donation from the UGSCEF will be used towards a major exhibit inside the upstairs gallery, slated for debut May 1st when the Museum of the Mountain Man opens for the 2016 season.

This dynamic display is entitled "An Unforgettable Man: The Hugh Glass Story," coinciding with this winter's movie release of "The Revenant" starring Hollywood actor Leonardo DiCaprio and directed by two-time Oscar winner Alejandro González Iñárritu. The Hugh Glass saga is one of the most famous stories in fur trade and mountain man history, documented in numerous diaries, account ledgers and early 1800s' newspapers.

The Sublette County Historical Society was founded in 1935 and celebrated its 80th anniversary last year and is the oldest historical society in the state of Wyoming. The Historical Society and Museum's missions are to preserve and interpret the history of Sublette County and the Rocky Mountain fur trade era.

The Wyoming Community Foundation is a philanthropic non-profit organization that administers funds established by individuals, families, corporations, agencies and private foundations. The WCF administers the income from these gifts to benefit community needs across Wyoming.

The SCHS/MMM and WCF have collaborated on numerous projects and programs over the past 15 years. Through the Gayle McMurry Endowment Fund, the museum republished "Memories of Kendall Valley" by Richard Hecox in 2004; purchased the Chief American Horse buffalo hide tipi in 2006; contributed to the elderly/handicap elevator constructed in 2008; received a development and interpretation grant for the Lander Trail New Fork River Crossing Historical Park in 2011 and was a major contributor to the 2012 National Fur Trade Symposium held in Pinedale.

"We are so grateful to the Upper Green Sustainable Communities Board and the Wyoming Community Foundation for this generous grant," Thomas said.