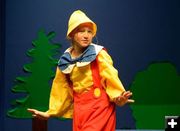 Pinocchio

Sydney Wise as Pinocchio. Photo by Arnie Brokling.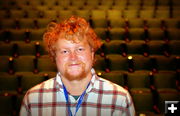 Andrew Yabroff

Co-director, and Geppetto and Stromboli. Photo by Terry Allen.


Pinocchio Comes to Town
by Terry Allen
April 18, 2016

The Missoula Childrenís Theatre came to Sublette County Friday night, April 15, and put on their version of Pinocchio, using child actors from our own community.

Pinocchio was written in 1883 by Italian writer Carlo Collodi. It is a story of a woodcarver named Geppetto from a small northern Italian village near Florence. Geppetto carves a wooden puppet who dreams of becoming a real boy. The play follows Pinocchio as he grows into a real boy, but who is prone to telling lies and fabricating stories as he learns lifeís lessons along the way.

The Missoula Childrenís Theatre was founded 40 years ago and this year will send out a fleet of little red trucks loaded with sets and costumes and work with 65,000 children in more than 1200 communities in all 50 states and 17 countries.

Mandy Corbett from New York and California, who was acting as the Director for this show, is an actor herself. She recently graduated from Pacific Conservatory Theatre. "I auditioned for this job because I wanted to learn the tools and strategy required to put on shows in one week," she said. "It is pretty intensive learning experience. We drive to a town and in about 14 hours of practice over several days, we are able to put on an exciting show with kids who may never have been on stage before."

Andrew Yabroff who was a working actor in Chicago for three years decided he wanted to travel with his acting. He also successfully auditioned for the job. "I switch off acting and directing duties with Mandy every two weeks," he said. "Tonight Iíll be playing both Geppetto and Stromboli. After the play, we will ask for volunteers to help pack up our truck and then in the morning weíll hit the road and be putting on another play in a few days."

Emma Liske played a clown and said the thing she liked the most was making people smile.

Keegan Hankins acted as a street urchin and liked the face paint and the costume.

John Covill, who played Jiminy Cricket, said he liked to be able to jump around and yell a lot. "But, I didnít agree with the makeup part," he said. "I had to wear lipstick."

Adrienne Jones, who played a Baby Doll, said she was a pro now. "I got to speak," she said. "It was a speaking role. I want to see the video."

Bridger Kaiser was in the audience and said his favorite characters were the Toys and the Foxes.

Matty Lea really enjoyed her role. I was a Tot Soldier," she said. "I was great at marching. I saluted and marched."

Hannah Kaiser ran into a few problems. I played a Baby Doll," she said. "But, the pants were too long and the bonnet choked me. But, Iím happy except for the pants."

Sidney Wise, who played Pinocchio, said she was surprised to get the part. "I just tried out for the role and did my best," she said. "I had some experience in the past because I played Peach Fuzz a gay pirate in Blackbeard. What I like most about Pinocchio was being able to do all the falling on the stage. I also met some very amazing people. I was a little nervous, but when I heard the audience laughing and clapping it made it easy and fun."

A special thanks to Arnie Brokling who for the price of a beer, allowed me to use his photo of Pinocchio.
___________________________________________

For comments, corrections or to order hi-rez prints, please contact txpartisan@gmail.com.