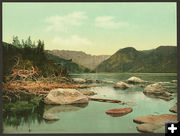 Lac d'Amalia

1898 by Detroit Photographic Co. Photo courtesy Library of Congress.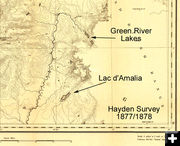 Map of Upper Green

1887-1888 Hayden survey, courtesy Library of Congress. Map modified by Pinedale Online.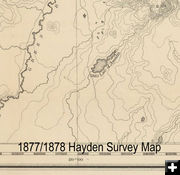 Hayden Map 1887-1888 survey

Lac d'Amalia, which is present-day New Fork Lake. Map courtesy Library of Congress, modified by Pinedale Online.


Week 4 History Contest Winner: Kenna Tanner, Pinedale
Schwan's Sublette County History Contest Week 4 Winner, and announcing the question for Week 5
by Dawn Ballou, Pinedale Online!
March 16, 2016

We are pleased to announce Kenna Tanner of Pinedale as the winner of last week's Schwan's Sublette County History Contest.

The Week 4 History Question was: "Where is 'Lake Beautiful' in Sublette County?"

Kenna guessed "New Fork Lake", which is the correct answer. Congratulations Kenna! She won a selection of three Schwan's 1/2 gallon ice cream tubs

Prior to the late 1890s, this lake shows up referred to as Lac d'Amalia, Lake D'Amalia, Lake de Amalia, DeMalia, or de Amalia in the Wind River Range. William Henry Jackson, an American geological survey photographer and an explorer of the American West in the late 1800s, took pictures of this lake and labeled them with several variations of 'de Amalia'. A Hayden survey map from 1887/1888 shows this lake, a tributary to the Green River, labeled Lac d'Amalia. Several of Jackson's photos of New Fork Lake can be found by searching the Library of Congress website, https://www.loc.gov/item/2008678243/ and also the Denver Public Library digital website, http://digital.denverlibrary.org/cdm/ref/collection/p15330coll21/id/8486

In 1980, John W. Shields did a biography of Perry W. Jenkins – "Father of Sublette County" with a Lola Homsher Endowment Fund Grant from The Wyoming State Historical Society. In this report he says, "He was directly associated with the enlargement of the New Fork Lake, which was a natural lake known locally by the Indians as Lake De Amelia which translated as "Lake Beautiful." Jenkins evidently told his family that the dam on the New Fork River was the first retention dam built on the headwaters of the Colorado River watershed." This comment was noted as the author's personal correspondence with Ruth (Jenkins) Wilson Oliver, June 14, 2007. (http://www.crwua.org/documents/about-us/oral-histories/Perry-Jenkins.pdf)

On the wyominggeneology.com website for "The Piney Country, Wyoming", an article mentions a man named Eugene Alexander who "in 1889 he took up land on Newfork River just below Lake de Amelia, which is also called New Fork Lake."
http://www.wyominggenealogy.com/uinta/piney_country_wyoming.htm

Wyoming Place Names website, a service of the Wyoming State Library, says this about the origin of the Name for New Fork Lake: "Formerly called DeMalia Lake, so named by the early trappers after the sister of Lucien Fontenelle. Shown as Lake de Amalia on maps through 1897. It is named New Fork Lake on the 1900 map of the State of Wyoming by the General Land Office."
http://wyomingplaces.pbworks.com/w/page/12715805/New%20Fork%20Lakes

Here are photos taken of Lake d'Amalia by William Henry Jackson in the late 1800s:
http://digital.library.illinoisstate.edu/cdm/ref/collection/ilstudia/id/6296
http://digital.denverlibrary.org/cdm/ref/collection/p15330coll21/id/8486
https://beta.worldcat.org/archivegrid/collection/data/47104311
http://cdm15330.contentdm.oclc.org/cdm/ref/collection/p15330coll21/id/8490

In our clues for this question, the "John" we mentioned was John Perry Barlow, grandson of P.W. Jenkins who is known as "The Father of Sublette County."

__________________________________

Here's the history question for Week 5: "What was 'Serious Sawbuck'?"
The Schwan's Prize for this week is: Schwan's Red Velvet & Cheesecake
No purchase necessary to enter the contest.

Click here to go to the Contest page.

Click here to go to the Clues page for the Week 5 History Question.

Guesses for this week's history can be entered by emailing your answer to: myriam.wolcott@schwans.com by noon on Tuesday, March 22, 2016. If you don't do email, you can call Pinedale area Schwan's delivery driver Jean-Francois at 307-360-FOOD (3663) and give your answer and contact info. Include your name, email address, mailing address, and a contact phone number in your submission so we can notify you if you are the winner. (Please be sure to let us know what town you live in/near in Sublette County.)

The latest Schwan's catalogs are available from the Schwan's truck drivers, at the Pinedale Online office in the back of the Office Outlet store in Pinedale, and at KPIN 101.1FM Radio in the Summit Building in Pinedale. If you've never tried any of the Schwan's foods, ask Dawn at Pinedale Online for a sample (limit one per customer, age 16 or over, while supplies last.)

The Schwan's Sublette County History Contest is sponsored by Schwan's Home Service of Rock Springs, KPIN 101.1FM Radio, and Pinedale Online! The contest runs for six weeks, from Wednesday, February 17, 2016 and ending on Tuesday, March 29, 2016.