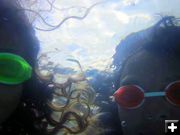 Sofi and Friend

Photos by Sofi Smith (Sofi brought her own underwater camera)


A Basket Full of Easter Egg Hunts
by Terry Allen
March 25, 2016

A weekend of Easter egg hunts started on Thursday at the PAC (Pinedale Aquatic Center) with their annual Underwater
Easter Egg Hunt at 5:30 in the afternoon. The hunt was free to all children from pre-school through 5th grade. The Lions Club hosts their annual Easter egg hunt at Boyd Skinner Park at 10:00 am on Saturday. White Pine Ski Resort hosts their Easter egg hunt on Sunday at 9:30 am.

Special thanks to Sofi Smith for being the underwater photographer (she brought her own underwater camera).

Stay tuned for hunt stories and more egg photos as they develop, with the complete story no later than Tuesday.
_________________________________________

Photos by Sofi Smith. For additions, corrections or for full rez prints, contact Terry at txpartisan@gmail.com.