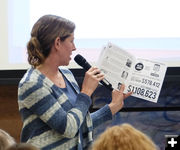 Kari DeWitt

Kari DeWitt, Executive Director of the Pinedale Fine Arts Council, talks about how much Sublette County volunteers donate to the community.


Recognizing and thanking 'Helping Hands'
Cally's Helping Hands Volunteer Appreciation Dinner 2015
by Dawn Ballou, Pinedale Online!
January 23, 2016

The Pinedale Fine Arts Council hosted their 2nd annual Cally's Helping Hands Volunteer Appreciation Dinner on Saturday, January 23rd in the Lovatt Room of the Sublette County Library in Pinedale. Twenty non-profit organizations participated giving recognition to their 2015 Volunteers of the Year. The evening meal was catered by The Den at Daniel Junction and was generously sponsored by Ultra Petroleum.

According to the available statistics for this past year, Sublette County volunteers donated over 48,201 hours of time per year which equals 2,008 days or 5-1/2 years. The value of these volunteers, if calculated at Sublette County's minimum wage of $12/hour, is worth $578,412. The estimated value of the volunteer expertise factored at $23/hour makes their time worth at least $1,108,623. These numbers are a minimum and don't include values for organizations that didn't provide data into this year's volunteer hour calculations.

Helping Hands participating organizations and their 2015 Volunteers of the Year were:

Children's Discovery Center: Neil Stroklund (www.pinedalediscoverycenter.org)
The Children's Discovery Center honors Neil Stroklund for his dedication over the past three years. During this time Neil has devoted many hours including two seasons of snow removal keeping their driveway plowed and accessible all winter. His early morning work has made the entire school safer. He also donated his time and experience, helping with their greenhouse community build and in many odd jobs around the school including establishing their aquariums.

Children's Learning Center: Lauryn Hansen
(www.childrenlearn.org)
Lauryn donates her time and effort advising and helping marketing and social media consulting for the CLC. She is personable and enthusiastic and always willing to help promote activities in the community for CLC as well as other programs for families.

Friends of Big Piney Recreation: Shelly Brause
Shelly has been a member of Friends of Big Piney Recreation since the beginning. She volunteers and donates her time with programs such as the annual Sprint Triathlon, Bingo, Halloween Carnival, Donkey Basketball, PeeWee Volleyball, Treasure Hunt and more. She also acts as Secretary/Treasurer for FOBPR and is directly involved in the scholarship application review process and payment for the applicants to participate in programs. She works behind the scenes to provide for others less fortunate and make our community what it is today.

Green River Valley Land Trust: Leah Radakovich
(www.grvlandtrust.org)
Leah has generously shared her significant creative talent on many occasions to help the Green River Valley Land Trust. She has whipped up last minute posters and formatted newsletters that receive rave reviews. Her big smile and positive attitude are shared with many.

Happy Endings Animal Rescue (HEAR): Susan Kramer
(www.hear-wyo.org)
Suzy is the President of HEAR and has been involved with the rescue since 2007. She has been involved with breed specific animal rescue in the past and brings invaluable knowledge to running a non-profit organization. She has worked tirelessly to grow the rescue to what it is today and helps in every aspect of HEAR such as writing grants, walking dogs, and transporting pets to the vet or other rescues.

In|Site:Ex|Site Public Art Program: Matt Harber (http://www.pinedalefinearts.com/public_art.html)
Matt has been involved with the Pinedale Fine Arts Council's public art program for many years and has helped grow the program to showcase the visibility of contemporary visual art in the community. He supports local artists and is a big fan of art in all its forms.

M.E.S.A. Therapeutic Horsemanship, Inc.: Karen Stewart and Jana Runyan
(www.mesarides.org)
MESA recognizes and thanks Karen Stewart of Pinedale and Jana Runyan of Big Piney for their enthusiasm, kindness, humor, time and talent that they have given over the years. Karen makes riding lessons fun and her persistence and enthusiasm always results in her riders having a great time during lessons. Her experience with special needs combined with her horse knowledge makes her a perfect volunteer in a lesson setting. She has supported and been an advocate for MESA's programs and events in and out of the arena for the past four years. Jana's thoughtful and calm presence gives riders the confidence to process tasks resulting in consistent personal successes coming out of each lesson. Her extensive knowledge of horses is very much appreciated as she helps ensure that the MESA herd is always well cared for and tended to. She has been a volunteer for the life of the program.

Main Street Pinedale: Tara Bing
(www.mainstreetpinedale.com)
Tara managed and expanded the Farmer's Market this past summer. She has an exceptional passion for food and hopes to take the market to the next level in order to bring more local foods to Pinedale. Main Street Pinedale has provided benches, a historic walking tour, façade grants, hosted community clean up, street dance, Farmer's Market and the upcoming Winter Carnival.

Pinedale Community Theatre: Marianne Mrak
(www.pinedaletheatre.com)
Marianne brings a whole-hearted commitment along with a contagious smile and joyful manner to lend a helping hand in any way she can. She is an accomplished pianist and vocalist who has volunteered hundreds of hours night after night accompanying the Pinedale Community Theater's rehearsals as well as many additional hours for individual practice time.

Pinedale Fine Arts Council: Tami Trover Crosson
(www.pinedalefinearts.com)
Tami has served as a PFAC Board member and continues to serve on their Development committee. She was instrumental in reworking their annual Black Tie & Blues fundraiser into a profitable and extremely fun Kentucky Derby party. Her mission is to assist in making the community a better place to live. She enjoys working with the PFAC staff, board and many volunteers to continue to bring the arts to the community and children.

Pinedale Lions Club: All the Pinedale Lions volunteers! (https://www.facebook.com/PinedaleLionsClub/)
The Pinedale Lions Club volunteers have worked on their "Focus on community Health" project this past year. Lions Club members perform community service projects including high school scholarships, maintaining Shelter Park, the annual Pinedale Easter Egg Hunt, Freshman Basketball Tournament sponsorship, Leo Club for ages 12-18, and cooking for local events including the Wind River Half Marathon. Lions provide financial assistance to those needing help with vision exams and glasses by working with the Department of Family Services. Their volunteer members work to ensure that everyone in the country has access to free diabetes testing through a partnership with the Public Health Nurse's office.

Rural Health Foundation of Sublette County: Donni Toth
(www.ruralhealthfoundation.com/)
Donni has been on the board of the Rural Health Foundation of Sublette County for many years and most recently stepped in as volunteer Executive Director. She has worked to assure the viability and sustainability of the organization and its mission. She has been the facilitator for the Families In Need Program and recommended financial assistance for many patients in Sublette County. She volunteered for two blood draws, organized a bike tour station and set up RHF informational booths. She completed her PhD in 1992 in nursing informatics and occupational health nursing and is a retired Air Force officer.

Sage and Snow Garden Club: Arlinda McLaughlin
(https://sageandsnow.wordpress.com/)
Arlinda serves the Sage & Snow Garden Club as the secretary, Garden of Beauty Awards Chair, Annual Garden Tours Chair, and lead for the BOCES After School "You Choose Tuesday" Container Growing Class. She always shares plants from her garden, great recipes, and her big smile with everyone she encounters. She has conducted a very popular "Growing in Containers" class at the Pinedale Library over the past few years and has taught "Gardening in Sublette County," a series of high altitude gardening in Pinedale and Big Piney. Gardening in Wyoming is an extreme sport. The Club is fortunate to learn from her 35+ years of "combat gardening" in Pinedale.

Sublette Center: Marilyn Sheldon
(www.sublettecenter.org)
Marilyn has been a faithful volunteer at the Sublette Center for several years. She and her husband Denny volunteer at monthly birthday parties, church services and Bingo. Marilyn also graciously shares her musical talents with the residents at socials. Her quick wit and upbeat personality adds to the experience of any activity she is involved with. She can often be found at the Center escorting residents to another facility for a mid-morning community based exercise program. The residents look forward to spending time with her.


Sublette County 4-H Afterschool Programs: Sandra McLoughlin
(http://www.wyoming4h.org/4hsubletteafterschool/)
Sandra signed on as a volunteer last year and led the robotics club in Pinedale. She volunteered over 400 hours coaching a 4-H first Lego League Robotics team that won the state championship and went on to represent Wyoming at the national contest. She also helped coach a high school robotics team and taught two additional sections of robotics, including helping kids get ready for fair in the summer. Her help is greatly appreciated.

Sublette County Historical Society: Annette & Billy Pape
(www.museumofthemountainman.com)
Annette & Billy have generously contributed their time and skills to the Museum of the Mountain Man and Sublette County Historical Society for the past ten years. They help with projects and programs throughout the year such as the Spring Thaw meeting, Green River Rendezvous Days and the annual Wreath Auction. They spend hundreds of hours of time keeping the Museum facility and outside grounds meticulous and inviting to the local and visiting tourists. Billy and Annette are the "invisible work horses" behind the beauty of the institution and they are very much appreciated.

Sublette County Library Foundation: Kate Kelly
(www.sublettecountylibrary.org)
Kate has been volunteering two mornings a week at the Pinedale Library for the last ten years working to catalog their adult books. She earned her Masters degree in Library Science from the University of Arizona and came to the Library Foundation from the Western Wyoming College Library. Her favorite part of the job is getting first crack at the new books!

Sublette County Sexual Assault Family Violence Task Force (SAFV): Kay McEarly
(https://www.facebook.com/Sublette-County-SAFV-Task-Force-398012686889129/)
Kay has been a volunteer with SAFV since 2005. She has worked in the office, on the crisis line, and has been their go-to volunteer for all the special challenges that working in Sublette County can bring up. She is and always has been one of their most reliable and dedicated volunteers.

Soroptimist International of Sublette County: Lauretta Welch
(https://www.facebook.com/SoroptimistOfSubletteCounty)
Soroptimist is a volunteer organization of business and professional women striving to improve the lives of women and girls by providing scholarships, mentorship, outreach and educational programs to local communities. Lauretta chartered the organization, served as acting president for three years, and remains an active member of Soroptimist. She has volunteered countless hours to fundraising, implementing scholarships and providing outreach and education to improve the lives of women and girls in the community.

Wind River Half Marathon: Sue Eversull
(www.pinedalehalfmarathon.com)
If you have lived in Sublette County for even a short time, you have probably enjoyed a meal prepared by Sue Eversull. She tirelessly donates her time and amazing culinary skills for many local community events and fundraisers. For twelve years she has organized, cooked for and served a free community BBQ for the Pinedale Half Marathon race participants, their families, friends and any community member who joins the half marathon event, up to 750 people. She has never asked for any reimbursement for her time and energy. Her gifts and generosity are greatly appreciated.

What do these organizations and volunteers do for the community?
Preservation of open spaces
Healthy relationships education
Therapeutic horseback riding for mentally and physically challenged children
Winter concerts
The little library
Development of the man street business environment
A local half marathon and 10K
Counseling and resources for pregnant women
Preschool for at-risk children
Fostering for rescued animals
Assistance for remodeling main street businesses
Preservation of historical artifacts and records
Water wise demonstration garden
Pinedale historic walking tour
Developmental, hearing and vision screenings for children
Support for the victims of domestic violence, sexual assault and stalking
Bilingual literacy program
Assistance with the cost of eye exams and glasses
Community Easter egg hunts
Conservation of critical wildlife habitat
After school programs
Affordable preschool
Mentoring for at risk youth
Public art
Community musical theatre productions
Accessible backcountry trails
Angel tree program
Summer concerts
Public sculpture
Programs to connect youth with senior citizens
After school sports
Maintenance of local historical sites
Adoption services for animals
Gardens of beauty
SAFV House
Free diabetes testing
Flower barrels
Mainstreet park benches
Scholarships for women
And much more…

The volunteer appreciation event is named after Cally McKee whose kind and giving spirit, and generous community volunteerism, was an inspiration to all. "Cally McKee inspired everyone around her. As a mother, sister, colleague and friend, she saw what was possible and made it happen. Cally encouraged us, supported us and challenged us to dream bigger, plan better and do more. And she believed in us, with an unflagging, unfaltering confidence that gave us solid ground to work from. Cally volunteered. Not because she had to, but because she wanted to. She liked the difference it made for her friends and neighbors. And she liked the way it made her feel. Cally made a life by what she gave. She passed away in 2014, but her legacy will continue inspiring us to give back, pay it forward and lend our helping hands wherever they're needed."