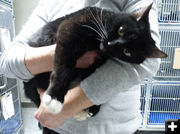 Take me I'm yours

Meet Boots. He's a black short hair mellow older cat. He has white whiskers and four white paws. Boots has been in the shelter since about August and it would be really great to find him a loving family to take him home.

H.E.A.R. has lots of cats needing new forever homes
Special $35 cat adoption fee now through Valentine's Day
January 26, 2016
Happy Endings Animal Rescue in Pinedale has a bunch of cats and kittens needing new homes. They have big cats, little cats, black, calico and tabby cats, barn cats, house cats and kittens. They have a special offer cat adoption fee of just $35 now through Valentine's Day. No adoption fee for cats over two years old to senior citizens, veterans and members of the military. H.E.A.R. adoption fees include spay/neuter and current vaccination on animals. Please call or message for more information. 307-360-6000.

H.E.A.R. welcomes anyone who might like to temporarily foster any of the cats or dogs that are in the shelter facilities awaiting adoption. If anyone has extra time and is interested in coming in to play with the cats, walk the dogs, pet them, comb them, give them love and attention so these animals don't have to spend as much time in cages at the shelter, that help would be greatly appreciated. Any extra attention and opportunity for socialization benefits the animals until they can find their new forever home. Some of the animals are sheltered at the Pinedale Animal Control facility on the south end of the Pinedale Town Shop. Others are at Creature Comforts Pet Shop in Pinedale (269 S Cole Ave). Some others are staying in temporary foster homes and then will return to the shelter. If you would like to meet any of these animals, please call Suzy at 307-360-6000 or stop by Creature Comforts and talk with Terry.


Related Links