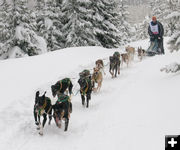 Alex Stegmann

Alex Stegmann, bib #5, from Fort Nelson BC Canada, finished 3rd in Saturday's race in Driggs, Idaho. Photo courtesy EUKANUBA Stage Stop Race.

EUKANUBA Stage Stop Race - Stage One race results
8-day sled dog race across Wyoming and Idaho
January 31, 2016
DRIGGS, IDAHO (Saturday, January 30, 2016)
Dan Carter, Race Director of the EUKANUBA Stage Stop Race and the Pedigree® 8-Dog Classic Race, announced the winners of the Driggs, Idaho stage.

Winning Saturday's EUKANUBA Stage Stop Race, Stage 1, is Buddy Streeper with an elapsed time of 3:01:52, followed by Gerry Willomitzer 3:07:38, Alex Stegmann 3:08:28, JR Anderson 3:11:46 and Jerry Bath 3:13:18 in the top 5 positions. Bruce Magnusson placed a very close sixth at 3:13:51, and Jeff Conn in seventh place with 3:16:02, followed by Dennis Laboda 3:27:59, Emilie Entrikin 3:36:25, Al Borak 3:40:50, Jerry Scordis 3:47:34, Chris Adkins 4:11:40, and Austin Forney at a total elapsed time today of 4:30:24.

The winners of Saturday's Pedigree® 8-Dog Classic Race are Dave Turner in first with a total elapsed time of 2:52:46, followed by Alix Crittenden at 2:57:01. Elizabeth Stewart 2:59:56, Jenny Gregger 3:05:38, and Thad McCracken 3:15:25 round out the top 5 positions followed by Spencer Bruggeman 3:34:09, Laura Daugereau 3:52:21, Gabrial Dunham 4:21:16, April Cox 5:01:52, Amanda Bartlett 5:13:52, Jane Devlin 5:47:07, and Hugo Antonucci with a total elapsed time of 5:50:58.

Competitors ran 32 miles and Driggs ID is the second of eight stops. These mushers and their teams are competing for cash and prizes of close to $195,000.00 which will be given out at the final Awards Dinner and Ceremony in Evanston, Wyoming Saturday, February 8.

The race continues Sunday, January 31st in Alpine, Wyoming. The PEDIGREE® 8-Dog Classic Race awards will be given at Parkway and Canyon View Drive Warming Tent post race.

Tuesday, February 2 — Lander, Wyoming — Stage Four
Wednesday, February 3 — Pinedale, Wyoming — Stage Five
Thursday, February 4 — Big Piney/Marbleton, Wyoming — Stage Six
Friday, February 5 — Kemmerer, Wyoming — Stage Seven
Saturday, February 6 — Uinta County, Wyoming — Stage Eight & Awards Ceremony

PEDIGREE® 8-Dog Classic Race teams can run up to 8 dogs from a 10-dog pool. Teams participate in the ceremonial start in Jackson, Wyoming followed by two days of racing in Driggs, Idaho and in Alpine, Wyoming. The approximate distance per day is 25 to 35 miles each day. Total payout for the 8-Dog race is $10,000.

About EUKANUBA™:
With over 45 years of research, EUKANUBA™ offers a complete food lineup, delivering exceptional customized nutrition by life stage, breed size as well as health and performance requirements. EUKANUBA™ is a pet food brand of Mars Petcare. www.eukanuba.com or at Facebook.com/Eukanuba

See pictures and follow the race results at www.wyomingstagestop.org.