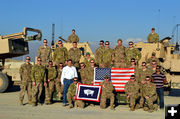 Wyoming National Guard

WY National Guard A Battery, 2nd Battalion, 300th Field Artillery in Afghanistan. Photo courtesy Senator John Barrasso


Sen. Barrasso spends Thanksgiving with Wyoming Troops in Afghanistan
by Senator Barrasso media release
November 26, 2015

AFGHANISTAN Ė U.S. Senator John Barrasso (R-Wyo.) shared Thanksgiving dinner with Wyoming National Guard soldiers serving in Afghanistan.

Barrasso visited primarily with members of the A Battery, 2nd Battalion, 300th Field Artillery, who are conducting artillery missions in Afghanistan.

"Itís always an honor to share Thanksgiving dinner with Wyoming troops serving overseas," said Barrasso. "Itís hard to find anyone braver than our men and women in uniform. Everyone in Wyoming can be proud of the outstanding job theyíre doing. They asked me to relay to their families and communities at home that they are doing well and look forward to getting back home to Wyoming."

Barrasso ate Thanksgiving dinner with the service members, toured the medical facilities, and observed the Cowboy Cannoneers conduct artillery drills.