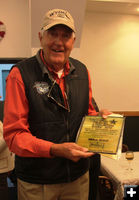 Mike Kaul

Photo courtesy Pinedale Travel & Tourism Commission

Mike Kaul presented Pinedale tourism & hospitality award
November 5, 2015
The Pinedale Travel and Tourism Commission presented their John F. Patterson Award for outstanding contribution to the Town of Pinedale and exemplary hospitality to its guests to Mike Kaul, owner and operator of Two Rivers Emporium Fly Shop in Pinedale.

The award, in honor of Pinedale's founding father John F. Patterson, recognizes "commitment to quality service and consistent and exceptional care for visitors to Pinedale."

Mike spends his winters traveling throughout the country promoting the Pinedale area through dozens of trade shows, Fly Fishermen Federation Clubs, and Trout Unlimited. He has presented his slide show about the Pinedale area in Washington, Oregon, California, Wyoming, Utah and Colorado, as well as the east coast including shows in New York, Connecticut, New Jersey, and Maine. His slide shows present more than just fishing, they also promote Fremont Lake, Green River Rendezvous, climbing opportunities, skiing, and the Museum of the Mountain Man, to name a few. Hundreds of fishermen have come to the area through Mike's promotional work.

The Pinedale Travel and Tourism media release stated, "Mike has volunteered his time and resources over and over to appear in tourism photos and videos. His generosity with his time spent promoting Pinedale as a destination is staggering. The entire State of Wyoming benefits from Mike's promotion of Pinedale. Mike's guests engage in all aspects of outdoor sports and recreation. This "Mike created" annual influx of guests results in a direct benefit to lodging, restaurants, gas stations, gift shops and more. Additionally, hundreds of locals have been employed by Mike and Two Rivers Emporium over that last decade. These employees are well known for their excellent customer service and bring people back to Pinedale year after year. Under the direction of Mike, Two Rivers Emporium has sustained a perfect rating on the Orvis online rating system. Mike has authored and published the Area Fishing report monthly since 2001. This free online publication is sought out by other guides and by recreational guests across the nation. In 2008, Mike was the Orvis Guide of the Year. He has been instrumental in the collaboration between other guides and lodges to promote the Cutt-Slam program designed to encourage anglers to learn more about Wyoming's cutthroat sub-species and develop more appreciation and support of the Wyoming Game and Fish Department's cutthroat management program. Clearly Mike has worked to not only increase tourism in Pinedale; but he has been instrumental in developing a culture of sustainability for this critical segment of the Wyoming tourism economy on a regional level. Mr. Patterson would be very proud of Mike Kaul for his success in promoting Pinedale to tourists and the economic benefits his efforts have brought to Pinedale."


Related Links