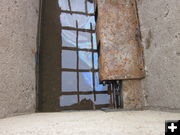 Sheen

Photo taken Tuesday, Nov. 10. Photo courtesy Wyoming Game & Fish.


Boulder Dam spill update
by Pinedale Online!
November 15, 2015

On Monday, November 9th, we heard a report of concerns over what appeared to be fuel leaking into Boulder Creek from the construction work going on at the dam on Boulder Lake. The report was there appeared to be some kind of fuel leaking into Boulder Creek from the work that was being done on the dam. One person mentioned smelling an odor of fuel, seeing the water surface of the pool below the dam being covered with an oily slick, and fish caught being an unusual pale milky color.

Pinedale Online contacted the Wyoming Game & Fish Department, Sublette County Conservation District, and the Bureau of Land Management regarding the incident.

We received a response that Pete Cavalli, Fisheries Biologist with the Wyoming Game and Fish Department, visited the Boulder dam site on Tuesday, November 10th and reported that work was being done over the weekend to replace a hydraulic ram on the outlet gates of the dam. As the old ram was being removed, it spilled about one to two quarts of hydraulic fluid onto some nearby concrete, and some of that evidently dripped into the water. The Sublette County Emergency Response team reportedly visited the site on Saturday and Jim Mitchell reportedly took water samples Sunday. Kathy Raper with the Sublette County Conservation District visited the site on Monday, November 9th and reported she did not see any sign of an oil sheen on the surface of Boulder Creek below the dam nor did she smell any odor or observe any dead fish. She did not take any water samples during her visit. Dennis Mahaffey, the Irrigation Board President, has reportedly filed a report with the Wyoming Department of Environmental Quality.

Pete Cavalli said he walked a few hundred yards below the dam on Tuesday, Nov. 10th and did not see any sheen on the water surface or find any dead fish. He also checked Boulder Creek downstream at Stokes Crossing and didn't find anything of concern there either. Cavalli reported that the Irrigation District has completed their repairs on the dam and they have begun to refill Boulder Lake.