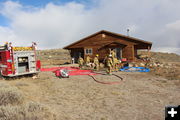 Attic fire

Photo courtesy Sublette County Unified Fire.


Attic fire damages home
by Sublette County Unified Fire
October 27, 2015

On Monday morning, October 26th at approximately 8:00 AM, Sublette County Unified Fire was dispatched to an attic fire at a residence in Green River Ranches near Daniel. Three fire battalions (Daniel, Kendall Valley and Pinedale) responded with 21 firefighters. The fire was located in the attic of the residential structure in the vicinity of the wood stove pipe that extended through the attic space to the roof.

The quick thinking of the homeowner that reported the fire saved the house. Upon noticing smoke coming from the gable vents, the homeowner quickly got out of the house, called 911 to report the fire, closed all doors and windows, and went the extra step of sealing the gable vents. The homeowner's actions to close the house openings stopped the fire from growing and contained it to a smoldering stage. This gave firefighters valuable time to get to the incident and extinguish the fire.

Unfortunately, the house did sustain fire damage to the attic space in the area around the wood stove pipe. However, firefighters worked very hard to minimize any further damage and assisted the homeowner to clean up debris after the fire was out.

Sublette County Unified Fire Chief Shad Cooper stressed how important it is for homeowners to have their home heating systems annually inspected and maintained. "It's the time of the year when heaters, stoves and appliances are being used to heat homes again. This fire shows how important proper installation and maintenance of wood stoves and stove piping is" explained Chief Cooper.

The National Fire Protection Association recommends chimneys, fireplaces, and vents to be inspected at least once a year for soundness, freedom from deposits, and correct clearances. Cleaning, maintenance and repairs should be completed as necessary during the annual inspections. This is the national fire safety standard and is the correct way to approach the problem. It takes into account the fact that even if you don't use your chimney often, animals may build nests in the flue or there may be other types of deterioration that could make the chimney unsafe to use.

Homeowners can clean chimneys themselves, but for a thorough job they can also call a certified chimney sweep. A chimney sweep needs to be knowledgeable about building codes, trained to recognize deterioration or venting problems, and able to advise homeowners regarding the chimney's condition.



Related Links