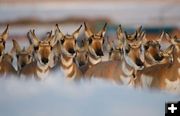 Path of the Pronghorn

Path of the Pronghorn Photos of the pronghorn migration in the Upper Green River Valley by National Geographic photographer, Joe Riis.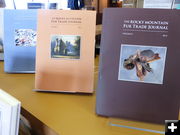 Rocky Mountain Fur Trade Journal

Now in its 9th year. Meet the authors appearing in this year's journal during Green River Rendezvous Days in July. Copies of the Journal are for sale in the gift shop.


Museum of the Mountain Man open for the season
Open daily through September
by Pinedale Online!
May 5, 2015

The Museum of the Mountain Man in Pinedale has opened for the summer season. They are open daily from 9AM to 5PM through September. Admission is $7 for adults, $5 for seniors, $4 for children 6-12 years old.

Displays for 2015 include:
Wilson Photography Studio Collection
National Geographic Pronghorn Passage Photo exhibit
Archaic Camp from 6,000 years ago
Jim Bridger's rifle
Chief American Horse Warrior Society Tipi
Shoshone Sheephorn bow
Vernon & Virginia Delgado Winchester Commemorative rifle collection

The Sublette County Historical Society is celebrating their 80 year anniversay this year and the Museum of the Mountain Man is celebrating 25 years.

Upcoming events:
Tuesday-Thursday, May 12-14, Living History Days at the Museum with the American Mountain Men Living history demonstrations including blacksmithing, Indian sign language, trade goods, beaver trapping, mountain man clothing, firearms and weapons, and more. The public is very welcome to attend.

Thursday-Sunday, July 9-12, Green River Rendezvous Days Rocky Mountain Fur Trade Journal and author talks, living history demonstrations, Native American culture with "Bad Hand", children's activities, more.